The Best Camping Tarp to Keep You Dry
Worried about the weather ruining your camping trip? With a good camping tarp, you'll be able to stay dry even if it rains or snows.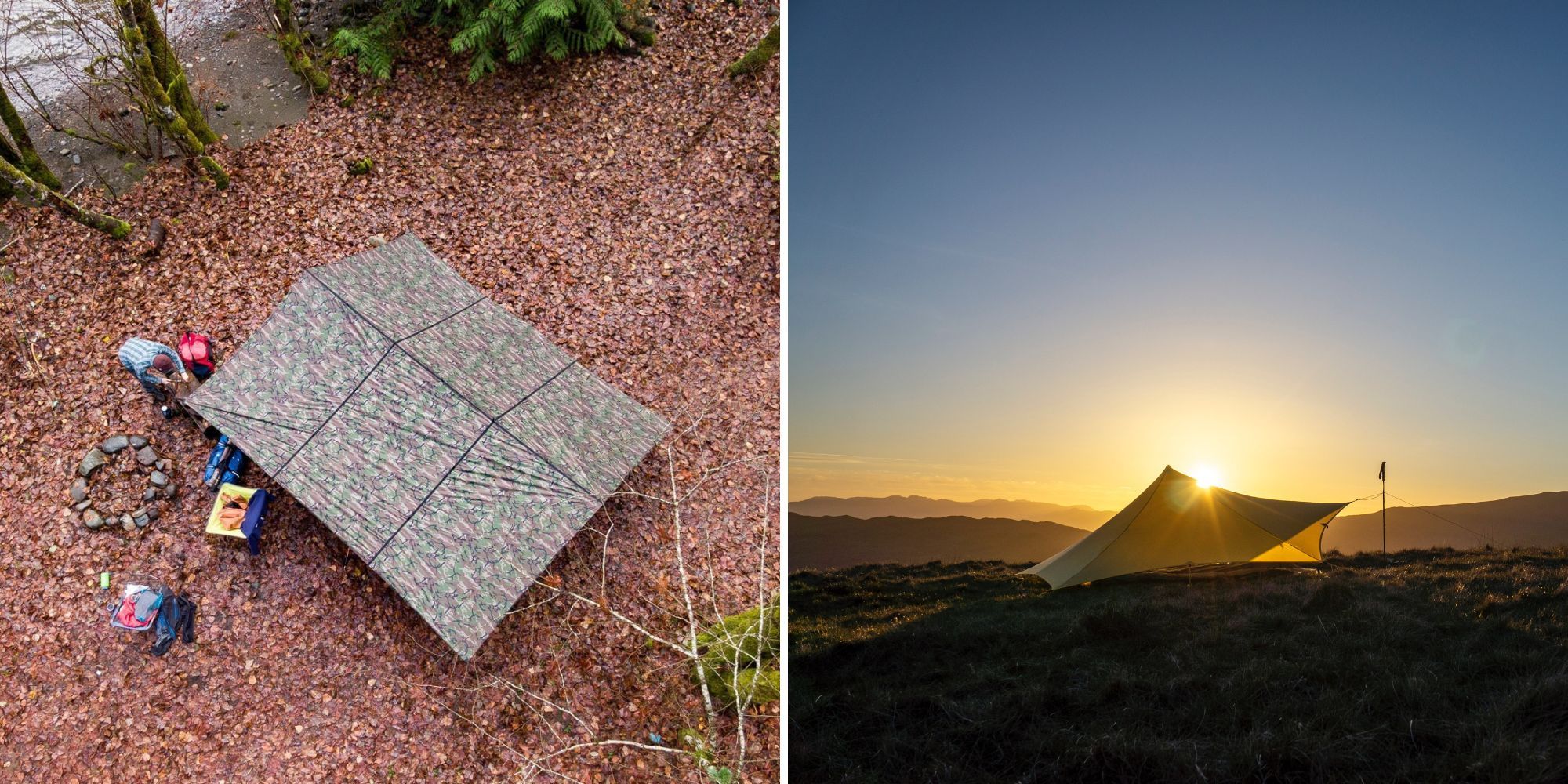 Worried about the weather ruining your camping trip?
Don't worry, we've got you covered! In this article, we'll discuss some of the best camping tarps on the market today. They're made to keep you dry in any weather, so you can relax and enjoy your time outdoors.
With a good camping tarp, you'll be able to stay dry even if it rains or snows. They're essential for keeping yourself and your gear safe and dry when Mother Nature decides to unleash her fury. So don't wait - get yourself a good camping tarp today!
Read on to learn more about our picks for top-rated camping tarps!
How We Chose the Best Camping Tarps to Meet your Needs
It can be hard to know which camping tarp is the best for your needs.
There are a lot of different camping tarps on the market, and it can be tough to figure out which one is right for you. Do you need a waterproof tarp? A heavy-duty tarp? How big should your tarp be?
We have done the research for you. We have read thousands of reviews and camped with nothing more than a tarp for shelter to find the best camping tarps for you. Whether you're looking for a family camping tarp or solo backpacking tarp, we have got you covered.
---
UnpackedReviews is reader supported, which means that when you click on links to products on our site and make a purchase, we may earn a commission. However, our opinions are our own, and we only recommend products that we genuinely love.
---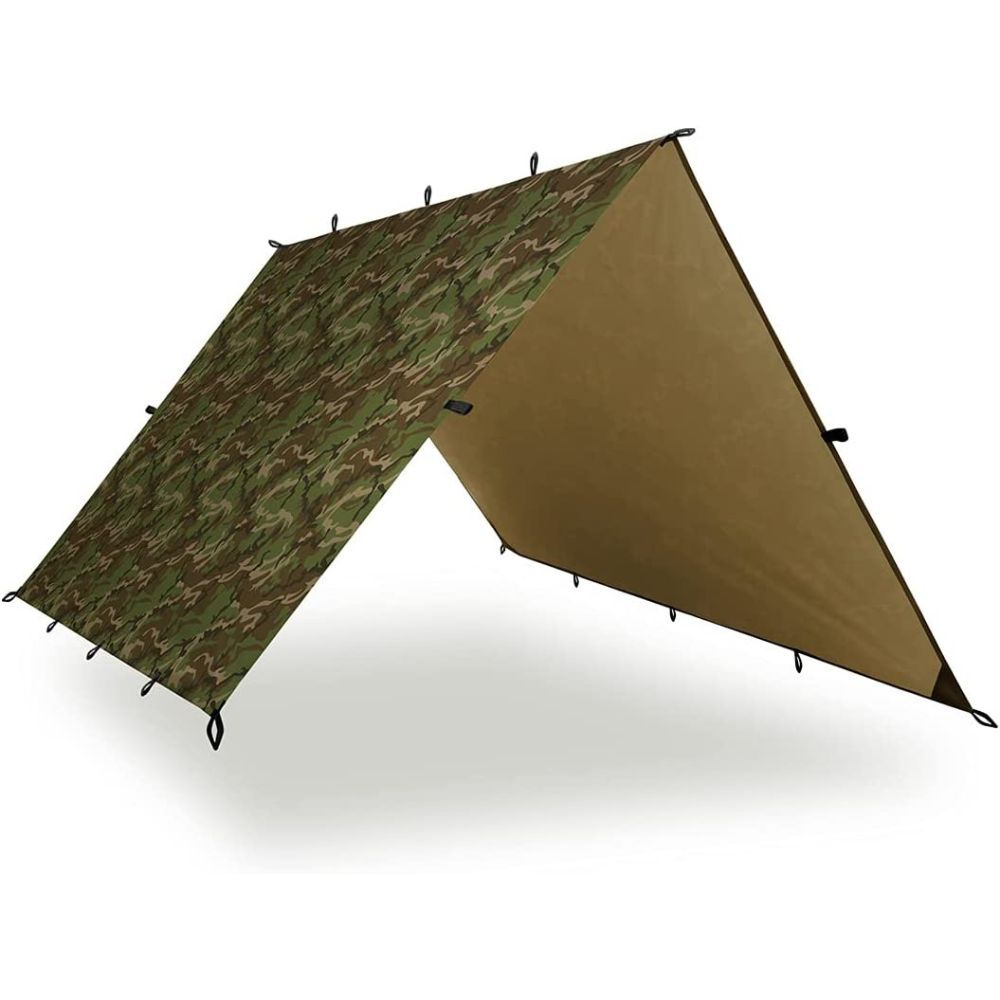 Aqua Quest Defender Tarp

‌Best Camping Tarp in Its Class
Click to check price on Amazon
How it Made the Pick
The Aqua Quest Defender is the ultimate camping tarp. It's durable, heavy duty, and designed to keep you completely dry, even in extreme weather. Its unlimited set up options allow you to be adaptable, no matter what the environment.
Whether you're camping in the rain, snow, or sun, the Aqua Quest Defender will keep you dry and comfortable. So don't let the elements stop you from enjoying your next camping trip. Bring along the Aqua Quest Defender and rest assured that you'll stay dry no matter what Mother Nature throws at you.
What Makes it Worthy?
We know that when you head out into the wilderness, you're looking for an adventure. But we also know that you don't want your adventure to be ruined by bad weather. That's why we added the Aqua Quest Defender Tarp to our top picks
This tarp is perfect for all your camping trips. It comes in a variety of sizes, so you can find the perfect one for your needs. And it's made out of tough 70D nylon material, so it can withstand anything Mother Nature throws at it. Plus, it comes in a handy stuff-sack, so you can easily pack it up and take it with you wherever you go.
But the best part of the Aqua Quest Defender Tarp is the fact that it's incredibly versatile. You can use it as a shelter from the sun or rain, or even set it up as a makeshift sleeping area. So no matter what your adventure entails, the Aqua Quest Defender Tarp will be there to help you make the most of it.
---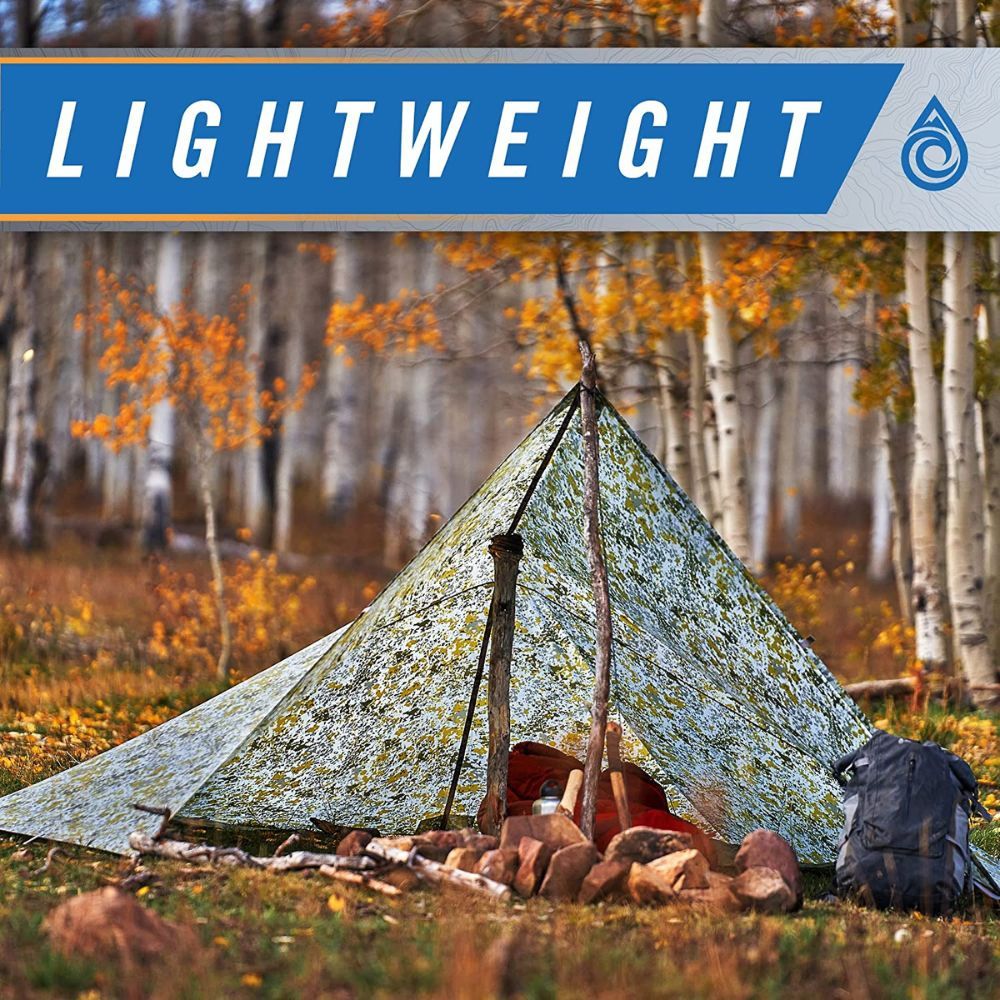 Aqua Quest Safari Tarp
Best camping Tarp for Versatility
Click to check price on Amazon
How it Made the Pick
The Aqua Quest Safari camping tarp is the perfect solution for those who want to stay dry, even in the wettest weather. It is so lightweight that you'll hardly notice you're carrying it, yet it is strong enough to keep you completely dry.
The tarp is made of waterproof fabric and has a special coating that repels water. It also has a taped seam that prevents water from seeping through. The tarp also has reinforced nylon loops along the edge so you can easily tie it down. When not in use, the tarp folds up small so you can easily carry it in your backpack.
Whether you're hiking in the rainforest or attending an outdoor concert, the Aqua Quest Safari tarp will keep you dry and comfortable. And always be sure to carry a hiking water bottle!
What Makes it Worthy?
Are you looking for a tarp that is both lightweight and tough? Then look no further than the Aqua Quest Safari Tarp! This tarp is made of 70D nylon fabric with a non-toxic dual Silicone & PU coating, and it features reinforced stitching and heat-taped seams.
It weighs between 1.2 and 4.4 pounds, depending on the size you select, making it one of the lightest tarps on the market. But don't let its lightweight design fool you - this tarp is built to last. It's perfect for camping, hiking, backpacking, or any other outdoor activity where you need reliable protection from the elements. So why wait? Order your Aqua Quest Safari Tarp today!
---
FREE SOLDIER Waterproof Portable Tarp
Best camping Tarp for the Value
Click to check price on Amazon
How it Made the Pick
If you're looking for a way to stay cool and protected from the sun's harmful rays, you need a FREE SOLDIER Backpacking Tarp. This camping tarp is very versatile and can be set up in many different ways as a tarp shelter.
With its ultralight weight and small size, it's perfect for backpacking and hiking. And it's not just an effective sunshade - it can also be used as a rain shelter or wind blocker. So, whether you're looking for protection from the elements or just want a place to relax in the shade, the FREE SOLDIER Backpacking Tarp has you covered.
What Makes it Worthy?
Looking for the perfect way to enjoy the great outdoors without sacrificing comfort? Look no further than the FREE SOLDIER Waterproof Portable Tarp! This tarp is made of 210T ripstop polyester fabric with a 2500 PU waterproof rating, making it the perfect shelter from the elements. It also features heat-sealed and melted seams for added durability, and comes with 1 hammock rain fly, 4 aluminum stakes, 4 nylon guy lines, and 1 stake bag.
The tarp, guy lines and sack total 2.12 lbs., making it ultra-portable so you can take it wherever your adventures take you. Whether you're camping, fishing, hiking, or just spending time in the backyard, the FREE SOLDIER Waterproof Portable Tarp is a must-have for anyone who loves spending time outdoors.
---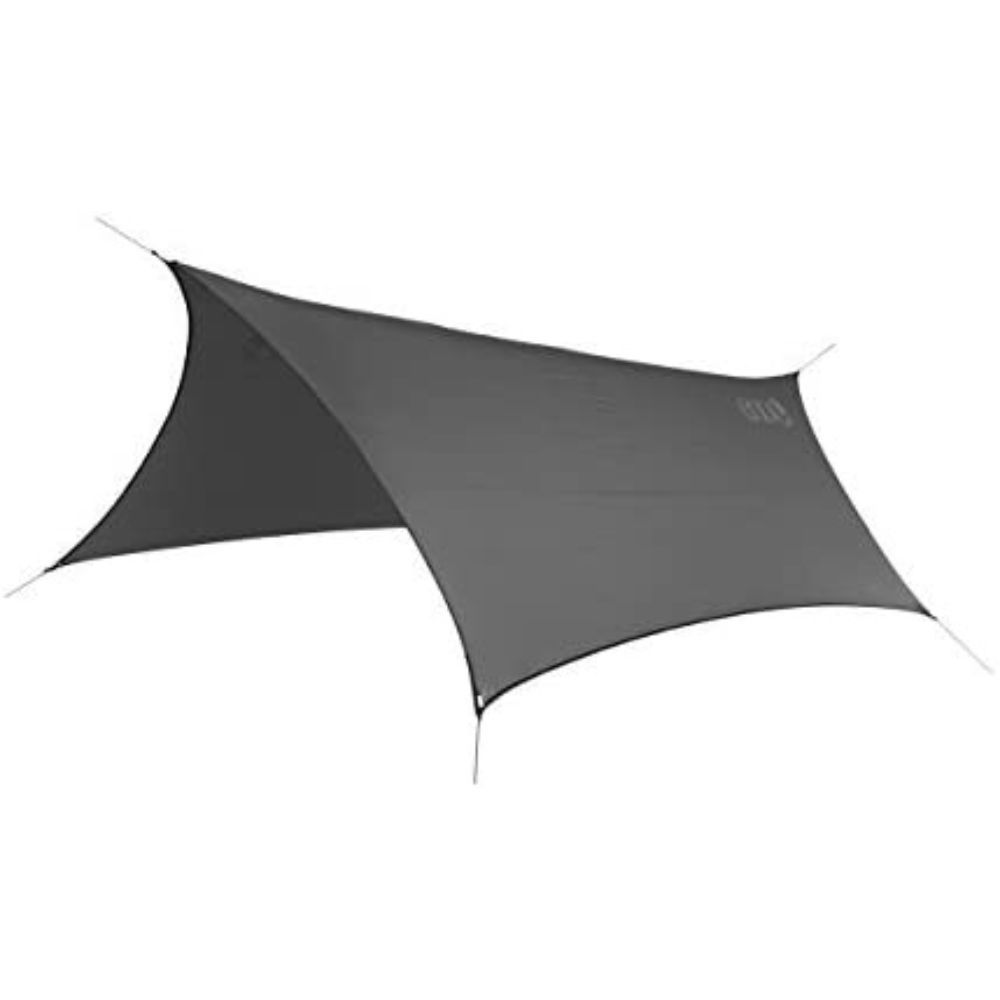 ENO, Eagles Nest Outfitters ProFly Rain Tarp
Best tarp for hammock camping
Click to check price on Amazon
How it Made the Pick
Eno is a reliable brand, and their Profly camping tarp is a good piece of gear for hammock camping. It's made of durable, waterproof material that will keep you dry in the heaviest downpours.
Plus, it's lightweight and easy to set up, so you won't waste any time fiddling with it in the rain. In short, the Eno Profly rain tarp is a great choice for anyone looking for a reliable and quality rain tarp.
What Makes it Worthy?
Weighing only 22 ounces, the ProFly Rain Tarp from Eagles Nest Outfitters is perfect for protecting you from the elements when you're out camping or hiking.
Made of tough 210D ripstop nylon that has been treated with polyurethane, the ProFly can stand up to years of use and features great water-shedding capabilities to keep you dry in the wettest conditions.
The tarp comes with a stuff sack for easy storage and transport, making it the perfect addition to your camping gear. Whether you're setting up a base camp or hiking into your favorite backcountry spot, the ProFly Rain Tarp will keep you dry and comfortable all trip long.
---
Most Commonly Asked Questions Around Camping Tarps
Going camping can be a lot of fun, but it can also be a little daunting if you're not sure what to bring.
You've probably seen those lists of things you need to bring camping, and they always seem to include a million items. And then once you finally get all your gear together, the weather turns bad, and you have to spend the whole trip inside your tent.
A camping tarp is the answer! Not only do they keep you dry in case of rain, but they also provide shade from the sun and can be used as a windbreak. Plus, they're really easy to set up - even if you've never been camping before. We have answered some of the most common questions around tarp camping.
Are tarps good for camping?
Tarps are a great option for camping, as they are versatile and can be used in a variety of ways. For example, you can use them as a roof to protect you from the sun and rain, or as walls to create a shelter. Additionally, they can be used to cover your gear when it's raining or snowing, or to create a makeshift stretcher if someone is injured.
Tarps are also lightweight and easy to pack, so they won't take up much space in your camping gear. And, because they are inexpensive, they are a cost-effective way to add some extra protection while camping.
You can make a good tarp tent if you needed to. The best camping tarp setup is the plow point shelter. It is our go to for tarp shelters.
How big should a tarp be for camping?
It depends on what you will be using the tarp for. A small tarp can be used as a ground cloth, while a larger one could be used as a shelter. I wouldn't go any smaller than a 10x7 but a square 10x10 is my preferred sizing.
When camping, it's important to choose the right size tarp. If you are only using it as a ground cloth, then a small tarp would work well. But if you plan on using it as a shelter, you will need a larger one that can cover the entire length and width of your tent. Make sure to find one that is weatherproof and has reinforced seams for durability.
How to best use a tarp under a tent for camping?
If you are using the tarp as a ground sheet to protect your tent you will want to make sure that there is no part of the tarp sticking out from under your tent. If the ground sheet is sticking out it can attract rainwater that will pool in between your tarp and tent floor. This will saturate and possibly seep through leaving you wet.
What material is best for a camping tarp?
If you are looking for a waterproof camping tarp one made from polyethylene is a good option. It makes a durable tarp. Another option is a heavy-duty vinyl tarp. They do tend to weigh slightly more but have the best weather protection. If you are looking for lightweight tarps a ripstop nylon fabric or cuban fiber are good options. The cuban fiber is pretty pricey but it makes the lightest camping tarp.
Is a tarp better than a tent?
It depends on the circumstances. With a waterproof tarp you can easily make a tarp shelter with two hiking poles. Lightweight tarps are easier to transport for backpacking and you usually have trekking poles to assist with creating a tarp shelter.
Camping tarps are good to provide shelter but don't have bug netting like a tent would. A tent also provides more privacy. If you are car camping you can use your backpacking tarps as a tent awning to provide extra protection.
Is a waterproof camping tarp a good standalone shelter?
Yes, a lot of hammock campers use a hammock tarp like the sea to summit escapist for their hammock shelters. You can still use camping tarps for ground camping.
Creating shelters from square tarps is the easiest and the plow point shelter is my favorite. The plow point doesn't work very well with rectangular tarps though. There are so many different tent tarp configurations that you can create for basic shelter and that's why tarps are so versatile.
Can you sleep under a tarp?
You most certainly can. Most tarps can be used as weather protection from the elements and some people prefer tarps. You can get standalone mosquito nets if bugs are a problem where you plan to use it.
Sleeping under a tarp is possible, but you'll need to find a way to secure it so that it doesn't fly away in the wind. One option is to use stakes or poles to hold down the corners. You can also use rocks or logs to weight down the edges.
If it's raining, you'll need to make sure your tarp is water-resistant. A good way to do this is by using a waterproofing treatment. This will help prevent the water from seeping through the fabric and wetting your sleeping bag and other gear.
Finally, make sure you have enough room underneath your tarp to move around comfortably.
Will a tarp make a tent warmer?
A tarp will make a tent warmer because it will reflect more heat back to the occupant. It is also an effective way to waterproof a tent.
A tarp can be an effective way to add insulation to a tent. By reflecting heat back towards the occupant, a tarp can help keep the tent warmer. In addition, using a tarp can help keep the inside of the tent dry by forming a water-resistant barrier between the tent and the ground.
Is a tarp shelter safe from wildlife?
There is no one definitive answer to this question. It depends on the specific wildlife in the area, as well as the size, design and construction of the shelter.
In general, though, tarps offer a relatively safe and lightweight option for shelters in areas with moderate levels of wildlife activity. If bears are common in your area, or if there is a lot of large and dangerous wildlife present, then a more robust structure made from materials such as metal or concrete may be safer.
When it comes to large predators a tent doesn't offer much more protection than camping tarps. It is the same with hammock camping. You should take the necessary precautions such as using a bear bag if you plan to be in the back country.
Best Camping Tarp for You to Choose for Your Next Adventure
The bottom line is, we read a lot of reviews to bring you the best camping tarps out there. We're confident that one of these will do the trick for your next outdoor excursion.
Whether you need a lightweight camping tarp or a durable vinyl one we have you covered. But don't just take our word for it! Click the button to check current prices now and pickup an ultralight tarp. Happy trails!