The Best EDC Backpack for Carrying Your Everyday Essentials
No matter what your day brings, having the right backpack for your essentials is key. If you lead an active lifestyle, a sturdy backpack is ideal.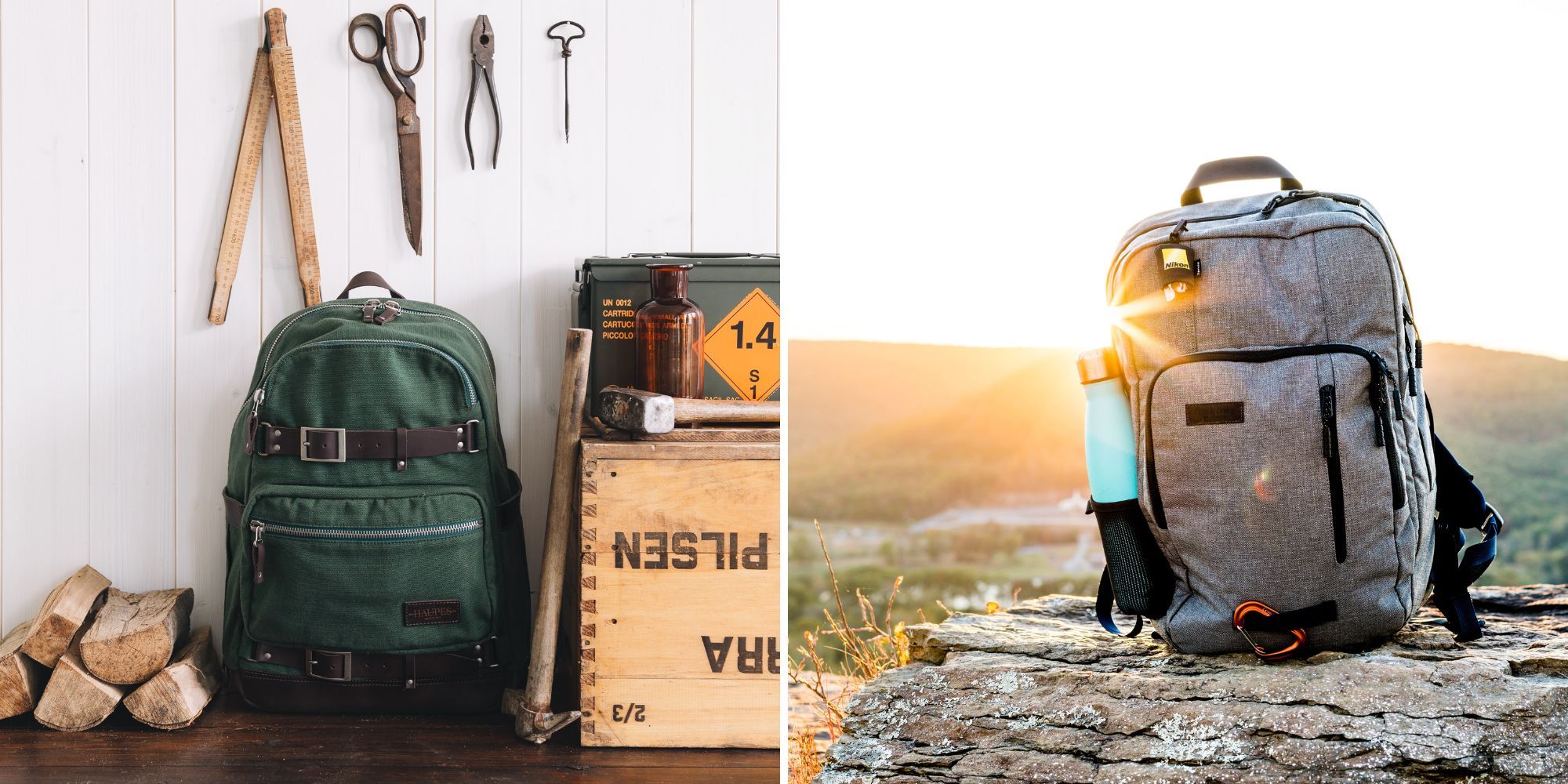 When you're out and about, you never know what the day will bring. That's why it's important to always be prepared with the right gear. EDC backpacks are perfect for carrying your everyday essentials, no matter where you go.
In this article, we'll take a look at the best EDC backpacks on the market today. We'll discuss the features and benefits of each backpack, so that you can find the perfect one for your needs.
So whether you're looking for a backpack to take on vacation or one that can handle all of your daily necessities, we've got you covered!
How We Found the Best EDC Backpack on the Market
It's tough to find the perfect EDC backpack that meets all of your needs. You want something that's big enough to carry all of your gear, but not too big or bulky that it becomes a nuisance to carry around.
You probably have a lot of different items that you like to bring with you on a daily basis and trying to fit everything into one bag can be a real challenge.
We've done the hard work for you and read through thousands of reviews to find the best EDC backpacks on the market. Whether you're looking for something small and compact or something large and spacious, we've got you covered.
---
---
How it Made the Pick
When it comes to everyday carry backpacks, there are a lot of different options out there. But if you're looking for something that's both functional and stylish, then you should check out the Ready Pack 2.0. This EDC backpack comes in multiple colors, so you can pick what best suits you.
And it's designed to keep you under the radar, with a front flap that can be tucked away for a quick conversion to a different appearance.
Plus, it's packed with features like an internal organizing panel and a front zip pocket for quick access to your essentials. So whether you're using it for everyday carry or for a tactical mission, the Ready Pack 2.0 has you covered.
What Makes it Worthy
The Vertx Ready Pack 2.0 is the perfect backpack for those who need quick and discreet access to their weapon. The concealed carry platform accepts ballistic panels, making it ideal for tactical situations.
The main compartment is spacious and features 3 gear slots, while the strategically located loop panels are perfect for attaching Tactigami and other accessories.
This backpack is comfortable to wear with sturdy shoulder straps and will give you the peace of mind that you're prepared for anything. This is the perfect tactical backpack.
---
How it Made the Pick
If you're looking for a tactical EDC backpack that has plenty of room and is comfortable to wear, this is the one for you. It has Molle webbing throughout, so you can attach additional pouches or gear easily. And it's spacious enough to hold everything you need for the day.
The straps are adjustable, so you can customize the fit. And the padding on the back panel ensures that you'll stay comfortable even when you're carrying a lot. This backpack is a great option for anyone who wants a versatile and durable bag.
What Makes it Worthy
Looking for a backpack that can take on anything you throw at it? Look no further than the Samurai Tactical Wakizashi Backpack. This tough little number is built to last with heavy duty zippers and utility-style cord pulls.
It also features a load compression system on both sides, top carry handle, Velcro patch holder, and ventilated mesh padded back area and shoulder strap. Plus, it's breathable and comfortable, so you can wear it all day without having to worry about sweating bullets. So whether you're hitting the gym or the trails, this lightweight EDC backpack is a great pick.
---
How it Made the Pick
This sleek and stylish backpack is perfect for city commuting or traveling. Its minimalist design is modern and urban, yet still functional and comfortable. The backpack features a main compartment with a padded laptop pocket and multiple pockets for organization.
There is also a front zip pocket for quick access to your essentials. The shoulder straps are adjustable so you can customize the fit, and the back panel is padded for comfort. Whether you're headed to the office or the airport, this EDC pack will let you explore the world in style.
What Makes it Worthy
Looking for a backpack that's both stylish and functional? Check out the Tomtoc Compact EDC Sling Bag. This backpack is perfect for everyday use, with a capacity of up to 7L and a tablet pocket for up to 11-inch iPad.
The internal pockets keep accessories neatly sorted, while the two buckles at the bottom enable free switching between left and right shoulder use. Plus, the durable materials and sleek design make this everyday carry backpack a fashionable choice for any occasion. So why wait? Get your own Tomtoc Compact EDC Sling Bag today!
---
How it Made the Pick
The Upscale 2 CCW Slingbag was designed by veterans, so it is very practical and easy to use. It has all the features you need, including pouches in all the right spots. This bag is perfect for carrying your concealed weapon and other EDC items. It is made of high-quality materials and is built to last.
The bag is also comfortable to wear and will not get in the way when you are carrying out your mission. This everyday backpack has a minimalist design, but it is very practical.
What Makes it Worthy
The Viktos Upscale 2 Sling bag is the perfect everyday carry backpack. The CCW compartment will fit up to a full-size pistol in the included universal Velcro holster or switch it out for your preferred holster.
The ambidextrous, lightly padded, sling, and CCW access compartment allow easy pistol access when worn on either side of the body. The main compartment features elastic webbing and an internal cargo pocket, perfect for holding extra magazines, tourniquet, and med kit. The Upscale 2 is the perfect backpack for anyone who wants easy access to their pistol while still having plenty of space for all their EDC gear.
---
Most Commonly Asked Questions Around EDC Backpacks
EDC backpacks are a popular item, but they can be difficult to shop for because there are so many options.
It can be hard to know which backpack is right for you. Do you need a water-resistant backpack? A bombproof laptop compartment? Molle webbing? A fleece lined laptop sleeve?
We've answered the most commonly asked questions around EDC backpacks to help make your decision easier. Our guide covers everything from what type of person would benefit from an EDC backpack to the best features for your needs.
What is an EDC backpack?
An EDC backpack is a backpack specifically designed to hold all of the gear and tools that you might need for everyday carry. It's typically got a lot of pockets and compartments to help you organize your gear, as well as straps and closures that are tough enough to keep everything securely in place even when you're on the go.
EDC backpacks come in all shapes and sizes, so it's important to find one that's the right fit for your needs. You'll want to consider the type of gear you'll be carrying, how often you'll be using it, and what kind of environment you'll be using it in. With those factors in mind, you should be able to find the perfect EDC bag.
How big should an EDC bag be?
There is no one-size-fits-all answer to this question, as the size of your EDC bag will depend on the specific items you choose to carry.
However, a good rule of thumb is to make sure your bag is big enough to fit all of the essentials, but not so big that it becomes cumbersome to carry.
Some important factors to consider when choosing a bag size include the weight and volume of the items you plan to carry, as well as the size and shape of the bag itself.
You'll also want to make sure that your bag has room for extra accessories, such as a dual water bottle pockets or a power bank.
How heavy should an everyday carry backpack be?
It depends on what you put in it. A good rule of thumb is to keep the weight down to around 10% of your body weight. So if you weigh 150 pounds, your EDC bag should weigh no more than 15 pounds.
If you are using a leather EDC backpack the base weight may start off being slightly heavier than a nylon or canvas option so that's something to keep in mind.
What should I put in my EDC bag?
Some of the most important items to include in your EDC bag are a good knife, a reliable flashlight, and a sturdy Multi Tool. You'll also want to pack plenty of food and water, as well as some basic first-aid supplies. And don't forget about important documents like your driver's license and passport.
What is Molle webbing?
Molle webbing is a type of nylon fabric that was originally used in the military for load-bearing applications. The fabric has a grid-like pattern of small loops (or "pals") that allow it to be attached to other pieces of Molle webbing or compatible gear using special snaps, hooks, or straps.
Molle webbing is now commonly used by civilians for a variety of applications, including backpacks, camping gear, pet leashes and collars, and even clothing. It's popular because it's strong and lightweight, and it can be easily customized to fit different needs.
What is a gray man?
A gray man is someone who avoids drawing attention to themselves. They dress and act in a way that doesn't stand out and makes them blend in with their surroundings.
This is especially important for people who want to remain unnoticed by those who may be looking for them, such as law enforcement or intelligence agencies. By blending in, a gray man can avoid being detected and possibly putting himself at risk. They may carry a laptop backpack over a tactical bag to better blend in.
The Perfect Everyday Carry Backpacks for Your Needs
After reading this comprehensive guide, you should have a good idea of the features to look for when purchasing an EDC backpack and the best option for your needs. We've highlighted some of our favorite backpacks on the market and provided a few tips to help you make your decision. Remember, it's important to find something that is comfortable and fits your lifestyle so you can confidently take it with you wherever you go. What are you waiting for? Start shopping for your new EDC backpack today!
If you liked this article, check out our related content below: