The Best Winter Motorcycle Gloves – Find the Perfect Pair for You
Do you want to extend your riding season, but the weather is getting cold? You need a pair of winter motorcycle gloves!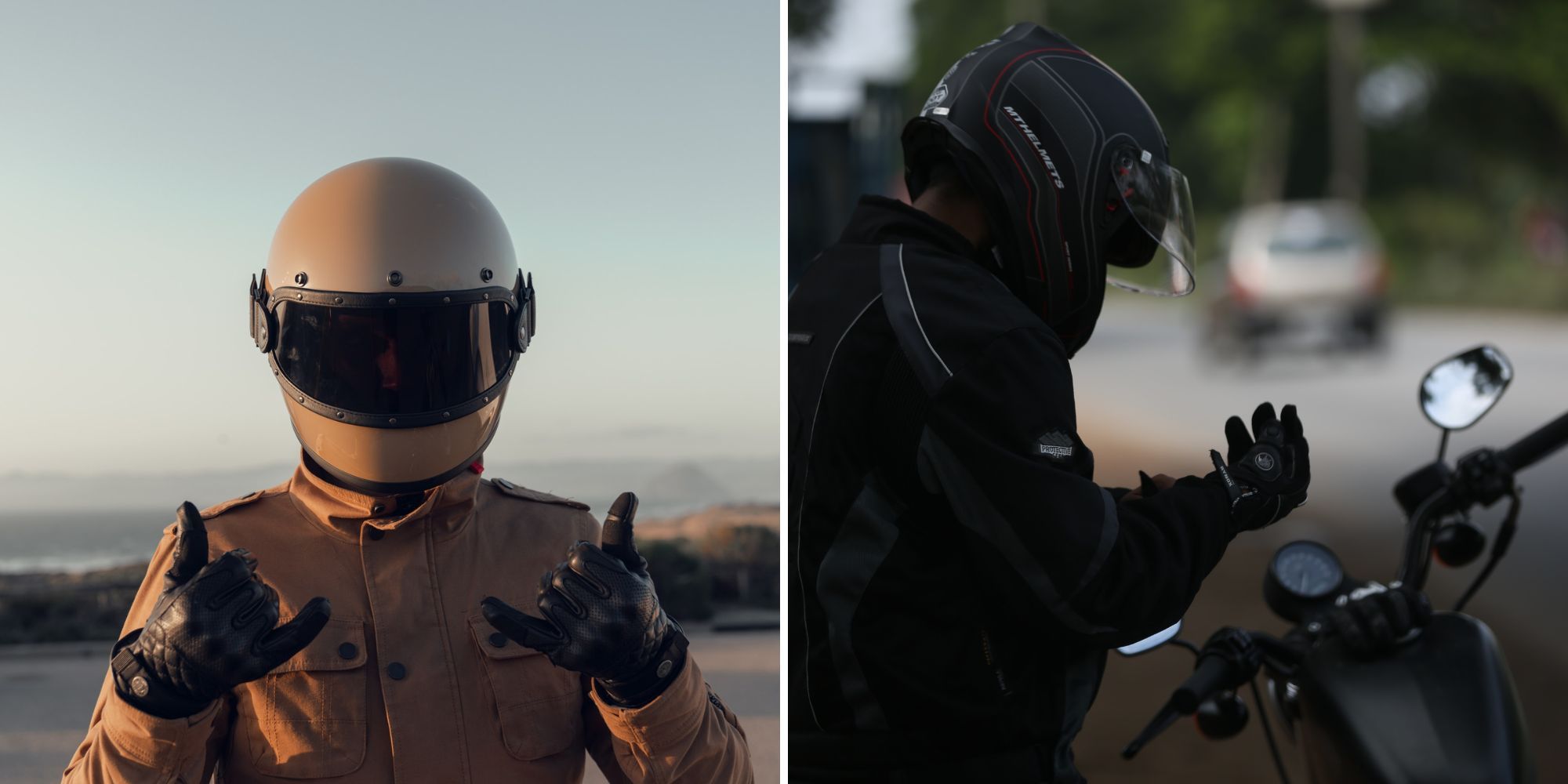 When the weather starts to turn colder, it's time to start thinking about winter motorcycle gloves. A good pair of motorcycle gloves can make all the difference when it comes to staying warm and safe on your bike.
There are a lot of different gloves on the market, so it can be tough to find the perfect pair for you. That's why we put together this list of the best winter motorcycle gloves available right now.
We'll take a look at some of the best options for every type of rider, so you can find the perfect pair for your needs!
How We Found the Best Winter Motorcycle Gloves on the Market
It's cold outside and you need to get your motorcycle out for a spin, but you don't have the right gear.
You don't want to spend all day looking through reviews to find the best winter motorcycle gloves. You just want to hit the open road.
We've got you covered. We read through thousands of reviews so that we could recommend the best winter motorcycle gloves for you. Whether you're looking for warm gloves or waterproof gloves, we've got something for everyone.
---
UnpackedReviews is reader supported, which means that when you click on links to products on our site and make a purchase, we may earn a commission. However, our opinions are our own, and we only recommend products that we genuinely love.
---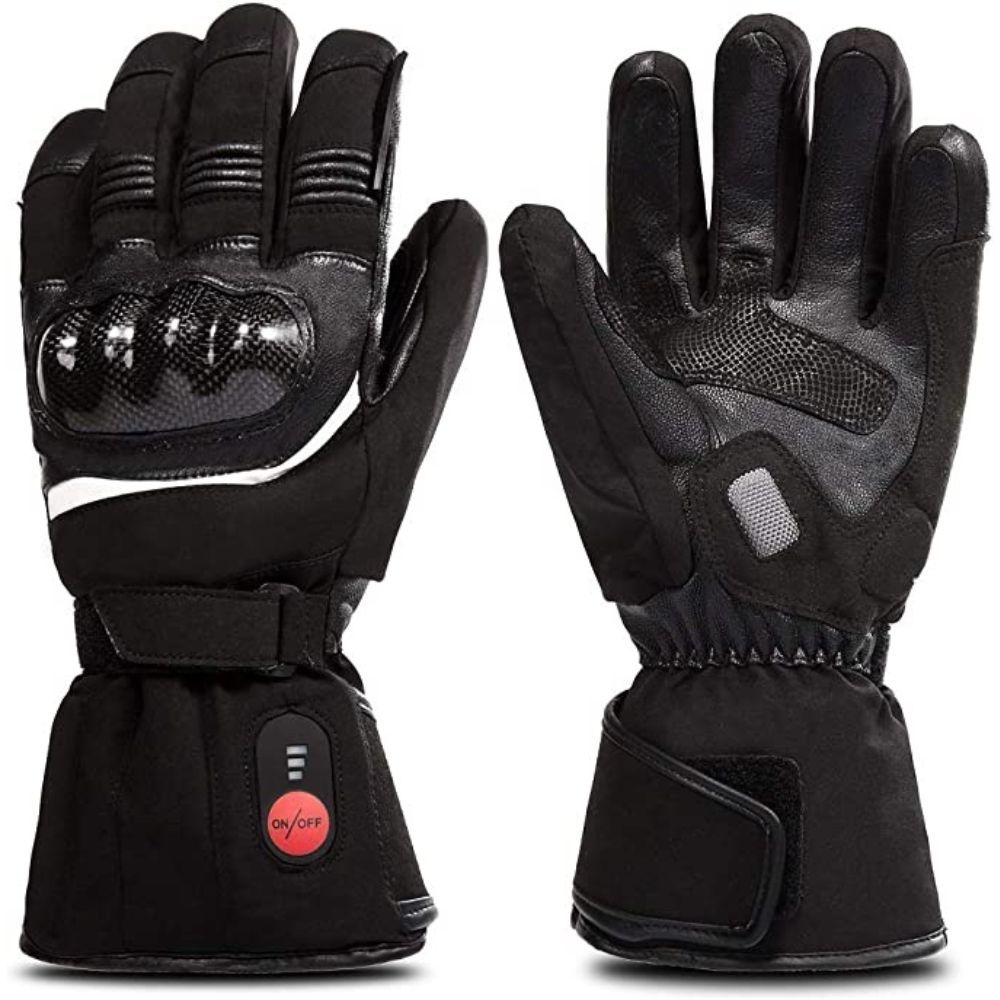 SAVIOR HEAT Gloves
Best electric cold weather motorcycle gloves
Check price on Amazon
How it Made the Pick
Motorcyclists know that one of the keys to a safe and enjoyable ride is a good grip on the handlebars. But when the weather gets cold, it can be difficult to maintain that grip, leading to numb fingers and a loss of control. That's where heated motorcycle gloves come in.
These gloves feature a soft leather palm and curved fingers that ensure a non-slip, strong, and flexible grip - even in the coldest weather.
They're also extremely comfortable to wear, thanks to their cozy insulation and adjustable wrist straps. So if you're looking for a way to keep your hands warm and your grip strong, heated motorcycle gloves are the way to go.
What Makes it Worthy
Looking for a way to keep your hands warm this winter without sacrificing dexterity or style?
Look no further than the SAVIOR HEAT Heated Gloves! Made of a soft lambskin and polyester blend, these gloves are lined with a lightweight, ultra-soft cotton for added comfort.
The import heat elements and HIPORA waterproof layer make these gloves water resistant and windproof, perfect for a variety of outdoor activities. Choose from three heat settings to find the perfect level of warmth for you.
Whether you're hitting the slopes or just taking a leisurely motorcycle ride on a cold day, the SAVIOR HEAT Heated Gloves will help you keep your hands toasty all winter long.
---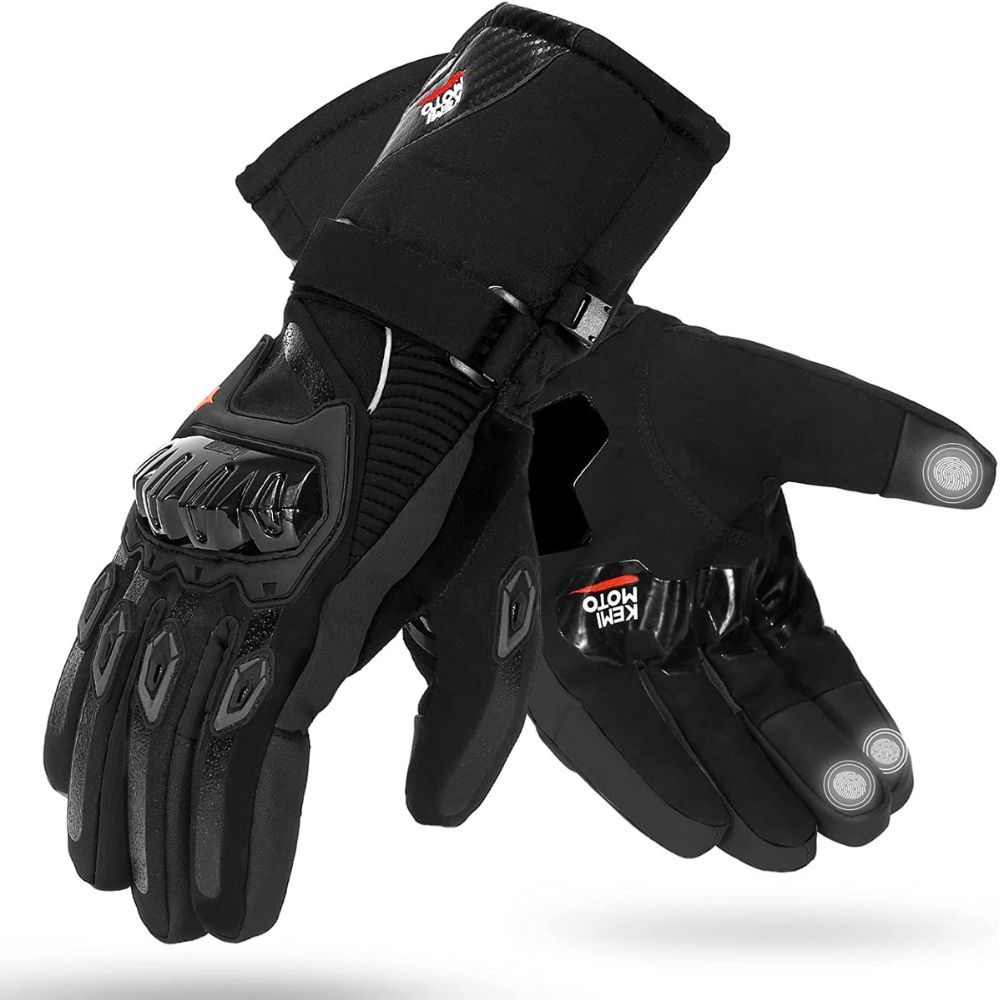 Kemimoto Winter Motorcycle Gloves
Best 3m insulate winter motorcycle glove
Check price on Amazon
How it Made the Pick
Motorcycle gloves are an important piece of gear for anyone who plans to ride in colder weather. These gloves are made from a velvet inner material and a rainproof layer that can resist getting wet and keep your hands warm and dry while driving.
The outer layer is also windproof, helping to keep your hands protected from the elements. The gloves are also lined with a thin layer of insulation, making them ideal for riding in colder temperatures.
Whether you're an experienced rider or a beginner, these motorcycle gloves are a great option for keeping your hands warm and dry while driving in winter.
What Makes it Worthy
Introducing the Kemimoto winter motorcycle gloves! These gloves are perfect for riders who want the convenience of being able to use their touch screen devices while on the go.
The conductive leather on the fingertips of the thumb, forefinger and middle finger enables you to use your touch screen device without having to take your gloves off.
The palms of the gloves are made from an abrasion-resistant microfiber material that provides a better grip, so you can feel confident when operating your bike. Whether you're out for a leisurely ride or hitting the trails, these gloves will keep you warm and comfortable all day long.
So don't let cold weather keep you from enjoying your ride - pick up a pair of Kemimoto winter motorcycle gloves today!
---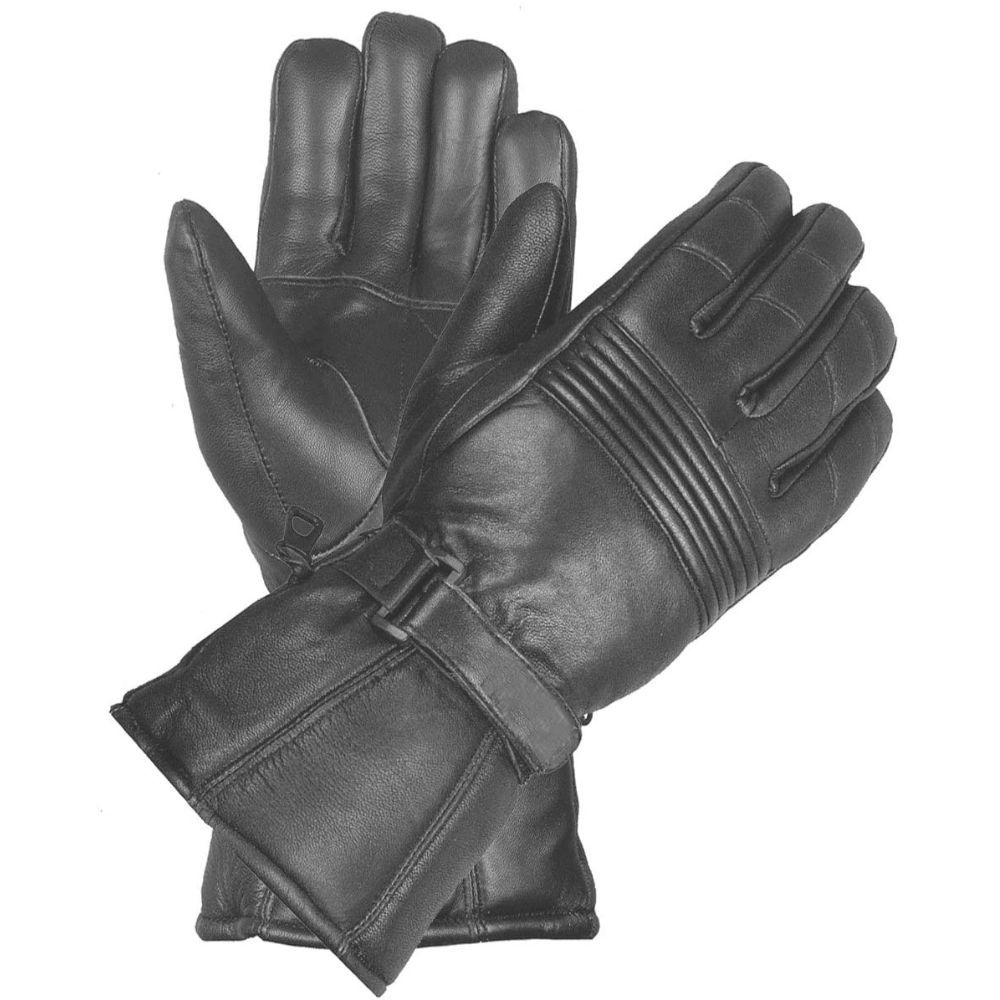 Premium Winter Motorcycle Sheep Leather Gauntlet Gloves
Best sheep leather winter motorcycle glove
Check price on Amazon
How it Made the Pick
If you're looking for a good pair of motorcycle gloves to keep your hands warm this winter, these are a great option. They're well-made and very comfortable, and they'll do an admirable job of protecting your hands from the elements.
Plus, they're very affordably priced, which is always a bonus. We have tried a lot of different motorcycle gloves over the years, and these are definitely some of the best.
So, if you need a good pair of leather gloves for riding in cold weather, we highly recommend giving these winter gloves try.
What Makes it Worthy
Riding a motorcycle is all about feeling the wind in your face and the freedom of the open road. But when the weather turns cold, you need a pair of gloves that will keep you warm without sacrificing dexterity or style. That's where these Premium Winter Motorcycle Sheep Leather Gauntlet Gloves come in.
Made from premium grain genuine sheep leather, these gloves are built to last. The thermal insulation will keep your hands warm even on the coldest days, while the accordion stretch panel on the knuckles ensures a comfortable and secure fit.
So whether you're hitting the open road or just commuting to work, do it in style and comfort with these Premium Winter Motorcycle Sheep Leather Gauntlet Gloves.
Most Commonly Asked Questions Around Winter Riding Gloves
It can be tough to figure out what type of gloves to wear when riding in the winter.
There are a lot of factors to consider when choosing the right gloves for winter riding, like insulation, weather protection, and grip.
We've answered the most commonly asked questions around winter riding gloves so you can make an informed decision about which pair is right for you. Our guide covers everything from what type of insulation to look for to how to choose the right size and fit.
Do heated gloves work on a motorcycle?
Heated gloves do work as winter motorbike gloves. The heating elements do a good job of keeping your fingers warm so that you stay in control of your motorcycle. The best winter motorbike gloves usually come with the heating element, pre-curved fingers, a thermal lining, and an extended neoprene cuff to keep your hands dry in wet weather.
Why Winter Motorcycle Gloves Are Necessary
Riding a motorcycle in cold weather can be dangerous, as the chill of winter severely affects the hands. This is why having the warmest winter motorcycle gloves is essential. With a thick leather outer layer and soft inner fleece lining, these gloves provide excellent insulation to keep your hands warm during long rides in cold weather.
Motorcycle gloves often feature adjustable cuffs and wrist closures to ensure a secure fit when riding in colder climates. The first line of defense against cold weather is an outer layer that sits between the rider and the environment's elements.
This layer should be made of waterproof material like leather that can keep rain and snow out while still letting your hands breathe. The second line of defense comes from the fleece lining which provides additional warmth by trapping heat inside the glove's interior pocket.
Look for heavy-duty linings such as wool or polyester to really insulate your hands against chilly wind and bitter temperatures. Some gloves also feature built-in heating elements for extra comfort and protection from the cold.
A good pair of winter motorcycle gloves will keep your hands warm no matter what kind of weather you are riding in, allowing you to enjoy a safe and comfortable ride all winter long. So make sure you have the warmest motorcycle gloves for maximum protection from the chill of winter air!
Are leather motorcycle gloves good for winter?
Leather motorcycle gloves are good for winter because they are made of a sturdy material that can protect your hands from the cold weather. In addition, the gloves often have a lining that helps to keep your hands warm.
Just be sure you have gloves rated for winter and not cycling gloves!
What's better, heated gloves or heated grips?
Heated gloves are better for a few reasons:
1) They distribute heat more evenly than heated grips.
2) They keep your hands warmer for a longer time.
3) They're safer because they don't overheat the bike.
How tight should your motorcycle gloves be?
There's no one perfect answer to this question, as it depends on what type of gloves you're wearing and how tight you want them to be. Leather gloves, for example, will stretch a bit over time and will become more comfortable the tighter you wear them. But if you're wearing cotton or other non-leather gloves, they should be pretty snug so that they don't come off easily in the event of a crash.
Ultimately, it's up to the individual rider to decide how tight they want their gloves to be. Just make sure that they're not too tight to the point where you can't comfortably move your fingers or hands.
Why do motorcycle gloves have hard knuckles?
The hard knuckles on motorcycle gloves serve a function of protection. When you hit something with your hand, the flesh, bone, and ligaments around your knuckles are going to take the brunt of the impact.
A hard knuckle glove will help to protect those parts from taking too much damage. Additionally, gloves with hard knuckles can also help to protect your hands in the event of a fall. If you fall on asphalt or another hard surface, the hard knuckle in your glove will help to prevent fractures or other injuries to your hand.
What is a visor wiper?
A visor wiper is a small, rubber blade that attaches to the glove thumb and is used to clear rain, snow, or other debris from your visor.
The Best Cold Weather Motorbike Gloves for You
So, you're in the market for a good pair of winter motorcycle gloves, but you don't know where to start. You could spend hours reading reviews on different websites and still not feel confident about your purchase.
Or, you could just read our roundup of the best winter motorcycle gloves out there and be done with it. We've read through thousands of customer reviews to bring you the most highly rated gloves on the market so that you can make an informed decision and get back to enjoying the cold weather ride ahead.
Of course, we understand that everyone has different needs when it comes to their gear, so we've included a variety of options in this list from budget-friendly picks to more high-end models.
Whether you need waterproofing capabilities or extra warmth for those really frigid days, we've got you covered. Happy riding!