10 Cast Iron Teapots That Will Make Tea Time Sublime
Cast iron tea pots are a great way to brew tea traditionally. We reviewed the top teapots to spice up your brewing experience!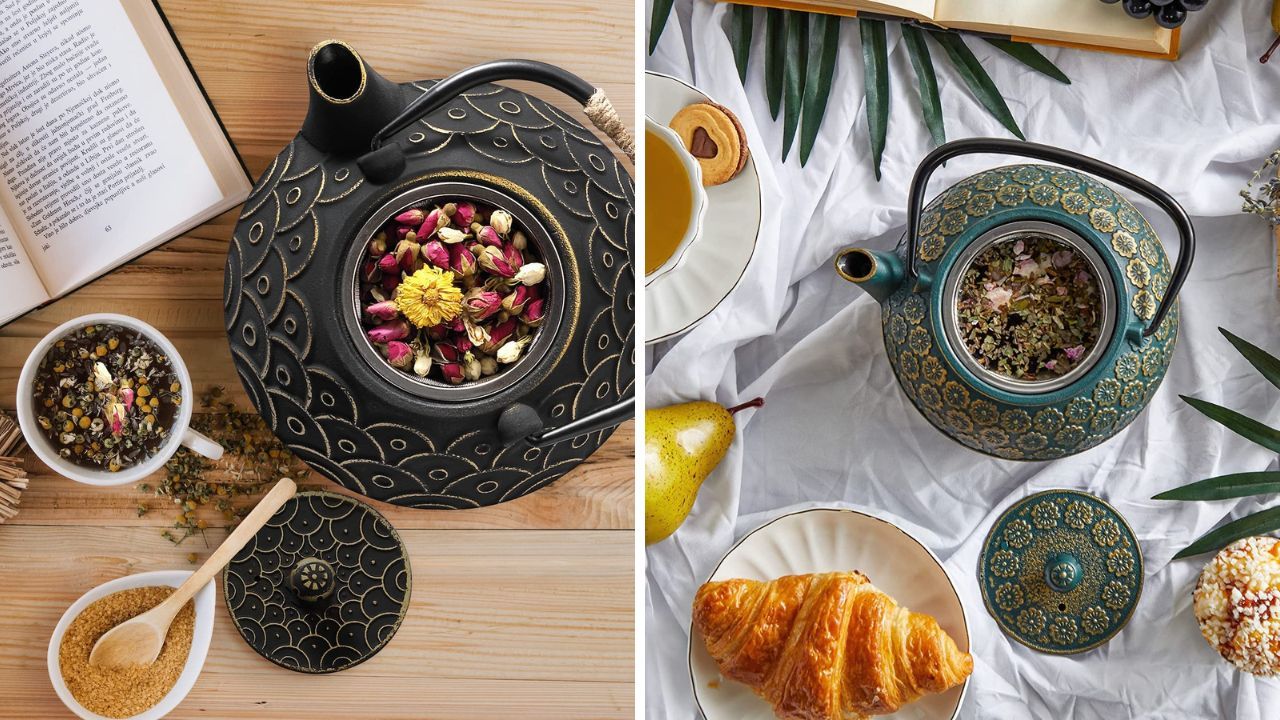 Love spending time with your friends and family over a warm cup of tea?
Then you need a our cast iron teapot! Not only do they make the perfect pot of tea, but they're also beautiful pieces of art that will make your tea time sublime.
Cast iron teapots are known for their ability to keep tea warm for long periods of time, so you can enjoy your cup of tea at your own pace. Plus, the included infusers mean you can use any type of loose-leaf tea for a perfectly brewed cup every time.
Your next cast iron teapot is waiting for you below!
How We Found the Best Cast Iron Pots
It's hard to find a good Japanese cast iron teapot.
Most of the time, when you're looking for something specific like a Japanese cast iron teapot, it feels like you're wading through an endless sea of options with no way to tell which one is the best.
We've done the hard work for you. After reading thousands of reviews, we've found the best Japanese cast iron teapots on the market.
---
UnpackedReviews is reader supported, which means that when you click on links to products on our site and make a purchase, we may earn a commission. However, our opinions are our own, and we only recommend products that we genuinely love.
---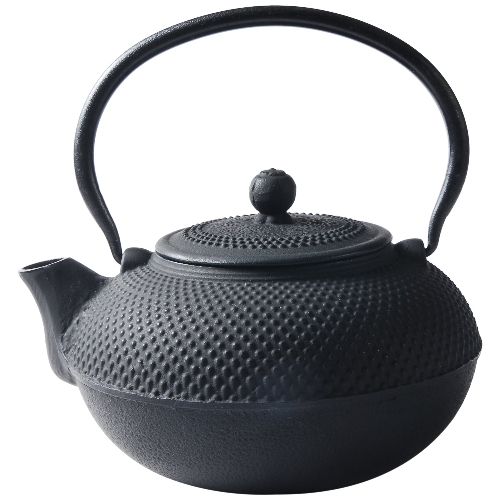 Old Dutch Cast Iron Saga Teapot, 52-Ounce, Matte Black/52 oz/Saga 52 oz Saga
The Old Dutch Cast Iron Saga Teapot is a fantastic, affordable option if you're looking for a cast iron teapot. It has a sleek black finish and comes with an infuser to help you brew your tea correctly. It doesn't have the same heat retention of more expensive models, but it still keeps your tea warm for hours at a time. You can also use this as an ordinary cooking kettle if you need one outside in the cold or rain. The porcelain enamel interior coating prevents rust and helps prevent staining, so it's great for use on wood-burning stoves too.
Check Price On Amazon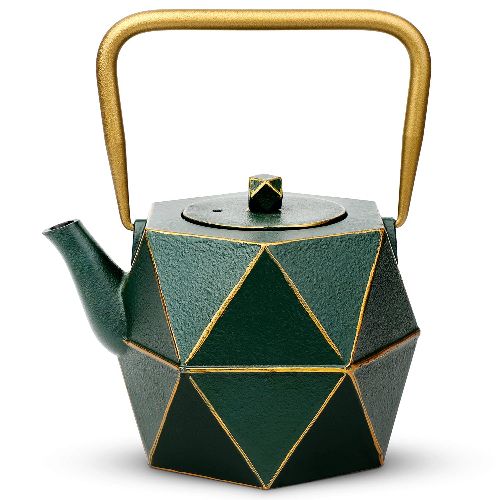 Toptier Cast Iron Teapot, Stovetop Safe Japanese Cast Iron Tea Kettle
The Toptier Cast Iron Teapat is a beautiful piece of cast ironware that will look great on your stovetop, and it's also incredibly useful for preparing your favorite tea blends. This 30-ounce teapot has a diamond-shaped exterior, which is an eternal symbol of perseverance. It'll be able to withstand years of use, so you can rest assured that this cast iron tea kettle won't shatter when dropped. The removable infuser is perfect for loose leaf tea, while the ergonomic fold-down handle allows easy grip and easy pouring after boiling on the stovetop. The stainless steel infuser is a thoughtful addition to the Toptier Cast Iron Teapot, as it helps prevent any damage to your favorite teabags or blooming teas.
Check Price On Amazon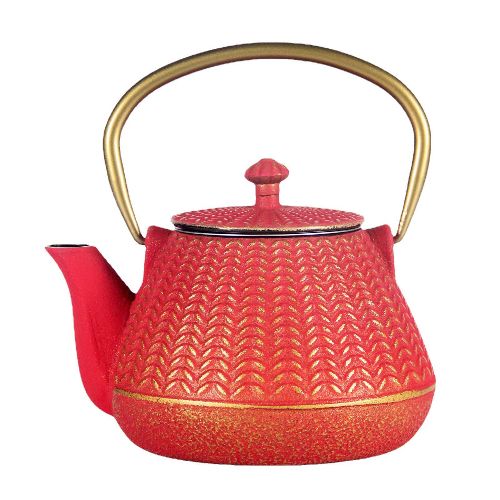 Cast Iron Tea Kettle for Stovetop Safe, Japanese Style Teapot Coated Enameled Interior
The YJX Cast Iron Teapot is another quality cast iron tea kettle that's made to last. The exterior of this model features a red bamboo weave pattern, which looks really nice and adds extra durability. The interior of this cast iron teapot is coated with enamel to prevent rusting and stains. We liked the large capacity here too, as it can hold up to 34 oz of liquid. It also comes with an infuser so you don't have to worry about losing your favorite tea bags during use.
Check Price On Amazon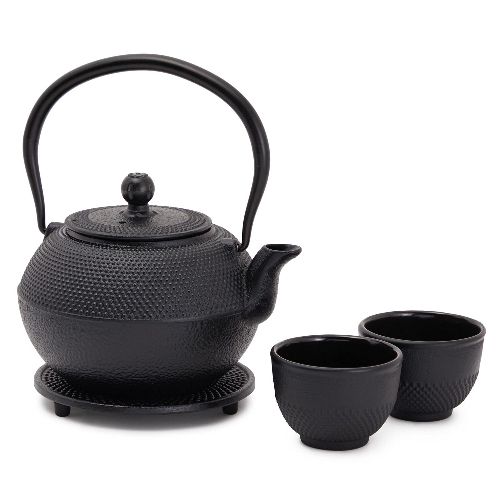 Cast Iron Teapot, Japanese Tetsubin Kettle Set with 2 Cups, Tea Infuser (1200 ml, Black)
This Japanese tea pot is one of the most versatile ones you can buy. It's designed to sit on a stovetop, which makes it ideal for making green tea and other infusions quickly, easily and efficiently. It also comes with a trivet so that your pot sits securely on the stovetop without burning its base. This means that this pot is particularly good for beginners who want a simple way to enjoy loose leaf tea. The iron body doesn't rust easily either, meaning that if you're looking for an iron tea pot that will last several years, this may be it. The biggest downside is its price; this isn't cheap but considering what you get in terms of features and convenience, it's worth every penny.
Check Price On Amazon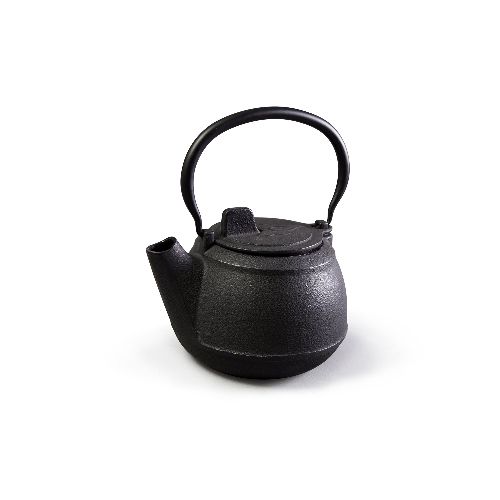 Camp Chef Cast Iron Tea Pot
Camp Chef's True Seasoned Cast Iron Tea Kettle offers a rustic look and feel that's perfect for your outdoor kitchen. This cast iron tea kettle is ideal for heating water and brewing loose leaf teas. The large handle makes it easy to hold and pour, while the wire coil base keeps heat from escaping. This cast iron tea kettle also includes an enamel-coated interior, which helps protect against unwanted scratches during use. This camping kettle will not disappoint when you're looking to make your way outdoors with ease. The Camp Chef True Seasoned Cast Iron Tea Kettle comes pre-seasoned so you can get right to brewing even before taking it out of the box.
Check Price On Amazon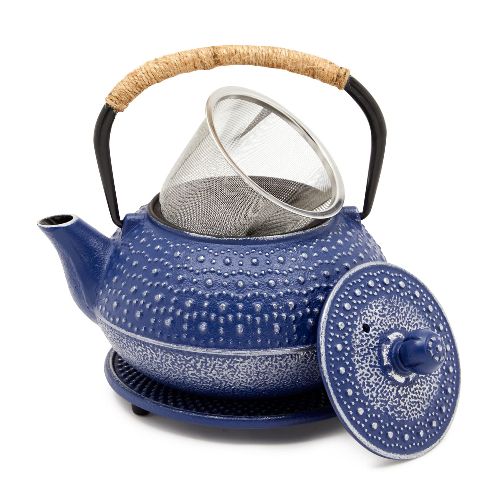 3 Piece Set Blue Japanese Cast Iron Teapot, Loose Leaf Tetsubin with Infuser and Trivet (27 oz)
The Juvale Japanese tea pot is a cast iron teapot that works well for green tea and herbal blends. This particular model also comes with a stainless steel infuser, which makes it easy to use when you're brewing up some loose leaf tea. The Juvale teapot features a blue glaze finish. It's not as heavy or sturdy as other models on this list, but it's also cheaper than many of the others out there. Which is why we think it's worth considering if you need a budget option that still performs well. It has an attractive design and simple blue glaze finish that will complement most decors.
Check Price On Amazon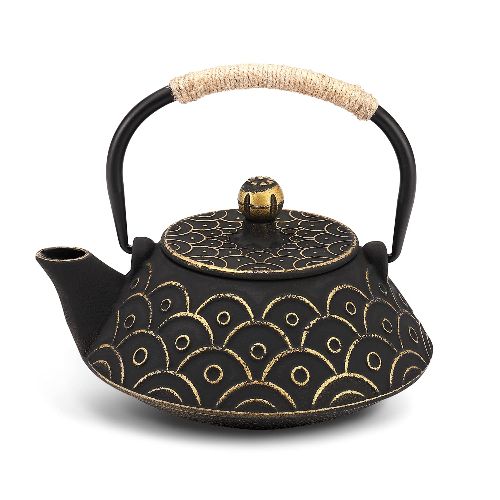 VUDECO 30oz Gold Black Japanese Cast Iron Teapot Kettle
The Vudeco Japanese Tea Pot is a very versatile kettle that can be used on gas, electric and wood burners. It's made from cast iron which makes it sturdy but also adds some weight to the product. The kettle has an enamel coating in its interior meaning it's easy to clean and will maintain its shine over time. The gold wave pattern design of this tea pot is very sleek and stylish too making it a great choice for any kitchen or living room. The handle is wrapped so you can grip it easily without burning. This pot works well with loose leaf teas but that shouldn't stop you from trying different types of tea to fit your flavor.
Check Price On Amazon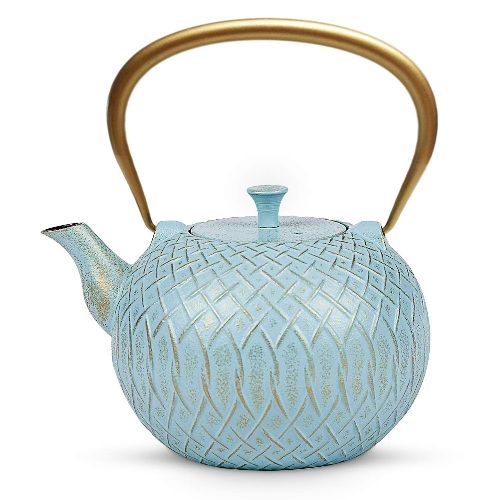 Tea Kettle, Toptier Japanese Cast Iron Tea Kettle for Stove Top
If you're looking for a cast iron tea kettle that's elegant and sleek, look no further than this Toptier Tea Kettle. It offers an ergonomic fold-down handle and a short curved spout for easy pouring, and it comes with a convenient welcome guide explaining how to use it. The 34 ounce capacity of this Japanese cast iron teapot is more than enough to brew up four cups of tea at once, which means you can enjoy your favorite loose leaf varieties without worrying about overfilling your mug. The infuser has a fine mesh, meaning you can use it with blooming or flowering teas making this is an excellent choice among cast iron tea kettles.
Check Price On Amazon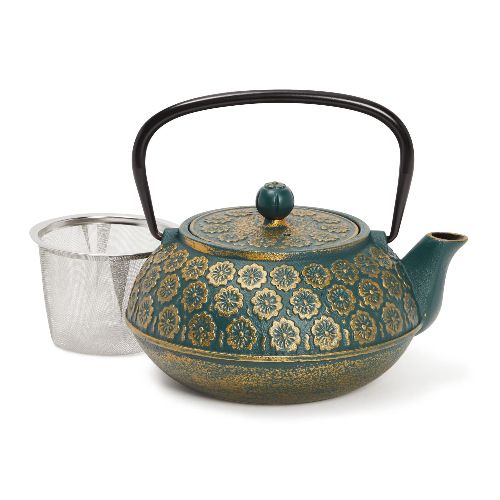 Green Floral Cast Iron Teapot Kettle with Stainless Steel Loose Leaf Infuser (34 oz)
The Juval Cast Iron Tea Kettle is a very stylish option that also happens to have an impressive capacity. With a 1000ml (34oz) capacity, this kettle can hold a decent amount of tea and still be hot when you need it. The cast iron construction makes for a sturdy kettle that's built to last, while the stainless steel mesh infuser means you can brew loose leaf teas like green tea or herbal blends with ease. It does take some getting used to the shape of the spout, but once you're used to it, you'll appreciate how easy it is to pour from this kettle.
Check Price On Amazon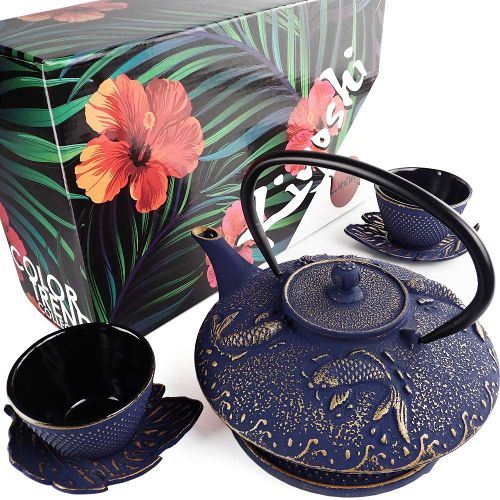 KIYOSHI Luxury 7PC Japanese Tea Set. "Midnight Blue Koi" Cast Iron Tea Pot Set
The Kiyoshi Luxury 7-Piece Japanese Tea Set is a beautiful, handcrafted piece that's perfect for serving tea to guests. The cast iron kettle has a glazed finish and an enamel layer inside to protect it from damage. It holds 27 ounces of your favorite loose leaf tea, which is more than enough for four cups of tea. Each item in this set also comes with a matching trivet, so you can place them on the table without worrying about any spills or stains ruining your expensive set. The design of this set features gold accents against midnight blue with black accents, giving it a lovely aesthetic that's both traditional and modern at the same time.
Check Price On Amazon
Most Commonly Asked Questions About Cast Iron Teapots
People are often intimidated by cast iron teapots because they don't know how to use them or care for them.
Cast iron teapots are a great way to make tea, but they can be a little complicated with the infuser.
We answered the most commonly asked questions about cast iron teapots so you can enjoy all the benefits of this great kitchen appliance.
Are cast iron teapots worth it?
Cast iron teapots are indeed worth it! The timeless, traditional design, coupled with its durable construction makes it an excellent choice for avid tea drinkers.
One of the main benefits of using a cast iron teapot is that it retains heat longer than other types of materials, which means your favorite tea can stay hot and ready to enjoy for an extended period of time. Additionally, the internal enamel coating helps keep any mineral deposits from tainting the flavor of your beloved brews - something that you don't get with other teapot designs.
Not to mention, these pots are incredibly versatile and can be used on all cooking surfaces such as induction burners, direct flame or even open fire pits. So if you're looking for a classic piece to add to your kitchen collection and relish in your beverage making experience – then investing in a quality cast iron teapot is definitely worth it!
Why do people use cast iron teapots?
People have been using cast iron teapots for centuries, as they are a great way to bring out the flavor and aroma of tea. The thick walls of a cast iron teapot help keep the water at an even temperature throughout the brewing process, resulting in a smooth and flavorful tea. The material also makes it ideal for use over direct flames.
Cast iron teapots can last for many generations if properly cared for, making them an excellent choice for people looking to own one long-term.
Not only are their designs intricate and beautiful but there is something special about drinking from a pot that has stood the test of time! Finally, cast iron absorbs heat well so your tea can stay warm longer than other types of materials used in making teapots.
Can you boil water in a cast iron teapot?
Yes, you can safely boil water in a cast iron teapot. Cast iron is an ideal material for boiling water as it is very strong and resistant to corrosion or rusting - so your teapot will last for years. The metal conducts heat well, meaning the pot heats up quickly and evenly. It also retains heat better than many other materials, keeping the hot water warm for longer.
What should you look for in a cast iron teapot?
When shopping for a cast iron teapot, there are several key factors to consider. First and foremost, you should ensure that the teapot is well-built with no rough edges or weak seams. This will ensure that your tea will stay insulated and won't run out of the bottom of your pot when boiling hot water.
Secondly, look for a heavy-duty lid that seals securely onto the main body of the teapot. A tight-fitting lid means that steam from boiling water won't escape prematurely, leading to weaker flavor and lower temperatures in the resulting cup of tea. You should also make sure that you can easily grip the handle.
What is a tetsubin cast iron teapot?
A tetsubin cast iron teapot is a Japanese teapot used for making tea in the traditional manner. It is made from cast iron, giving it a very solid and heat-conductive construction that allows for even heating of the water for consistent flavor in every cup.
Tetsubin are also naturally rust-resistant, which makes them ideal for daily use as well as being beautiful works of art crafted with intricate designs on their surfaces.
The interior surface of a tetsubin teapot is coated with enamel or lacquer to prevent direct contact between the boiling water and metal, which would otherwise lead to an undesirable metallic taste. These pots come in various sizes and colors, allowing you to get just the right look to suit your style while enjoying your favorite tea.
Can you use loose tea leaves in a cast iron teapot?
Yes, you can use loose tea leaves in a cast iron teapot.
Cast iron teapots are ideal for using with loose tea leaves because the material is known to help keep the water temperature warm and hold onto the flavor of your favorite tea for an extended period.
Additionally, due to its weight, it helps reduce any movement of the leaf when it's boiling inside.
What are tea infusers?
Tea infusers are tea-steeping devices designed to steep, or allow the release of flavor from a specific selection of loose leaf teas. They provide an easy way to make a quality cup of tea without having to buy bags or strainers.
Tea infusers come in many shapes and sizes, from simple mesh strainers with handles and lids, to elaborately designed cups that create entire scenes as they brew.
To use an infuser, simply add your desired amount of loose leaf tea leaves into the vessel, place it into your favorite mug or teapot full of hot water and let it steep for the recommended time.
After about 5-7 minutes—depending on what type of tea you're making—remove the infuser and either discard the leaves or save them for reuse. With their ease and convenience, tea infusers have become popular pieces of kitchenware among both novice brewers and veteran connoisseurs alike!
Are Ceramic teapots better?
Absolutely! Ceramic teapots are a great choice for brewing tea. Not only do they look beautiful, but the ceramic material has properties that make it ideal for making tea.
The porous nature of ceramic allows heat to escape more slowly than metal or glass, allowing the water temperature to remain fairly consistent while steeping.
This means your tea will have a fuller flavor and antioxidant content compared to if you were using other material pots. Additionally, ceramic is non-reactive and doesn't leach any unwanted flavors into the water like metal can.
Lastly, with proper care and maintenance your ceramic teapot can last you many years which makes them an excellent value for money purchase.
The Right Cast Iron Pot For You
If you a one of many tea lovers and are interested in the Japanese tea ceremony, cast iron teapots are a must have. They allow you to brew tea in a traditional way but they are also very practical.
We read tons of reviews to find these top picks for you and we hope you found this list of cast iron pots helpful. So get out there pour hot water over green teas and enjoy!
Keep scrolling for more like this!