9 Clip On Fans To Cool You Down: Get On The Clip Fan Trend
Out top picks of clip on fans are small, easy to use and attractive. Stay cool with these great fans!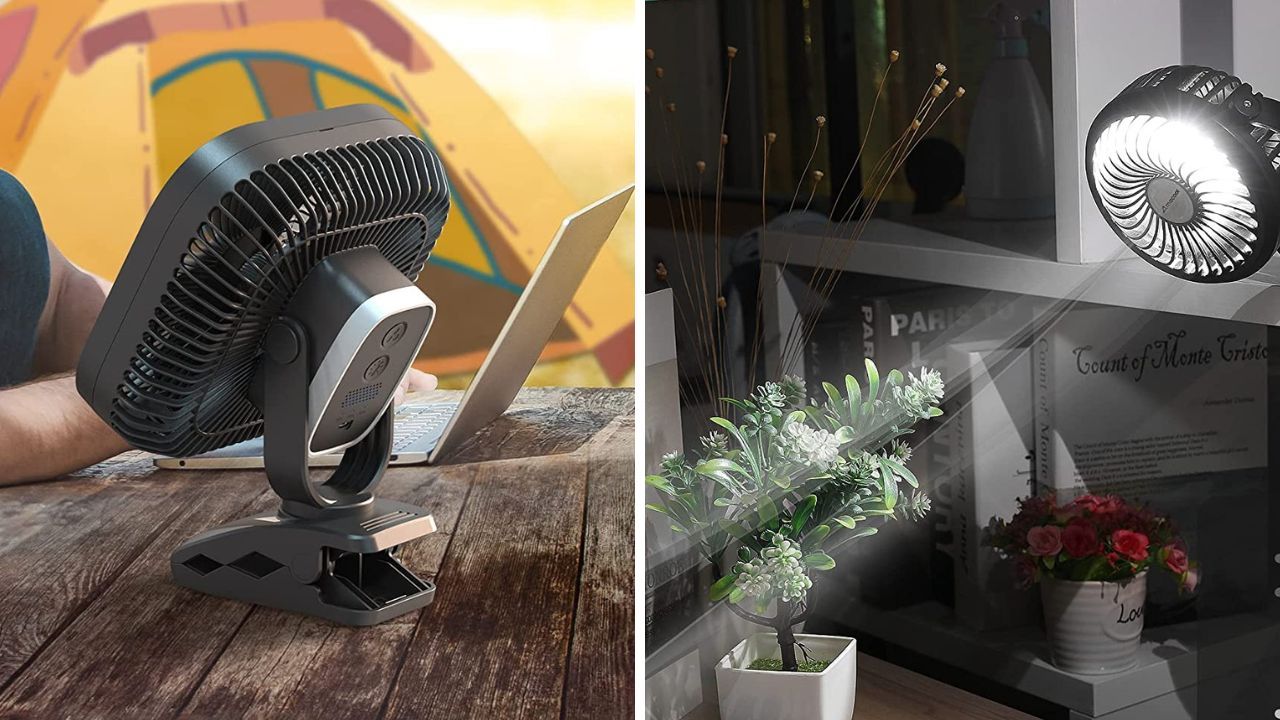 Are you tired of feeling hot and sweaty?
We don't blame you. It's summertime and the heat is on! That's why we think it's time to get on the clip fan trend. Clip fans are a great way to cool down quickly and easily – without breaking the bank.
Plus, they're portable so you can take them with you wherever you go. Whether you're at work, at home or out and about, clip fans can come in handy when the weather gets too hot for comfort.
Check out our selection of clip fans today and find the perfect one for your needs!
How We Found The Best Clip On Fan
It's hot outside and you need a fan, but don't want to spend a lot of money or deal with the hassle of setting up a traditional fan.
It can be really tough to find the right fan for your needs. You have to consider size, power, noise level, and design. Plus, if you're not careful you could end up spending a lot of money on a fan that doesn't meet your needs.
We've done the hard work for you and found the best clip on fans available. Whether you're looking for a small fan to take with you on trips or a powerful fan to keep you cool at home, we've got you covered.
---
UnpackedReviews is reader supported, which means that when you click on links to products on our site and make a purchase, we may earn a commission. However, our opinions are our own, and we only recommend products that we genuinely love.
---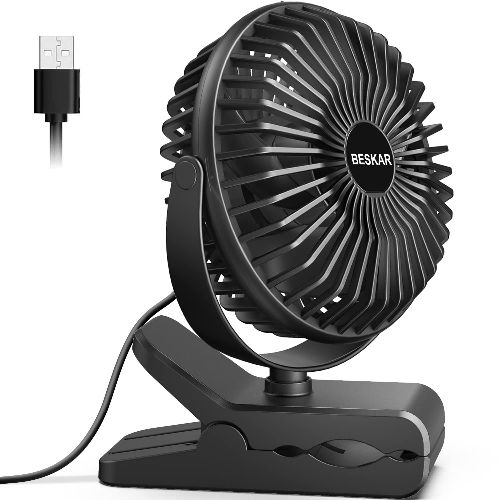 BESKAR 6 Inch Clip on Fan, 3 Speeds Small Fan with Strong Airflow, Clip & Desk Fan USB Plug
Clip on fans are small, simple to use and attractive. The Beskar 6-inch fan is no exception, with a slimline design that will sit neatly on your desk or table and works well as a personal fan. It has three speeds and comes with an AC adaptor so you can charge your phone while using it which makes it super useful in the office or classroom setting. It also has a 360 degree swivel which means you can point the fan at yourself or whoever else may be sitting close by, such as family members or friends. When used this way you get more of an air circulation than just pushing warm air around the room but if you want to push the air right out there this isn't for you. The three speed settings mean that this fan is suitable for all types of weather conditions from hot summer days to chilly winter nights - even when sleeping close by! This is great for those who like to have their own personal cooling system without having to worry about batteries running out mid-session too.
Check Price On Amazon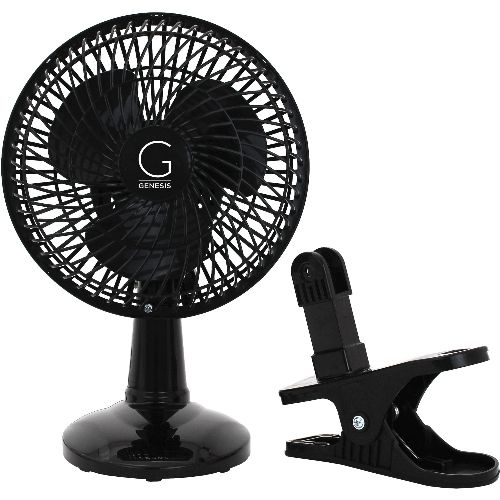 Genesis 6-Inch Clip Convertible Table-Top & Clip Fan Two Quiet Speeds
The Genesis 6-Inch Clip-On Fan with Attachable Table-Top Base is a powerful clip on fan that can be used as a table top or handheld option. The fan has an adjustable head, so you can adjust the angle of the air flow to suit your needs. It also comes with two quiet speeds and an overload protection system to eliminate any unnecessary buzzing. This model is also energy efficient and has been ETL listed for safe operation. The fan uses three AAA batteries which can be removed for easy replacement, making this model simple to maintain.
Check Price On Amazon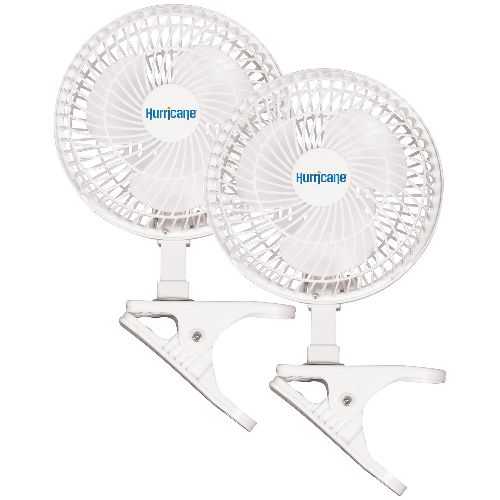 Hurricane Classic 6 Inch White Clip Fan with Strong Clamp, Two Speed Settings, and Adjustable Tilt Mechanism Clip Fan
The Hurricane Classic 6 Inch Clip Fan is an affordable yet high-performance clip fan. It offers two speeds and an adjustable tilt mechanism that allows you to fine tune the fan's output for your ideal flow of air. The clip mount is sturdy and reliable, allowing you to mount this fan almost anywhere you need it - such as on a bookshelf or countertop. The strong clamp also has a spring-loaded mechanism so that it can hold the fan securely in place during use, even when mounted at an angle. This fan uses a relatively small amount of power compared to other clip fans and runs at 2350 RPM on high - perfect for running in close proximity to your face without bothering you too much with noise.
Check Price On Amazon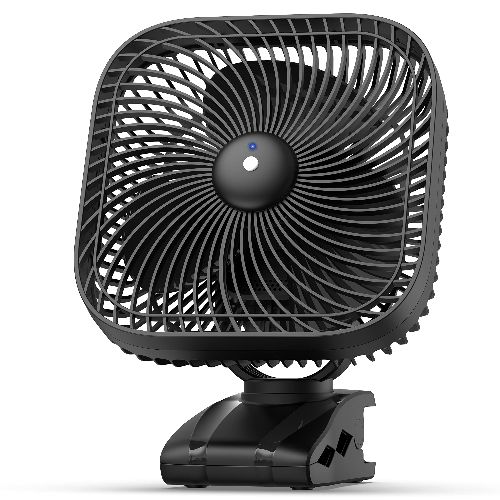 18000mAh Rechargeable Portable Fan with Light, 8-inch Battery Operated Clip on Fanne
The XASLA Windchaser is a small clip-on fan that comes with four speed settings and can run up to 44 hours on a single charge. It has an LED light built-in, which works as a useful flashlight too. The Windchaser has an ergonomic design that makes it comfortable to hold even for extended periods of time, while its lightweight frame make it easy to carry around when you need it most. Its high quality motor and the limited space it takes up make this a great option to address your needs.
Check Price On Amazon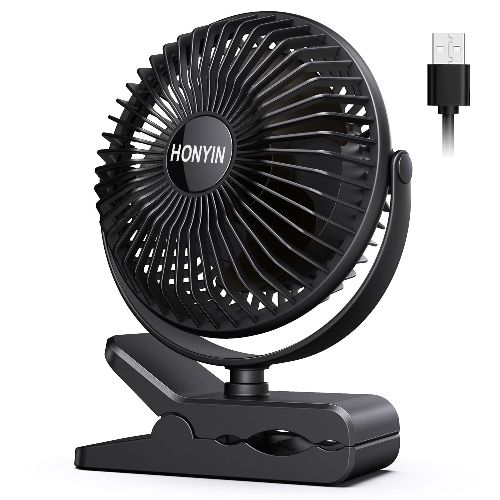 HONYIN 6'' Clip on Fan, 720° Rotation Small Desk & Clip Fan, Personal Cooling Fan
If you are looking for a clip-on desk fan that doubles as a mini table fan, look no further than the Honyin 6 inch Desk Fan. This little guy is small in stature and has three speed settings which will allow you to control how much airflow you need. The three-speed settings mean this fan can create light breezes while silently circulating air around your workspace, making it an ideal choice for places where noise isn't an issue. It also comes with a 20 dB sound level which means it's not going to disturb others when in use. While there is no battery or charger included in the box, this little guy does come with a USB cord which allows you to charge up your device using it as power bank too if needed.
Check Price On Amazon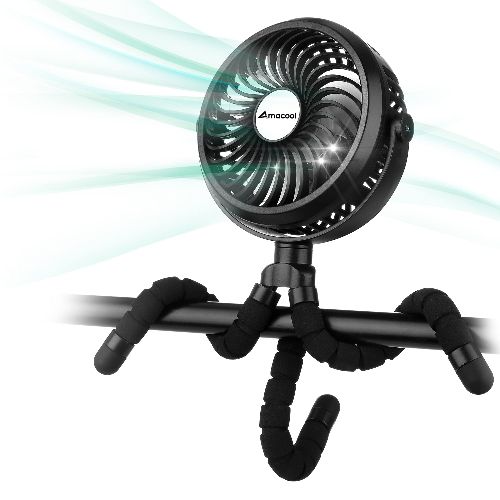 AMACOOL Battery Operated Stroller Fan Flexible Tripod Clip On Fan with 3 Speeds
The AMACOOL mini fan is a great option for people who want to use it on the go. It's capable of three speeds and can run for six hours in full power mode. The head rotates at 360 degrees, which means you can direct the cool breeze wherever you need it. It also has a light built into it, so you can save battery power by using this light sparingly. The tripod design makes it sturdy enough to be used outdoors without worry that it will bend or break under pressure from wind gusts. While these features make this a great handheld fan, the adjustable legs makes it versatile for many uses.
Check Price On Amazon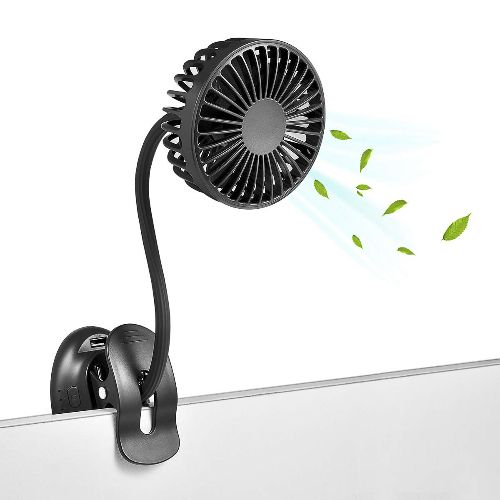 Clip on Fan Usb Mini Fan Battery Operated Desk Fan with Emergency Power Bank
The Glovion Fan is a very versatile personal fan that can be used in numerous ways. It's quite small, so it could sit on your desk or nightstand and help you stay cool while you're working or studying. As a portable fan, this model is ideal for taking to the beach or to a picnic because it folds up into an easy-to-pack bag. You can also use it as a power bank if you need extra juice when out and about with your smartphone. The touch controls make controlling the air flow very intuitive, which makes using this fan simple and easy no matter what sort of user you are.
Check Price On Amazon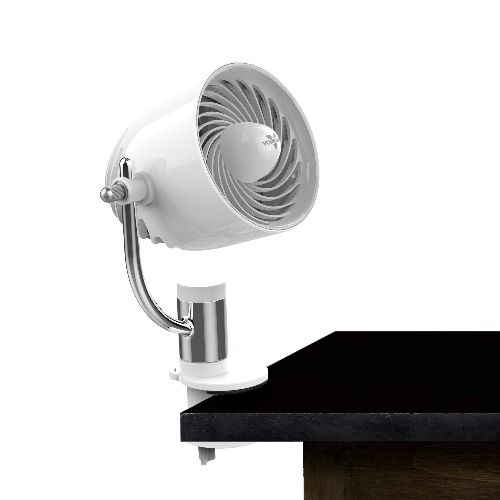 Vornado PivotC Personal Air Circulator Clip On Fan with Multi-Surface Mount, White Pivot Clip White
The Vornado PivotC is a personal fan that comes with a clip mount, making it ideal for use on desks or nightstands. The fan's three speed settings allow for enough circulation to get rid of the heat in your room, but not so much as to annoy those around you. The pivoting head allows you to direct the air flow at any angle you like, and the swiveling chrome bar makes it easy to move this fan around if needed. The plastic blades are removable for easy cleaning and the housing helps direct airflow where needed. If you're looking for a simple yet effective way to circulate air in your home, consider getting a Vornado PivotC Personal Air Circulator Fan.
Check Price On Amazon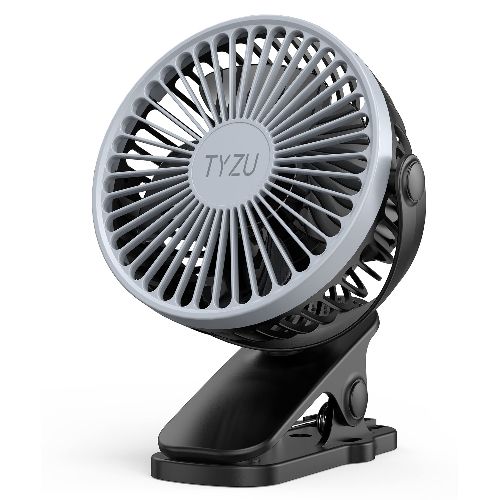 TYZU 5 Inch Clip on Fan, 3-Speed Desk Fan, 2500mAh Battery Operated USB Fan
The TYZU clip-on fan is a great choice for anyone who needs a compact, lightweight fan to move air around their workspace. It's powerful enough to provide significant cooling power, and it has three speed settings that you can use to help regulate the temperature in your room. The mini desk fan runs on a rechargeable battery that can last for up to eight hours at full power, which should provide plenty of time to get your work done before you have to charge it back up again. The heat dispersal capabilities of this mini desk fan are also impressive, so if you're looking for an effective way of keeping cool during the warmer months of the year, this could be the perfect solution for you.
Check Price On Amazon
Most Commonly Asked Questions
It's hot, you're sweaty, and there's no breeze in sight. What can you do to cool down? You have a lot of questions that we took the time to answer. Are clip on fans any good? Do you need a non slip mat?
We've done the research for you and found the top clip on fans that will keep you cool all summer long. Whether you're looking for a small fan to take with you on your next camping trip or a large fan to cool down your whole house, we've got you covered. The best part is you don't need to shop at a a store like Walmart, you can order one right now from Amazon!
What is a clip on fan?
A clip on fan is a type of small electric fan that is designed to clip onto various surfaces such as tables, desks, or even chairs. It usually has adjustable height settings and can be powered either by an AC outlet or batteries.
They are also uniquely suited for outdoor activities like camping trips, picnics, and sporting events due to their portability and low power consumption. Despite the usefulness of this product however, its very rare to find them being sold in stores today - making them unique gadgets that you will almost likely only find online.
Do mini fans use a lot of electricity?
No, mini fans typically use very little electricity. Most of these small fans are battery operated or USB powered and they draw such a low amount of power that it's often negligible compared to other appliances in the home.
As you can imagine, a fan designed for personal use won't need as much power as some larger models like those used to cool entire rooms. In fact, it's very rare for mini fans to even register on your home electricity meter in terms of usage!
Some min fans have lights but if you want to save on power consider a pocket flashlight instead.
Can you attach a fan to a USB?
Yes, it is possible to attach a fan to a USB port. Specific models have a USB power cord attached. Unlike the standard power outlet, USB ports are designed to provide low-level power and having the appropriate wiring is critical.
What happens if you sleep by a dusty fan?
Sleeping by a dusty fan can cause various health issues due to inhalation of the particulate matter from the dust. While it is very rare, some associated effects may include dry or irritated eyes, throat irritation, coughing or sneezing fits caused by an allergic reaction to the particles in the air.
Additionally, it has been found that sleeping in a room with poor air quality caused by dust can have negative impacts on sleep quality and duration as well.
It's important to note that regular cleaning and maintenance of fans is necessary to ensure their proper functioning and minimize potential health risks.
A few simple steps such as regularly switching off electrical appliances like fans when not in use, positioning them away from any dust sources (i.e., windows) and regularly vacuuming around them will help reduce these risks significantly.
What repels dust?
Dust is a very common household nuisance but it's surprisingly difficult to repel. There are no single solutions effective enough to keep dust away permanently, but with a combination of tactics, you can reduce the overall amount of dust in your home over time.
In general, high-quality air filters and HEPA vacuums are two of the best ways to reduce indoor dust levels. Both will filter out large particles that would otherwise be suspended in the air and recirculated around your home.
Do clip fans make you cooler?
Fans can help make a person feel cooler, but they are not meant to actually reduce temperature.
When a fan is blowing air on you, it reduces the apparent temperature and provides a cooling sensation as sweat evaporates faster. However, it is very rare that this leads to actual cooling in the environment; most of the time it simply moves existing air around.
Fans are better used for distributing air throughout an area and creating airflow rather than reducing temperature directly.
Conclusion
There you have it, our top choices to get some airflow in your life. We hope our list has helped you find the right item for you. Pick up one of these great products and you wont regret it. Whether you are out in the country or in the city you will enjoy the results you get from a personal airflow device!
If you liked this keep scrolling for more!