Why You Need a Dish Sponge: 9 Best Sponges For Sanitation
A dish sponge is a must have tool in any kitchen. It allows you to clean your dishware quickly and easily!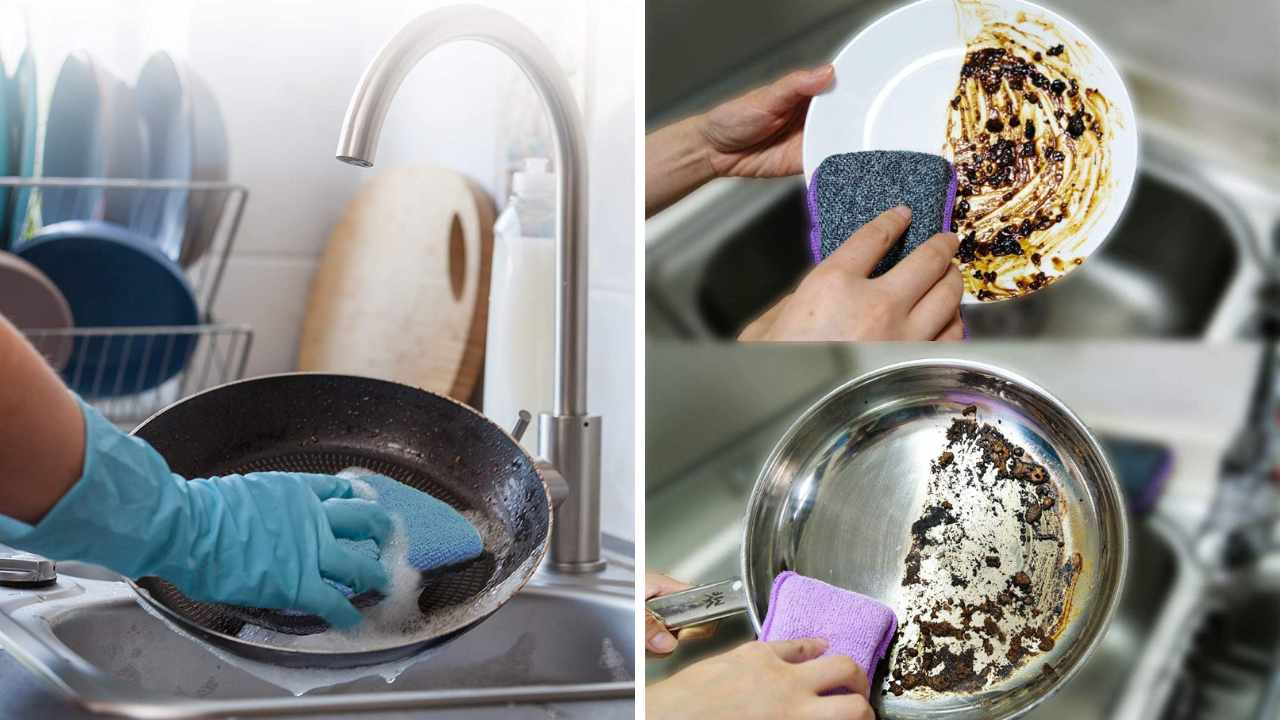 Are you looking for the best dish sponge to keep your kitchen clean and hygienic?
Keeping your dishes clean is essential for a healthy home. But finding the right sponge can be tricky. We've done the research and compiled a list of the best sponges for dishes that will help you make an informed decision when it comes to choosing one.
With our top picks, you can rest assured knowing that your dishes are being cleaned with quality materials that won't scratch or damage them in any way. Plus, these sponges come with unique features like antibacterial properties, non-scratch surfaces and more – all designed to make cleaning easier and faster than ever before!
Read on to find out which dish sponge is perfect for keeping your kitchen sparkling clean!
How We Found The Best Sponges For Dishes
Cleaning your dishes can be a tedious and time-consuming task.
You want to make sure you have the right sponge for the job, but with so many options out there it can be hard to know which one is best. Plus, if you choose the wrong one, it could end up scratching or damaging your dishes!
We understand how important it is to find the perfect dish sponge for your kitchen needs. That's why we read thousands of reviews and compiled a list of our top picks – all designed to help you make an informed decision when choosing a dish sponge! With our selection, you can rest assured knowing that your dishes are being cleaned with quality materials and unique features making cleaning easier than ever before!
---
UnpackedReviews is reader supported, which means that when you click on links to products on our site and make a purchase, we may earn a commission. However, our opinions are our own, and we only recommend products that we genuinely love.
---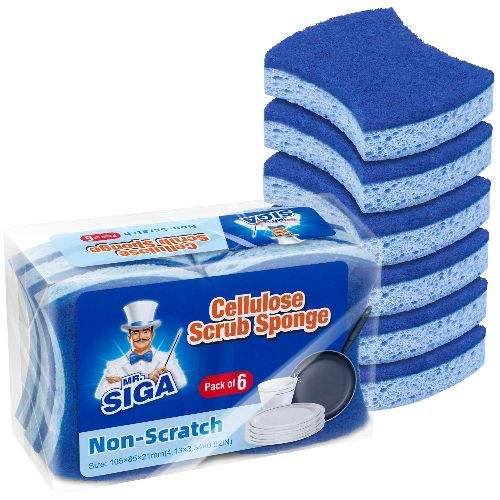 MR.SIGA Non-Scratch Cellulose Scrub Sponge, Dual-Sided Dishwashing Sponge for Kitchen, 12 Pack
If you've ever scrubbed the dishes with a sponge that's been too rough, you know manual dishwashing can be difficult with the wrong tool. That won't happen to you if you buy MR.SIGA Non-Scratch Cellulose Scrub Sponges - these dual-sided sponges have two unique layers that make them very user friendly. The royal blue layer gives you the power of a good scrub, while the light blue cellulose sponge layer is scratch-free and gentle enough for any surface. With a 12 pack, your kitchen will be prepped for any mess that comes its way! Get ready to upgrade your kitchen cleaning experience with these amazing Non-Scratch Cellulose Scrub Sponges from MR.SIGA.
Check Price On Amazon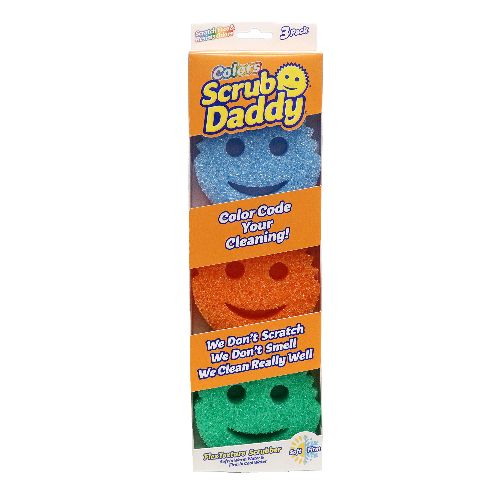 Scrub Daddy Color Sponge - Scratch-Free Multipurpose Dish Sponge Color Variety Pack
If you're looking for an outstanding cleaning tool that won't let you down, the Scrub Daddy Color Sponge is your perfect choice. Not only is this scrubbing sponge scratch-free, it's also made with polymer foam so you know it will last through all the tasks you can throw at it! And since this sponge is stain, mold and odor resistant, you don't have to worry about it getting gross. With four different colors in one package - including a blueberry, lemon lime and strawberry shade - everyone in the house can have their very own durable kitchen sponge! Buy this three-pack and get your home as clean as possible with reliable Scrub Daddy today.
Check Price On Amazon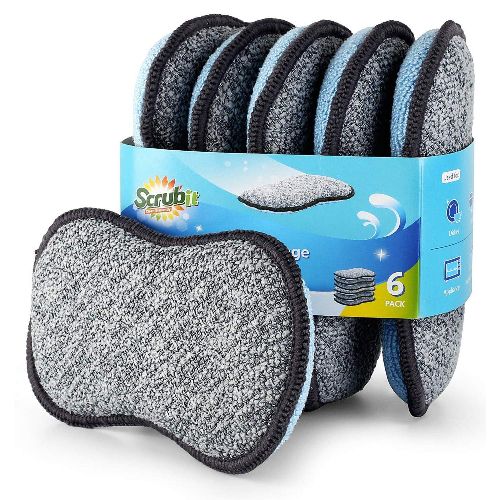 Multi-Purpose Scrub Sponges for Kitchen by Scrub-it - Non-Scratch Microfiber Sponge
Multi-Purpose Scrub Sponges for Kitchen by Scrub-it are essential for anyone who loves to cook and wants the best in cleaning products. These sponges are the perfect size for tackling any kitchen chore with ease, from scouring dishes and pots to scrubbing ovens and countertops. And with their heavy duty scouring power and non-scratch microfiber material, you can be sure that your kitchen surfaces won't get scratched or damaged in the process. Plus, they come in a convenient 6-pack so you always have plenty of sponges on hand when it's time to tackle those messes. Get your Scrub-it Multi-Purpose Scrub Sponges now and make cleaning easier than ever!
Check Price On Amazon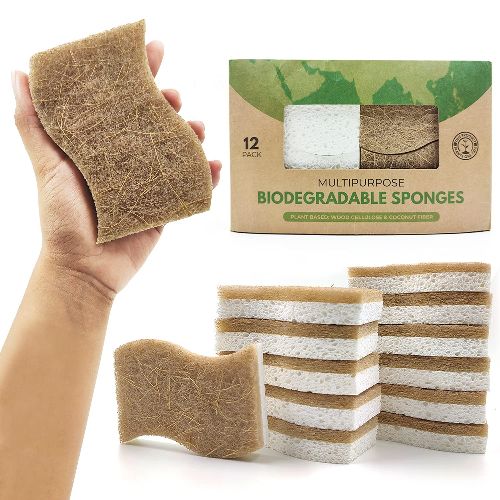 AIRNEX Biodegradable Natural Kitchen Sponge - Compostable Cellulose and Coconut Walnut Scrubber Sponge
A lot of thought needs to go into the sponges we use when washing dishes, because we're talking about your health and the environment. When you buy the AIRNEX Biodegradable Natural Kitchen Sponge, you can rest easy knowing it's made from compostable cellulose and coconut walnut for a scrubber that's gentle yet effective. These eco-friendly sponges are produced with natural magic that come in packs of 12 - perfect for large families or just stocking up on supplies! Get yours today and feel good knowing you are doing something good every time you reach for a sponge while washing dishes.
Check Price On Amazon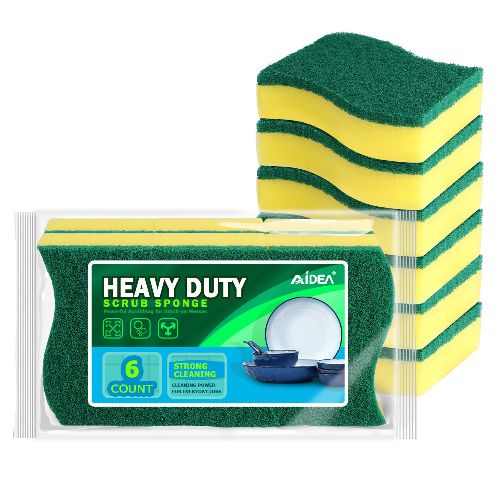 AIDEA Heavy Duty Scrub Sponge-12Count, Cleaning Scrub Sponge, Stink Free Sponge
If you're looking for a cleaning sponge that will remove tough dirt and grease without leaving any residue or unpleasant odor, then the AIDEA Heavy Duty Scrub Sponge is the perfect choice for you! It's designed to be eco-friendly and offers effortless cleaning of dishes, pots, and pans. You can also rest assured that this sponge doesn't retain bad odors. Don't wait any longer - invest in the AIDEA Heavy Duty Scrub Sponge today and make your kitchen cleanups quick and easy!
Check Price On Amazon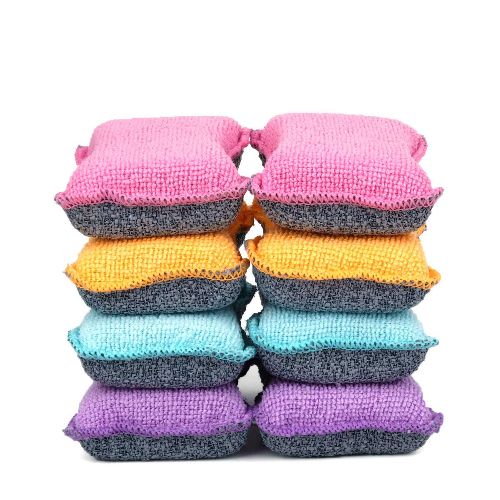 UPSTAR Microfiber Scrubber Sponge, Non-Scratch Kitchen Scrubbies
Get those dishes sparkling again with UPSTAR Microfiber Scrubber Sponges! They're non-scratch and perfect for dishwashing, kitchen tasks, and even bathroom cleaning. Their unique size makes them especially useful for deep cleaning hard-to-reach areas or scrubbing stubborn residue off less than ideal surfaces. Plus, you get 8 of them in a single package so there's plenty to go around for all types of cleaning needs! Stop dragging out the same old grubby sponges and stock up on the UPSTAR Microfiber Scrubbers today for squeaky clean success.
Check Price On Amazon
Scotch-Brite Scrub Dots Advanced Non-Scratch Scrubbers, 2 Scrub Sponges
The Scotch-Brite Scrub Dots Advanced Non-Scratch Scrubbers are perfect for all of your cleaning needs! These scrubbers are made of advanced non-scratch materials and are designed to eliminate the toughest stains and messes without scratching or damaging surfaces. The scrub dots on these sponges provide an extra scrubbing power for dirt busting performance. And with their ability to fight odor causing bacteria, you can be sure your kitchen is free from any unwanted odors. So if you're looking for a reliable and effective way to clean surfaces, then the Scotch-Brite Scrub Dots Advanced is the perfect choice!
Check Price On Amazon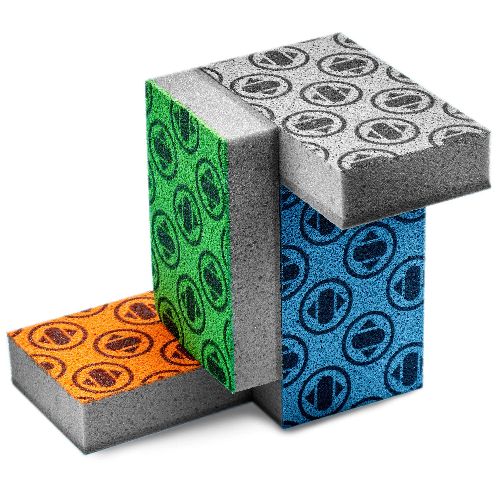 Skura Style Kitchen Sponges – Odor Free Dual Sided Non Scratch Scouring Pad for Washing Dishes
Why buy the Skura Style Kitchen Sponges? First off, these sponges are odor-free and won't get smelly like other sponges. The dual sided non scratch scouring pad is perfect for washing dishes but can be used for much more! It's designed with advanced Fade-to-Change technology that lets you know when it's time to replace your sponge, so you never have to worry about a rotting sponge causing bacteria in your house. With 4 high quality sponges per pack, Skura Style will keep you cleaning hygienically!
Check Price On Amazon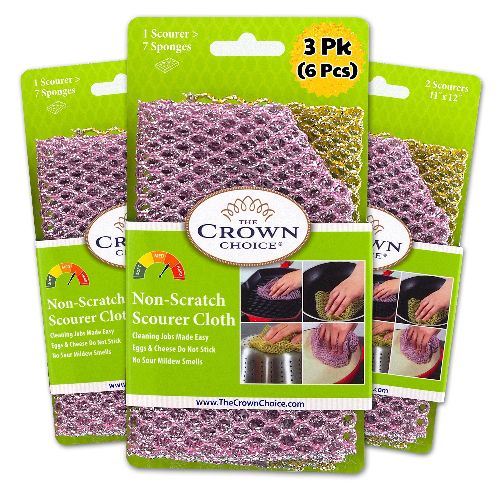 Heavy Duty Dish Scrubbers for Cleaning Dishes & Pots (6Pcs)
When it comes to dishes, no one wants to spend more time than necessary scrubbing away caked on food and grease. The Heavy Duty Dish Scrubbers make dishwashing a breeze! These 6 scrubbers contains thousands of fibers throughout the pad, providing a durable and effective cleaning solution that works better than any regular kitchen sponge! With added strength, these scouring pads are designed so you don't have use excess force when rubbing those hard-to-reach areas. So if you're looking for something that'll make dishwashing easier, be sure to buy our Heavy Duty Dish Scrubbers – they won't disappoint!
Check Price On Amazon
Most Commonly Asked Questions Around Dish Sponges
It's hard to know which dish sponge is best for your needs.
There are a lot of different dish sponges on the market, and it can be hard to figure out which one is right for you.
We've answered the most commonly asked questions about dish sponges so you can easily wash dishes without any fuss. Our dish sponges are durable, absorbent, and safe for use with all types of dishes.
What is the best sponge to wash dishes with?
The best sponge to wash dishes with is a natural cellulose sponge. It is absorbent, durable, and can easily be composted after it wears out. The sponge should also be non-abrasive so it won't scratch delicate surfaces. For more effective cleaning, using a non-toxic soap with the sponge is recommended.
Is a sponge or washcloth better for dishes?
A sponge is generally better for washing dishes, as it is more absorbent and better able to remove food particles from the surface. Washcloths tend to have a rougher texture, which can damage delicate surfaces like porcelain or glass. Additionally, washcloths are harder to keep sanitized than sponges are.
Should I use a sponge to clean bathroom?
Yes, a sponge is an effective tool for cleaning a bathroom. It is absorbent and can quickly remove dirt and grime from the surface. Additionally, sponges are better able to reach into tough spaces such as behind the toilet or around faucets that washcloths may not be able to access. When using a sponge on bathroom surfaces, it's important to use a non-toxic cleaner in order to avoid potential contamination.
Anything you use in the bathroom should be kept separate and you should sanitize it thoroughly, that includes cleaning your brooms!
How often should I change the dish sponge?
It's recommended to change the dish sponge every two weeks in order to prevent the spread of bacteria. It is important to rinse the sponge with hot water and disinfecting solution after each use in order to keep it clean and sanitary. Additionally, sponges should always be stored in a dry location between uses. You should not use the same sponge for too long for sanitation reasons.
Should you squeeze sponge after washing dishes?
Yes, you should always squeeze a sponge after washing dishes to prevent bacteria growth. This is because after using your sponge for cleaning the dishes, it will become wet and moist which can create an ideal environment for bacteria to grow.
Bacteria can cause food poisoning and other diseases so it's important to keep your sponge clean and healthy by squeezing out excess water from it after each use.
Additionally, squeezing out the excess water also makes sure that no dish soap residue is left in the sponge as this can be damaging to utensils or skin if inadvertently used on them when doing subsequent cleaning tasks. So make sure that you always squeeze out a Sponge before storing it in a dry place!
How do you disinfect a dish sponge?
There are usually two sides to a scrubber, the sponge side and scrubby side. If you have too much gunk on either its best to dispose of the sponge. Failing that you can put it in boiling water or you can rinse it with diluted bleach to lighten the bacterial load.
Your kitchen sink is full of bacteria only using one sponge is not a sanitary option. You can purchase a single sponge  or a larger pack so you have extras on hand. It is safer to replace the sponge when it has met its shelf life.
Does microwaving your sponge disinfect it?
Believe it or not, microwaving your sponge won't keep it clean - in fact, doing so can even be dangerous! Hot water and soap is a much better way to make sure your sponges are germ-free. Not only will this rid them of bacteria; but also prevent any plastic particles from leaching into the material.
The Right Dish Cleaner For You
After reading through thousands of reviews, we've compiled a list of the best dish scrubbers on the market. No matter what your needs are, there's a dish scrubber out there that will get the job done for you – and we've listed them all here! So if you're looking for an effective way to clean your dishes without putting in too much elbow grease, be sure to check out our list. What side are you on? The soft side or the scrubby side?