How to Choose the Right Low-Flow Shower Head Top 7 Picks
Looking for an eco-friendly and water-efficient shower head? Check out our top 7 picks and learn how to choose the right one for your bathroom!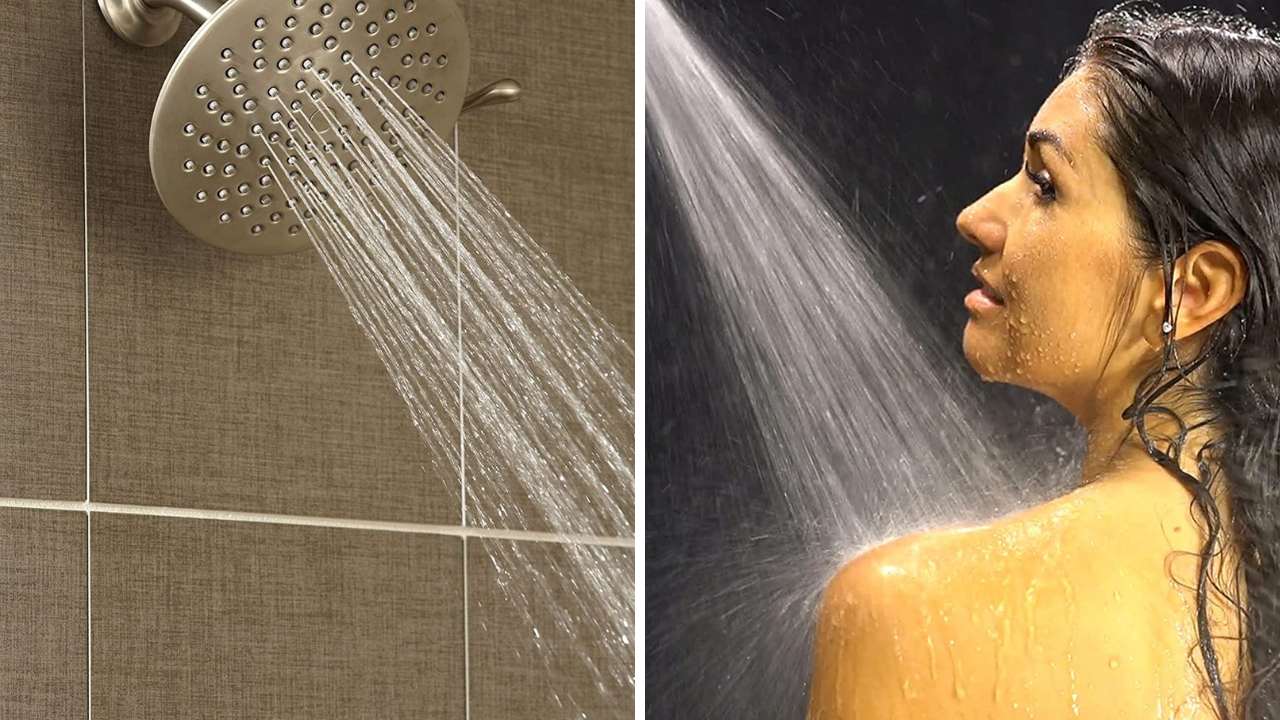 Is your water bill getting out of control?
With a low flow shower head, you can easily reduce the amount of water you use while showering. Not only can you save more money but you will also be helping the environment by conserving resources. As an added benefit the current designs on the market don't limit the amount of water pressure due to the enhancements in materials and technology.
Whether you are looking to save some money to look out for the environment you don't have to sacrifice on water pressure. We make it easy to find the right model for you by breaking down everything you need to know and serving up our top recommendations.
Keep reading to take advantage of our expertise and knowledge!
What Are The Best Low Flow Shower Heads
With a regular shower head, you can use a lot of water. This wastes both water and hard-earned money.
That means not only is your pocketbook taking a hit but it's also straining the environment.
We put together a buyer's guide and found the top low-flow shower heads that have the best designs to help you save big. With the right shower head you can have a long comfortable shower without worrying about how much water you are using!
UnpackedReviews is reader supported, which means that when you click on links to products on our site and make a purchase, we may earn a commission. However, our opinions are our own, and we only recommend products that we genuinely love.
Buyer's Guide for Low Flow Shower Heads
Conserving water and reducing utility bills are important considerations for many homeowners. Switching to a low-flow shower head is an effective way to achieve these goals without compromising on comfort.
In this comprehensive buyer's guide, we will discuss the pros and cons of using low-flow shower heads, highlight the differences between traditional and low-flow models, and provide a list of factors to consider when making a purchase.
Pros and Cons of Using a Low Flow Shower Head
Pros
Water conservation: Low-flow shower heads use less water than traditional shower heads, helping you save water and conserve natural resources.
Cost savings: By using less water, low-flow shower heads can significantly reduce your water bill, as well as lower energy costs associated with heating water.
Eco-friendly: Reducing water consumption contributes to a more sustainable lifestyle and helps protect the environment.
Variety of options: Many low-flow shower heads offer multiple spray patterns, adjustable water pressure, and other features that allow for a customized shower experience.
Easy installation: Most low-flow shower heads can be easily installed without the need for professional assistance, making them a simple and cost-effective upgrade.
Cons
Perceived reduction in water pressure: Some users may feel that low-flow shower heads provide less water pressure than traditional models, although many modern low-flow shower heads are designed to maintain a satisfying shower experience.
Compatibility issues: In rare cases, low-flow shower heads may not be compatible with certain plumbing systems or water heaters, which could require additional modifications or upgrades.
Differences Between Traditional Shower Heads and Low Flow Shower Heads
Traditional shower heads typically have a flow rate of 2.5 gallons per minute (GPM) or higher, while low-flow shower heads have a flow rate of 2.0 GPM or lower. Modern low-flow shower heads are designed to provide a satisfying shower experience despite using less water.
Some low-flow shower heads use aerating technology, which mixes air with water to create a fuller spray while still conserving water. Others utilize laminar flow technology, which produces individual water streams for a more focused and high-pressure shower experience.
Customization Options
Many low-flow shower heads offer customization options to enhance the shower experience. Some common features include:
Spray pattern adjustments: Users can choose from various spray patterns, such as rainfall, massage, mist, or a combination of these.
Water pressure control: Some models allow users to adjust the water pressure according to their preferences, ensuring a comfortable shower experience.
Factors to Consider When Purchasing a Low-Flow Shower Head
Water flow rate: Look for shower heads with a flow rate of 2.0 GPM or lower to maximize water conservation and cost savings.
Certifications: Check for certifications such as WaterSense, which is awarded by the Environmental Protection Agency (EPA) to shower heads that meet specific water efficiency and performance criteria.
Materials: Opt for shower heads made from durable materials, such as brass or stainless steel, to ensure longevity and minimal maintenance.
Finish: Choose a finish that complements your bathroom decor, such as chrome, or polished brass.
Durability: Research the product's reputation for durability and performance, as well as any available warranties or guarantees.
Ease of installation: Look for models that can be easily installed without professional assistance to save on installation costs.
Additional features: Consider any extra features that may enhance your shower experience, such as adjustable spray patterns, water pressure control, or self-cleaning nozzles.
By taking into account factors such as water flow rate, certifications, materials, durability, and available customization options, you can make an informed decision on the best low-flow shower head for your home. Investing in a low-flow shower head is not only an environmentally friendly choice but also a cost-effective one that can improve your overall shower experience.
1. High Sierra's All Metal 1.5 GPM High Efficiency Low Flow Showerhead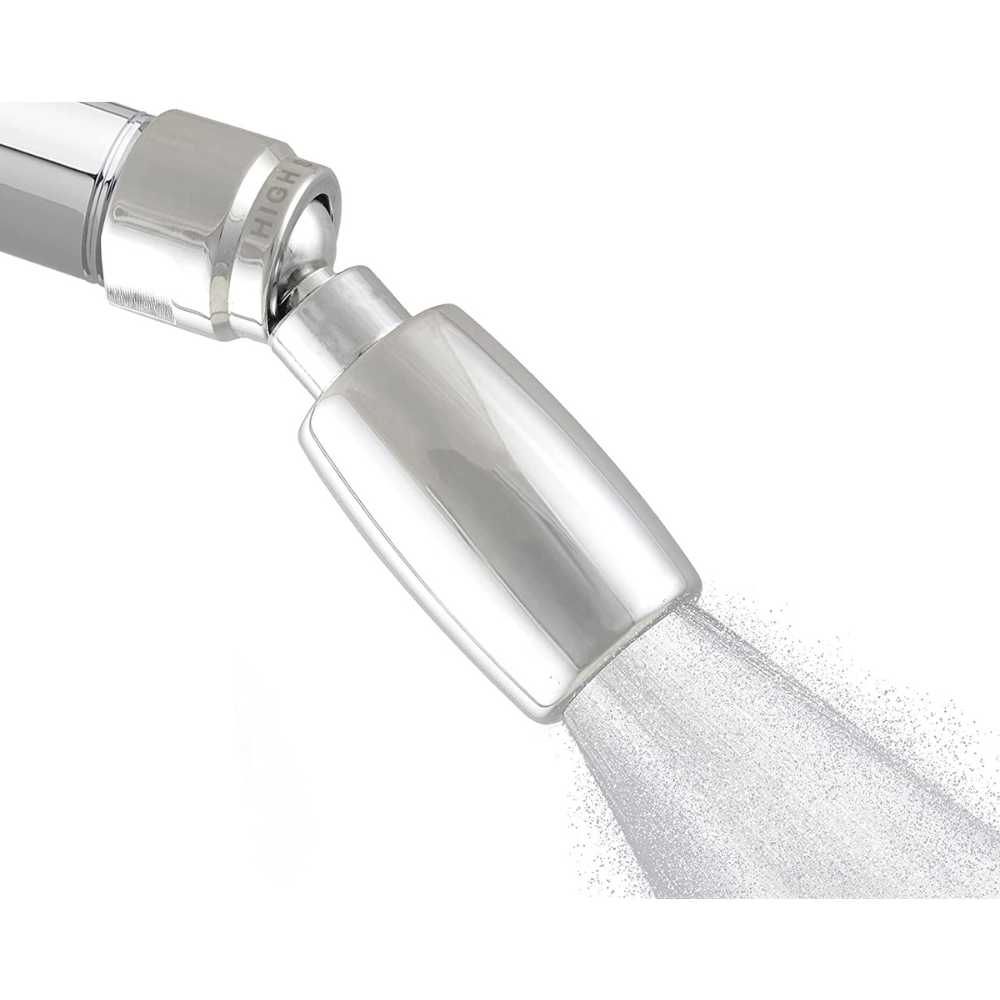 Best Minimalist Shower Head
Check Price On Amazon
The High Sierra low-flow showerhead is the perfect choice if you are looking for a slim and minimalist showerhead. It is easy to install and provides enough water pressure to take care of your needs. It is very solid with an all-metal construction and will last through years of use.
Pros
Enjoy a powerful and sustainable shower with excellent water flow rate of up to 1.5 GPM.
Easy installation requires no plumber or special tools; fits most existing pipes and shower systems.
Find the perfect fit for your bathroom with options in various finishes, such as chrome, brushed nickel, and oil-rubbed bronze.
Save money on energy bills with this highly efficient shower head that doesn't sacrifice on pressure.
Cons
Some customers say that the water pressure isn't adequate for their needs.
Without proper cleaning over time, the nozzle can get a high buildup that sprays everywhere.
2. Niagara Conservation Earth Spa 3-Spray 1.5 GPM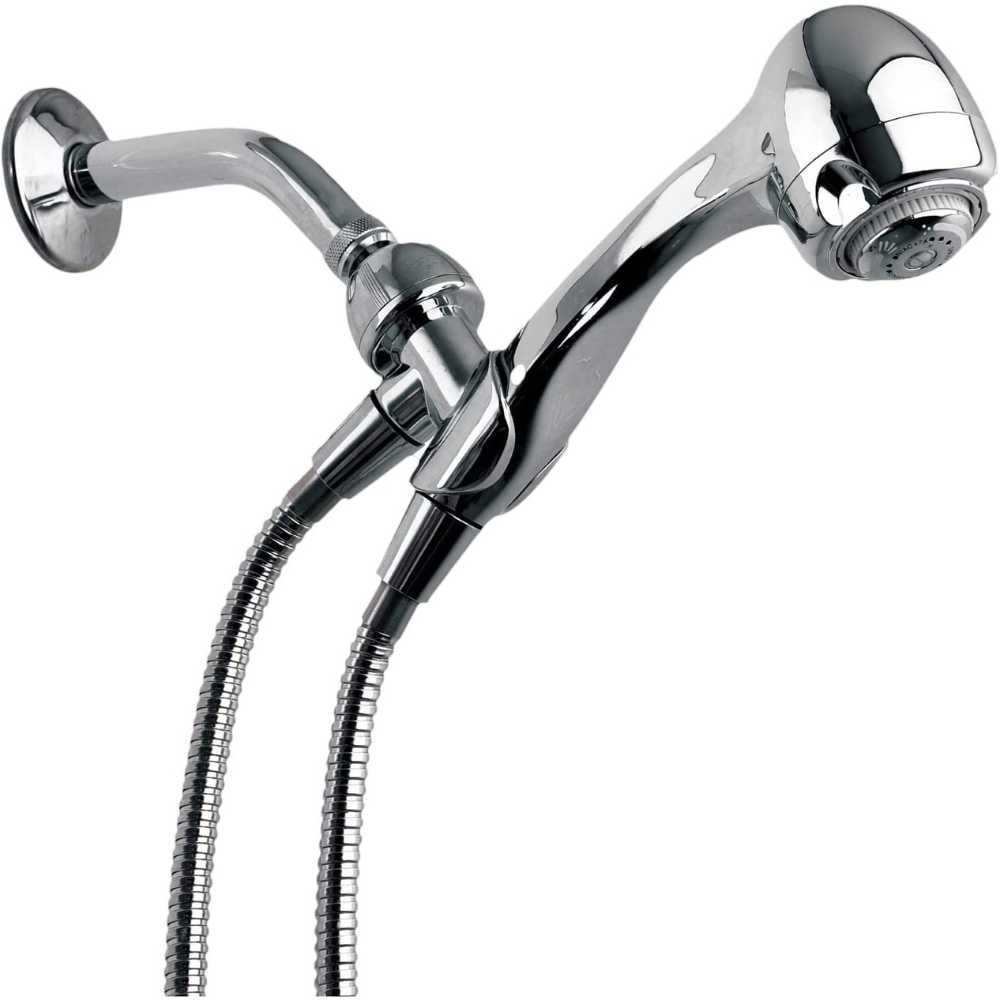 Best Handheld Low Flow Showerhead
Check Price On Amazon
With a water-saving flow rate of 1.5 gallons per minute, this shower head can save you up to 30% on your water bill without compromising on water pressure or spray pattern. Plus, its 2.7-inch head diameter ensures full coverage during use.
It has an easy-to-clean rubber spray nozzle for easy maintenance. Invest in a shower head that's good for both the environment and your pocketbook with the Niagara Conservation Earth Spa 3-Spray shower head.
Pros
Get a powerful shower experience while saving up to 30% more water.
Customize your shower with an adjustable spray settings system.
Keeps a steady pressure throughout the shower for reliable performance.
Handheld sprayer ensures targeted water delivery.
Durable ABS thermoplastic construction for long-term reliability.
Chrome finish adds a stylish touch to any bathroom.
Cons
Hose is a bit small and can restrict water flow if you kink it.
The handheld shower head is lightweight and can easily slip from your hands in the shower.
3. Delta Faucet 2-Spray H2Okinetic Shower Head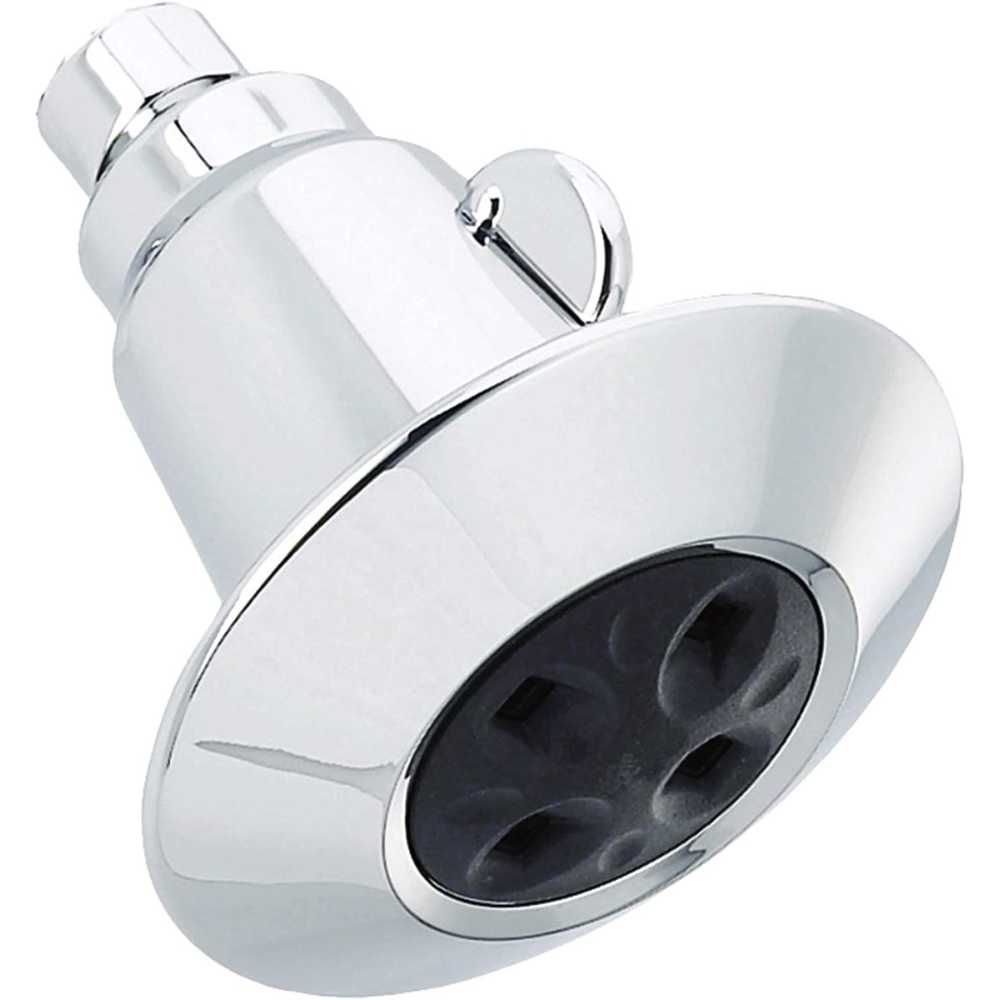 Best For Massage
Check Price On Amazon
This innovative water-saving shower head ensures a luxurious and invigorating shower experience by using a unique technology that controls water droplet size and velocity. It does this by creating the sensation of more water while using less.
With two spray options, you can choose between a high-power drenching spray or a massaging spray for a more relaxing experience. Plus, it's easy to install and comes with a limited lifetime warranty. Upgrade your shower game with the Delta Faucet 2-Spray H2Okinetic Shower Head.
Pros
Get the feeling of a high-pressure shower with less water usage by using these low-flow showerheads.
Enjoy features like dual spray settings and a unique wave pattern for more warmth and hot water.
Enhance the look of your bathroom with sleek design and multiple finish options, to match any bathroom design.
Save on water bills with its low flow rate of 1.85 GPM, save time with efficient and powerful water flow.
Get a luxurious shower experience with H2Okinetic technology.
Reduce your water bills by up to 20% compared to traditional showerheads.
Cons
Mineral buildup can affect spray patterns if you don't clean the shower head properly.
Not as easy to install as some of its counterparts.
The shower head features 2 settings with a switch at the top and some people may have trouble reaching it depending on how high the shower head is.
4. American Standard Flowise 3-Function Water-Saving Showerhead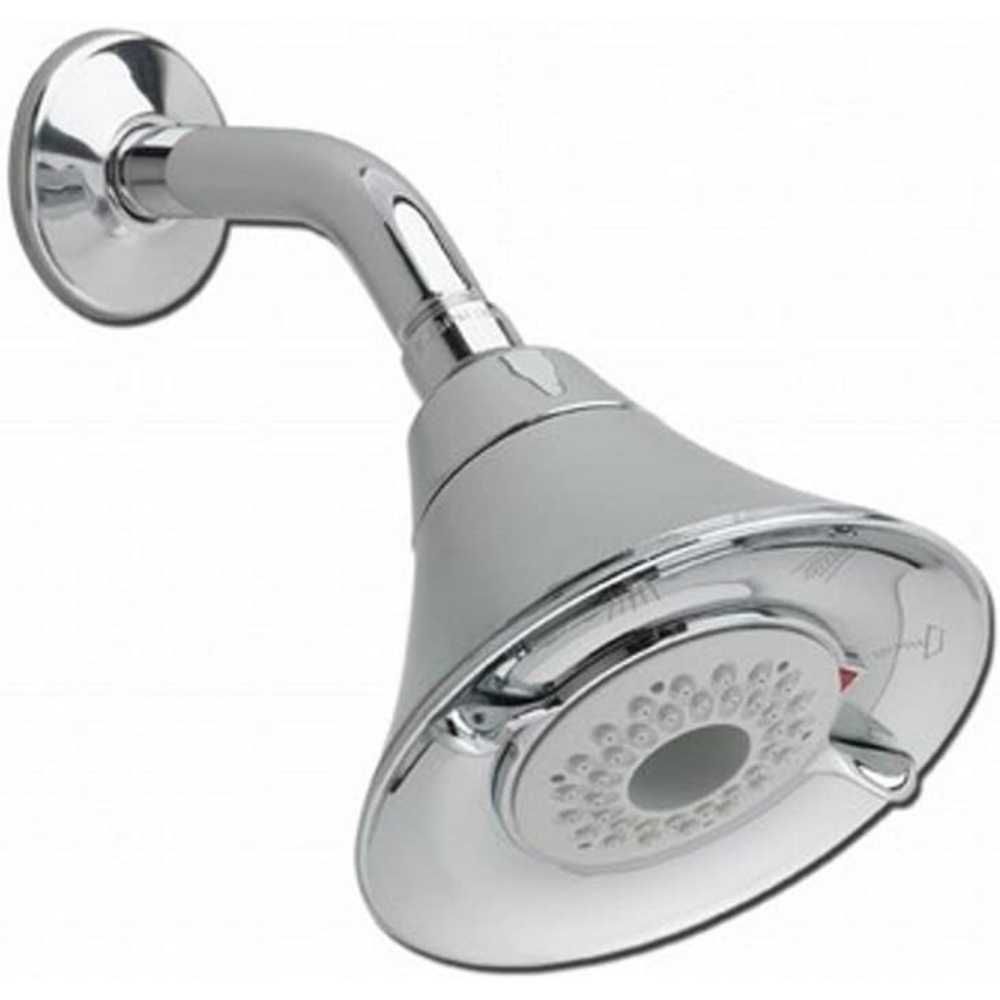 Best 3 Function Shower Head
Check Price On Amazon
If you're looking for a showerhead that's both eco-friendly and efficient, you should consider purchasing the American Standard showerhead. Not only does it help reduce your water usage and lower your monthly bills, but it also offers you a luxurious shower experience with its three different spray settings.
With its durable construction and sleek design, this showerhead is a great investment that you won't regret. Even better, it's easy to install and maintain, making it a smart choice for anyone looking to upgrade their shower routine.
Pros
Eco-friendly design offers up to 20% water savings with its auto-return feature.
Choose from three distinct spray patterns for a personalized shower experience.
Easy-to-clean spray face keeps your shower head sparkling year-round.
Durable construction and polished chrome or satin nickel finishes make this an attractive and long-lasting addition to any bathroom.
Cons
Does not have a handheld feature for easy mobility.
To adjust the settings you have to switch it right at the nozzle which means you can get a faceful of water if you do it mid-shower.
5. Speakman S-2252 Signature Icon Anystream High-Pressure Adjustable Shower Head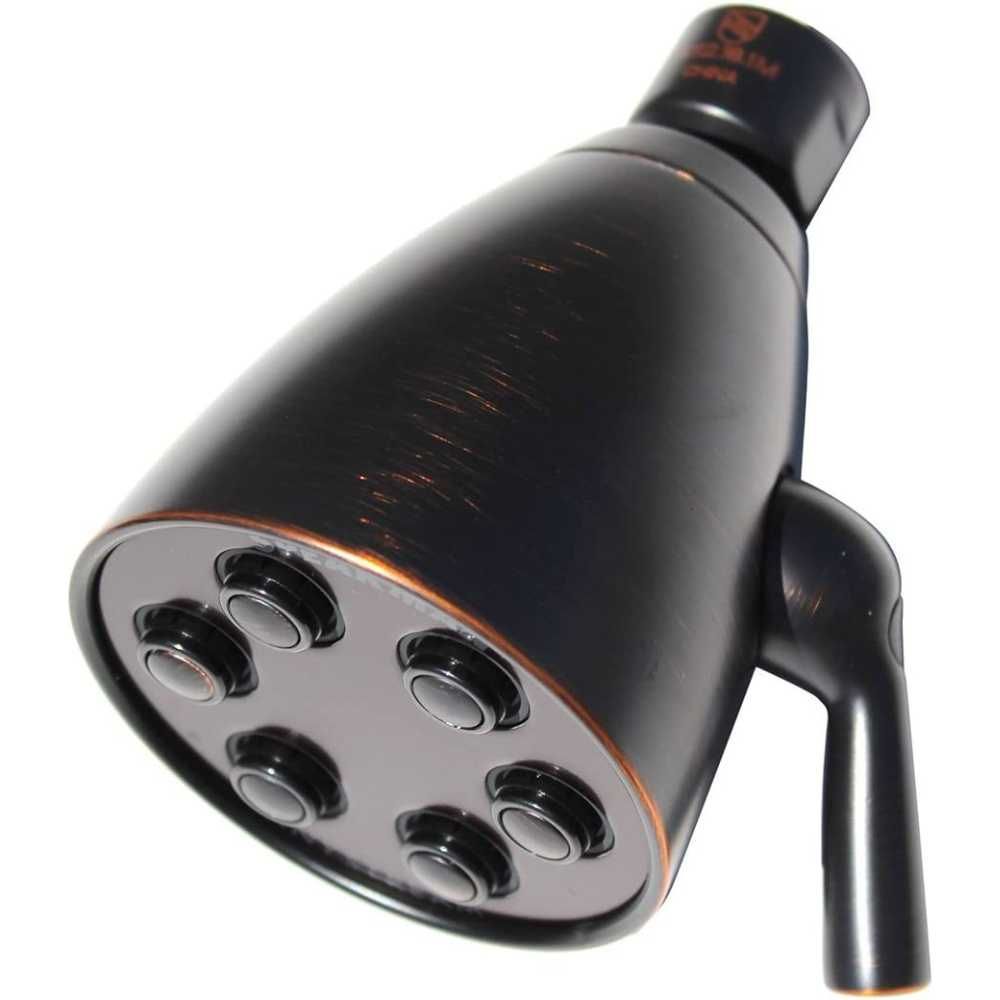 Best Sleek Design Shower Head
Check Price On Amazon
This shower head is perfect for those who love a powerful and invigorating shower experience. Not only does it deliver high pressure, but it also has an adjustable head with 360-degree rotation and multiple spray patterns.
Plus, its stylish design adds a touch of elegance to any bathroom. This is a showerhead that will consistently provide a spa-like experience without breaking the bank.
Pros
Enjoy an invigorating full-body shower experience with the Speakman S-2252 Signature Icon Anystream showerhead.
Reduce water usage with a low flow rate of 2.0 GPM.
Enjoy effortless adjustability with Anystream 360° technology.
Enjoy long-lasting durability and dependability, thanks to its solid brass construction.
Upgrade the style of your bathroom with its sleek and stylish finishes in polished chrome, brushed nickel, polished nickel, and oil-rubbed bronze.
Cons
This showerhead does not have a handheld feature.
The water pressure is OK but some other models have a higher output.
Does not have a rain shower function.
6. Moen S6320 Velocity Two-Function Rainshower Showerhead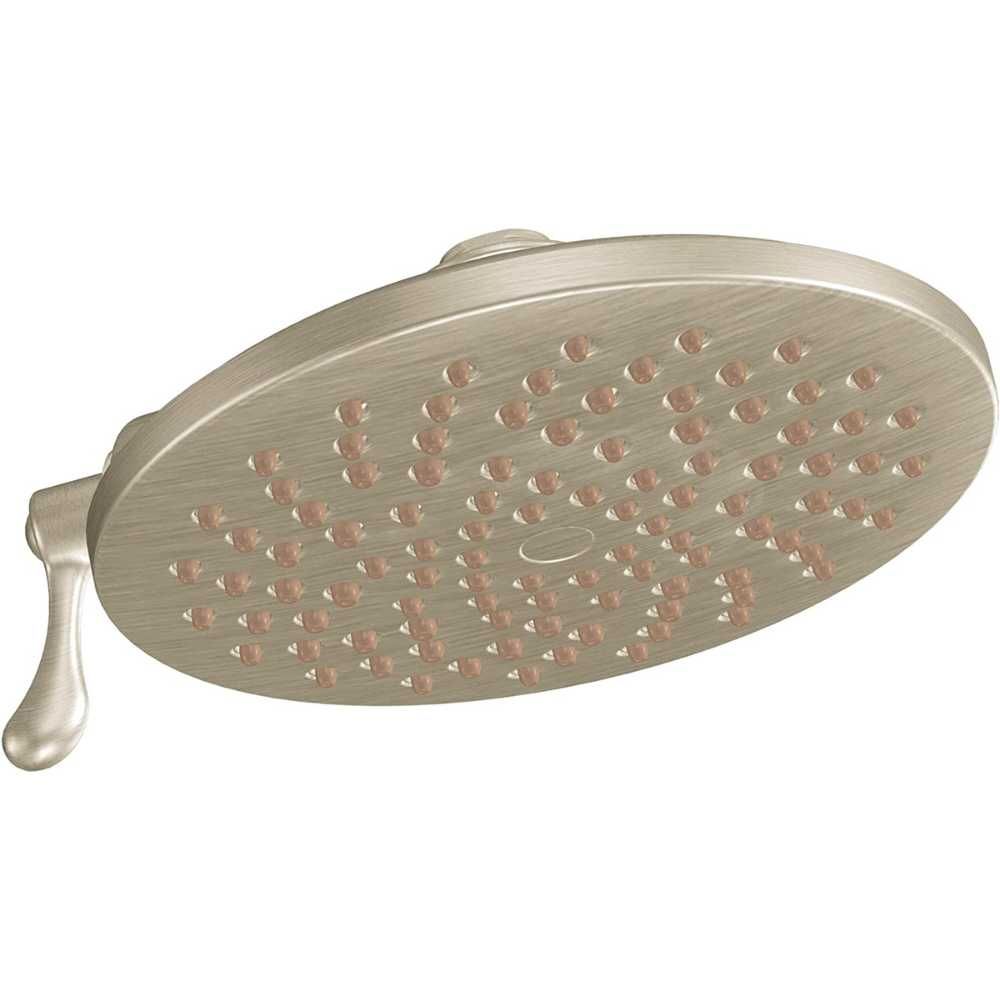 Best Rain Shower Low Flow Shower Head
Check Price On Amazon
Not only does this showerhead look sleek and modern in any bathroom, but it also delivers an exceptional and immersive shower experience. With its adjustable water flow, you can switch between a full-coverage rainshower and a more concentrated rinse for a more personalized feel.
The showerhead's innovative technology provides three times more spray power than other showerheads on the market, ensuring that you'll never want to leave the shower.
Pros
Enjoy a luxurious showering experience with an 8-inch diameter spray head and Immersion technology.
Save water yet maintain pressure with a 2.0 GPM flow rate.
Choose from a calming rain rinse or a self-pressurized spray for an invigorating shower.
Multiple finishes to match any bathroom design, including chrome, brushed nickel, oil-rubbed bronze, and polished brass.
Has a rain shower feature and you can feel its full effect even with the low flow shower head.
Cons
More difficult to install than many low flow showerheads.
You may want to get the curved attachment that connects to the water source for added height.
Does not have a fine spray feature.
7. Waterpik EcoFlow VBE-453 Handheld Shower Head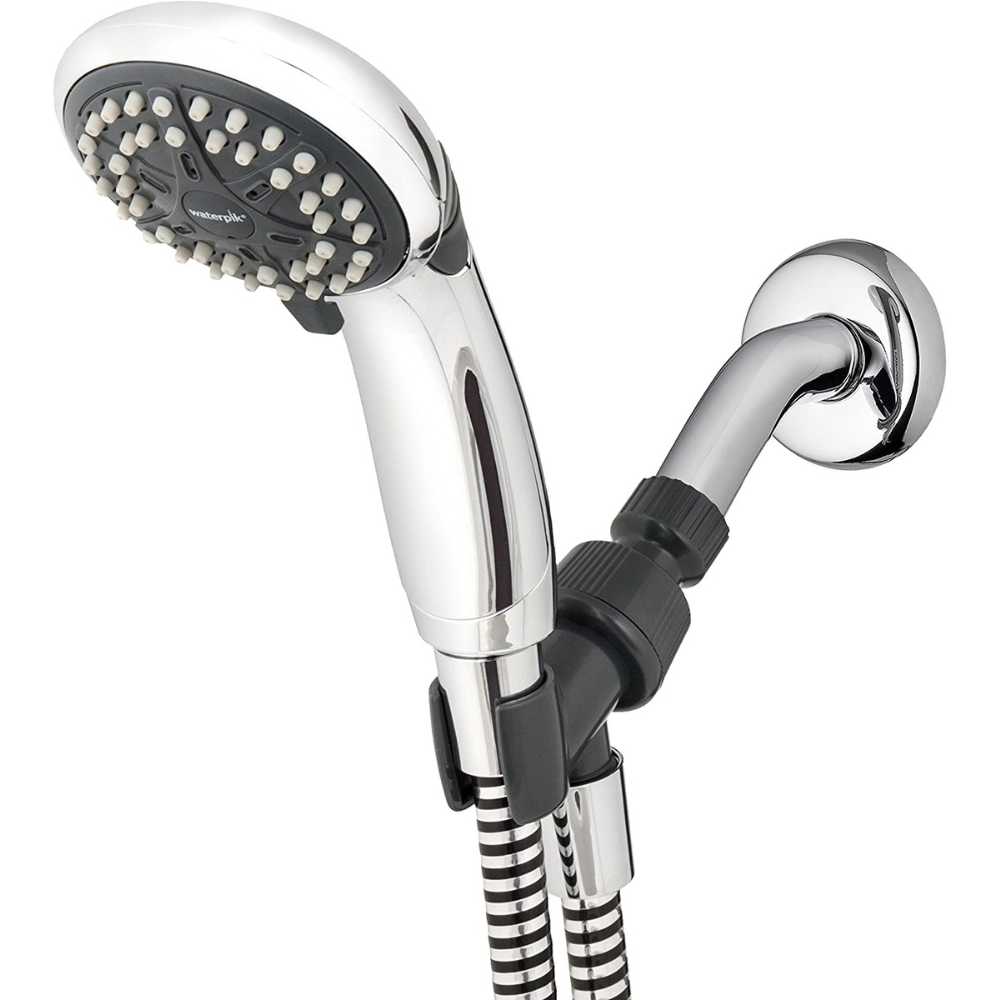 Best For Ease Of Use
Check Price On Amazon
This eco-friendly shower head offers a high-performance experience with a 1.6-gallon-per-minute flow rate. You can save plenty of water and energy usage thanks to its efficient design.
The shower head is also versatile and easy to use with a 5-foot hose, four spray settings, and a convenient pause button. Upgrade your shower experience today with the Waterpik EcoFlow VBE-453 Handheld Shower Head.
Pros
Enjoy a satisfying shower experience with optimal water pressure and flow rate.
Comprehensive 4-spray settings to customize the shower experience to meet your needs.
Easy and hassle-free installation with the included 5-foot hose & bracket.
Reliable and long-lasting performance with its chrome finish that lasts and looks good while doing it.
Save on your monthly energy bill with its efficient 1.5 GPM flow rate.
Cons
At 5 feet the hose can be a little short for some people.
Some settings feel like the temperature control was off with the misting mode.
The water temperature felt like it went down a little probably due to the misting effect.
Most Commonly Asked Questions
Whether you live in a drought-ridden area or are just environmentally conscious, water conservation is important. Low-flow shower heads can help conserve water but often come with unanswered questions.
When you purchase a low-flow shower head, you're left wondering if it's going to negatively affect your shower experience or if it'll be worth investing in.
We heard your frustrations and provided answers. Our guide aims to clarify all the common misconceptions about low-flow shower heads and helps make the process easier for everyone who's considering making the switch.
What is a low flow shower?
A low flow shower is a type of water-saving device that regulates the amount of water used in the shower.
This means that instead of having a standard flow rate, which can be around 2.5 to 3 gallons per minute (GPM), this type of shower will only use 1.75 GPM or less, resulting in considerable savings on your water bill.
The best part about these showers is that their pressure and temperature remain consistent despite being designed to save water.
What are the benefits of a low-flow showerhead?
Low-flow shower heads are an excellent way to save money and conserve water. They use significantly less water than traditional shower heads, often coming in at 1-2 gallons per minute (GPM) compared to 3–4 GPM with a conventional model.
This translates to substantial savings over time while reducing the strain on your hot water heater. In addition, low-flow shower heads can also help reduce energy bills by allowing you to take longer showers while using less water.
Finally, lower water usage also helps conserve our precious natural resources and ensures that future generations will be able to enjoy clean air and clean drinking water as well.
Is 1.8 or 2.5 GPM better?
The answer to this question depends mainly on what your water-saving goals are. Generally, 1.8 GPM shower heads are better suited for saving water since they typically flow at a lower rate than 2.5 GPM options.
While these heads may generate a bit less pressure, the savings from reduced water volume can be worthwhile - you can end up saving 20% or more in an average 4-minute shower!
On the other hand, if you're looking mainly for added convenience and increased pressure from your shower head, then a 2.5 GPM option could be more suitable for you. Ultimately, it comes down to weighing the pros and cons of each option while also considering your budget and individual needs.
How many GPM is the average low-flow shower head?
Low-flow shower heads typically have a maximum flow rate of 2.5 gallons per minute (GPM). Many countries, states, and provinces have regulations requiring that low-flow showerheads have a maximum flow rate of 2.0 GPM or less.
In addition to lower water usage, these showerheads usually come with other features such as pressure-compensating technology which ensures an even spray pattern at different water pressures. As well as adjustable spray patterns for better comfort and convenience.
Conclusion
Low-flow showerheads are an important piece to conserving water and energy resources. Not only can they reduce your carbon footprint, but they also help reduce your utility bills. Whether it's their design or price that attracts you, low-flow showers offer a perfect opportunity for anyone looking to live a more sustainable lifestyle. So get out and invest in a low-flow shower head today; you won't regret it! You'll be doing yourself a favor by positively impacting the environment and your wallet. It's a win-win situation all around!