Be Stylish and Comfortable: 7 Round Bathroom Rugs We Love
Keep your bathroom stylish and comfortable with one of these round bathroom rugs. We've got a rug for every style and preference.
Are you looking to add a touch of style and comfort to your bathroom?
Look no further than round bathroom rugs! They're the perfect way to make any bathroom look stylish, while also providing an extra layer of comfort. Whether you're looking for something plush and luxurious or something more modern and minimalistic, there are plenty of options out there that will fit your needs.
We know it can be hard to find the right rug for your space, so we've rounded up some of our favorite picks from around the web. From classic shaggy styles to contemporary geometric designs, these rugs will help bring a bit of personality into any bathroom. Plus they come in all sorts of colors and sizes so you can find one that fits perfectly with your decor.
Check out this blog post now for our top picks on round bathroom rugs!
How We Found The Best Round Bath Rug
Shopping for the perfect round bathroom rug can be a time consuming and overwhelming task.
With so many options out there, it's hard to know which one is right for you. You don't want to waste your money on something that won't last or look good in your bathroom.
We read thousands of reviews from real customers just like you to find the best selection of round bathroom rugs available online. Our team has done all the research, so you don't have to! Shop with confidence knowing that we've got your back when it comes to finding the perfect rug for your space. These round bath mats aren't just for bathroom use though, the shape and materials fit in any room you have in mind!
---
UnpackedReviews is reader supported, which means that when you click on links to products on our site and make a purchase, we may earn a commission. However, our opinions are our own, and we only recommend products that we genuinely love.
---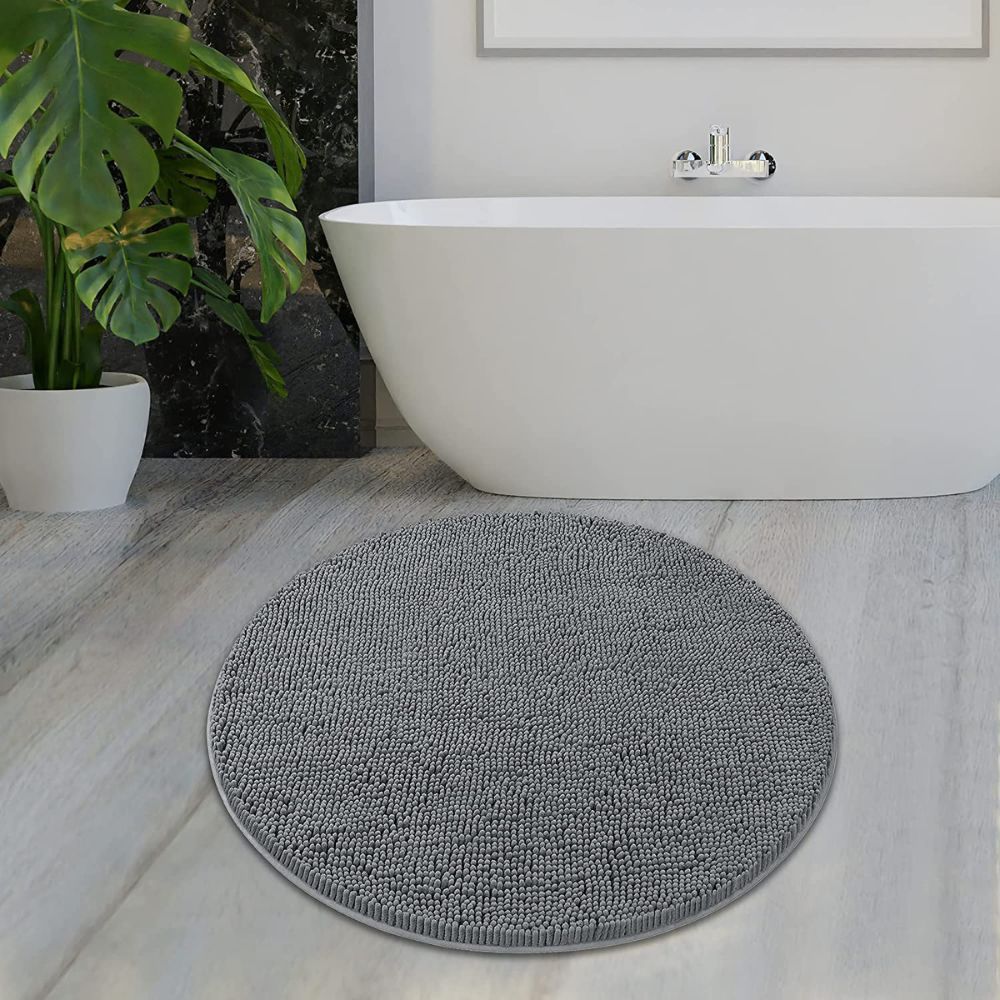 MAYSHINE Soft Plush Chenille Round Bathroom Rug
If you want to instantly upgrade the look and feel of any area of your home, the MAYSHINE Soft Plush Chenille Round Bathroom and Area Rug is the perfect choice. It's made from ultra-absorbent microfiber that quickly draws moisture away from your feet and protects against slippage with its non-slip grip. Plus, it's machine washable so you can easily clean and care for it. Its luxurious look brings a warm, inviting feel to any room, making it perfect for bathrooms, bedrooms, showers and even under pet beds or in front of doors. Add some comfort and style to your home today with this great affordable rug!
Check Price On Amazon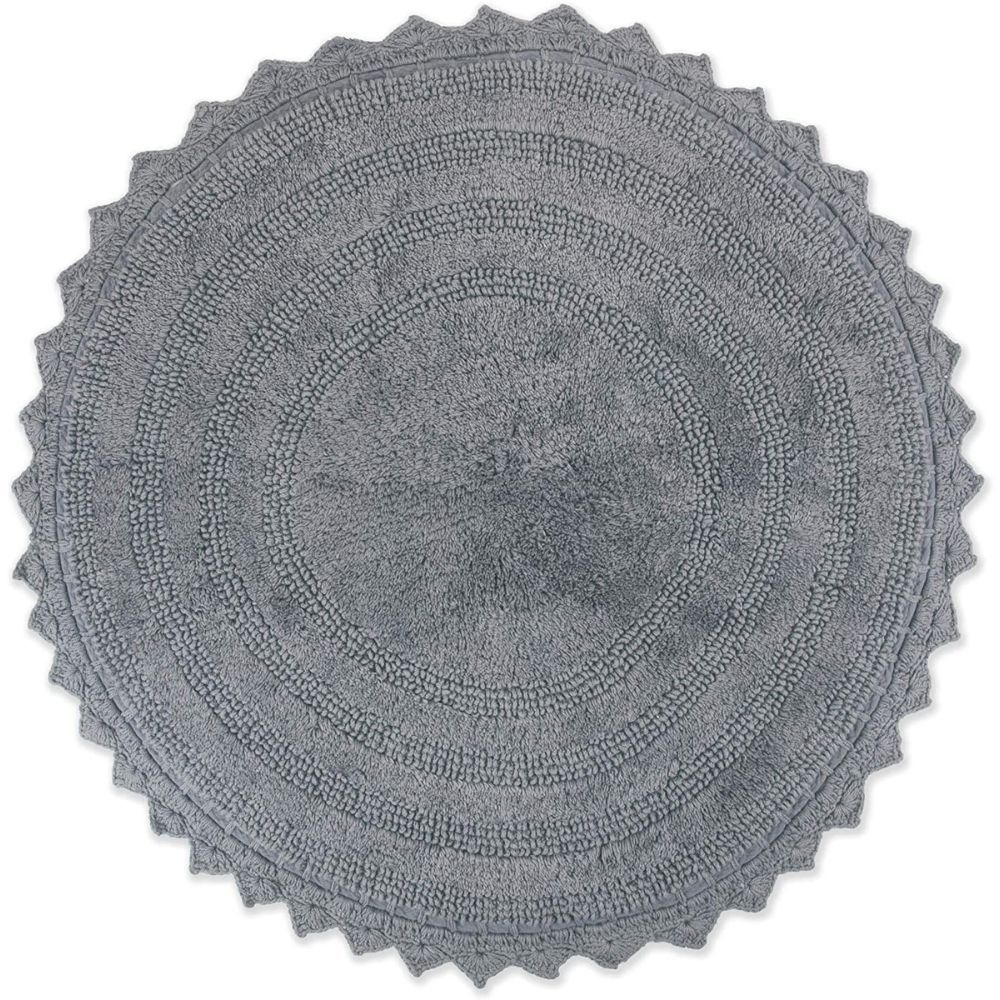 DII Crochet Collection Reversible Bath Mat, Round, 27.5" Diameter
It's time to step up your bathroom game with this luxe and reversible DII Crochet Collection Round Bath Mat! You'll be surprised at how something so simple can make such a big difference to your decor - perfect for creating a spa-like oasis right in the comfort of our own home. With its 27.5" diameter and modern selection of colors, it's got serious style while also still being ultra-comfortable underfoot. Not only will you save time on cleaning, but it reverses from tufts to chevron texture for a contemporary edge that livens up any room. This reversible bath mat is a wonderful way to add functional sophistication and coziness to any bathroom!
Check Price On Amazon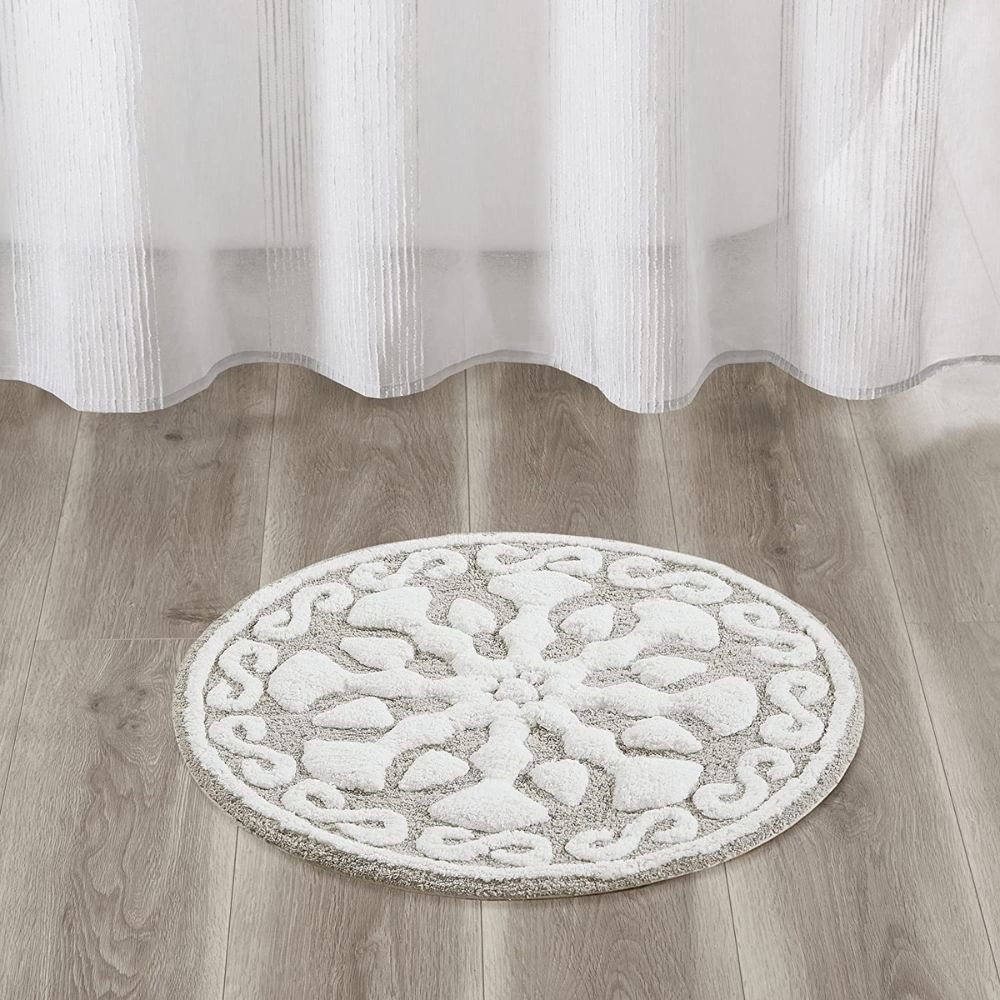 Madison Park Casablanca 100% Cotton Tufted Bathroom Rugs
If you're looking for a luxurious, spa-style look for your bathroom décor, the Madison Park Casablanca 100% Cotton Tufted Bathroom Rugs might be just what you need. Vibrant and plushy soft, this unique bath mat is designed with a traditional medallion floral pattern that will make your shower room feel extra special. Forget worrying about absorbing water, this quick-drying mat is perfect if you're short on time - you won't have to waste minutes waiting around to dry off! Additionally, the round 25" taupe design adds an elegant detail to complete the look. Upgrade your bathroom décor today with Madison Park's Casablanca bathmat!
Check Price On Amazon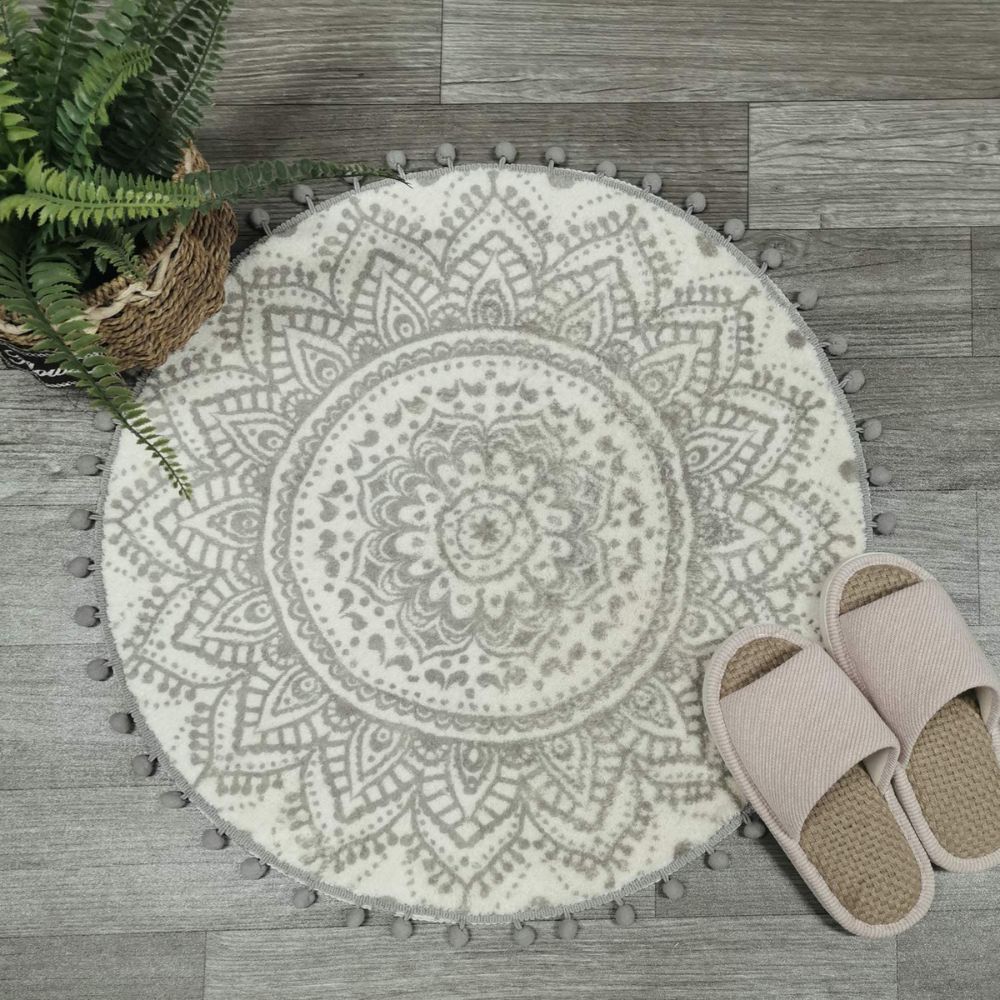 Uphome Small Round Rug 2' Boho Beige and Grey Bathroom Rug
Exploring a modern take on the bohemian look? Look no further! This Uphome Small Circle Rug is the perfect addition to your bathroom. In a beige and grey palette, this shower mat is every bit as functional as it is fashionable. Soft and non-slip, you won't have to worry about slips or falls in soapy baths or showers. Its intricate pom-poms fringe adds an extra layer of stylish detail that won't go unnoticed. Designed for any age, this circular throw rug can also be used in nurseries, powder rooms, kids room or anywhere else you need a touch of luxurious comfort. No matter how you use it, this Uphome Rug will upgrade your décor without compromising an ounce of style or quality.
Check Price On Amazon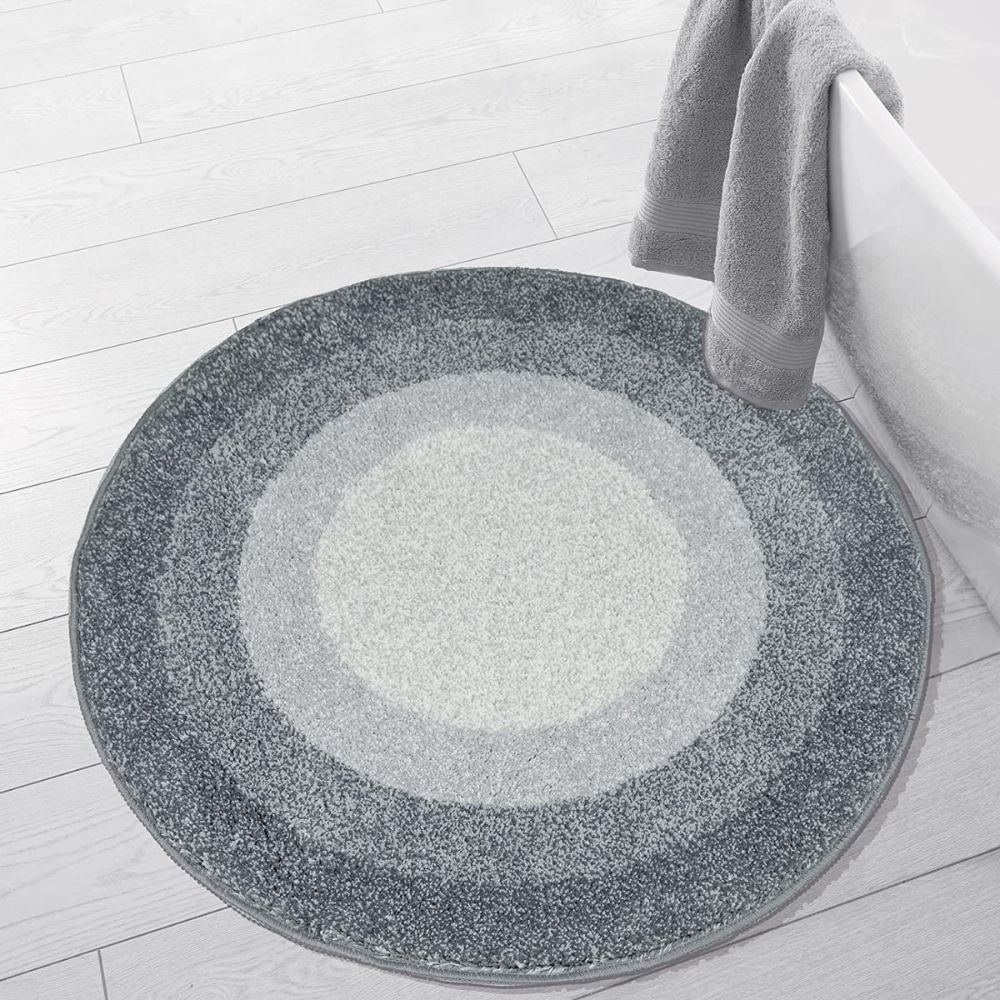 Castage Gray Bathroom Rugs Small Round Bath Mat
The perfect final touch for all your bathroom decorating needs has arrived, and it's a Castage Gray Bathroom Rug! This small round bath mat is the ideal combination of style and practicality. The modern Boho circle rug is non-slip for safety, as well as absorbent and washable for convenience. Its soft microfiber will feel comfortable underfoot, making it the perfect addition to any bathroom space - from showers and tubs to apartments and more. Versatile yet elegant in its neutral gray color with white sliver accents, this rug creates a subtle but beautiful detail that is sure to bring some pizzazz to your bath area.
Check Price On Amazon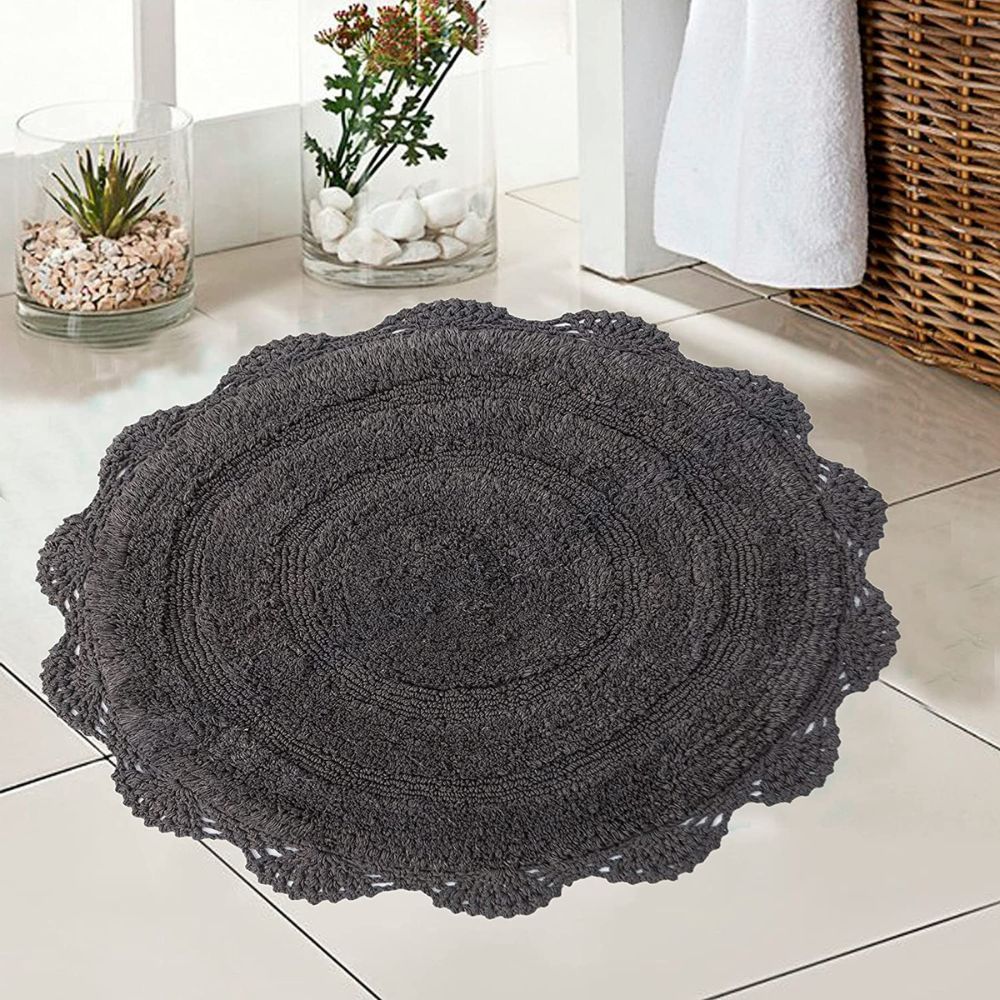 Chardin home Griffin Grey Crochet Bathrug
The Chardin Home Griffin Grey Crochet Bath mats are an elegant touch of luxury that can instantly elevate the look and feel of any bathroom. This 100% cotton round bathmat is handcrafted with a beautiful crochet border, making it the ideal addition to your half bath, powder room, or traditional bathroom. Its 24 inch diameter fits perfectly next to a single sink or small vanity, adding substantial texture and style wherever you place it. Whether you're trying to refresh your own space or searching for the perfect housewarming gift, this crochet bathmat will bring chic beauty and lasting comfort to your decor.
Check Price On Amazon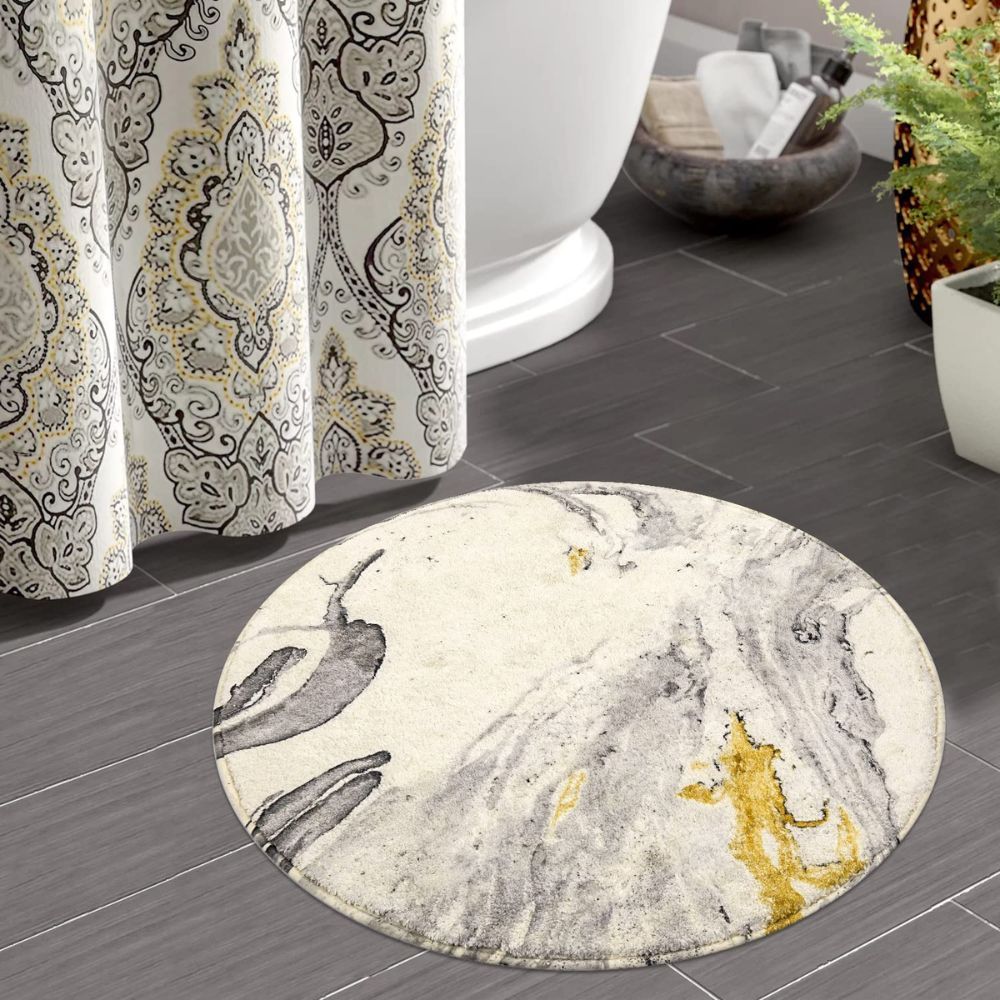 HAOCOO Round Bathroom Rugs 2ft Beige Marble Velvet
Add a touch of luxury to your home with the HAOCOO Round Bath Rugs. This unique design features a beige marble velvet construction that will add an elegant and sophisticated look to any bathroom or bedroom. Not only is it stylish, but it also feels incredibly soft and comfortable underfoot. The high-quality microfiber construction ensures it will stay soft and luxurious through many washes, while the non-slip backing eliminates the risk of slips or falls on hard floors. Perfect for both bedrooms and bathrooms, this luxurious rug is the perfect way to add some elegance to your living space!
Check Price On Amazon
Click here for more articles around Bathroom Rugs:
Most Commonly Asked Questions Around Round Bath Rugs
It can be hard to know which round bath mat is right for you, especially with all of the different options on the market.
With so many different types of bath mats available, it can be hard to know which one is right for you. Do you want a rubber mat that will stay in place or a cloth mat that feels soft against your feet?
We've answered the most commonly asked questions about round bathmats so you can easily choose the right one for you.
What size is a small bath rug?
A small bath rug typically measures between 17 inches by 24 inches and 24 inches by 36 inches. It is designed to cover a 3-foot-wide space or less, including the length of the tub. The size of a small bath rug depends on the dimensions of your bathroom and sink area, as well as personal preference regarding how much coverage you want from your rug.
Consider the shape of your room before selecting one that's too large or too small for it. Additionally, if you have an oddly shaped bathroom with unique measurements, many retailers offer custom rugs in various sizes and colors to fit any space perfectly.
What can I use instead of a bath rug?
If you want to forgo a traditional bath mat, there are several other options.
One popular substitute is an absorbent microfiber mat, which comes in all kinds of colors and designs. Microfiber mats provide the same level of slip-resistance as a regular bath rug without absorbing too much moisture. Additionally, they can be washed easily and can last for years with proper maintenance.
Another alternative is to use non-slip bathroom mats made from natural materials such as bamboo or coconut fiber. These mats are not only attractive but also better at absorbing water than traditional bathroom rugs. Additionally, they won't get moldy or mildewed like some fabric mats do after prolonged exposure to moisture.
Finally, you could opt for double-sided reversible carpets and rugs that have rubber backing on one side to keep them from sliding around when wet; this way you can choose between the two designs whenever either side gets dirty or simply needs refreshing. All in all these three alternatives will help ensure your floors stay safe even in wet conditions while providing an aesthetically pleasing look!
Should I put a rug in small bathroom?
Absolutely, adding a rug to a small bathroom can be a great and stylish way to bring comfort, warmth, personality and pizzazz into the space. Rugs have become increasingly popular in bathrooms as they provide an excellent way of sprucing up the room while simultaneously making it more comfortable. Not only can they add texture and color to an otherwise plain place – they also help protect the floor from water spills!
As you'll find when shopping for rugs for your bathroom, there are plenty of options available on the market that are perfect for any style or size of space. In terms of materials, look for ones made from synthetic fibers such as polypropylene or acrylic since these will be most resistant to moisture and easy to clean. Avoid silk rugs or those with high pile so that water doesn't get trapped underneath them.
You could opt for something smaller like a doormat-sized rug if you've got limited floor space. If size allows however, go big with area rugs which not only adds visual interest but also provides extra warmth against cold tiles - ideal during winter months!
What are standard bathroom rug sizes?
The standard rug size for a bathroom is usually 24 inches by 36 inches. This size allows for decent coverage and fits most bathroom layouts.
The typical bath rug should have around 18 to 24 inches of clearance from the wall or other furniture, this will give a clean look and will also help in providing ample room for movement when stepping onto the mat. In addition to blanket coverage of the designated area, people often choose different sizes based on décor decisions, functionality needs, and personal preference.
At the end of day whatever size choice works best for your décor and functional needs is what matters most when it comes to selecting rugs sizes in bathrooms!
What kind of rugs are OK for bathroom?
When picking out a rug for the bathroom, there are several factors to consider. First, it is important to choose a rug made from materials that can withstand water and hold up against wear and tear. Some of the best types of rugs include synthetic or man-made fibers such as olefin and polypropylene, which are strong fabrics that can handle moisture without absorbing too much water. Natural fibers like jute, sisal, cotton, and wool should also be avoided in bathrooms due to their tendency to absorb liquid around them.
When it comes to design, there are various options available depending on the size of your bathroom space—from plush accent rugs placed atop larger bath mats to longer pieces meant for hallways outside of showers or tubs. Consider both durable fabric choices as well as classic colors; light blues for lighter rooms or brighter colors for darker spaces will make all the difference in terms of visual appeal. Additionally, you may want a rubber backing on your rugs if they're going on slick floors like tile or marble—it helps prevent slips!
Overall, when selecting a rug for your bathroom space keep an eye out for materials that won't absorb too much liquid yet still add some style points: synthetic-blend bath mats with classic colors and rubber backings work best in this case!
What rug goes in front of toilet?
The type of rug that goes in front of the toilet depends on a few factors – the size and shape of your bathroom, the color scheme you have chosen, and the overall style. Although any rug can technically work as long as it fits in front of the toilet, many people choose to opt for smaller mats specifically designed for this purpose. Bathroom rugs made from both synthetic and natural materials such as polyester or cotton make for better options than larger area rugs due to their ability to absorb moisture more effectively - an important factor given how often a bathroom sees a lot of foot traffic.
As far as colors go, it is best to use either lighter shades or tonal variations that match with existing nearby surfaces/fixtures like tile floors or counters. If you are looking for something more sophisticated, look out for bath mats with traditional oriental-style designs or ones featuring simple geometric shapes. While not necessary if you want to make your toilet area even cozier try adding some towels in complimentary colors!
What is a bathroom rug called?
A bathroom rug is generally referred to as a bathmat or a bath mat. It is made of either cloth or synthetic material and designed to absorb water, provide comfort, cushioning and traction while standing in the bathroom.
Bathmats come in various shapes, sizes, colors and styles including squares, rectangles, circles, ovals and contours. Some are plain while others feature designs such as stripes or jacquard designs. Most are machine-washable for convenience and easy care; however non-washable types do exist too. The majority of these rugs also have a rubber backing that helps prevent slipping on wet surfaces.
The Right Round Bathroom Rug For You
To sum it all up, finding a quality round bathroom rug does not need to be a daunting task. We've combed through thousands of reviews and our findings suggest that any of the above-mentioned round bath rugs will make for a great addition to your home. Whether you are going for a modern, luxurious look or something more natural and rustic, there's something here perfect for your needs. Thank you for reading and happy shopping!