You Absolutely Need a Shotgun Child Bike Seat
You absolutely need a shotgun seat if you are a mountain biker. The kids ride shotgun seat is a game changer.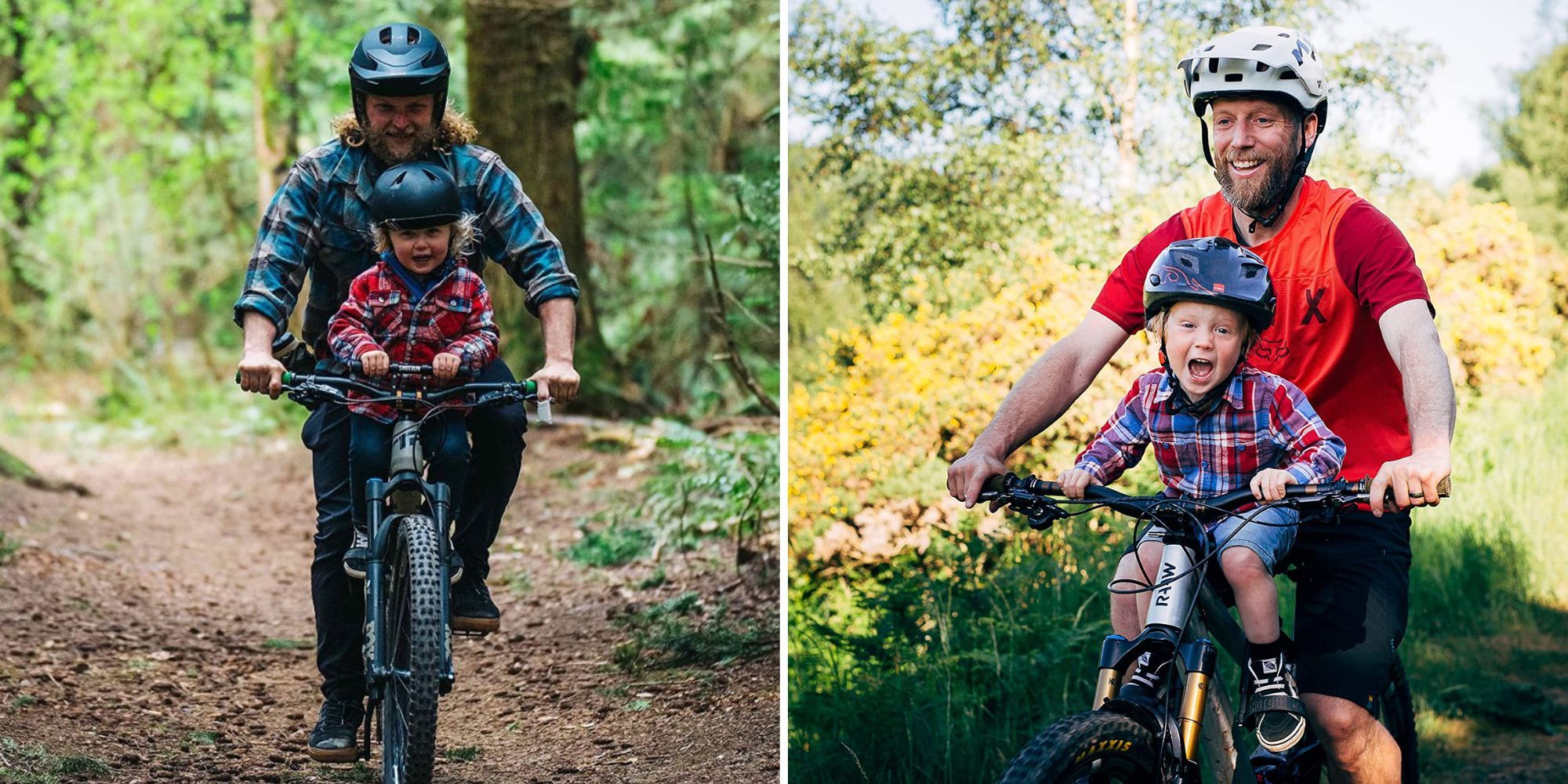 Want to have more fun with your child while spending quality time together?
The Shotgun Bike Seat is the perfect solution. It lets you and your child ride together, side-by-side, on a single bike. You can go anywhere you want – on trails, down hills, or even around town.
The Kids Ride Shotgun Bike Seat makes riding a bike more fun than ever before. With it, you can explore new places and discover new things as a family. It's the perfect way to bond with your child and have some amazing memories together.
Mountain bike families want to get out on the trails and the kids ride shotgun seat is the perfect way to do so!
Why We are Recommending the Shotgun Seat
We love mountain biking, but we didn't think it was possible to bring our kid along until we found the shotgun seat.
Most parents wouldn't even think of taking their kid mountain biking because they assume it's too dangerous. Even if you can find a way to safely bring your child along, there's the hassle of having to carry all the necessary gear with you on every ride.
The shotgun seat is the perfect solution for bringing your child mountain biking with you. This easy-to-use seat attaches to your bike in just seconds and accommodates kids from 18 months to 6 years old. Your child will love being able to explore the trails right alongside you.
---
UnpackedReviews is reader supported, which means that when you click on links to products on our site and make a purchase, we may earn a commission. However, our opinions are our own, and we only recommend products that we genuinely love.
---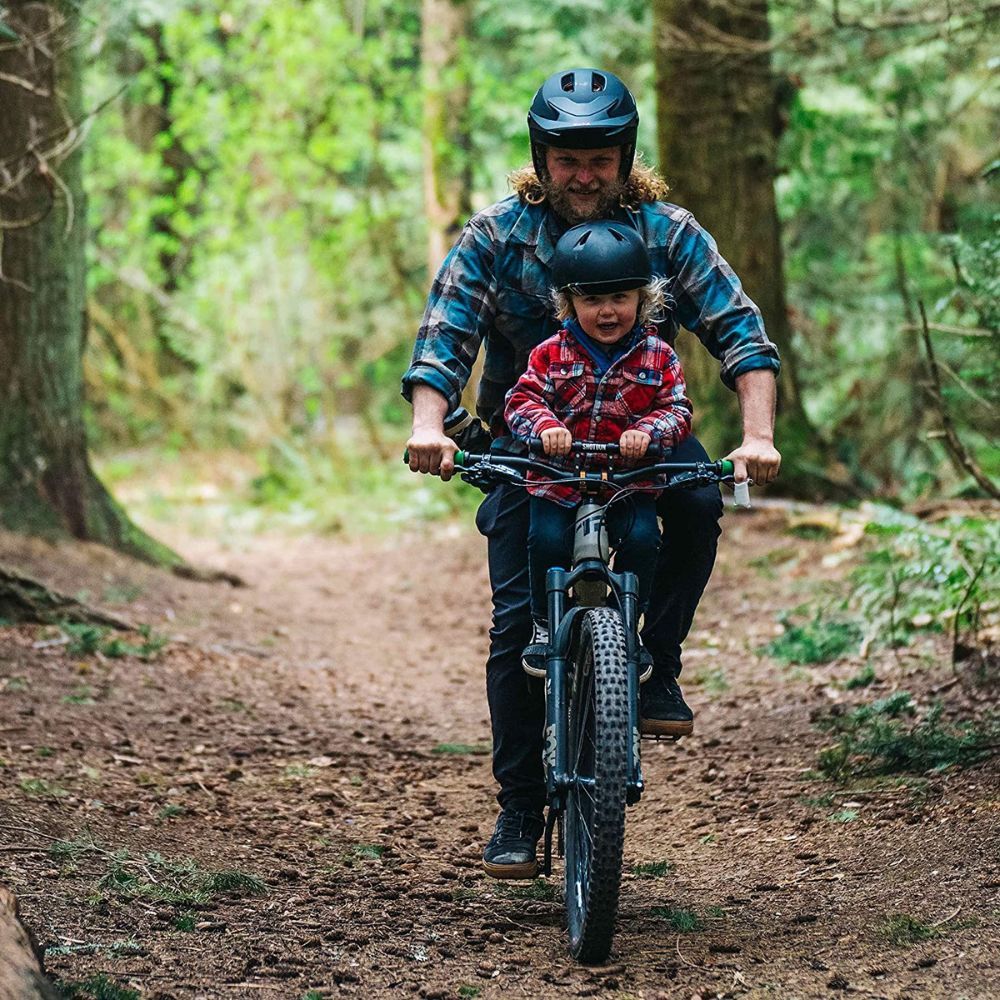 Why We Love the Shotgun Seat
Riding a bike is an activity that's popular with kids and adults alike, and for parents who want to get their little ones involved in the fun of mountain biking, a shotgun child seat is one of the best ways to do it.
These seats allow your child to come along for the ride without taking up too much space while staying secure and comfortable. Plus, they're surprisingly light so won't weigh you down as you take on trails together.
If you're looking for a way to share the joy of riding with your whole family, investing in a shotgun child seat is definitely worth considering!
The shotgun seat mounts to your top tube and puts your child in the center of gravity of the bike, allowing you to maneuver single-track trails much easier.
Plus, it comes equipped with handlebars and stirrups for their feet, ensuring they have a comfortable and secure ride. Let's take a closer look at why this bike seat is a game-changer in this shotgun bike seat review!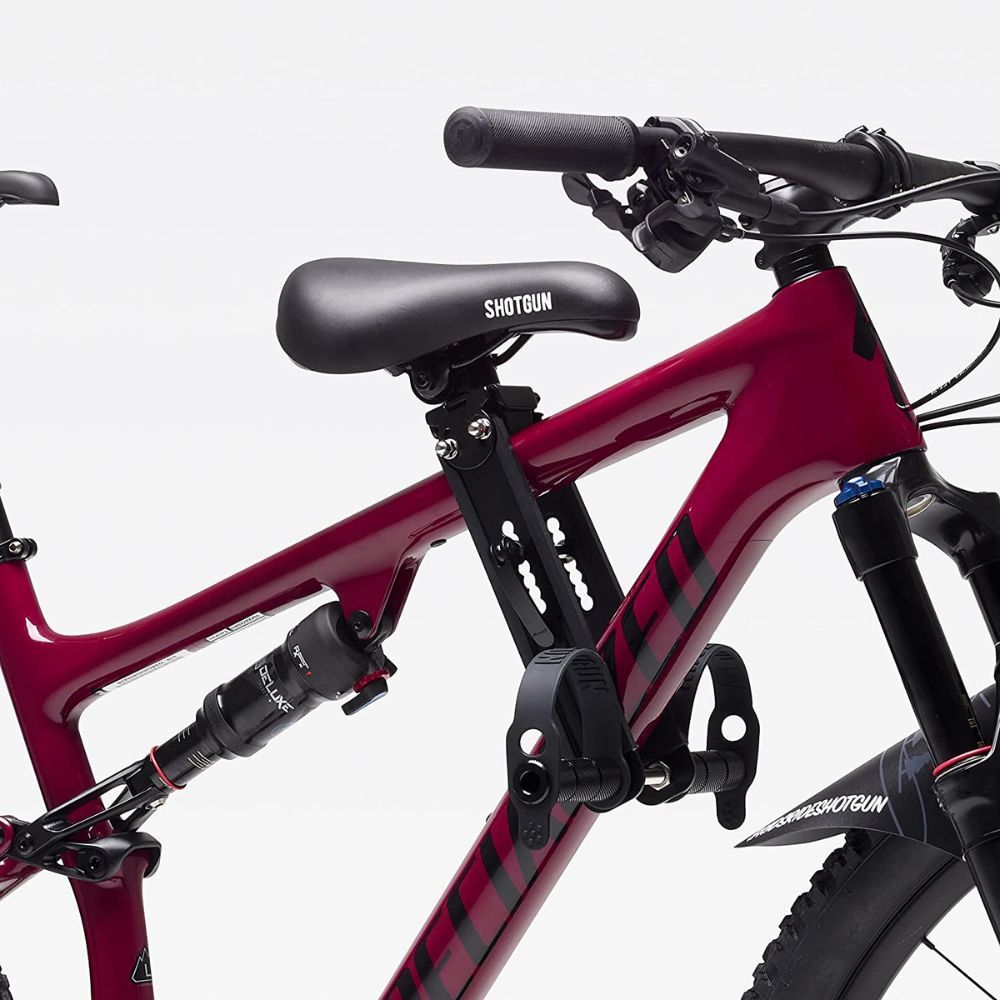 Kids Ride Shotgun Seat
Check Price On Amazon
Safety First
The most important part of any activity involving children is safety, and the Shotgun Bike Seat doesn't disappoint in this regard.
With its sturdy metal construction, adjustable foot straps, and foam padded seat, it provides plenty of security while still keeping your little one comfortable while they ride.
And when you're done riding for the day? Simply detach it from your frame with ease and store it away until next time!
There are a lot of mounted child bike seats on the market but the Shotgun seat is hands down the best for taking your kid on a bike ride!
More than Just Riding
The Shotgun Bike Seat isn't just about riding; it's about creating lasting memories with your kids.
With its lightweight design and adjustable settings, you can easily adjust the seat as your child grows so you can keep enjoying those rides together for years to come!
Plus, since it's designed specifically for biking on trails, you can teach them how to navigate those tricky turns or even show them some fun tricks along the way. Not only will they get exercise but they will also learn valuable life lessons like balance and coordination while having lots of fun!
Easy Installation
If you want to purchase this bike seat but aren't sure how to install it on your bicycle frame?
Don't worry—the shotgun bike seat is designed for easy installation and requires minimal tools or knowledge.
All that is required are two Allen keys (included) and an adjustable wrench (not included). In no time at all you can have this awesome accessory mounted up so that you and your little one can hit those trails!
Shotgun Kids Bike Seat Installation
Shotgun Pro Installation
Kids Ride Shotgun Seat VS the Pro Version
Are you looking to get your little one on the saddle a bit more safely? With the kid's ride shotgun seat, providing versatile protection for your mini Co-Pilot, you can trust in your ride like never before.
You can also adjust the shotgun seat positions for an extra level of comfort with the pro version – plus it attaches to the seat post, taking all contact with the frame off the list of potential safety issues.
The pro version can also hold a little more weight so you have time before you need a mountain bike tow rope. So grab your shotgun seat and put those tiny feet on those pedals – your journey is just about ready to begin!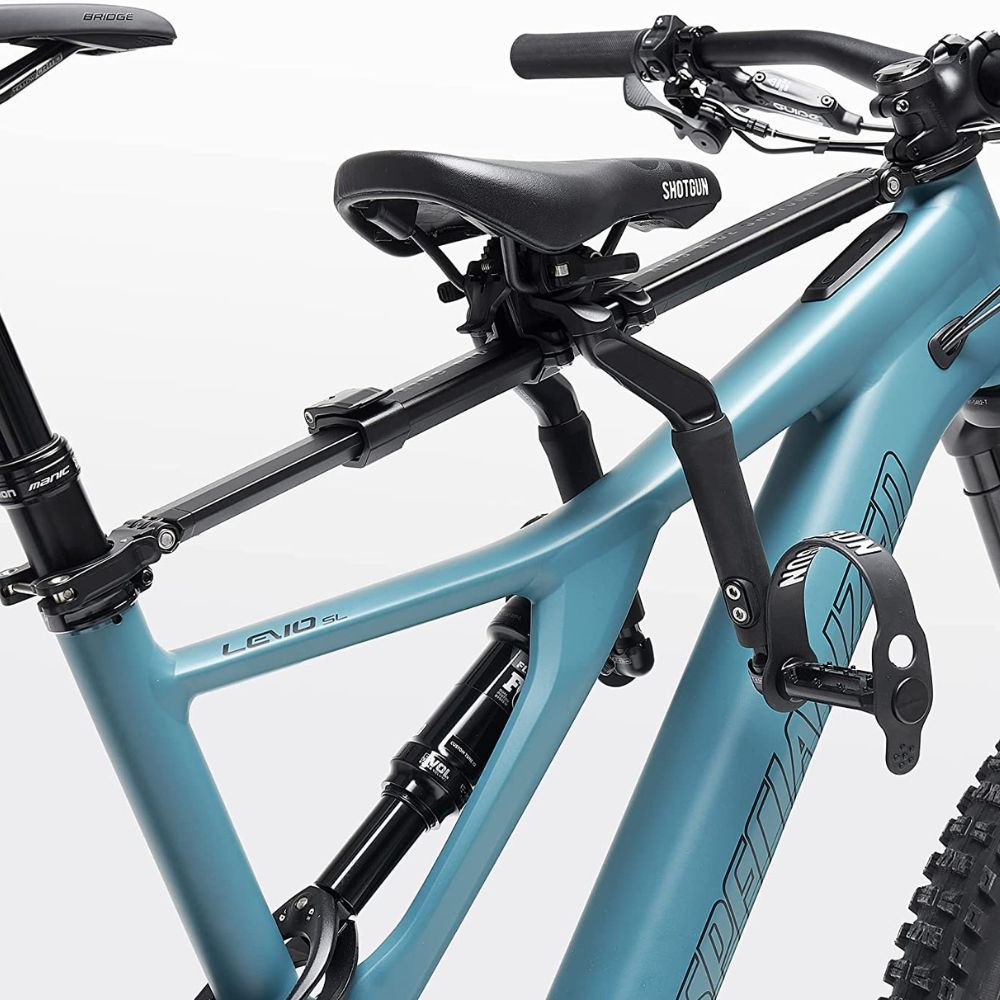 Kids Ride Shotgun Child Seats
If you're looking for an exciting way to bond with your children while also teaching them valuable skills like coordination and balance on mountain bikes then this seat may be just what you need!
This lightweight accessory attaches easily to most standard bicycle frames so that you can hit those trails right away!
It provides plenty of security thanks to its sturdy metal construction along with straps, foam padding, and reflective elements so that everyone stays safe during each ride.
Plus it's adjustable as your child grows so that these priceless moments last as long as possible!
Conclusion
So don't wait any longer; buy yourself a shotgun bike seat today and start making some memories riding bikes with those special little ones in your life! Get your Shotgun kids bike seat today and take your child mountain biking! You won't regret it!