8 Water Bottle Organizer Tools and Ideas To Declutter Your Kitchen
A water bottle organizer is essential to keep your counters and cabinets clutter free. We have the best organization tools and ideas for you!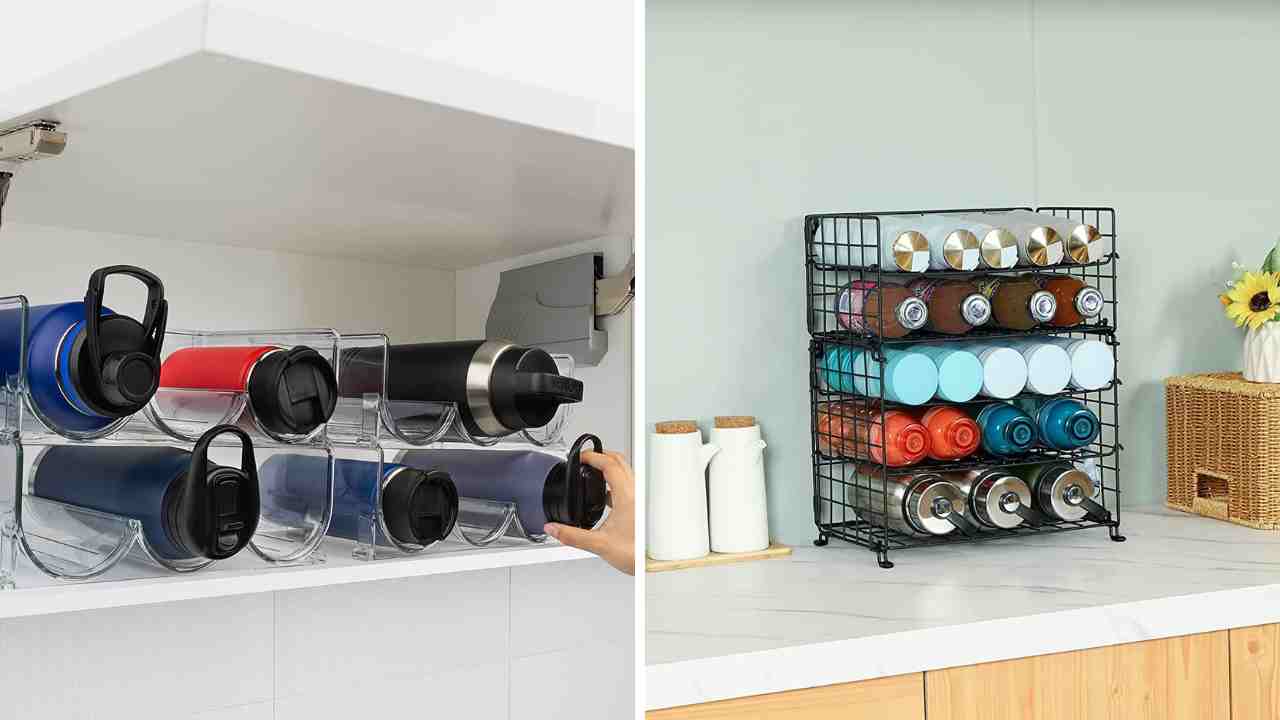 Are you sick of your water bottles taking up so much space in your kitchen?
We have the perfect solution for you! Our top picks of water bottle organizer racks are not only stylish but they also declutter your kitchen. Plus, we have some great ideas to help you get organized once and for all.
Imagine walking into your kitchen and seeing a sleek, organized space where everything has its place. It's not only possible, it's easy with these racks and organization tips.
Keep scrolling to check out our top ideas!
How We Found the Best Water Bottle Organizers
You have a lot of water bottles, and they're always getting in the way.
It's hard to stay hydrated when you don't have easy access to your water bottles.
We've done the hard work for you and found the best water bottle organizers on the market. Our list includes everything from simple water bottle caddies to full-on water bottle racks.
---
UnpackedReviews is reader supported, which means that when you click on links to products on our site and make a purchase, we may earn a commission. However, our opinions are our own, and we only recommend products that we genuinely love.
---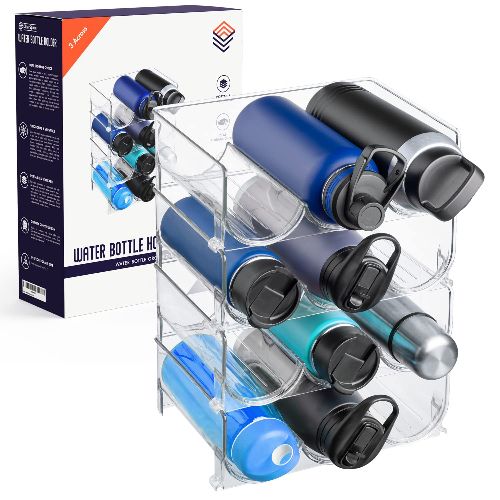 ClearSpace Water Bottle Organizer – Perfect as a Pantry Organizer and Cabinet Organizer
The ClearSpace Water Bottle Organizer is a great choice if you want to store water bottles horizontally. This three-tier unit has three separate compartments, so these bottles can be stored in an orderly fashion. The clear plastic design means that this bottle rack will fit into any kitchen or pantry space without blocking your view of what's going on below. This Water Bottle Organizer also comes with food safe plastic which makes it safe for use in the fridge and easy to clean. Withstanding a weight of 4 pounds, the ClearSpace Water Bottle Organizer is not the most portable option but it does come at a reasonable price considering all that you get with it.
Check Price On Amazon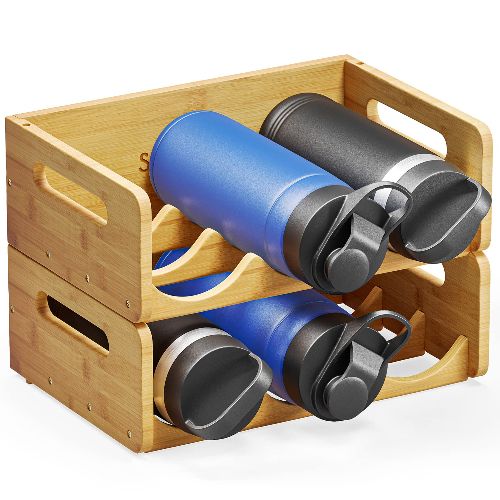 SpaceAid Bamboo Water Bottle Organizer with Labels, Kitchen Pantry Water Bottle Storage Rack
The SpaceAid six-bottle water bottle rack is a bamboo-and-plastic piece of kitchenware that's super easy to assemble. It's the perfect way to store your favorite bottles, whether they're wine or soda or juice, and it won't take up much space at all. Each bin features an 11.6 x 8.1 inch clear plastic shelf front for labeling with a felt tip marker - you can even get blank label sheets if you prefer using other labels instead. The shelves are lined with rows of three bottles each for a total of 6 slots - which means this bottle rack will comfortably hold six bottles each row without any overlap, but it can still fit more in some cases depending on how high your bottles sit on the sides of their respective holders.
Check Price On Amazon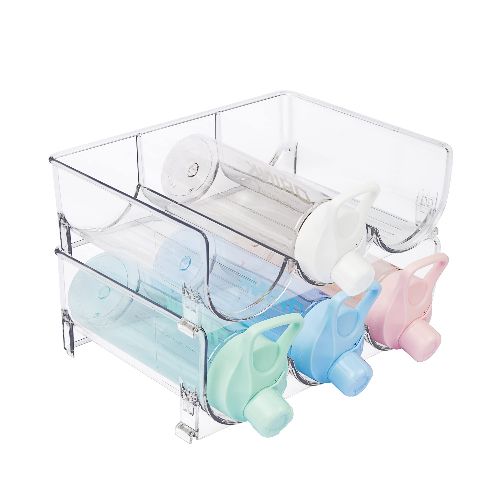 Vtopmart Plastic Water Bottle Organizer, 2 Pack Stackable Bottle Holder Storage Rack
The Vtopmart shaker cup set is a great choice for those who want to keep their shakers in one place, as opposed to having them scattered all around the kitchen. They're stackable too so you can keep things nice and tidy. The plastic used feels sturdy enough, with a simple design that fits six tall bottles such as water or wine perfectly. The only downside we found was that they didn't sit quite as flat on their side as we would have liked - but this wasn't a deal breaker for us.
Check Price On Amazon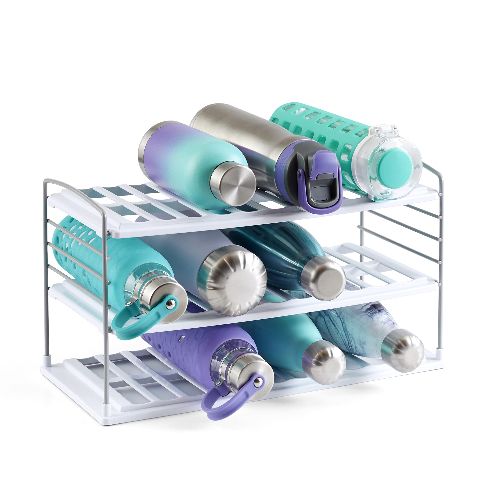 YouCopia UpSpace 12-Bottle Water Bottle And Travel Mug Cabinet Organizer
The YouCopia 12-Bottle Water Bottle and Travel Mug Cabinet Organizer is designed to work with a wide range of different types of bottles, from glass ones to plastic water bottles. It also has shelves which are spaced out at just the right intervals to accommodate travel mugs. The scalloped wire design means that it stays stable even when you tip it over, while non-slip feet keep it in place on your countertop. The only real downside is that the bottle grooves aren't quite deep enough for some of the larger bottles, like insulated ones or those used by active people who need more water.
Check Price On Amazon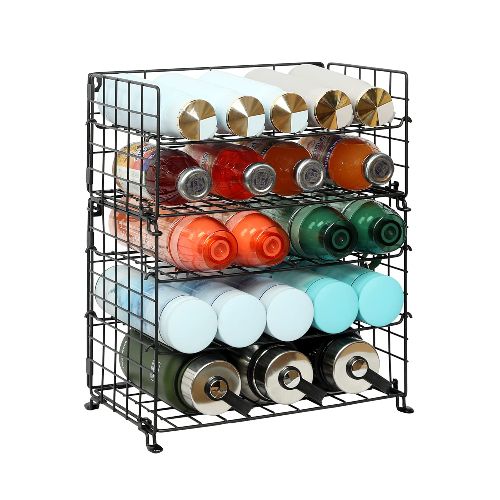 X-cosrack Adjustable Water Bottle Organizer, 5-Tier Wall-Mounted Water Bottle Holder
Our favorite rack on this list is the X-cosrack Adjustable Water Bottle Organizer. This sturdy, wall-mounted bottle rack comes in five different tiers and holds up to five bottles per tier. Each tier can be adjusted horizontally or vertically, and you have full control over the spacing between each layer. The copper finish looks great while keeping your kitchen looking sharp, and it's easy to assemble with no tools needed. We love that this rack can hold a variety of items such as wine bottles, baby bottles, travel mugs and even plastic wrap for when you're wrapping leftovers for lunch.
Check Price On Amazon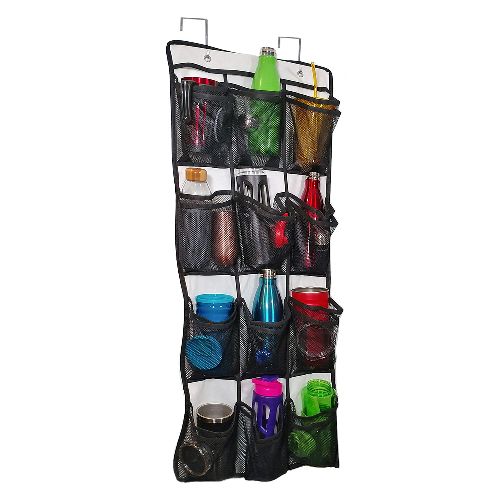 Davison Over The Door Water Bottle, Travel Mug or Tumbler and Lid Organizer
Our favorite way to store coffee mugs, teacups and other small drinkware is in a vertical stack of see-through plastic pockets. This rack from Davison saves space by hanging horizontally in your kitchen, and it's easy to keep clean with a quick wipe down. The see-thru design means you can easily tell which mug is which—no more squinting and searching for the right lid. The price might be higher than some other options on this list, but we think the quality is worth that cost. You can also use these rack to store spices or toiletries, like shampoo bottles or bandages. This organizer holds six to 12 mugs or glasses at once, making them the perfect choice if you're short on space and don't want to sacrifice style for convenience.
Check Price On Amazon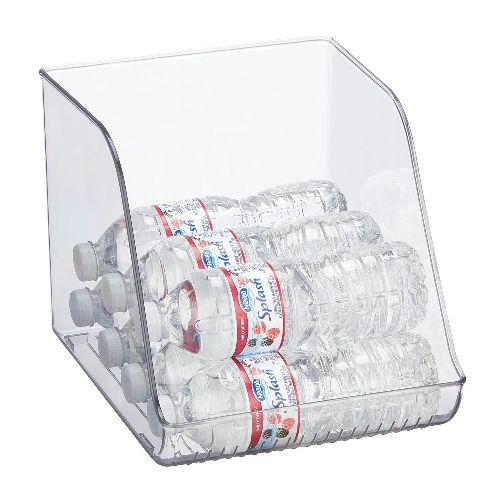 mDesign Plastic Water Bottle Storage Organization Bin - Open Front
We already know that the Design Lab is a great place to find cutting-edge kitchenware, and this bottle rack is no exception. It has an innovative open front design, which makes it simple to grab what you need quickly and easily. The bins are also super versatile - they can be used in other rooms of the home too using them as organizers for craft rooms, laundry/utility rooms or offices. They're also perfect for camping as they make a light and durable travel case for your drinks.
Check Price On Amazon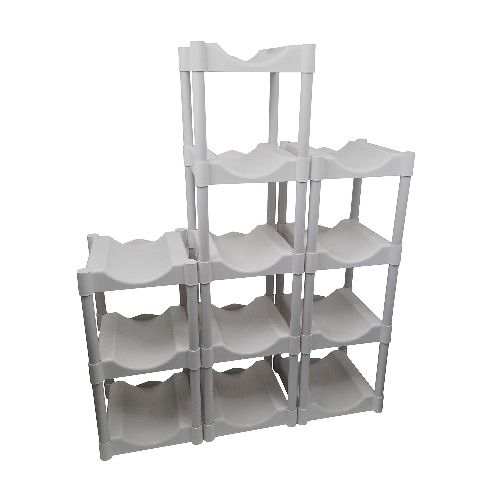 Bottle Buddy Water Racks - 3 and 5 Gallon Bottles - 12-Tray Jug Storage System
The Bottle Buddy Water Racker is a sturdy, convenient way to keep your water bottles organized and easily accessible. This 12-tray system is made from lightweight plastic, which means it's easy to move around if you need more space elsewhere in your home or office. Each Bottle Buddy jug holder comes with its own set of simple instructions for assembly and holds up to 50 lbs per tray. The unit can support both 3- and 5-gallon bottles, so you can fill them all at once before heading out for the day.
Check Price On Amazon
Most Commonly Asked Questions About Bottle Organizers
You've seen the pictures on Instagram of people who have their reusable water bottles perfectly organized and you're wondering how they do it.
It can seem impossible to keep your water bottles from taking over your whole house, but there is a way to do it without having to spend hours every day cleaning up after them.
With our selection of water bottle organizers, you can easily store and organize your water bottles in any room in your house. We found different sizes and styles so that you can find the perfect one for your needs. Not only that we answered most questions about organizers and have some space savings ideas below.
Water Bottle Organization Ideas
1. Hang a storage organizer in your laundry room for easy access to reusable water bottles when you need them quickly.
2. Place a few water bottles in an rack on the dining room table to create a modern centerpiece.
3. Invest in an over-the-door storage organizer for your pantry and use it to store water bottles and lids out of sight but within reach.
4. Re-purpose an old kitchen cabinet by removing the door and lining the inside with racks to store the water bottles!
5. Make use of nooks and crannies by affixing racks or hooks onto the wall to hang reusable water bottles in even a small kitchen space.
How do you store water bottles when not in use?
When not in use, water bottles should be stored in a cool, dry place. It's best to keep them away from direct exposure to light and heat, as it can cause the plastic to break down over time.
Additionally, it is important to make sure that any contaminants are kept out of the bottle such as dust and dirt. The best way to achieve this is by keeping the lid on tight at all times when storing your water bottle.
If you don't have enough room for multiple bottles or if your bottles do get exposed to light or heat, consider using an insulated bag or cover which helps reduce deterioration of the bottle materials and keep its contents safe for drinking. By taking these steps when storing your water bottles you can help prolong their lifespan and ensure that they remain safe for drinking purposes!
How do you store water bottles in the pantry?
To store water bottles in a pantry, the most important factor is to keep them organized and out of the way. Start by grouping all of your bottles together on a shelf that's higher than eye-level. This will help you avoid accidental spills or breakage, as well as conserve valuable floor space.
Also consider using containers to store your water bottles, such as plastic bins with lids or stackable shelves. This will not only make it easier for you to grab what you need when you need it but also keep any spillage from making a mess inside your pantry. If possible, choose containers with adjustable dividers so that you can organize each bottle according to size and shape.
It's also best practice to label every container or shelf in your pantry for easy organization and accessibility — this is especially necessary if different people are accessing the same area at different times during the day! Make sure everyone knows which ones contain water bottles so there are no mix ups along the way.
Where do you store bottled water?
The best place to store bottled water is in a cool, dry area with consistent temperatures. It should be kept away from direct sunlight and should not be exposed to extreme fluctuations in temperature such as those due to freezing or boiling.
The container should also maintain an airtight seal in order to preserve the flavor of the water. Additionally, it is best practice to store bottled water at room temperature or below—a refrigerator can help ensure that the temperature stays optimal for storage.
Once you have located an ideal location, check your bottles regularly for any changes in quality—cloudiness or discoloration may indicate that the bottle has gone bad and must be replaced immediately.
Can you use a wine rack for water bottles?
Yes! Wine racks can definitely be used to store water bottles. Not only are they the perfect size, but wine rack designs also provide natural air circulation which is great for helping keep your drinks cool and refreshing.
Furthermore, wine racks make excellent storage solutions due to their sleek and often aesthetically pleasing design that adds a touch of elegance to any room. Additionally, they come in a variety of sizes so you could either get one large rack or multiple smaller ones depending on how much space you have available and how many water bottles you need to store.
Are most water bottles dishwasher safe?
Yes, most water bottles are dishwasher safe. However, there are some important things to keep in mind when washing your bottle.
Firstly, it is recommended that you avoid using high heat cycles when you wash them as this could cause the bottle to warp or crack and make it less effective for keeping liquids hot or cold.
Secondly, ensure that your water bottle does not have any small parts such as a removable cap or straw which can easily become loose during the cleaning process. Finally, check the manufacturer's instructions as some may advise against putting their specific water bottles in a dishwasher altogether.
Are shelf bottle organizers effective?
Absolutely! Shelf bottle organizers are a highly effective way to keep your kitchen, pantry, and refrigerator neat and organized. Not only do they create additional storage space for bottles, cans and jars; but they also help you easily find what you need without having to search through a clutter of items. Plus, the shelves can be adjusted depending on the size of your containers so everything will fit nicely.
These type of organizers are very popular for their versatility in organization – allowing for flexible configurations so that larger or odd-shaped containers are still able to neatly fit inside.
They come in different sizes, materials and shapes as well which allows homeowners to match them with any room decor style while making sure they don't take up too much space or overwhelm the area altogether. With shelves made from bamboo wood or even sturdy plastic polymers, these organizers can last years upon years with proper care.
Shelf bottle organizers have proved their worth time and again by keeping messes at bay – not just for bottles but other odds n' ends such as spices, condiments or small appliances too! With its multiple configurations it is convenient enough to grab anything quickly whether you're cooking dinner after work or prepping lunch boxes right before school drop offs!
The Right Bottle Organizer for You
All of these options will help you organize your bottles and make them easier to access and use. No matter which one you choose, you'll be glad you took the time to find the perfect bottle organizer for your needs. Thanks for reading and we hope this helped you make a decision!