7 Essential Bathroom Organizers Every Home Needs To Stay Tidy
Are looking for a way to increase the storage you have in your bathroom and clear out the clutter? You may want to consider a bathroom organizer.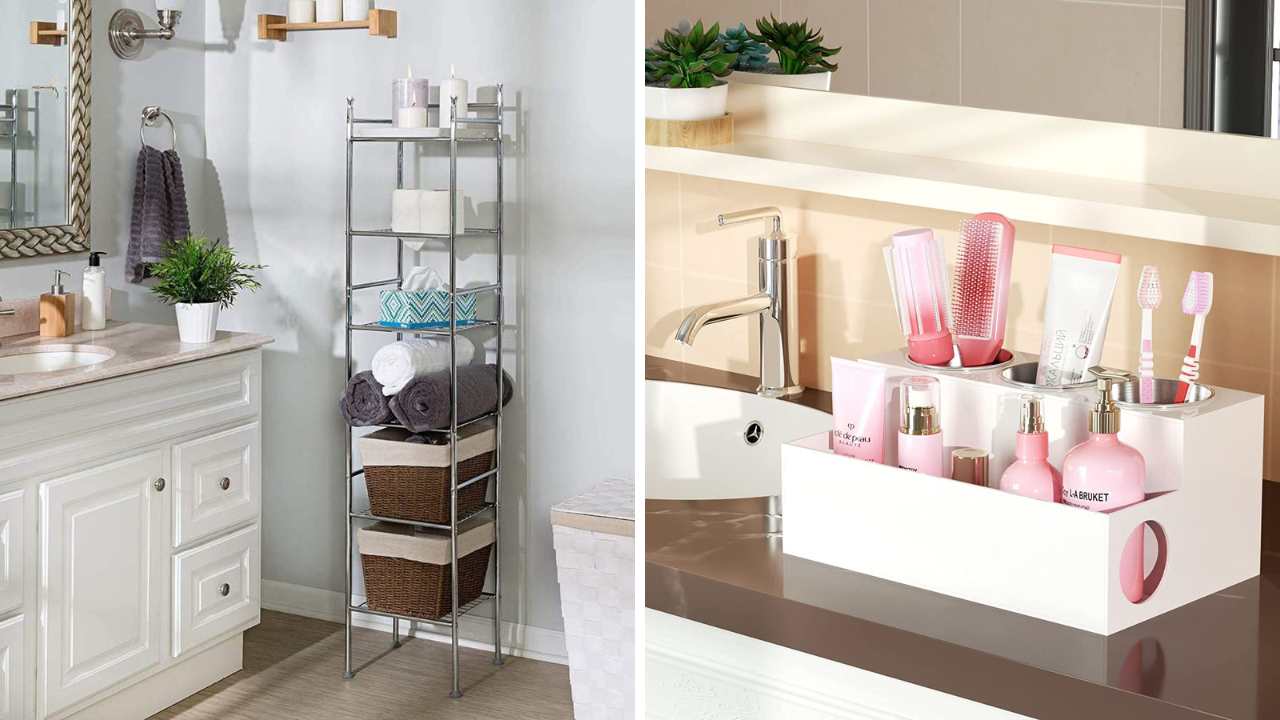 Is your bathroom always a mess with limited to no storage space?
A bathroom organizer is a great way to help keep your toiletries and other necessities stored and out of the way. They will help you find a place to put all those items you have cluttering up the counters and flat countertops.
With the right organizational tools your bathroom can stay clean with all the loose items having their own place. Whether it's a shelf, an organizer tray, or an over-the-door bathroom storage option, we found the best organizers to meet your needs.
Read on to see our top picks that will have your guests saying wow!
What Is The Best Bathroom Organizer
If you are like us and have a small bathroom it can be hard keeping everything put away. Stuff just accumulates on flat surfaces and creates clutter, especially when you have limited storage space.
Even when you clean every day those items you use the most always make the small bathroom look even smaller than it is because they get left out.
That's why we hunted down the best bathroom organizers for different situations. We have used many organizers and have found some great items that will help you keep that bathroom clean, tidy, and most importantly, organized!\
UnpackedReviews is reader supported, which means that when you click on links to products on our site and make a purchase, we may earn a commission. However, our opinions are our own, and we only recommend products that we genuinely love.
Best Bathroom Counter Organizer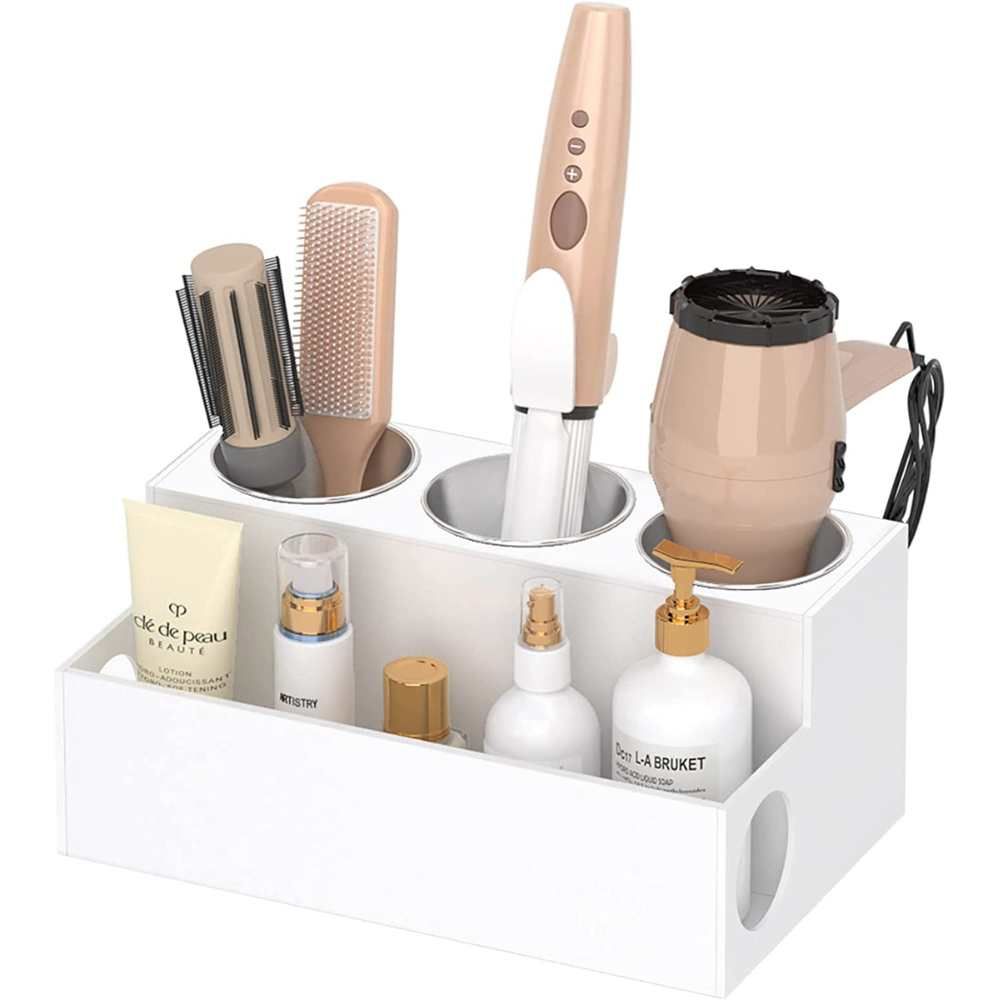 NIUBEE Hair Tool Organizer
Check Price On Amazon
This bathroom counter organizer gives you plenty of space to store your essentials. If you want to keep the clutter off of your bathroom counters you need the Niubee tool organizer.
It has ample storage space as well as multiple compartments to keep your essentials where you need them and out of the way. It is made of durable plastic with a convenient design that will look good and last you for years to come.
Pros
The organizer has 3 compartments on top to store items like a blow dryer, curling iron, and hair brushes.
This bathroom storage container has 2 tiers for optimal storage capacity.
It has a larger compartment on the bottom tier to store various bathroom accessories.
The compact design allows you to store your items while taking up minimal counter space.
Comes in two models, one with an open-top storage area on the bottom tier and one designed with a drawer to keep items out of sight.
The elegant design comes in white, black, and clear.
Cons
This bathroom storage organizer does not rotate like some on the market.
It only comes in 3 colors so if you are looking for something very specific to match your decor and don't want white or black that may be an issue.
Best Bathroom Drawer Organizer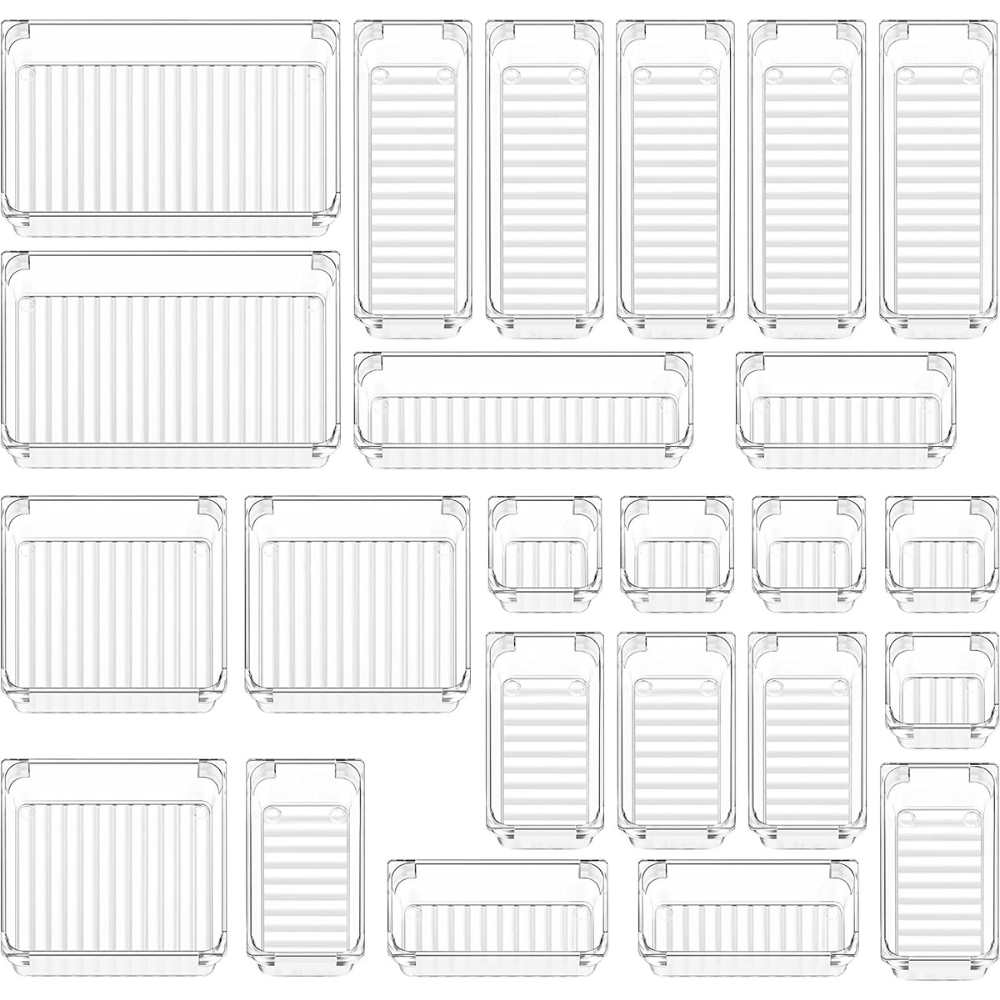 Puroma 24Pcs Drawer Organizer Set 5-size
Check Price On Amazon
The versatile drawer organizers by Puroma come in 5 different sizes and has 24 pieces in total. It gives you many options when you are trying to get the bathroom drawers organized. You can even use some of the smaller trays in the medicine cabinet to keep smaller items separate.
If you are like us the drawers in the bathroom tend to collect everything and when you try to find what you need you have to dig through layers of accessories to find what you need. Now with a bathroom drawer organizer, you can eliminate that problem and find what you are looking for with ease.
Pros
The drawer organizer set comes with 24 pieces and 5 sizes of drawer inserts.
You can easily sort through your products and keep everything organized.
You can use these for multiple purposes including in the kitchen, in your nightstand, and anywhere else you may need to organize a drawer.
You can remove these from the drawer if they get dirty and clean them for a tidy look.
These drawer inserts are very convenient to use and are strong and durable.
Clear plastic design makes it easy to see and find items especially if you use it in cabinets.
Cons
Made with clear plastic so if you wanted additional colors that could be a problem.
Does not have non-slip pads on the bottom of the trays.
Best Bathroom Cabinet Organizer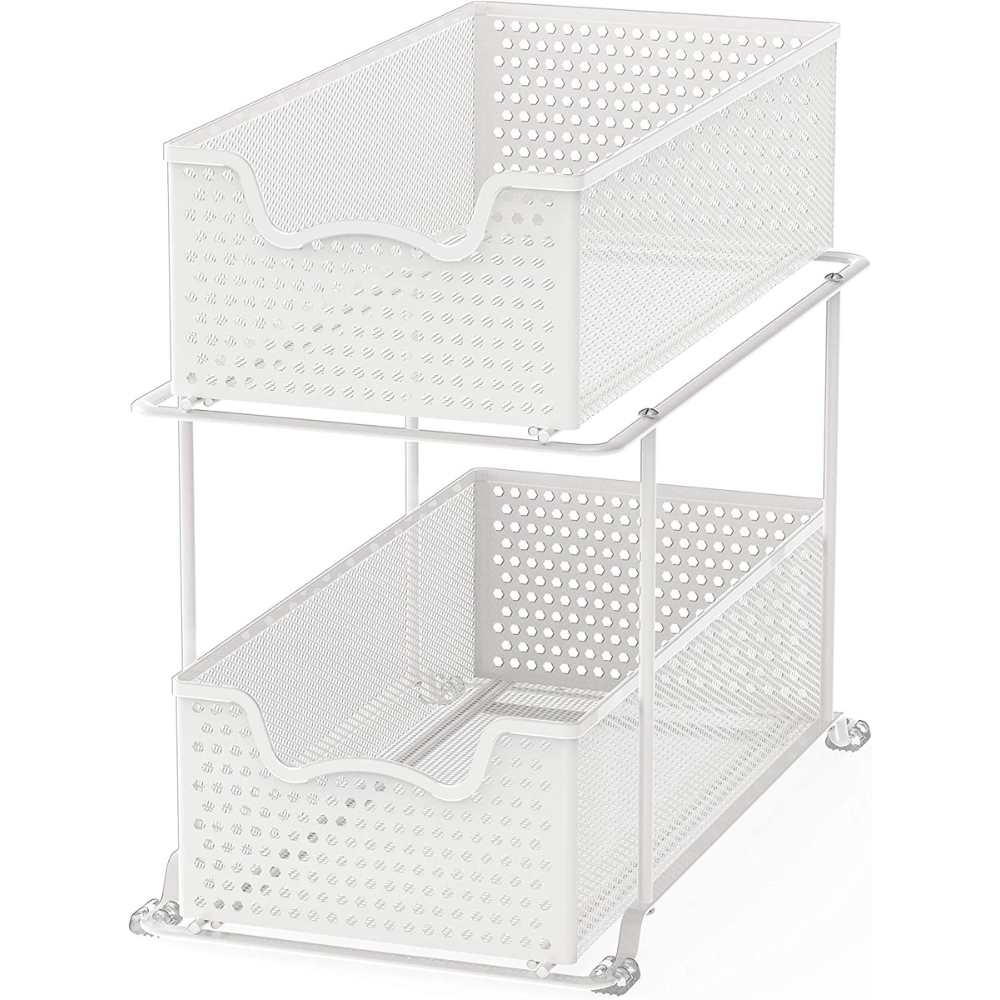 Simple Houseware 2 Tier Sliding Cabinet Basket Organizer
Check Price On Amazon
This organizer is a great option for your cabinets because it provides ample space and it has a sliding drawer feature to allow easy access. The modern design looks good in any room and you can stock it full of your favorite supplies.
The two-tier stacked design gives you more vertical storage and allows you to maximize the space you have available. The versatile design not only allows you to use it in the cabinet but you can use it on a countertop, or in a closet.
Pros
This storage option has a two-tier design to maximize vertical storage.
The shelves have a pull-out drawer design to make accessing your items easy and convenient.
Made of durable metal and has a powder-coating finish.
This organizer comes in 5 different colors to match any style or decor.
It is portable and can be used in many different ways to best benefit your storage needs.
Cons
This cabinet organizer may be a little small for some people.
If you place really heavy items on it the sliding drawer mechanism may stick a little.
Best Bathroom Organizer Shelf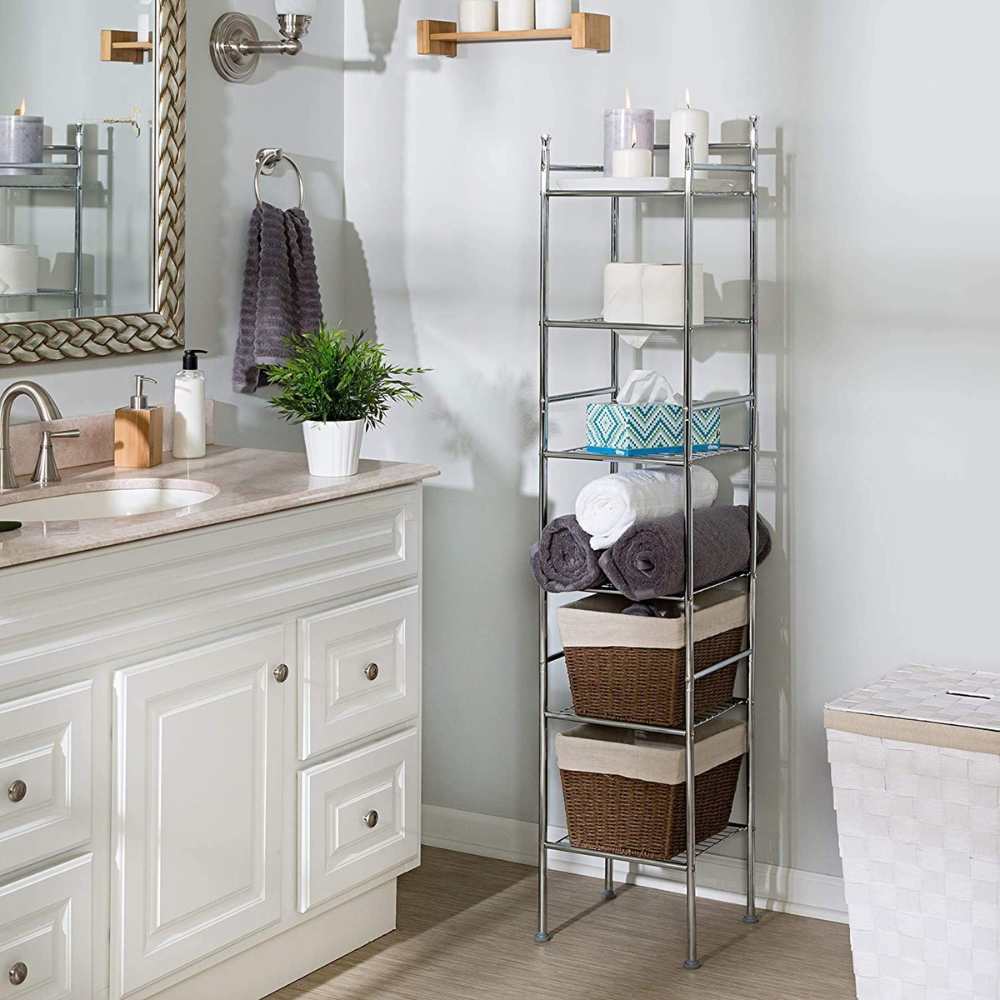 Honey-Can-Do BTH-03484 6-Tier Metal Tower Bathroom Shelf
Check Price On Amazon
The Honey Can Do metal shelf is a great option to maximize dead space and use it for vertical storage. With this tower shelf, you can easily store toilet paper and you can even use it for towel storage.
The tower shelf has great reviews from users and can store anything from shower towels to soaps and accessories. It is the perfect choice for anyone looking to add the most storage you possibly can to your bathroom. With this shelf, you can even get one with woven baskets that fit perfectly on the shelves to help contain smaller items.
Pros
This shelf has 6 tiers for ample storage space so you can store everything you need.
The chrome finish can match many different styles and décor so you can put this shelving anywhere.
Very versatile and can be used in the bathroom, living room, laundry room, or you can even use it as a bookshelf.
Made with steel with a chrome finish so it will last for many years to come.
Increases vertical storage so you can easily organize a small space.
Cons
This shelving unit only comes in one color so it's harder to find one that meets your design needs.
This shelf does need assembly when you get it and can be inconvenient to put together.
The shelving is made of cross bars so smaller items may fall off if you don't have a basket to put them in.
Best Over The Door Bathroom Organizer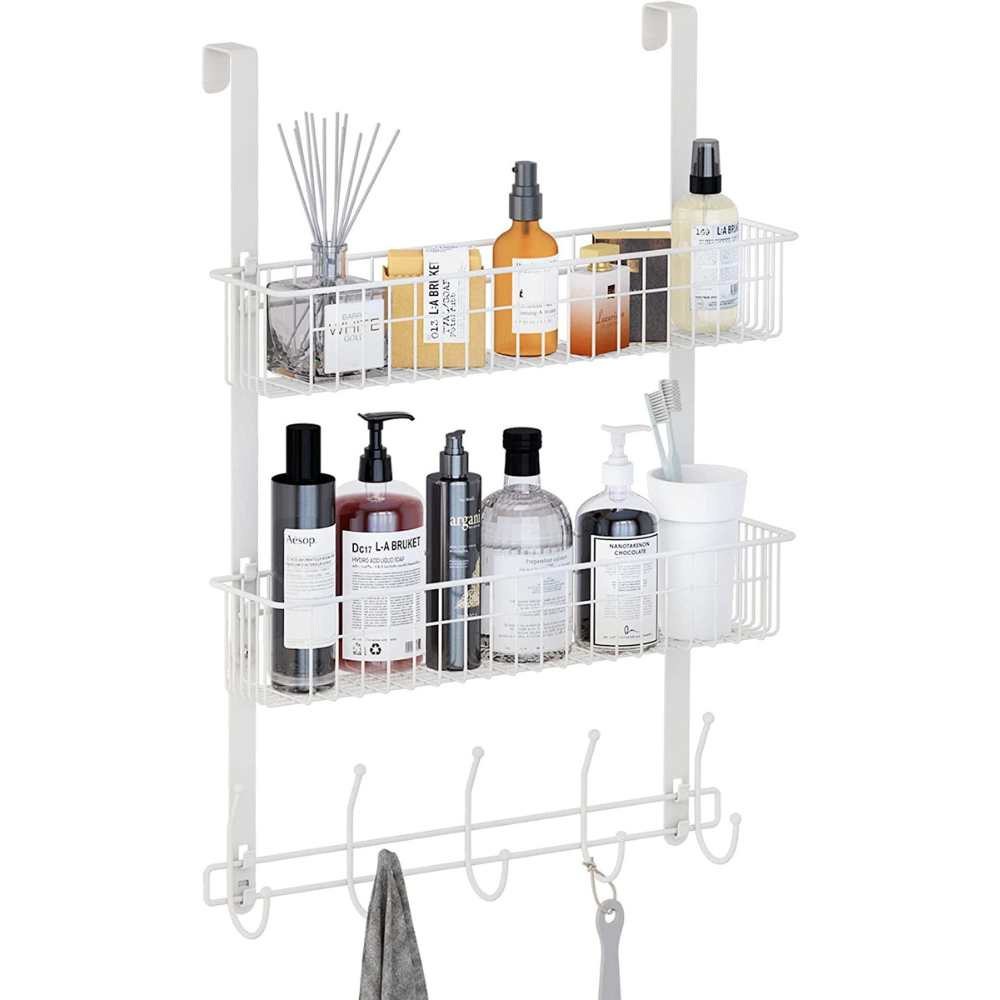 LUCYCAZ Over The Door Hooks Organizer
Check Price On Amazon
With an over-the-door storage option, it opens up the space behind your door that doesn't get used very often. You can easily store your towels on the hooks and it even has shelves where you can add small items like hand sanitizers, soap, and other toiletries.
If you are really hard-pressed to find extra storage space then an over-the-door organizer may be the best option for you. The space behind the door is an overlooked area that can be utilized for extra storage with the right storage option.
Pros
This organizer lets you use the dead space behind your door and allows you to store extra toiletries.
It has 5 hooks that you can hang towels or clothes on and keep them out of sight.
Easily hooks over the door with no tools needed for installation.
The 2 shelves allow you to place smaller items on this shelf and keep them out of the way.
Made from high-quality metal and can hold up in wet places without rusting or degrading.
Cons
You cant keep bulky stuff on this shelf as it will not allow your door to fully open if you need it to.
Best Under Sink Bathroom Organizer
Petisal 2-PACK Under Sink Organizers
Check Price On Amazon
Open up the space under your bathroom sink with this organizer. It comes with 2 shelves and the bottom shelf slides out giving you easier access to your things. This comes in a two-pack as well so you get twice the value which allows you to put one on either side of the drain pipe under your sink.
Being able to organize under the sink and use vertical storage will allow you to keep the mess that accumulates under control. Use it for large items or small ones with this storage option it can handle whatever you throw at it.
Pros
Comes in a two-pack so you will have plenty of storage space.
The bottom drawer pulls out giving you easy access to everything you have stored without straining to see in the dark under the sink.
Creates more space and allows you to keep your bathroom clean and tidy.
Made of durable and strong materials so it will last for a long while.
Cons
Due to differences in plumbing under most sinks, you may need to measure before purchasing to ensure it fits.
Comes with some assembly required though it's pretty straightforward to put together.
Best Over The Toilet Bathroom Storage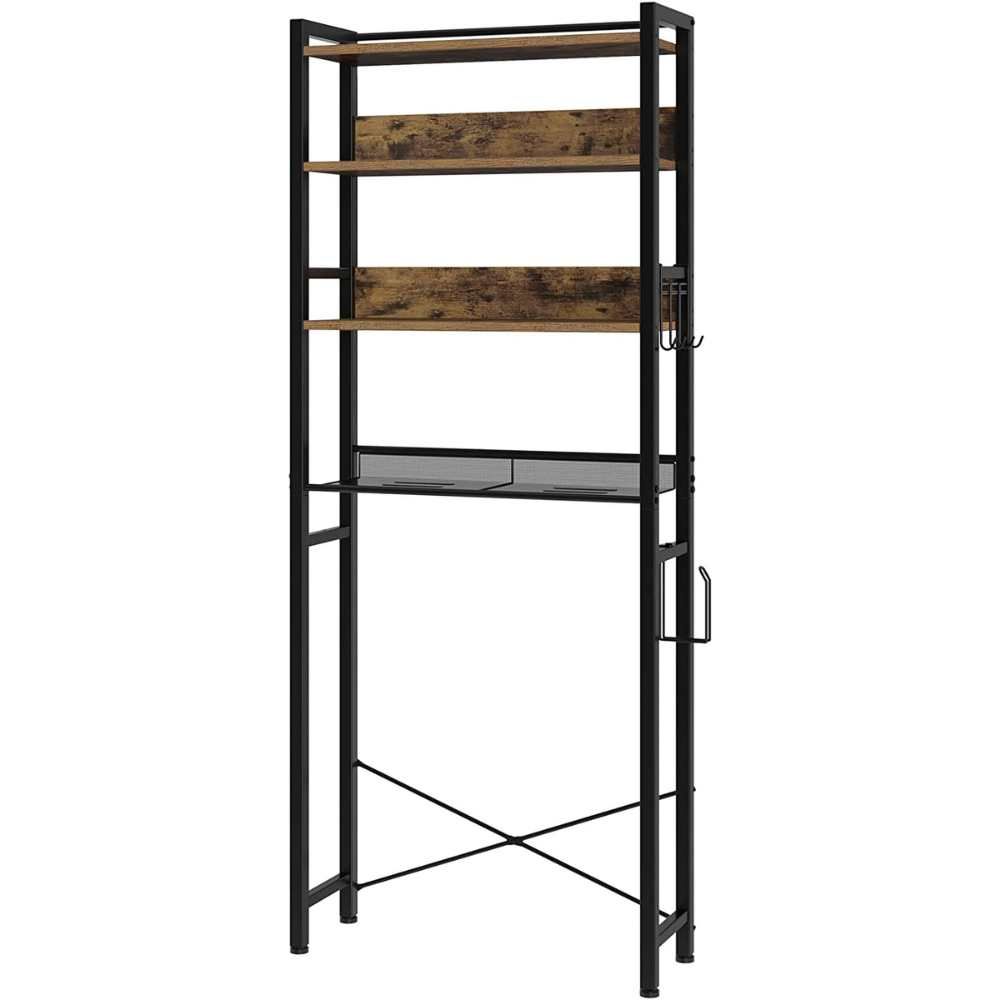 Rolanstar Over The Toilet Storage, 4-Tier Wooden Bathroom Space Saver
Check Price On Amazon
With an over-the-toilet storage solution, you can utilize the space above the toilet that would otherwise go unused. With this storage shelf, you do not need to hang any shelving or screw it into your wall like floating shelves would need. It's a freestanding shelf that is easy to install and adds tons of extra room.
We love these types of vertical storage options as they are the most effective at getting the most out of a small space. It comes with four shelves a toilet paper holder and additional hooks to store hand towels or bathrobes. With an over-the-toilet storage organizer, you get the most bang for your buck.
Pros
Slides right over your toilet so you can utilize that wasted space.
Creates vertical storage for toilet paper, towels, and all your toiletries.
Comes with a toilet paper roll holder that can free up extra space.
This unit comes with four shelves maximizing the storage capacity.
This over-the-toilet shelf also comes with hanging hooks you can use for towels, robes, or whatever else you can think of.
Cons
This unit comes with the assembly required but it comes with everything you need including the tools.
The lowest shelf can make it difficult to remove the toilet lid for maintenance or repairs.
You may need to secure it to the wall so it doesn't tip over.
Most Commonly Asked Questions
We know that there are a lot of questions about what the best storage options are for your bathroom. That's why we put together an FAQ that answers the most common questions for you.
That way you know exactly what you need to do to find the right solution for your organizational needs.
What is the best way to organize a bathroom?
There is no one best way to organize a bathroom but the best way to start is to take an inventory of what you have and validate that it is necessary.
If you come across something you rarely use you may want to consider getting rid of it or moving it out of the bathroom. Then you will want to see what storage options will work best for your space.
After you find organizers that will work for your needs all you have to do is get everything you use put away.
What are five tips for organizing your bathroom?
clean out anything you don't use. The first step is to find out what you have and what you need.
Next, you will want to clean everything and start assigning areas in the bathroom it should go such as by the sink, in the shower, under the sink, etc.
Find what storage solutions will work best in the space you have.
Organize your items into the organizers so that you maximize space.
Finally, be sure that where you put the stuff that works in that area. If you find it works better in another location go ahead and move it to see if it works better there.
How do you organize a bathroom with no storage?
To organize a bathroom with limited space you may need to think vertically. You can add an over-the-toilet shelf or hang floating shelves to expand your storage.
Another option is to use accessories like a ladder towel rack to better utilize the space you do have.
How do you arrange things in a small bathroom?
Arranging your bathroom is personal for everyone. The most effective way is to put things near the places you will use them.
You would want to make sure shampoo is stored in the shower and you can use a shower caddy to increase space there.
Toiletries that are used at the sink should be stored close to the bathroom sink using a toothbrush holder, razor holder, etc. That way everything is within easy reach.
Conclusion
Now that you have read about the best organizers for your bathroom it's time to select the one that best meets your needs. We scoured the internet and our personal experiences to find the best organizers for different areas in your bathroom. We hope this guide has been helpful and you find the exact item you need to make your bathroom a little more organized. Whether it's an under-the-sink organizer or a behind-the-door one, we found the top organizers for you to choose from. Happy cleaning!