Best Bathroom Sink Organizer: 8 Picks That Will Declutter Your Life
If you have clutter in your bathroom you need an organizational plan. These bathroom sink organizers are perfect to get you more space!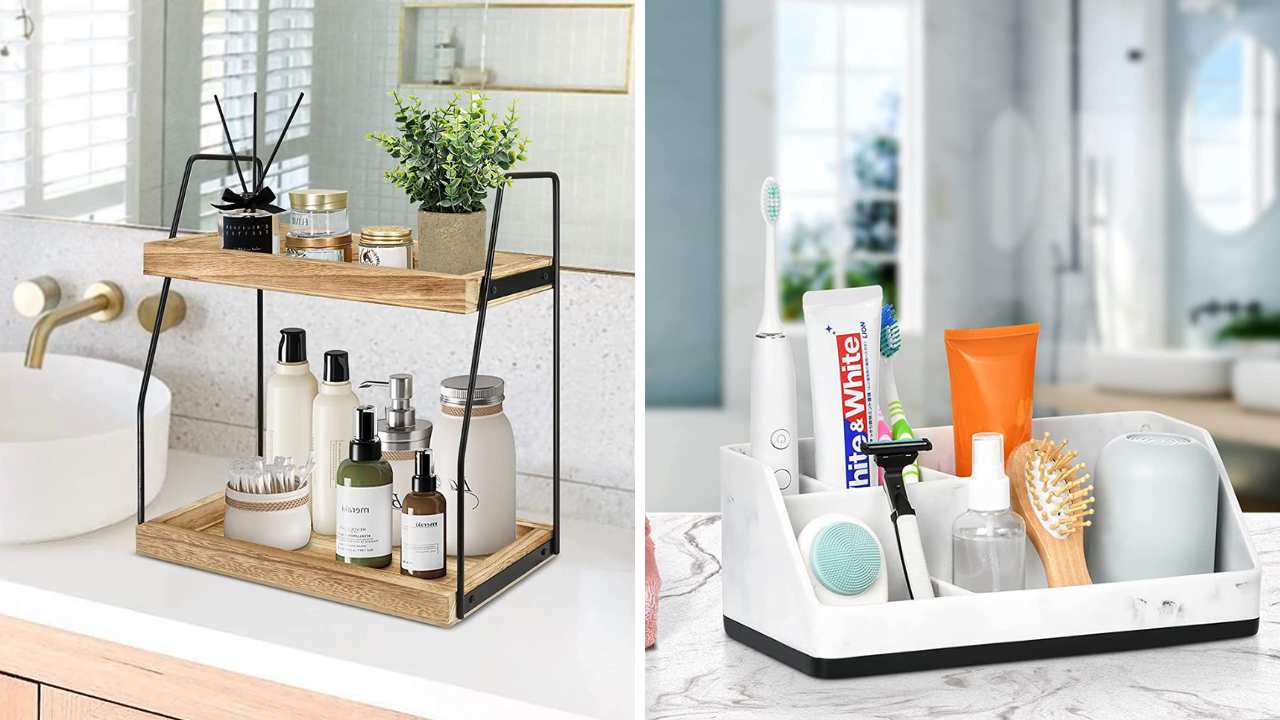 Do you feel like your bathroom sink is constantly cluttered?
You're not alone. A lot of people find themselves struggling to keep their bathroom sinks organized and decluttered. But don't worry, we've got the perfect solution for you.
With the right sink organizer, you can declutter your life and have more storage space for your everyday essentials.
Check out our top 8 picks and find the best one for your needs today.
How We Found The Top Bathroom Sink Organizer
It's hard to keep your bathroom sink organized and looking clean.
Not only is it hard to keep your sink organized, but it's also embarrassing when guests come over and see all of your messy hair products and toiletries taking up space on the counter.
We've read thousands of reviews to find you the best bathroom sink organizers that will declutter your sink and make it look clean and organized.
---
UnpackedReviews is reader supported, which means that when you click on links to products on our site and make a purchase, we may earn a commission. However, our opinions are our own, and we only recommend products that we genuinely love.
---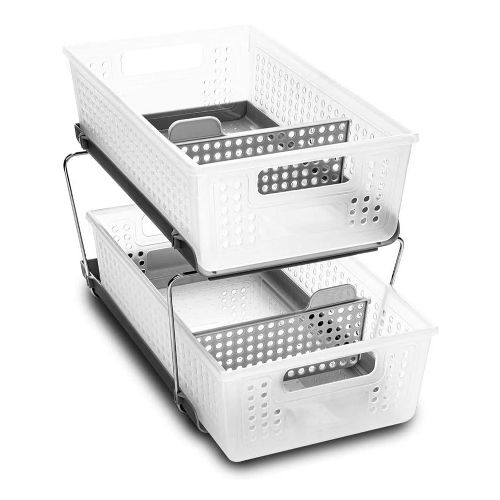 Made Smart 2-Tier Organizer, Multi-Purpose Slide-Out Storage Baskets
While the Made Smart 2-Tier bathroom sink organizer is one of the most functional and useful sink organizers on this list, it's also a bit more expensive than our top picks. That said, you do get what you pay for here: an amazing sliding-out bottom section that can be used for whatever purpose suits your space best. The Made Smart Two Tier bathroom sink organizer has three sections to use as you see fit, making it perfect for storing everything from bathroom necessities to office supplies. It even comes with adjustable dividers if you want to further separate out items like electronics or crafts. The only real downsides are that the bins slide in and out easily but aren't super sturdy, and the lack of a handle or other way to carry this organizer around if needed.
Check Price On Amazon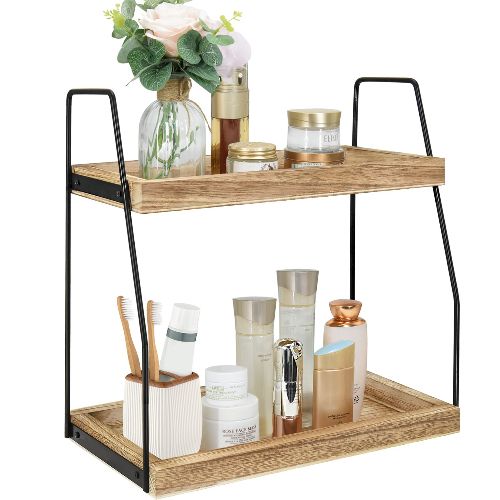 2 Tier Bathroom Sink Organizer, Wood Bathroom Organizer
The Lzhevsk 2-Tier Bathroom Organizer is a space-saving, multifunctional solution that's ideal for holding bathroom essentials like toiletries and beauty products. Constructed from solid wood and iron, this bathroom sink organizer is both sturdy and elegant to display in your home or office. It has a trapezoidal shape to maximize space without obstructing the view of your items, making it an excellent choice for under-the-sink storage as well. While this countertop organizer does not come with a tray or shelf inserts, the double layer design makes for a sturdy option. You'll also appreciate the non-slip mat at the bottom of the organizer
Check Price On Amazon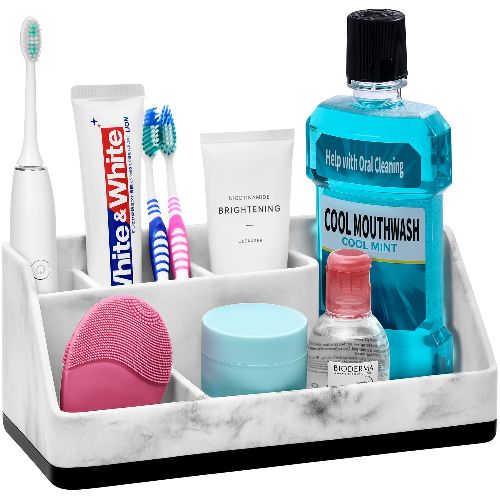 VITVITI Toothbrush Holder for Bathroom, Bathroom Organizer Countertop
The Vitviti is the best bathroom organizer on our list because not only does it hold a large number of items, but it also looks great and feels sturdy. The white marble finish looks elegant in your bathroom, and the resin construction makes this an affordable choice that won't break the bank. . This stylish holder comes with four silicone pads that help raise up the bottom of each compartment so that water doesn't sit too long before draining. It's also worth noting that this holds regular toothbrushes as well as electric varieties - so if you were worried about making a compromise between form and function, worry no more!
Check Price On Amazon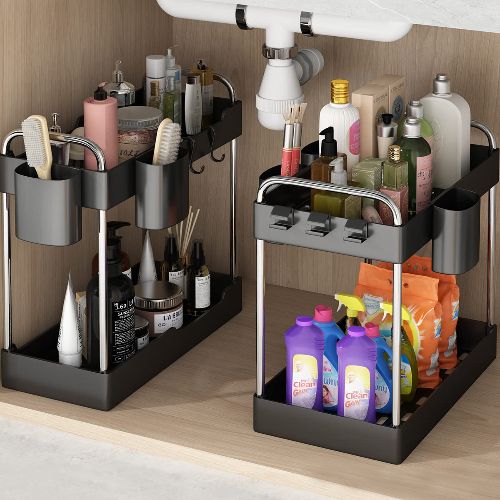 2 Pack Under Sink Organizer,2 Tier Under Sink Storage Organizer with Hooks and Hanging Cups
This is a great little storage solution for any small bathroom space, and it can be moved easily if needed. It's made from steel, with a silver finish that looks sleek and stylish on the surface. The four support tubes are reinforced by paint-coated steel rods, and there are five hooks for hanging items such as ties or bags. They can hold all of your bathroom supplies and they're easy enough to wipe clean when they get dirty too.
Check Price On Amazon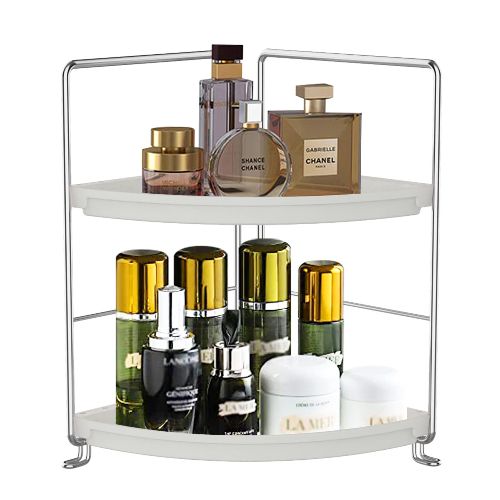 Sekepingo 2-Tier Corner Bathroom Sink Countertop Organizer-Vanity Tray Cosmetic & Makeup Storage
This 2-Tier Corner Bathroom Sink Countertop Organizer is a very stylish and functional storage solution for your bathroom. It has two shelves, which are both removable for easy cleaning. This makes it perfect for organizing your skincare products and cosmetics too. The steel frame is quite sturdy, with a durable plastic shelf beneath that can withstand heavy items. The silver-white finish will keep them looking pristine even after regular use over time. As well as being useful in the bathroom, this freestanding unit can be used in the kitchen to organize spices or other small items too.
Check Price On Amazon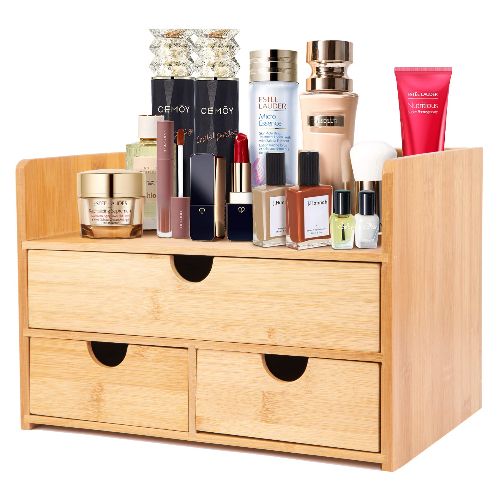 Small Makeup Organizers and Storage for Vanity – Bathroom Counter Organizers and Storage
The Tolonag is a great choice if you're looking for an affordable wooden makeup organizer that's also super versatile. It offers three drawers so you can store all your beauty products neatly and efficiently, while the bamboo construction means it'll last for years without tarnishing or warping. Even though it's cheaper than some of its more premium counterparts, we still think it's worth every penny. We love this product because it looks good, is affordable, and offers real value for money.
Check Price On Amazon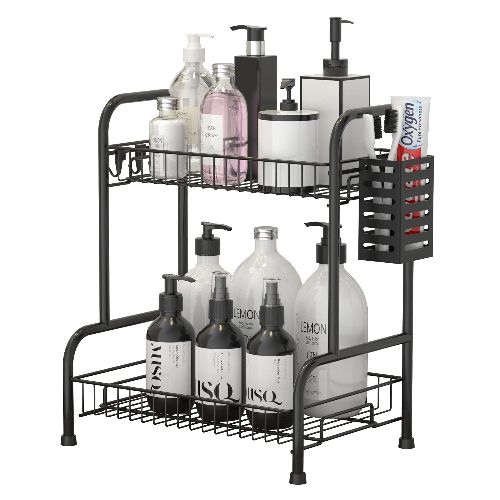 Bathroom Counter Organizer Rack With Toiletries Basket, Two Tier
The Bathroom Organizer Rack By USHARP is a sturdy, two-tier bathroom rack and toiletries basket, which can hold towels and other essentials. It's also great for stashing away small items like toothbrushes and lip balm tubes, making it an ideal choice if you want to keep things tidy in the bathroom. The rack is easy to wipe clean thanks to its non-slip feet, while the two tiers allow you to stack taller items on top or smaller accessories on the bottom. The design of this shelf means that even when fully loaded, it won't tip over easily. As well as being suitable for storing cosmetics and toiletries, this organizer will also work well for storing sauce jars or coffee beans and filters too - making it a versatile piece of kitchen storage that's perfect for keeping your kitchen clutter under control.
Check Price On Amazon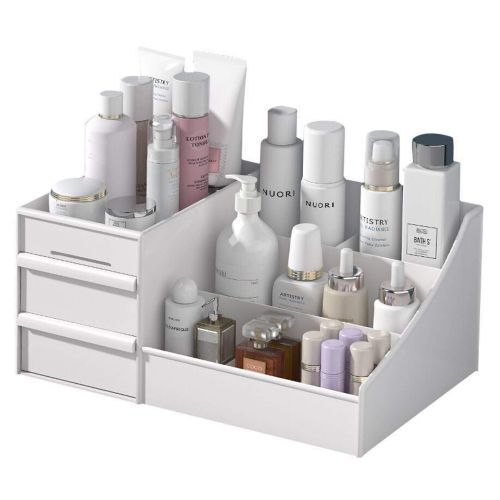 Simbuy Makeup Organizer With Drawers — Countertop Organizer for Cosmetics
This product combines the best features of other similar units, such as a drawer unit that slides out and is waterproof. Our testers particularly liked this model's seven compartments, which can accommodate everything from makeup brushes to sponges. It also has two drawers that are waterproof, making it easy to keep items dust-free. The unit's plastic construction means it is washable and waterproof.
Check Price On Amazon
Most Commonly Asked Questions About Bathroom Organizers
It's hard to keep your bathroom sink organized and looking clean.
The sink is one of the most commonly used areas in the bathroom, but it's also one of the easiest places to let clutter build up.
That's why we found the best bathroom organizers and answer the most commonly asked questions around bathroom organization.
Why organization is important
Organizing your bathroom can inspire you to create an atmosphere of organization and tidiness. Whether it's setting up a system for easily locating items, getting rid of unwanted stuff, or reorganizing what you already own, the result is the same - a neat and orderly bathroom.
You already got started and did a search online for creative tips and tricks to tackle your bathroom organization project. Visit lifestyle blogs or use an app like Pinterest to find inspiration for products that match and will tie the look together. With a bit of creativity and dedication, you are sure to have the perfect organized bathroom.
What are five tips for organizing your bathroom?
1. Maximize storage space: If you have a small bathroom, maximize the storage space by adding shelves, cabinets and racks for towels and toiletries. Invest in good quality organizers such as those made from wicker or wood, which look great and are also durable.
2. Honor cleanliness: Ensure that your bathroom is always kept clean by regularly cleaning surfaces with antibacterial wipes or sprays. Cleaning your bathroom twice a week should be enough to ensure it stays spick-and-span all year round.
3. Sort items into categories: Allocate a designated spot for different types of items - store beauty tools alongside each other; creams together; shampoos with the same brand; etc – this will save time when looking for specific products while ensuring they don't form an overwhelming mess on display.
4. Introduce fragrances: To make your bathroom smell fresher and more inviting, introduce aromatherapy oils or scented candles as well as potpourris next to the sink to create an oasis of relaxation once you enter the washroom area at home!
5. Utilize hooks: Place several hooks on strategic places inside the shower cabin wall so that you can hang towels, accessories and fluffs safely outside reach from humid air inside the bathroom itself – not only keeping everything organized but also making sure that these items last longer!
How do you organize an under sink cupboard?
The best way to organize an under sink cupboard is to separate your items into categories based on their function and use. Start by taking everything out of the cabinet, wiping down the shelves, and then sorting items into their respective categories.
Group cleaning supplies, paper products, trash cans & bags, and food storage items together; place small appliances in one section; store hazardous materials in a clearly labeled container away from other items; separate chemical-based cleaners from non-toxic products; and use stackable bins for cupboard organization.
What should you not store in a bathroom?
You should not store items in the bathroom that are susceptible to moisture, humidity and temperature changes. This includes books, paper products, magazines, electronics (such as cell phones), makeup, wooden products and anything else of value that could be damaged by water or extreme temperatures.
Items such as medicines should also be kept out of bathrooms since they can be affected by humidity levels - medications may become less effective if exposed to high humidity for an extended period of time. Additionally, it's important to keep any food items out of the bathroom because this can attract pests like cockroaches or ants.
Finally, it's advisable to avoid storing cleaning supplies in your bathroom too - these chemicals can react with other beauty products already stored there and create hazardous fumes which are harmful for inhaling.
Are ladder towel racks good for organizing bathrooms?
Ladder towel racks are an excellent way to maximize space while adding a decorative touch to any bathroom. Their vertical design makes them easy to fit into awkward corners, their open frame allows for air circulation, and their minimalistic style lets towels dry quickly without blocking other items from view.
Not only do ladder racks look great in a bathroom – they make organizing easier as well. With multiple rungs, these racks provide plenty of room for hanging multiple hand and bath towels or arranging rolled up washcloths for guests.
Best of all, since ladder towel racks take advantage of unused wall space rather than traditional shelving units or vanity cabinet, they can help save critical floorspace in your bathroom too!
The Right Countertop Sink Organizer For You
So, there you have it! The best bathroom sink organizers on the market today. We hope our in-depth reviews and buyer's guide helped you narrow down your choices and that you found the perfect fit for your needs. Whether you're looking for something simple and cheap or something a bit more luxurious, we're confident one of these products will do the trick. As always, thanks for reading!