The Best Camping Table for Your Next Outdoor Trip
Looking for the best camp tables? Check out this article to learn more about how we picked our favorite models and why you should use them too.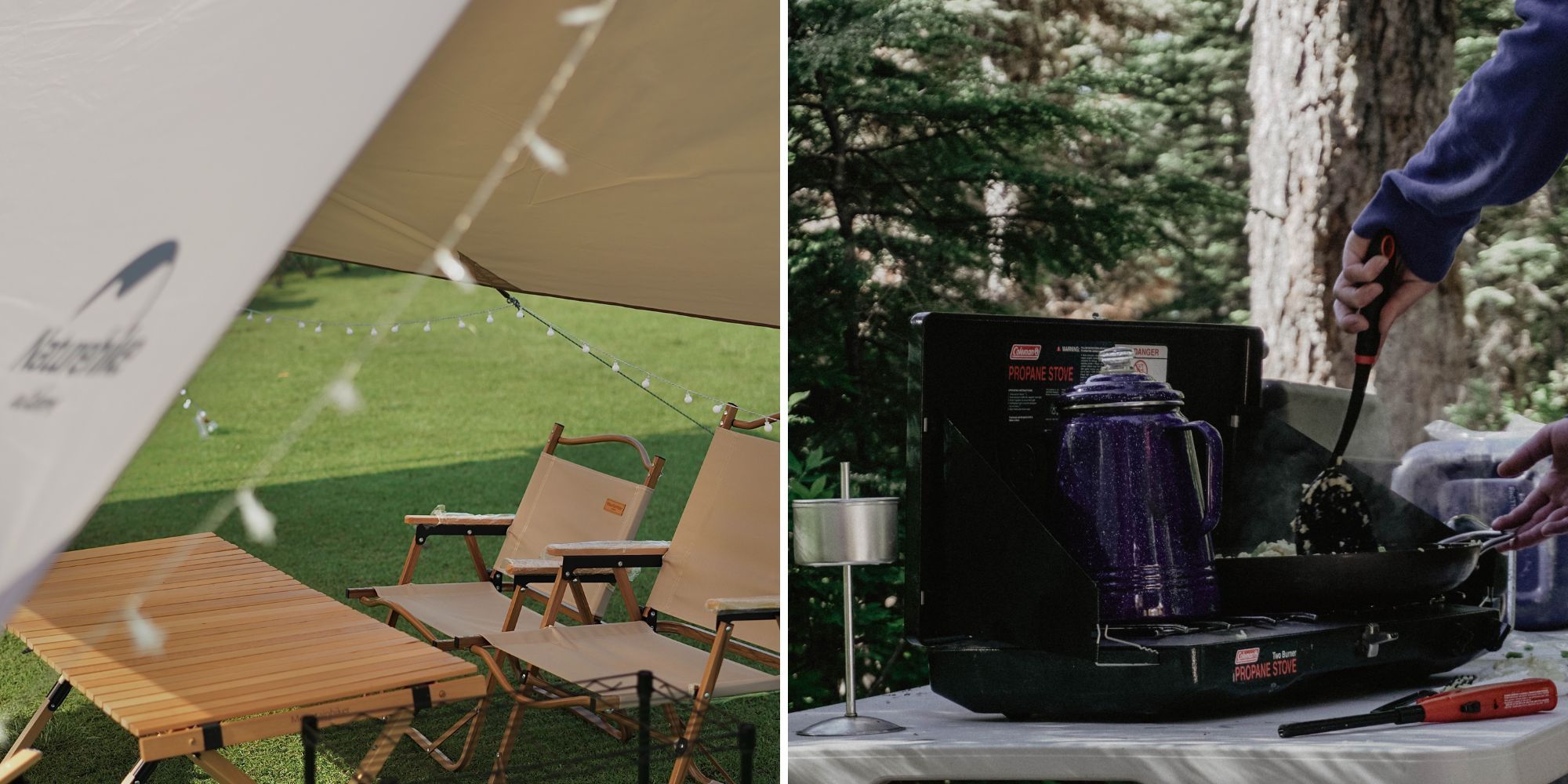 Looking for a Camping Table for Your Next Adventure?
Camping tables are a great addition to any camping gear, as they provide a convenient place to eat or work.
In this article, we will take a look at some of the best models available and help you decide which one is right for you.
Camping tables make your camping experience much more enjoyable by providing a convenient place to put your camping kettle and stove. With so many different models and brands to choose from, it can be hard to know which one is right for you. But don't worry, we're here to help!
Check out our list of the best camping tables and find the perfect model for your needs!
How we Found the Best Camping Table
You want to go camping, but don't know what gear to bring.
There are a lot of camping tables out there, and it's hard to know which one is the best for you.
We did the hard work for you and found the best camping table for every kind of camper. Whether you're car camping, backpacking, or hammock camping, we've got the right portable camping table for you.
UnpackedReviews is reader supported, which means that when you click on links to products on our site and make a purchase, we may earn a commission. However, our opinions are our own, and we only recommend products that we genuinely love.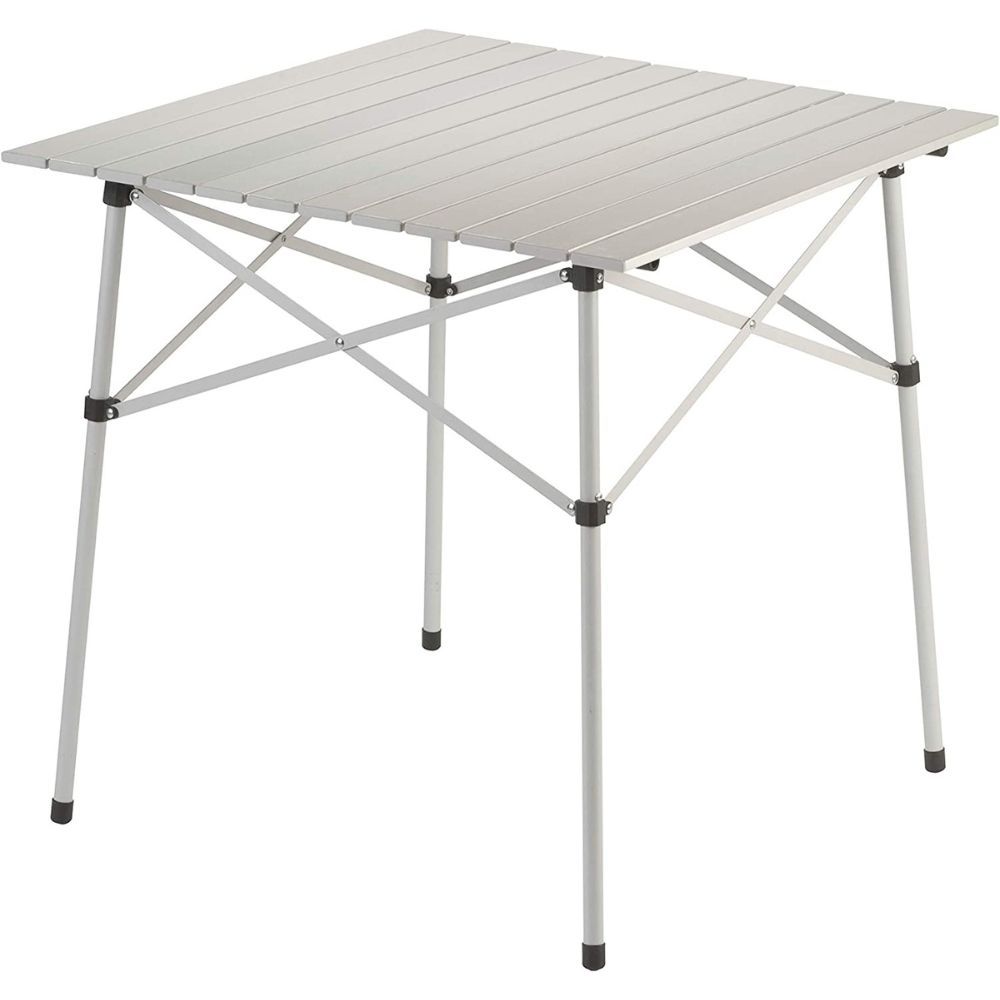 Coleman Outdoor Folding Table
Best Camping Table for Value
Click to check price on Amazon
How it Made the Pick
When you're camping, you want to be able to enjoy the great outdoors without having to worry about being uncomfortable. With the Coleman Outdoor Table, you can have a stable platform to enjoy your meals on without having to sacrifice any of the conveniences of home.
Folding tables add the feel of sitting at a dining table while you are out in the wilderness. We recommend the Coleman table as the best camping table for its value.
The Coleman outdoor compact table is very easy to set up and disassemble, and it's a great value for the price point. Coleman makes some of the best camping tables on the market.
What Makes it Worthy
This Coleman folding table is a great choice for anyone looking for a lightweight and easy-to-transport table. It weighs just 9 pounds and comes with a carrying case, making it easy to take on the go.
The aluminum frame is both sturdy and lightweight, and the aluminum slat top is easy to clean. It has aluminum legs, and the table folds making this a good portable table. The table seats four people, though it is a tight squeeze. Overall, this is a great table for camping, picnicking, or even tailgating.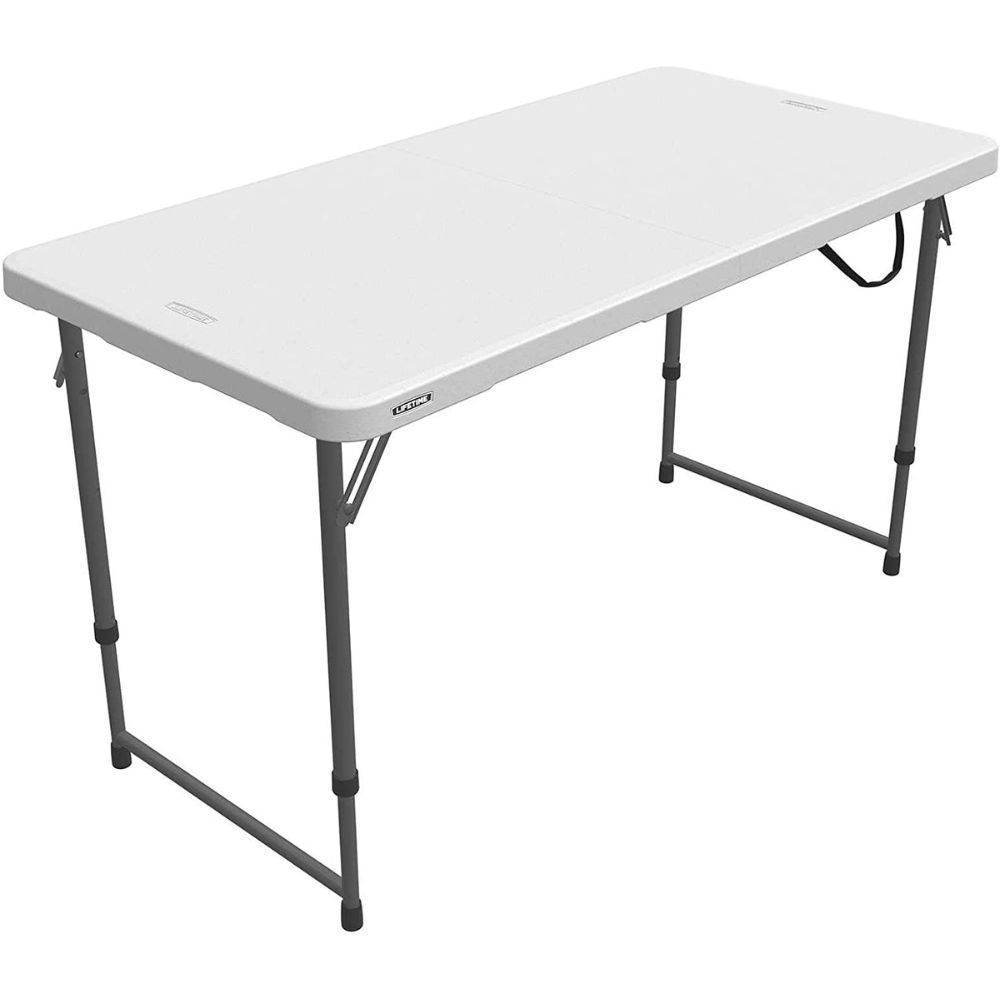 Lifetime Height Adjustable Craft Camping and Utility Folding Table
Best Camping Table for All-Around-Use
Click to check price on Amazon
How it Made the Pick
If you're looking for a table that's versatile, easy to set up, and built to last, then you need a Lifetime Height Adjustable folding camping table. This table is perfect for camping trips, picnics, tailgates, and more.
It features a compact design that makes it easy to transport and store, and it has a height-adjustable feature that lets you customize the table to your needs. It is perfect to take on your next camping trip.
The powder-coated steel frame and steel legs are durable and sturdy, and the high-density polyethylene (HDPE) tabletop is easy to clean and resists staining and fading. The tabletop is perfect for food prep and the table height is adjustable so your camp chair should fit.
Whether you're using it for a picnic table, camp table, dining table, or coffee table, this is sure to be a valuable addition to your gear.
What Makes it Worthy
This is a great little table. It's the perfect size for four people, and it's really easy to carry around with you. we also love that it's adjustable. You can make it taller or shorter depending on how you want to use it.
And when you're done using it, you can just fold it up and carry it away. It's made with high-density plastic, so it's really durable. And it only weighs 19 pounds, so it's not too heavy to carry.
This table seats four and comes in a compact package. Overall, this is a great table for anyone who needs a small, lightweight table that they can take with them anywhere.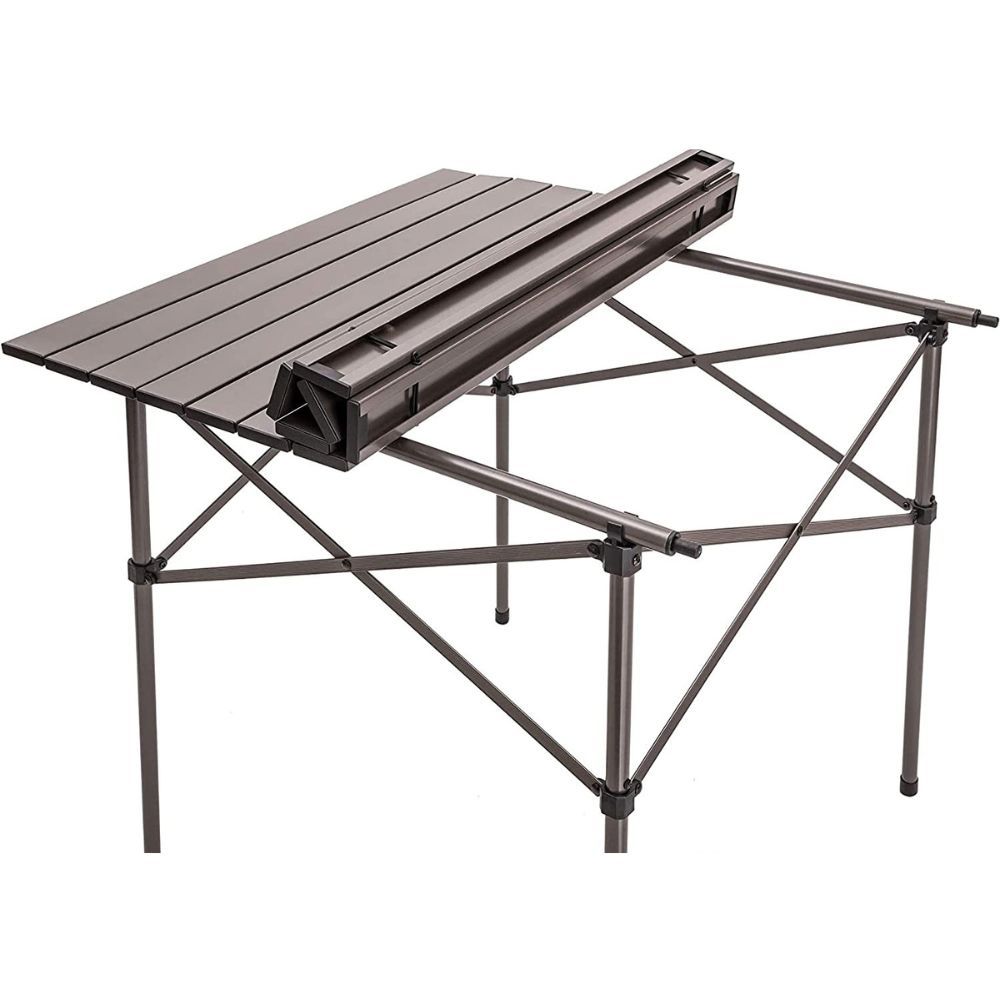 ALPS Mountaineering Camp Table
Best Camping Table in its Class
Click to check price on Amazon
How it Made the Pick
Looking for a versatile and easy-to-use camping table? Check out the ALPS Mountaineering Camp Table. Perfect for all types of trips, this table is easy to carry and set up. Plus, it features a durable construction that can withstand the rigors of the outdoors.
So don't let your next camping trip be a bust - make sure you bring along the ALPS Mountaineering Camp Table. It'll make all the difference in the world!
What Makes it Worthy
Camping is one of our favorite activities. We love being in the outdoors, and we especially enjoy the feeling of being disconnected from the hustle and bustle of everyday life. When we are camping, we like to have all the comforts of home, including a good table where we can enjoy our meals.
This camping table is perfect because it's lightweight and easy to carry, but it's also sturdy enough to hold all our food and gear. The powder coated aluminum frame means that it won't rust, even if it gets wet, and the storage bag makes it easy to transport.
Best of all, this quality portable folding table is just the right size for us to set up our camp kitchen. With this table, we can enjoy all the best parts of camping without sacrificing any of the comforts of home.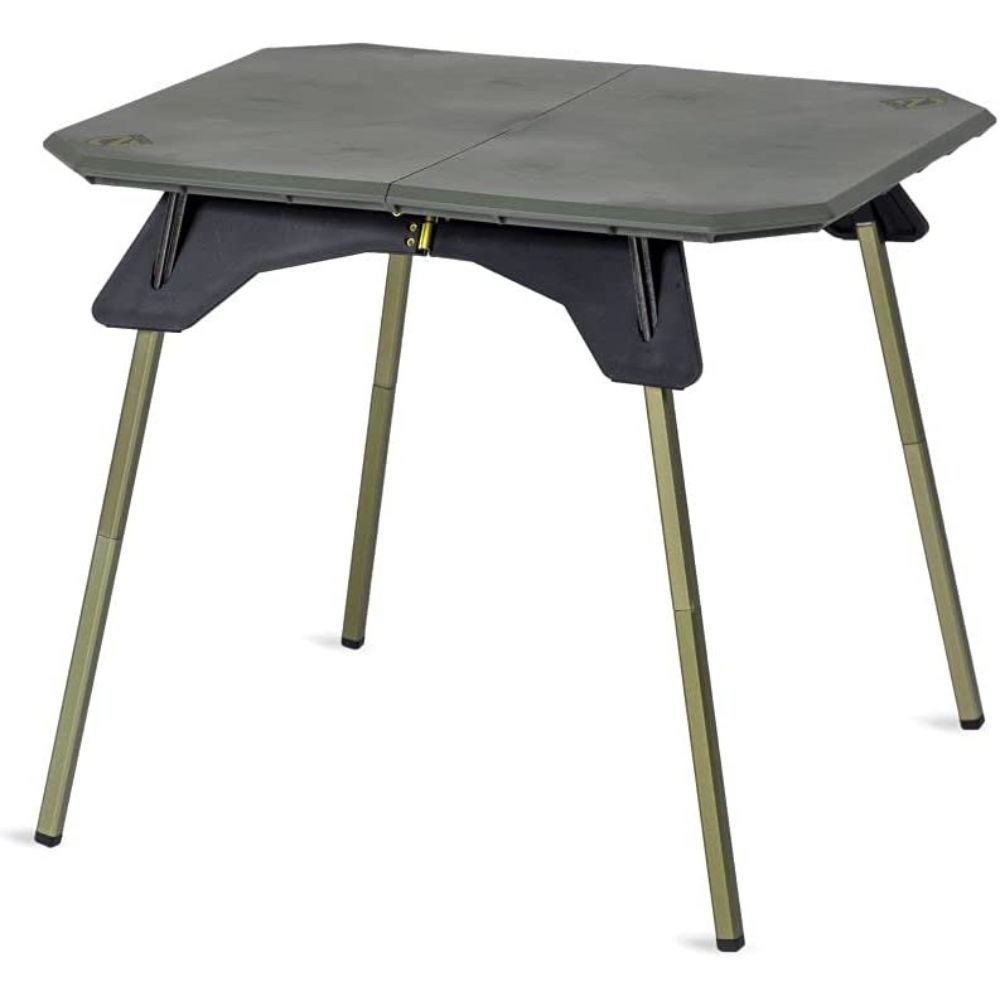 Nemo Moonlander Table
Best Portable Camping Table
Click to check price on Amazon
How it Made the Pick
The Nemo Moonlander Table is the perfect addition to your camping gear. Its unique design and lightweight construction make it easy to transport, while its durable tabletop ensures that you'll have a comfortable place to eat and relax.
Plus, the Moonlander's unique visual appeal will make it the envy of all your camping friends. The Nemo Moonlander is one of the best camping tables when it comes to weight capacity. It is a small folding camp table but can hold a heavy load.
What Makes it Worthy
If you're looking for a lightweight and durable camping table, the Nemo Moonlander is one of the best camping tables out there. Made out of high-grade aluminum and featuring a heat stabilized nylon top, it's built to withstand tough weather conditions. It has aluminum legs and is a very portable camping table.
It's also smaller than some other tables on the market, making it a good choice for those who want to save space when packing with this folding camping table. With a 100-pound capacity and weighing in at just 4 pounds, it's surprisingly sturdy.
The Nemo Moonlander also comes with a padded carry case, making it easy to transport. This camp table has adjustable legs that you can use to set the height. Whether you're headed out on a hike or just want a good camping table for your next trip, the Nemo Moonlander is a great option.
Most common questions around camping tables
Camping tables can be a confusing purchase. There are so many different types and sizes, it's hard to know which one is right for you.  Do you need the convenient carry bag? Should there be steel legs or aluminum? Does the mini table offer storage space?
It's tough to figure out which one is the best camping table for your needs. Do you need a small table that can fit in your backpack? Or do you need a large table that can accommodate your whole family?
We've created this guide to help make your decision easier. In it, we'll outline the different types of cam tables, their features, and what size is best for you. Read on to have your questions answered!
Do you need a camping table?
If you're planning on camping out in the wilderness, then you might want to consider bringing along a camping table. A camping table can provide a sturdy surface for food prep, packing gear, or simply enjoying the outdoors.
Plus, it can be a great way to maintain your camp site organized. There are a few things to keep in mind when selecting a camping table, such as size and weight capacity. But with so many great options on the market, you're sure to find the perfect one for your needs. So, do you need a camping table? It's really up to you! Having a table under your tarp shelter is always a net benefit.
How do you level a folding table?
Folding tables are great for extra seating or serving space, but they can be a bit wobbly. To make sure your folding table is level, start by unfolding the legs and adjusting them until they're the same length for an even table height.
Then, open the tabletop and push down on the center until it's level with the edges. If your table still wobbles, try placing a piece of wood under one leg to even it out. Once your table is level, it'll be more stable.
What size are most folding tables?
Most folding camp tables are about four feet long and two feet wide. Some are a bit longer or wider, but four feet by two feet is a pretty standard size. That said, there's no reason you couldn't find a smaller or larger table if you need something specific.
Just keep in mind that the size of the table will dictate how many people the table seats and how much space you'll have to store it. Most folding camping tables are much smaller than dining tables and a picnic table.
How do you make a folding table more stable?
Even the best camping tables can get wobbly on uneven surfaces. There are a few things you can do to make a folding table more stable. One is to make sure the table is properly secured in place before using it. Another is to use weights or clamps to keep the table from moving around. You can make a folding camp table more stable by adding weight to the legs.
You can do this by filling plastic bags with sand or rocks and tying them around the legs. You can also add weight to the table by placing heavy objects on it, such as coolers or gas grills. Finally, you can secure the table to the ground by staking it down or attaching it to nearby trees or other sturdy objects. By following these tips, you'll be sure to have a stable camp table that won't collapse under the weight of your camping gear!
How durable are camping tables?
Camping tables are usually pretty durable, especially if you buy one that's specifically designed for outdoor use. Even the cheapest camping tables should last you a few seasons if you take good care of them.
Of course, how long your table lasts will also depend on how often you use it and what kind of conditions it's exposed to. If you camp in severe weather or use your table frequently, it probably won't last as long as if you only camp occasionally and always keep your table stored in a dry, protected place.
Another concern is the durability of the material. The best camping table for durability would have steel legs but that adds weight. Some of the best camping tables on the market have adjustable legs which can wear and tear. Overall, though, a camping table is a great investment that should serve you well for many years to come.
How much weight can a camping table hold?
A camping table can hold a fair amount of weight, but it really depends on the specific table and design. For example, some tables have legs that are staked into the ground which can provide extra stability. Others have crossbars or aprons for additional support.
And still others have a more minimalist design and are simply placed on top of the ground. So, when considering how much weight a camping table can hold, it's important to take into account the individual design of the table.
In general, though, most camping tables can comfortably hold anywhere from 50-75 lbs. (23-34 kg) without issue. Of course, if you're planning on putting particularly heavy items on the table, it's always a good idea to check the manufacturer guidelines.
Can I use my camping table for fish cleaning?
You can absolutely use your camp table for fish cleaning! In fact, it can be a great tool for the job. Just make sure to clean it thoroughly afterwards.
Here are a few tips for cleaning your fish at your campsite:
- First, remove the guts and scales of the fish. Doing this over your campsite table will make things much easier.
- Next, fillet the fish by cutting along its backbone. Again, having a level surface to work on will make things simpler.
- Once the fillets are removed, you can cut them into smaller pieces if desired. Again, a camping table is perfect for this task.
- Finally, rinse the fish off with clean water and enjoy!
Cleaning your fish at the campsite doesn't have to be a messy ordeal. By following these tips, you can make quick work of it and enjoy your catch in no time.
Can I use a coffee table for camping?
Although you most certainly can use a coffee table or dining table to go camping it is not very feasible. You would be better suited with a foldable camping table with adjustable legs.
A folding camping table is more maneuverable and packable than a dining table would be. Plus, it is made with different materials that can withstand the elements.
When you are trying to decide on a camping table think about how large a table you want or if you want a small table.
Should there be adjustable legs on camping tables?
There are a few things to keep in mind when considering adjustable legs on camping tables. First, make sure that the table is rated for the weight that you'll be using it for. Some tables are only meant for light-use and won't be able to hold up additional weight without wobbling or potentially breaking.
Second, take into account how easy it is to adjust the legs. Some models have levers or knobs that can be easily turned even while wearing gloves, while others require the use of a tool. If you'll be using the table in inclement weather, make sure that you can still adjust the legs without too much difficulty.
Finally, consider how much height adjustment you need for your folding camping table.
What table height should the tabletop be?
A camping tabletop should be about 28-30 inches in table height. This will allow you to comfortably eat without having to hunch over, and it will also provide enough space for setting down plates, cups, and other items. Plus, a tabletop that is this height will be easy to transport and set up.
Most versatile camping tables have variable table height, so you have options for your camping trips. Tables that have storage space or a paper towel holder may have a higher table height than a small table.
Are camping kitchens any good?
Camping kitchens are good in certain situations. If you are looking for a light weight and portable table a camp kitchen like the mountain summit gear deluxe might not be the best option. Now if you are out next to an RV or bigger accessible campsite the mountain summit gear deluxe roll out kitchen may be a good fit. Our list today is focused on portable camp tables.
The Best Camping Tables That You Need to Know About
Now that you know all about the best camping tables, it's time to make a decision. We've made the process easy for you by compiling all of the information we gathered for you so you can find the best camping table to meet your needs.
Click the button to see current price and read reviews from real customers who have already purchased these camp tables. Thanks for following along on our journey to find the perfect camping table!
If you liked this article, check out some of our related topics!