Best Rain Ponchos to Keep You Dry This Season
Rain ponchos are a great way to stay dry during wet weather. They are also compact and easy to store, making them a perfect option for travel.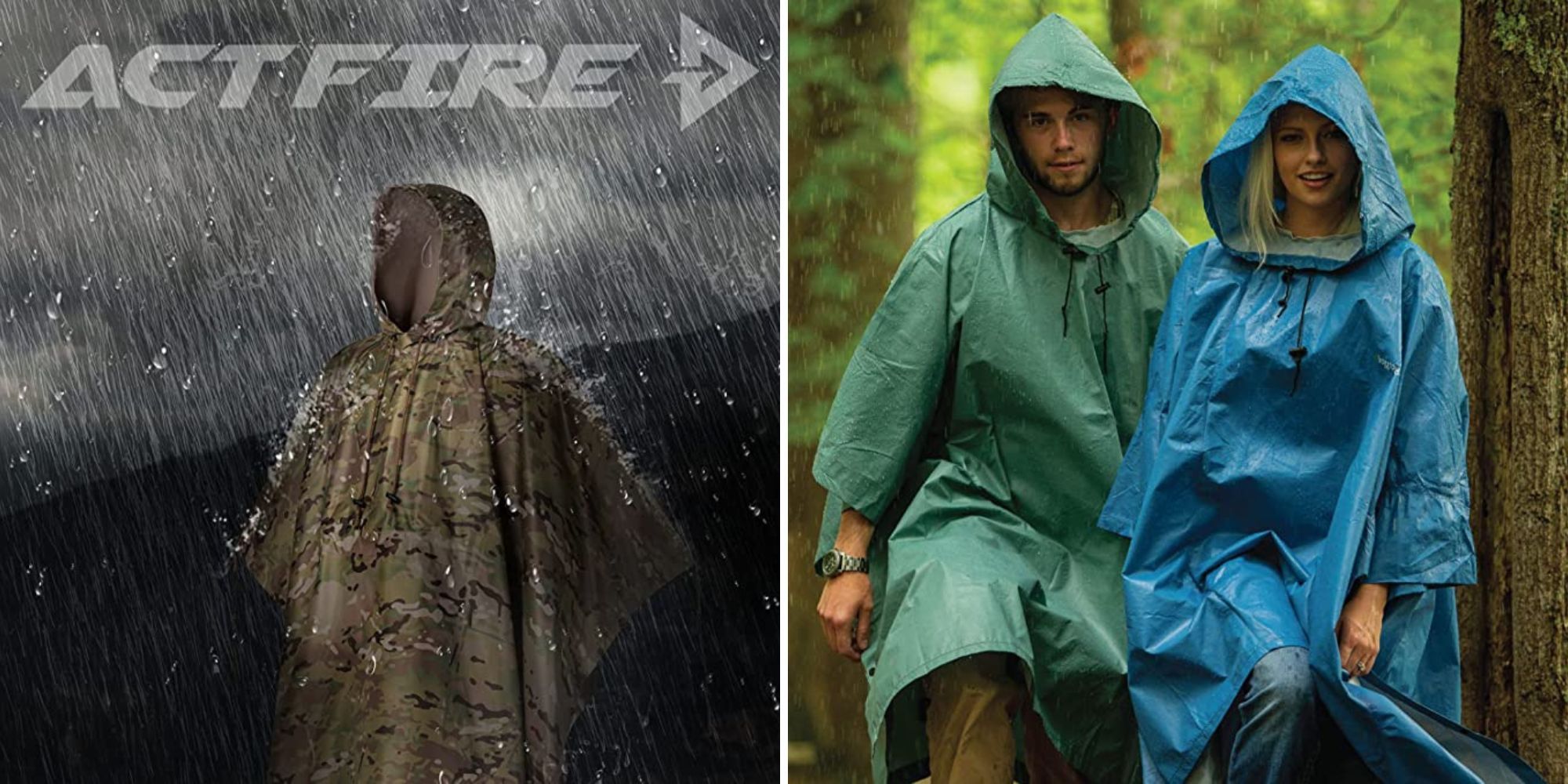 Are you looking for a new rain poncho?
We know that it can be tough to decide which rain poncho is right for you, so we've put together a list of the best rain ponchos available today. Whether you're looking for something lightweight and compact or something that will keep you completely dry, we have a poncho that is perfect for you.
With so many different options to choose from, we know that it can be hard to make a decision. That's why we've made our list easy to follow – so you can find the perfect rain poncho for your needs quickly and easily.
Keep reading to view our list of the best rain ponchos!
How We Found the Best Rain Ponchos Out There
It's raining, you don't have an umbrella, and you don't want to get wet.
Rain ponchos are a must-have for days when the weather takes a turn for the worse, but not all rain ponchos are created equal.
We read through thousands of reviews to find the best rain ponchos on the market so that you can stay dry without having to sacrifice style. From classic ponchos to ponchos that can be made into makeshift shelters, we have you covered!
---
UnpackedReviews is reader supported, which means that when you click on links to products on our site and make a purchase, we may earn a commission. However, our opinions are our own, and we only recommend products that we genuinely love.
---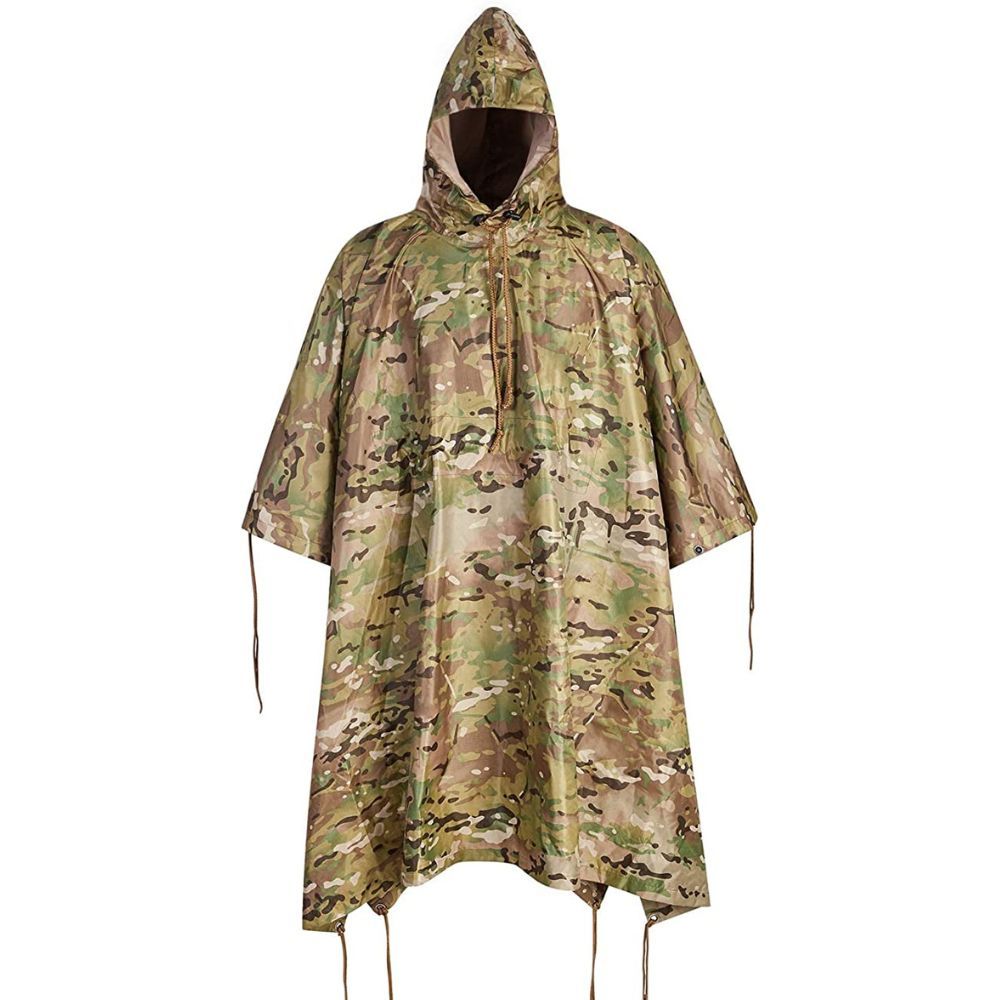 ACT FIRE Military Army Tactical Poncho
Best rain poncho for versatility
Check price on Amazon
How it Made the Pick
Ponchos are one of the most convenient pieces of clothing to have around, especially during the rainy season. This rain poncho is super easy to carry around with you and can easily fit into your backpack. It's also super waterproof, making it perfect for a variety of uses.
Whether you need a rain poncho, a shelter tent, a tarp, or a blanket sleeping bag, this poncho has you covered.
The steel grommets and cord design also offer more possibilities for use, making this one of the most versatile ponchos on the market.
So next time you're looking for a reliable and convenient poncho, be sure to check out this rain poncho. You won't be disappointed.
What Makes it Worthy
Introducing the ACT FIRE Military Army Tactical Poncho! This high-quality rain poncho is made of W/P 20000mm military grade material, which is waterproof and abrasion resistant.
It's perfect for any outdoor activity, whether you're hiking, camping, or just spending time in the great outdoors.
This poncho is only 14oz in weight and packs down into a small 8.8''X9''X1.2'' inch bag, making it super lightweight and compact.
Don't get caught in the rain without the ACT FIRE Military Army Tactical Poncho!
---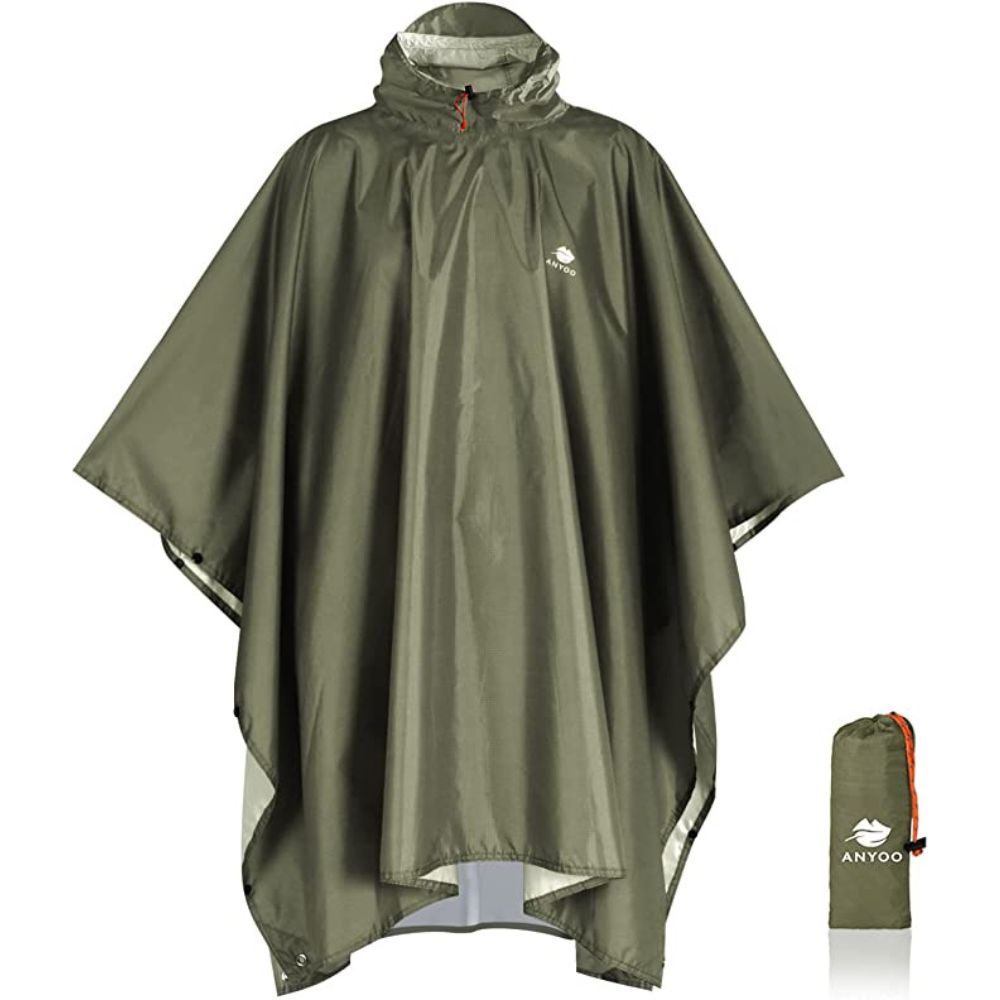 Anyoo Waterproof Rain Poncho
Check price on Amazon
How it Made the Pick
Most rain ponchos are made from a heavy, waterproof material that does a great job of keeping you dry. However, they can also be quite stifling, leaving you feeling hot and uncomfortable. This rain poncho is different.
It's made from a lightweight, breathable fabric that allows air to circulate, keeping you cool and comfortable even on the warmest days.
The arm holes and bottom are loose enough to allow for full range of motion, making it perfect for activities like hill walking or cycling. And of course, it will still keep you nice and dry, regardless of the weather.
So if you're looking for a rain poncho that won't make you feel like you're suffocating, this is the one for you.
What Makes it Worthy
Looking for a reliable and waterproof rain poncho?
Look no further than the Anyoo Waterproof Rain Poncho! This poncho is made of 210T ripstop polyester + TPU coating, which makes it PU5000MM waterproof.
It also features a drawstring hood with a cord adjuster to protect your face, as well as hook and loop fasteners along the sides to ensure the perfect fit.
Whether you're caught in a storm or simply need to keep dry, the Anyoo Waterproof Rain Poncho is your best bet.
---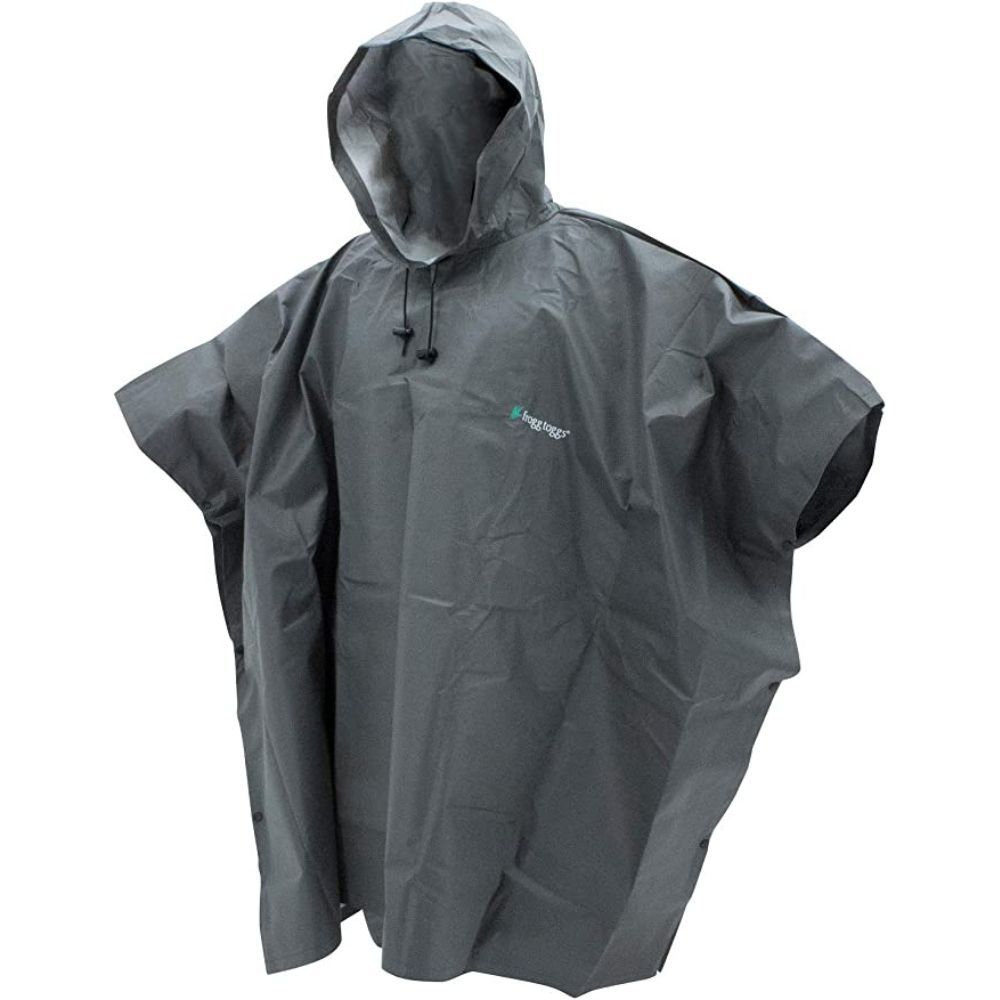 FROGG TOGGS Ultra-Lite2
Best poncho for the value
Check price on Amazon
How it Made the Pick
With the fall season upon us, it's time to start thinking about rain gear. And when it comes to rain gear, Frogg Toggs is a great affordable option.
Their rain ponchos are lightweight and one size fits most, making them a great option for anyone on the go.
And because they're so affordable, you can buy one for every part of your life.
So whether you're headed to a football game or out for a hike, make sure you're prepared for the weather with Frogg Toggs.
What Makes it Worthy
Looking for an ultralight poncho that won't weigh you down?
The FROGG TOGGS Ultra-Lite2 poncho is perfect for backpacking, hiking, and any other outdoor activity where every ounce counts.
This poncho weighs in at just 9 ounces and is made from a breathable, waterproof nonwoven polypropylene with welded seams to keep you dry in any weather.
The side snaps and adjustable hood provide a custom fit, and the lightweight construction won't slow you down on your next adventure.
---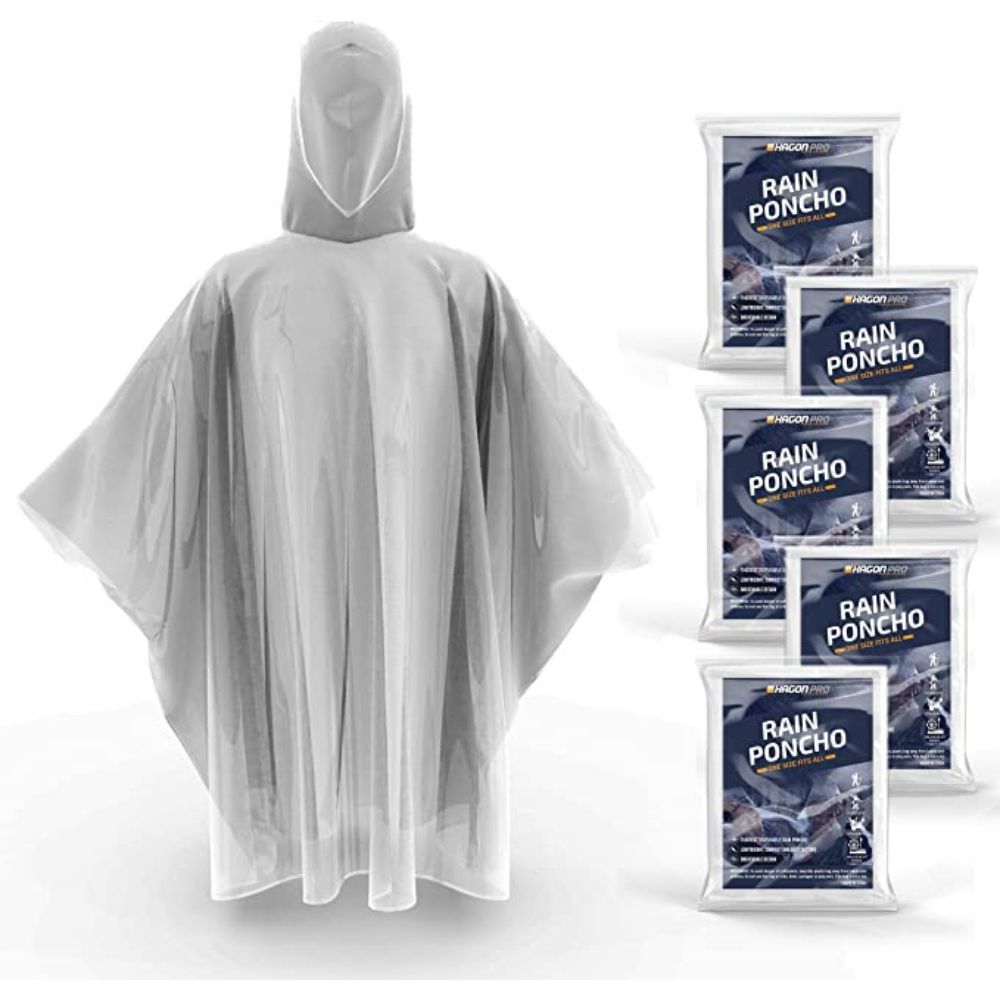 Hagon PRO Disposable Rain Ponchos
Best disposable rain poncho
Check price on Amazon
How it Made the Pick
Spring is finally here, and that means warmer weather and more opportunities to get outdoors. However, it also means more unpredictable weather.
One minute the sun is shining, and the next minute it's pouring rain. That's why it's always a good idea to have a budget rain poncho on hand.
These rain ponchos are lightweight and conveniently easy to carry around. You can keep them in any bag or glove compartment, so you are ready for whatever the weather throws at you.
Plus, it even fits in your pocket! So next time there's a sudden downpour, you'll be prepared with this waterproof poncho.
What Makes it Worthy
Looking for a reliable, disposable poncho? Look no further than the Hagon PRO! Made from thick PE plastic, this poncho is sure to keep you dry during even the heaviest downpours.
Don't be caught unprepared the next time a storm rolls in. Keep a few Hagon PRO ponchos in your backpack, car, or purse so you're always ready for whatever Mother Nature throws your way.
It is a very lightweight rain poncho so keeping one with you is a breeze.
---
Most Commonly Asked Questions Around Rain Ponchos
Ponchos are a popular item to bring with you on days when rain is in the forecast, but there are so many questions about how to wear them and use them correctly.
It can be confusing to figure out how to wear a poncho. Do you put it over your head or pull it over your body? And what if you need to use the bathroom?
We answered the most commonly asked questions around rain ponchos so that you can be prepared for anything. Our guide will show you how to choose the right poncho for your needs, how to wear it comfortably and fashionably!
Is a poncho better than a rain jacket?
It depends on a person's individual needs and preferences. Some people may prefer a poncho because it is less restricting and allows for more movement, while others may find that a raincoat provides better protection from the elements. Ultimately, it is up to the individual to decide which option is best for them.
Ponchos have the advantage of being very lightweight and easy to carry around, which can be important if you're doing a lot of walking or traveling. They also tend to be less expensive than rain jackets.
However, many people find that ponchos are not as effective at keeping them dry as a rain jacket is, since they often don't cover the entire body fully. Ponchos also have a tendency to make people look bulky and can be quite uncomfortable in windy weather.
If you are out in bad weather it always helps to have a good pair of gloves, especially when cycling as well as a pocket flashlight!
What do you wear under a rain poncho?
A rain poncho is a great way to stay dry in the rain, but what do you wear underneath? A shirt or a tank top are both good options. You could also wear a light jacket or a sweatshirt. If it's cold outside, you might want to wear long pants and boots. Whatever you decide to wear, make sure that it's something that will keep you warm and dry. A pair of rain pants would be a good idea.
Do rain ponchos keep you warm?
Rain ponchos can help keep you warm, especially if they are made of a thermal material. Look for rain ponchos that are lined with a thermal or fleece lining. Rain ponchos without a lining will not keep you as warm in cold weather conditions. They do create an extra barrier from the elements and are good rain protection.
How effective are ponchos?
Ponchos are a great option for inclement weather because they provide full-body coverage. They're also lightweight and easy to carry, which makes them perfect for travel.
Ponchos can be used in a variety of settings, such as outdoor activities, festivals, and even work. They come in a variety of materials and colors, so you can find one that suits your needs. Plus, ponchos are relatively affordable, making them a great choice for budget-conscious shoppers.
If you're looking for an effective way to stay warm and dry during bad weather, consider purchasing one of the best waterproof ponchos. You won't regret it!
Can you use a poncho as a shelter?
Most ponchos such as the summit tarp poncho can make decent shelters, but they're not perfect. The main drawback is that ponchos don't keep you very warm, so you'll need to find other ways to stay warm.
One option is to build a fire right outside your shelter. This will help keep you warm and also provide light and heat. You can also use a thermal blanket or an emergency Mylar blanket to help keep you warm.
If you're using a poncho as your shelter, be sure to locate the hood and put it up to protect your head from the elements. And be sure to secure the sides of the poncho so that wind doesn't blow it away.
What kind of shelters can you build with a waterproof poncho?
A waterproof poncho can be used to build a number of emergency shelters. For example, you can use it as a tarp to create a roof over your head or use it as a ground cloth to keep your sleeping bag and gear dry. Ponchos can also be used to build emergency lean-to shelters or windbreaks.
To make a lean-to shelter, first find two trees or other sturdy objects that are about the same height. Place the poncho on the ground with one side facing up and the hood in the middle. Then, place a ridgeline between two trees. Drape the poncho over the ridgeline so that it forms a triangle shape and secure it with stakes to the ground.
The Best Rain Poncho for Your Needs
We hope this list of the best rain ponchos helps you stay dry when the weather takes a turn for the worse. Stay safe and dry out there, friends! Thanks for reading our review of the best rain ponchos. Rain ponchos are a great way to stay dry during bad weather. But with so many different types and brands on the market, it can be tough to know which one is right for you. In this article, we help you find the best rain poncho for your needs.
If you liked this content check out our related articles: