6 Best Bike Helmet Covers to Keep You Stylish and Protected
If you need a way to cover your bike helmet to keep the wind and rain out. We have you covered. We reviewed the top helmet covers!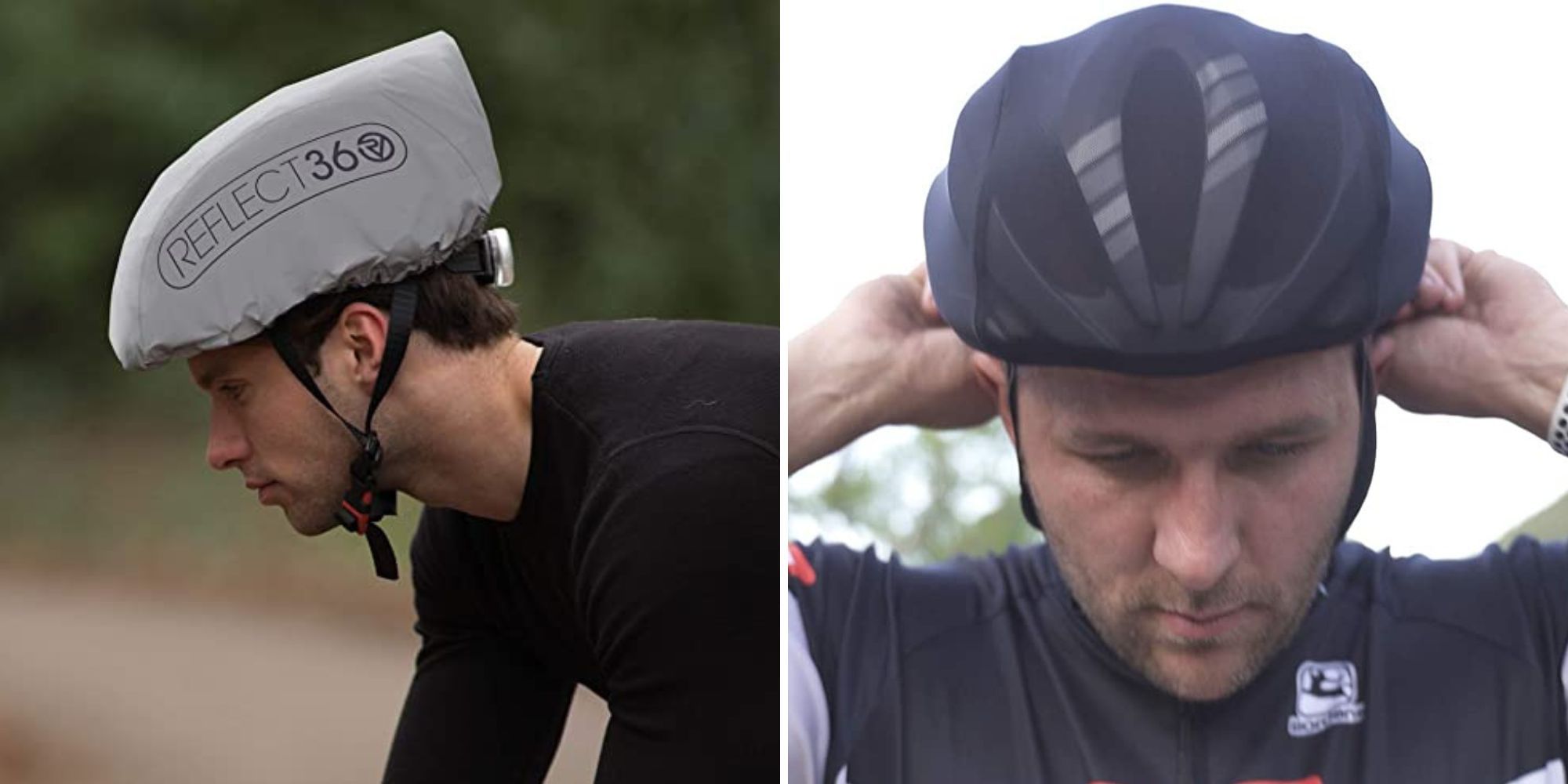 Bike lovers!
We know that you care about safety and style, which is why we've compiled a list of the six best bike helmet covers to keep you protected from the elements and looking good.
Whether you're looking for a bright cover to stand out in traffic or something more subtle to match your outfit, we've got you covered. Check out our list and find the perfect cover for you today.
Read on to learn more about each of the six best bike helmet covers!
How We Found the Best Helmet Covers
Bike helmets are a necessary safety precaution, but they can be bulky and uncomfortable.
Most people suffer through the wet and cold because they don't know about bike helmet covers.
We read through thousands of reviews to find the best bike helmet covers for you. Our selection includes both padded and unpadded helmet covers, as well as mesh and waterproof options. With our variety of colors and patterns, you're sure to find the perfect cover for your style and needs.
---
UnpackedReviews is reader supported, which means that when you click on links to products on our site and make a purchase, we may earn a commission. However, our opinions are our own, and we only recommend products that we genuinely love.
---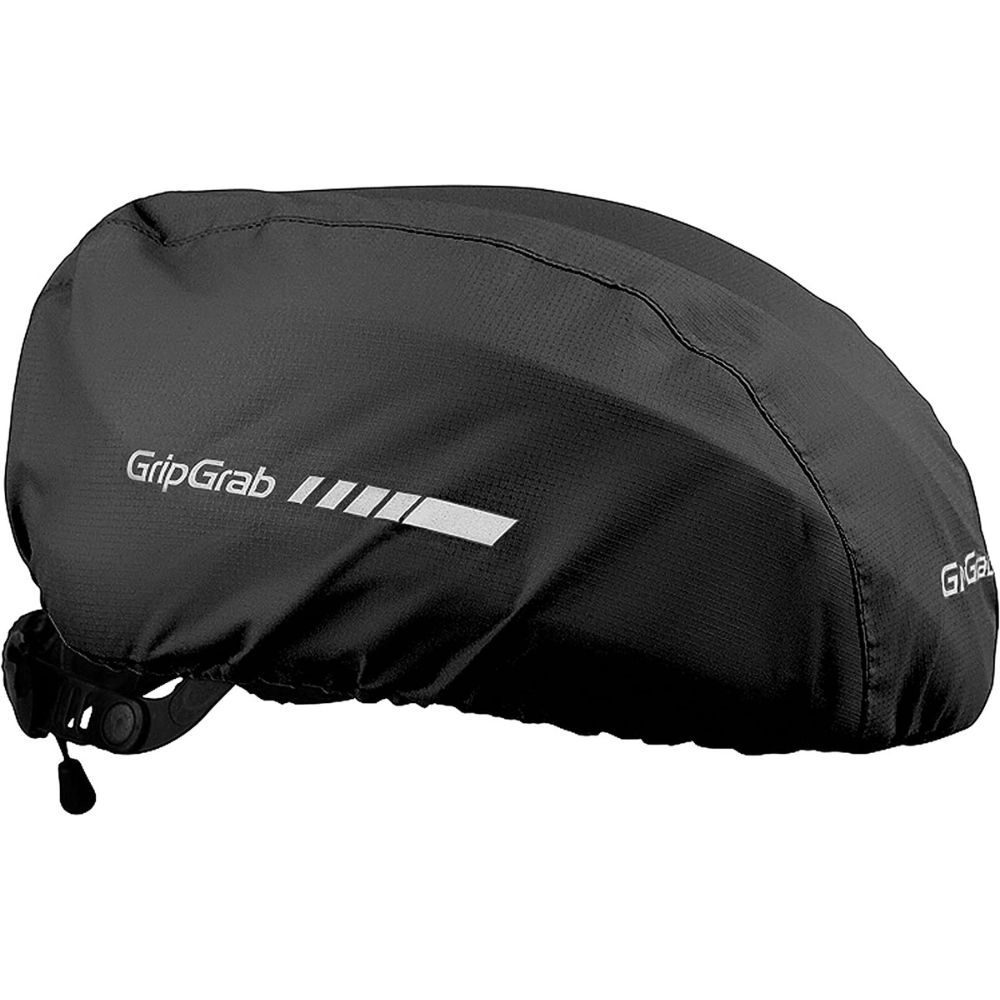 GripGrab Bicycle Helmet Cover
Check Price On Amazon
How it Made the Pick
If you're looking for a way to make your bicycle helmet stand out and show off your style, then this helmet cover is the perfect accessory.
It has a simple but effective pull-over design made from a lightweight material that helps reduce wind and sun exposure. There's even an elasticated drawstring at the rear to ensure it fits most helmets and stays in place, no matter how rough the terrain gets!
This highly visible cover will look great whether you're riding on roads or trails, so wow all your friends with your unique style.
What Makes it Worthy
GripGrab Bicycle Helmet Covers are the perfect way to stay safe and visible on the roads! Not only do the covers increase your chances of being seen, but they also offer a windproof and waterproof barrier against the elements.
The fabric used is high-visibility, so other road users have an easier time identifying you.
Additionally, taped seams provide superior weather protection. And sure, GripGrab designs aren't just about safety - they can even complete your look as you cruise around town!
Whether out for a leisurely ride or racing at great speeds, protect yourself with GripGrab Bicycle Helmet Covers - a ride limited by nothing!
---
Proviz Reflective Helmet Cover
Best reflective helmet cover
Check Price On Amazon
How it Made the Pick
If you want to be safe and noticed while out on your bike, this helmet cover is a great way to go.
It's crafted with the utmost attention to detail to ensure maximum visibility no matter what time of day or night it is.
This isn't just any old helmet cover – it reflects light from all angles, making sure you can be seen from both near and far so you can feel confident about being able to be spotted by traffic or other riders. Plus, it looks cool too!
What Makes it Worthy
Are you trying to stay visible on your bike rides at night? Then check out Proviz Reflective Helmet Cover!
This super cool, ultra-reflective helmet cover fits over any standard-size cycling helmet and is waterproof, so no matter what the weather throws at you, you can have peace of mind that it's gonna do its job.
Made from 100% reflective material, this cover is designed to keep you well-seen while riding in low-light conditions.
Plus, it has a convenient adjustable band closure which allows you to get the right level of tightness for maximum comfort and safety. So forget about compression straps on top or under your chin; this cover just slides right over and gives you the extra visibility boost needed while out pedaling the city streets.
Don't put yourself in danger when out cycling after dark - light up your ride with one of our Reflective Helmet Covers today!
---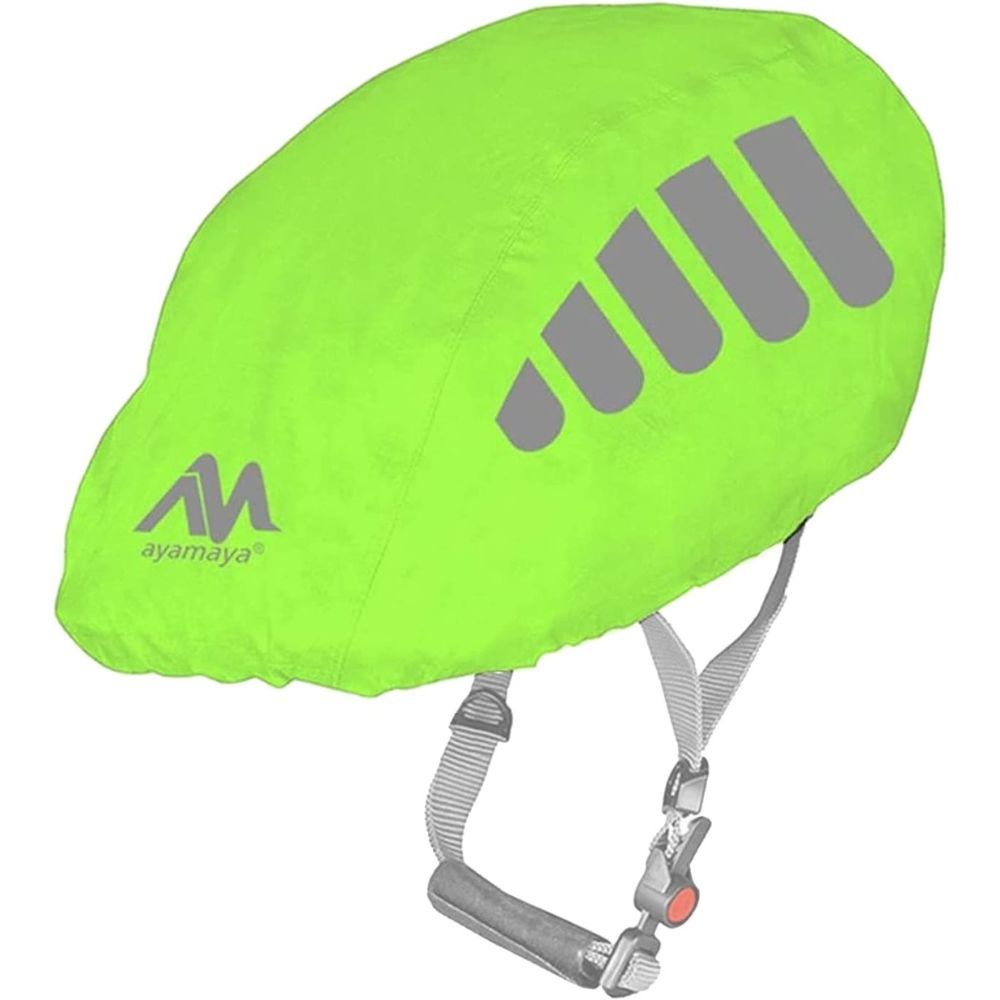 Ayamaya Bike Helmet Cover with Reflective Strip
Best high-visibility helmet cover
Check Price On Amazon
How it Made the Pick
The cold winter chill can be difficult to handle when you're biking - unless you've got a bicycle helmet cover that helps keep the wind from getting in!
This particular option is both visible and safe, featuring reflective material on each side for extra assurance that drivers will be able to see you in the dark.
It has a drawstring for a snug fit and comes in multiple colors, this makes it easy to coordinate with your cycling outfit and look stylish too!
Whether you're a serious cyclist or just someone who likes to enjoy the ride, this bicycle helmet cover can help make sure you stay warm as well as give you greater visibility.
What Makes it Worthy
Introducing the Ayamaya Bike Helmet Cover - the must-have way to keep your cycling helmet safe, secure, and in good condition.
Who says bad weather has to slow you down? The Ayamaya Bike Helmet Cover is perfect for braving the elements without ruining your ride!
This waterproof and snowproof helmet cover keeps your head dry and warm. With this cover, you can easily protect your cycling helmet from water, rain, fog, dust, and snow.
Because of its wind-proof design, the Ayamaya Bike Helmet Cover also provides an extra layer of warmth during cold winter rides or a breezy summer evening. So go ahead - take a chance on one of the best cycling helmets out there.
And if you're looking for a truly unbeatable combination of comfort and protection for long tough rides, then look no further than the Ayamaya Bike Helmet Cover!
---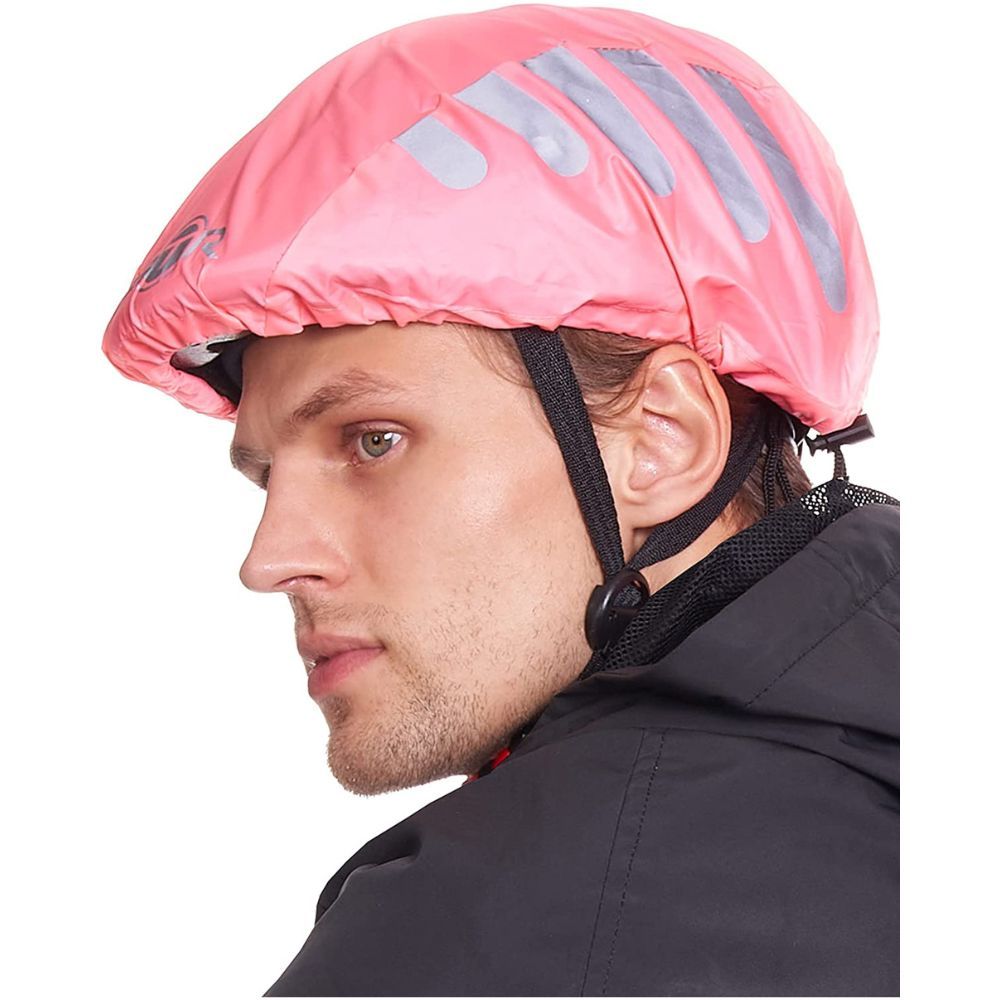 BTR High Visibility Universal Size Bike/Bicycle Waterproof Helmet Cover
Best helmet cover with multiple color options
Check Price On Amazon
How it Made the Pick
Are you looking for an eye-catching bike helmet cover? Look no further! This helmet cover comes in a variety of colors, so you can find something to match your aesthetic.
It offers a high level of protection while still allowing you to express yourself, which is perfect if you're hitting the trails or just going for a leisurely ride with friends.
With the ability to customize the color scheme, no matter what style you go for, you'll look great and feel even better knowing you are protected on your ride.
What Makes it Worthy
Looking for a way to keep your head snug and dry during those chilly bike rides? Look no further! Our BTR Helmet Cover is the perfect accessory for all your adventures on two wheels.
This breathable cover is one size fits all and waterproof, letting you take on any weather the season throws your way. With easily adjustable cords at the back, this helmet will always stay fit like a glove.
But that's not all - for added visibility during low-light rides, we've included reflective stripes down both sides of the cover, so you can be sure to make an extra strong statement on the road. Add the BTR Helmet Cover to your cycling accessories today and make every ride a breeze!
---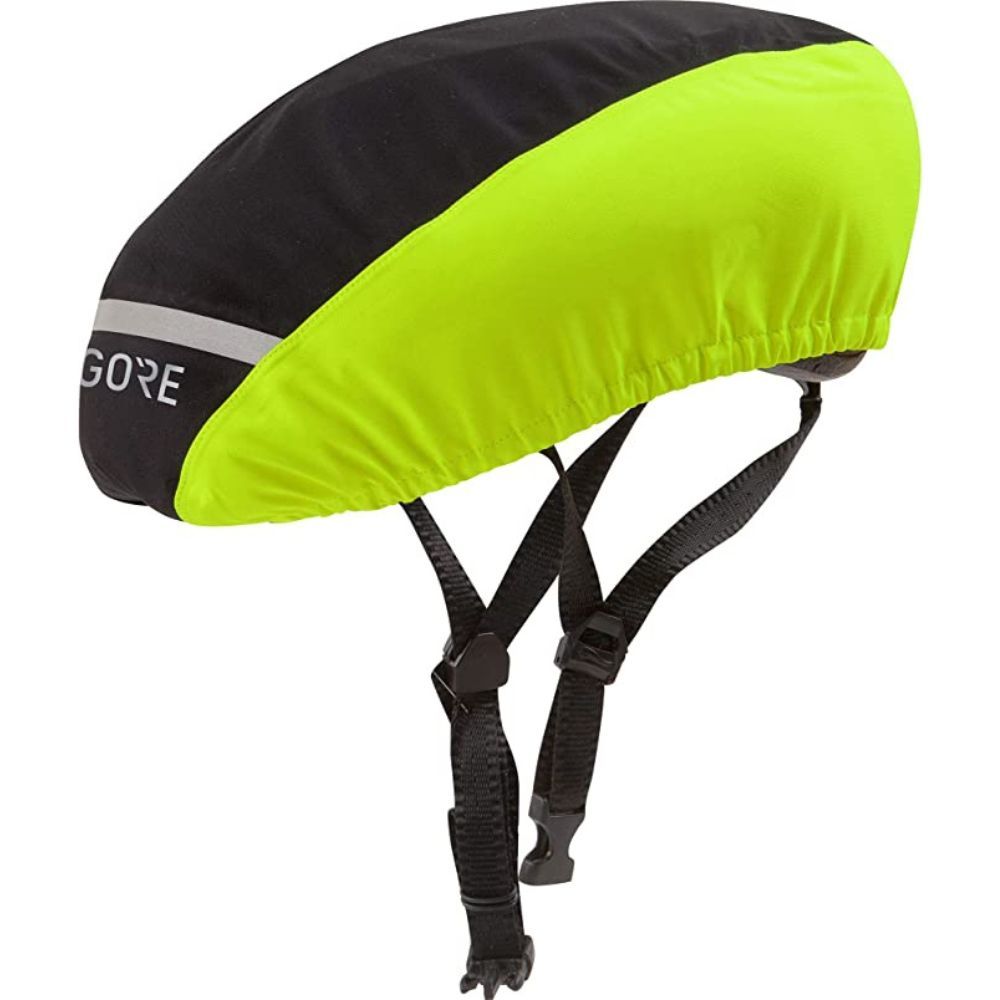 GORE WEAR Bike-Helmets C3 GTX Helmet Cover
Best helmet cover with a slim profile
Check Price On Amazon
How it Made the Pick
Are you looking to spice up your helmet and make a style statement? Then this high visibility or black helmet cover is the perfect option for you!
It has a slim fit profile so you can zip it on and off in no time. Not only that, but the sleek look of the cover makes it extremely stylish so that your headgear will be both fashionable and secure.
Make sure to check out these covers today and give your helmet the upgrade it deserves!
What Makes it Worthy
Never worry about riding in the rain again with GORE WEAR's Bike-Helmets C3 GTX Helmet Cover! This helmet cover is specially designed to maximize your protection against the elements.
Crafted with Gore-Tex, you'll get windproof, waterproof protection that's lightweight and breathable. The elastic hem helps to keep everything secure while you're on your journey.
Whether a sudden downpour threatens your enjoyment of the outdoors or bad weather catches you off guard, this helmet cover will make sure your headgear remains dry and comfortable so nothing can stop you from loving every second of your time in the saddle.
Forget about fumbling for a raincoat; with this helmet cover, you can be ready for anything! Experience blissful all-weather rides with GORE WEAR's Bike-Helmets C3 GTX Helmet Cover!
---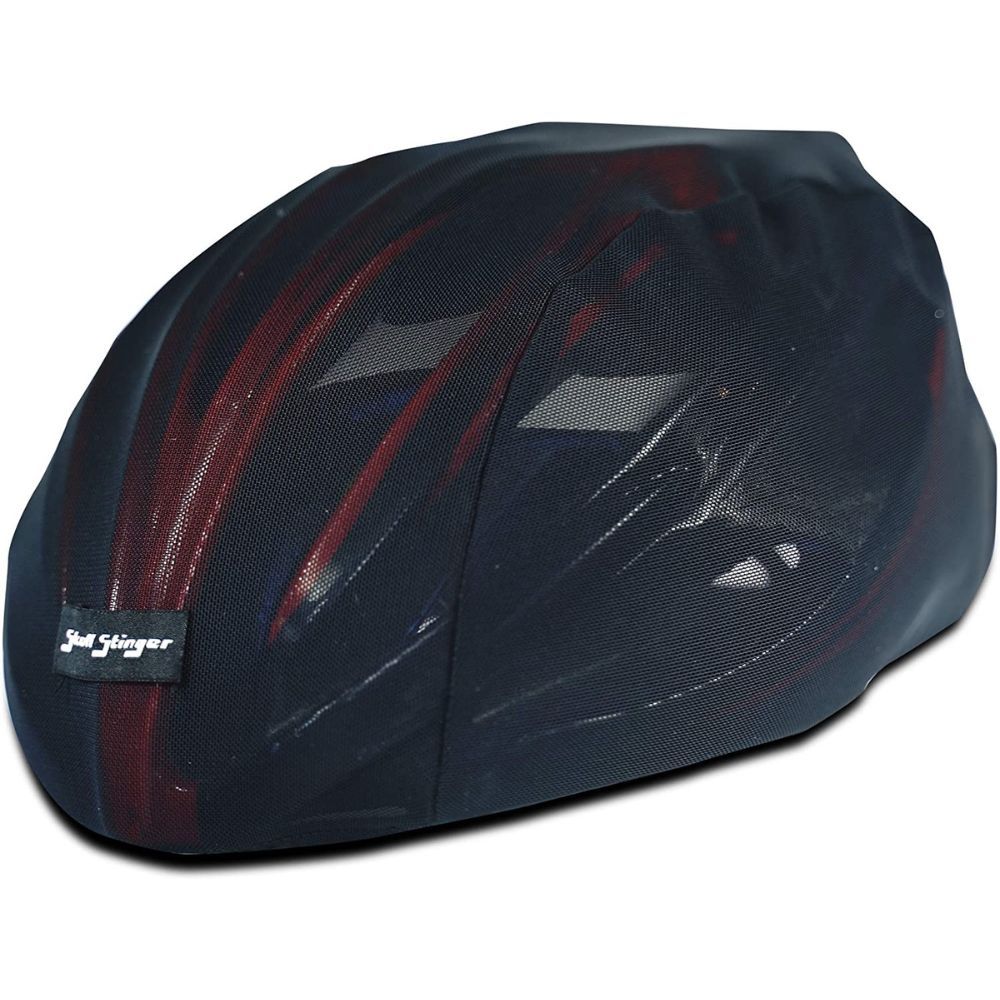 Skull Stinger Cycling Helmet Cover for Bicycle
Check Price On Amazon
How it Made the Pick
This helmet cover helps keep the pesky bugs away during your ride. Nothing's worse than a mosquito getting stuck in your helmet and hearing the buzzing all day!
This cover lets air circulate, so you don't get too hot, but keeps bugs out so you can enjoy your ride without any interruptions.
And with breathable fabrics, this cover is sure to keep you comfortable while taking your bike out for a spin.
What Makes it Worthy
Are you looking for the perfect gift for the passionate cyclist in your life? Have you been scouring the internet, but just can't seem to come up with anything special?
Look no further! The Skull Stinger bike cover is going to be their new go-to accessory when riding. Not only is it unique and stylish, but it also fits over any style of road or mountain bike helmet.
The Skull Stinger cover is not just a sweet-looking accessory; it's also the ideal gift for cyclists!
Most Commonly Asked Questions
A lot of people are confused about bike helmet covers and whether or not they actually work.
There's a lot of confusion out there about bike helmet covers. How do they work? Are they worth it?
We did the research for you and answered the most commonly asked questions about bike helmet covers. Spoiler alert: They do work! And they're definitely worth it, especially if you want to keep your helmet in good condition.
Just like your gloves and you want your helmet to last and a cover helps it do just that.
What are helmet covers used for?
Bike helmet covers are used to protect a bicyclist's head in inclement weather. They can also be used to keep the head warm in cold weather.
They protect from rain and snow. The covers also help to break the wind keeping your head warmer.
If you are going to be doing activities such as riding a skate board we recommend a sport specific helmet and you will need to check specifications to be sure the helmet covers fit over your skateboard helmet!
How does a helmet cover help in bad weather?
Most cycling helmets are well ventilated which is not very good for rainy days.
Having a cover as part of your rain gear is a good idea, it acts as a shower cap and doesn't retain water. If it is wet simply hang dry for your next ride.
How do you keep mosquitoes from getting in your helmet?
There is a bug net design cover you can put over your helmet to keep the bugs at bay in the back woods.
Mosquitoes are attracted to the carbon dioxide we exhale, as well as our body heat and sweat. Wearing a mosquito net over your helmet will help to keep them from getting in.
You can also buy a mosquito repellent that you can apply to your skin or clothing. Using these methods will help to keep you safe from mosquitoes and the diseases they carry, such as malaria, dengue fever, and Zika virus.
How should a helmet cover fit?
Helmet covers should fit snugly, without being too tight. If it's too tight, it may tear. The cover must fit snugly so that it doesn't slip off or blow off in the wind.
There is usually an elastic band that slips under the brim of the helmet to help keep it in place.
Why do helmet covers have reflectors?
Reflectors improve the visibility of cyclists, skateboarders, and other road users to drivers in low light or dark conditions. They make cyclists, skateboarders, and other road users more visible to drivers, which can help to improve safety for all road users.
The Right Cover for Your Bike Helmet
So there you have it! After hours of reading reviews and comparing different bike helmet covers, we've come up with a list of the best that you can buy.
We hope this article has helped make your decision a little easier (and if not, at least given you some good ideas for where to start looking). Happy shopping!