Which Electric Dustpan is the Best? Top 5 Picks Reviewed
Electric dustpans are a great way to keep your house tidy. With infrared sensors and 1400 watts of suction you will love these!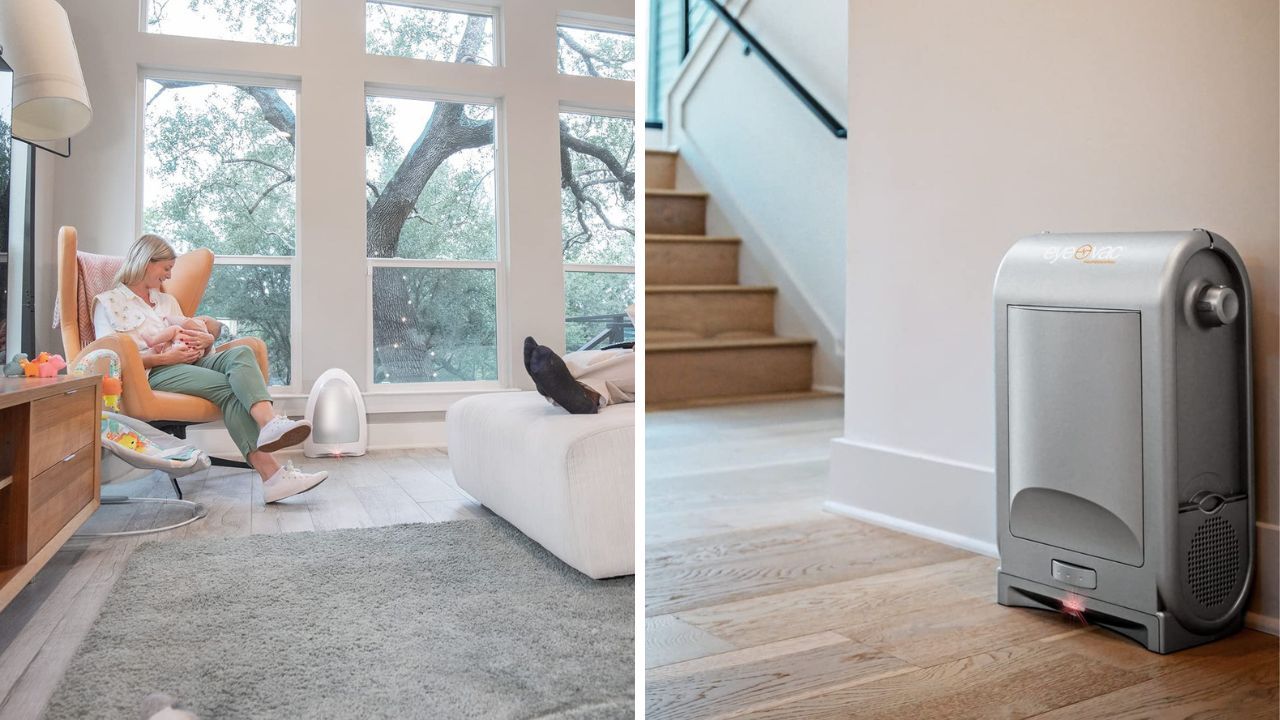 Looking for a new dustpan? You're in luck – we've got the best of the best right here.
We know that finding the perfect electric dustpan can be tough. That's why we did all the hard work for you and reviewed five of the top models on the market today.
Not only are these dustpans some of the most efficient ones out there, but they also come in a variety of fun colors and designs. So whether you're looking for something sleek and modern or bright and colorful, we've got you covered.
Read our full review of each electric dustpan and access the one that's perfect for your needs!
How We Found the Best Automatic Dustpan
Cleaning up after your pet or doing a quick sweep is always a hassle, but it's especially frustrating when you have to bend down and pick up all the dirt and dust yourself.
Not only is it a pain to have to bend over and gather all the dirt yourself, but you could end up with back problems if you're not careful.
A touchless stationary vacuum is the perfect solution! By using an automatic dustpan, you can quickly and easily clean up messes without having to put any extra strain on your body. Simply sweep debris toward the vacuum and the automatic activation takes care of the rest.
---
UnpackedReviews is reader supported, which means that when you click on links to products on our site and make a purchase, we may earn a commission. However, our opinions are our own, and we only recommend products that we genuinely love.
---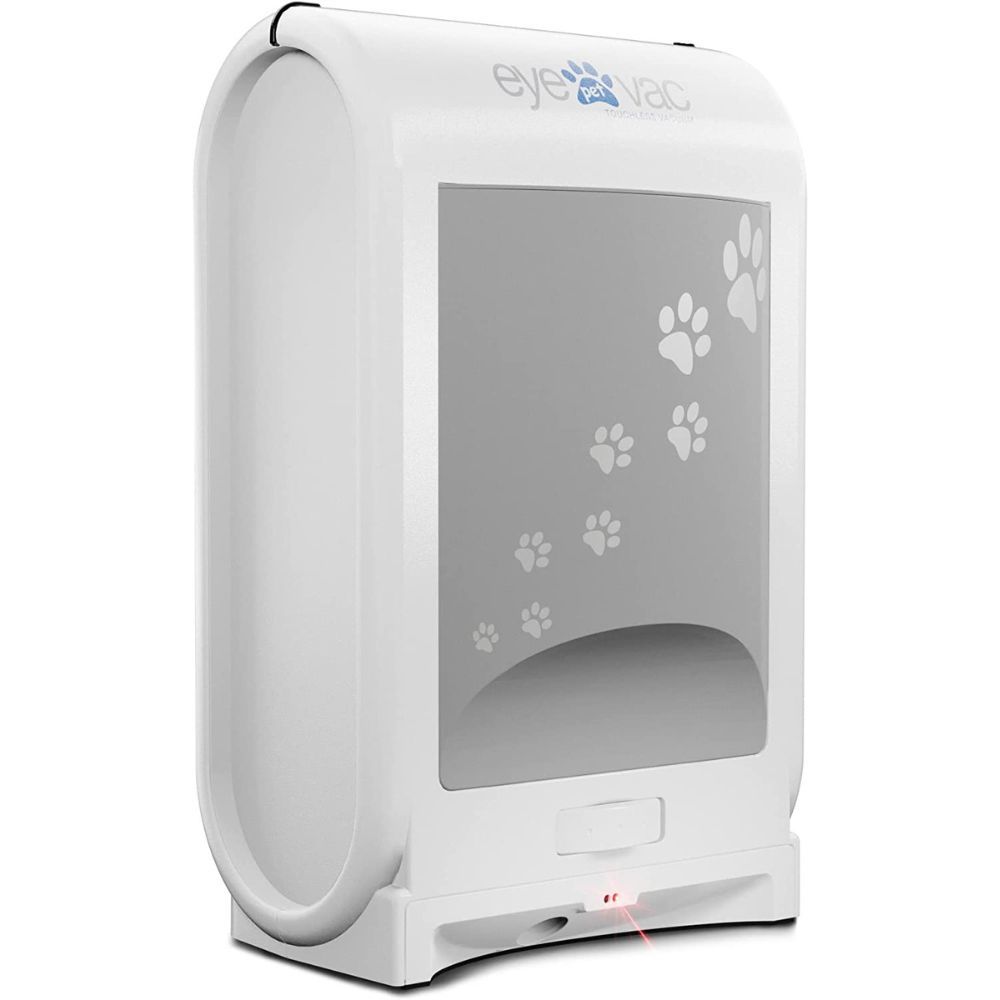 Eye Vac Pet Touchless Stationary Vacuum
For Pet Hair, Dust, Hair & Debris - 1400 Watts
Check Price On Amazon
What We Like the Most
Keeps your home clean and free of pet hair, dust, and debris
Powerful vacuum with 1400 watts of suction
Equipped with 2 high efficiency filters to capture more particles
Infrared sensors activate the vacuum when it comes in contact with pet hair or debris
Bag-less canister for easy emptying
What You Should Know
If you have pets, cleaning up after them can become a real chore. With the EyeVac Pet Electric dustpan however, even this boring task becomes effortless!
Just sweep debris towards the inlet and its advanced infrared sensors will detect the motion and automatically start vacuuming up pet hair, dirt, dust and all other forms of debris into its bag less container.
No more bending over to switch it on, the sophisticated Touchless Operation makes cleaning much easier and faster, giving pet owners more time to do what they love - spending time with their furry friends!
---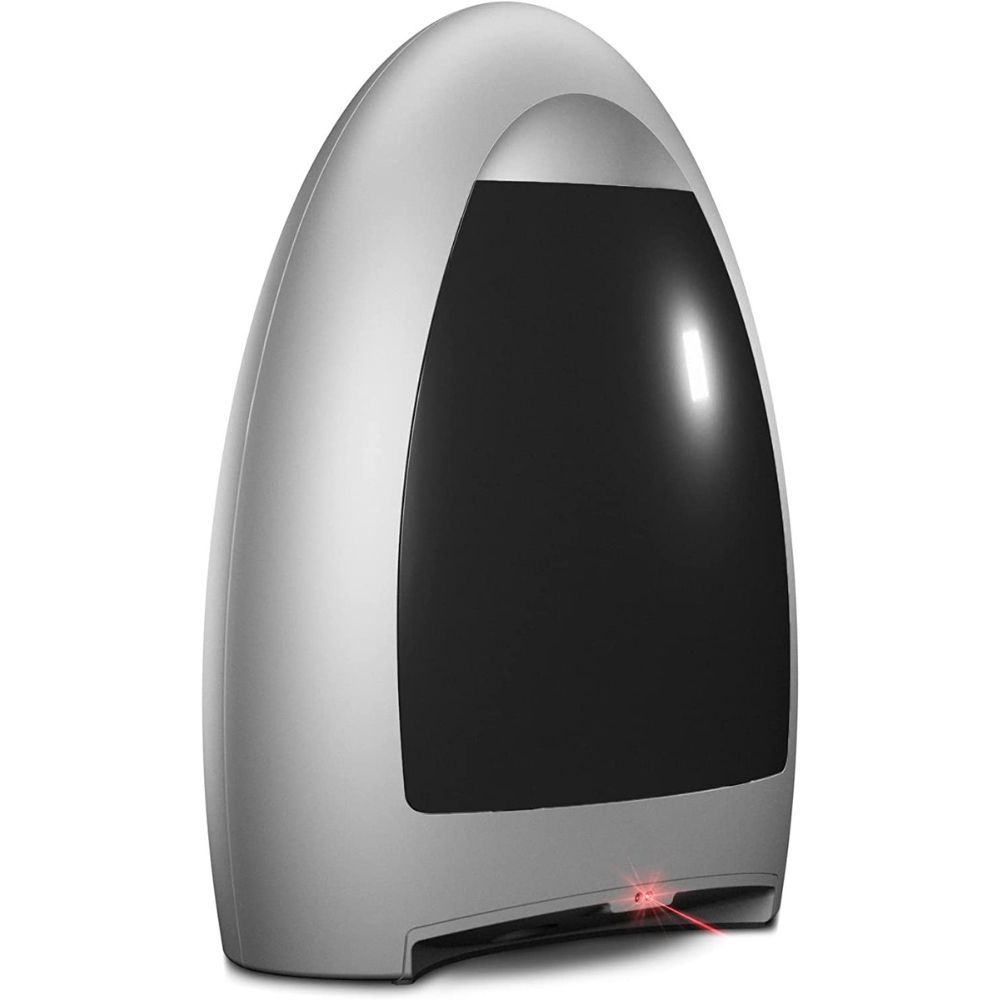 Eye Vac Home Touchless Stationary Vacuum
Dual High Efficiency Filtration, Corded, Bag less, Automatic Sensors, 1000 Watt
Check Price On Amazon
What We Like the Most
The EyeVac Home Touchless Stationary Vacuum is a powerful 1000 watt vacuum that uses HIGH EFFICIENCY FILTERS to clean your floors quickly and easily.
The TOUCHLESS OPERATION of this vacuum keeps your hands free and the Automatic Sensors prevent any accidents.
This vacuum is bag less, so you don't have to worry about replacing any bags, and it's also corded for your convenience.
With its sleek design, the EyeVac Home Touchless Stationary Vacuum is a great addition to any home.
What You Should Know
The EyeVac Home model is changing the way we clean. With a powerful motor that works hard to vacuum up any type of dirt or debris, it's no wonder why this dustpan has become so popular.
Gone are the days of awkwardly struggling with an old broom and pan; now all you have to do is sweep your mess over to the EyeVac's infrared sensor, and it will automatically pick up whatever its inlet is detecting - whether it's dust, pet hair, or cereal crumbs.
This convenient design makes cleaning easy and efficient - it'll save you time and energy while doing a better job than ever before. Plus, since the dirt gets vacuumed right into a container that can be emptied when full, you don't even need bags for the task! Now that's not just really helpful; it's also really impressive.
---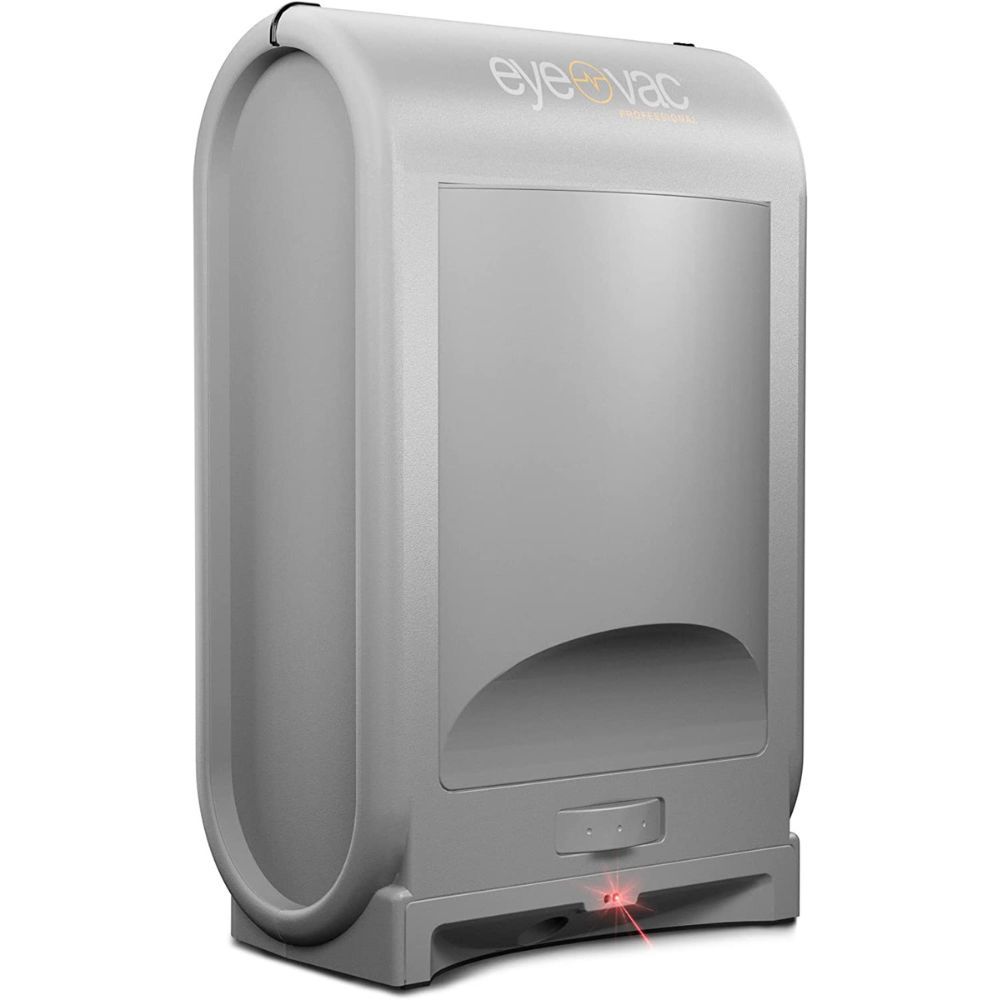 EyeVac PRO Touchless Stationary Vacuum - 1400 Watts Professional Vacuum
Active Infrared Sensors, High Efficiency Filtration, Bag Less Canister Design
Check Price On Amazon
What We Like the Most
High efficiency filtration for clean air
1400 watts of power for commercial grade cleaning Commercial quality for heavy duty use
Active infrared sensors keep the vacuum on constantly and activated when needed so you don't have to worry about it
Conveniently Bag-less and easy to empty canister
What You Should Know
Keeping a clean space when you're in the business of hospitality or beauty can be difficult but with the EyeVac electric dustpan, it doesn't have to be a challenge anymore.
It's the perfect product for professional use; whether you work in hair salons, boutiques, cafes, or a kitchen - this device will make your life much easier. With its powerful suction and no-touch activation feature, it ensures minimal effort for intense results.
Don't take our word for it though - pick up your very own EyeVac electric dustpan today and try out its efficient features!
---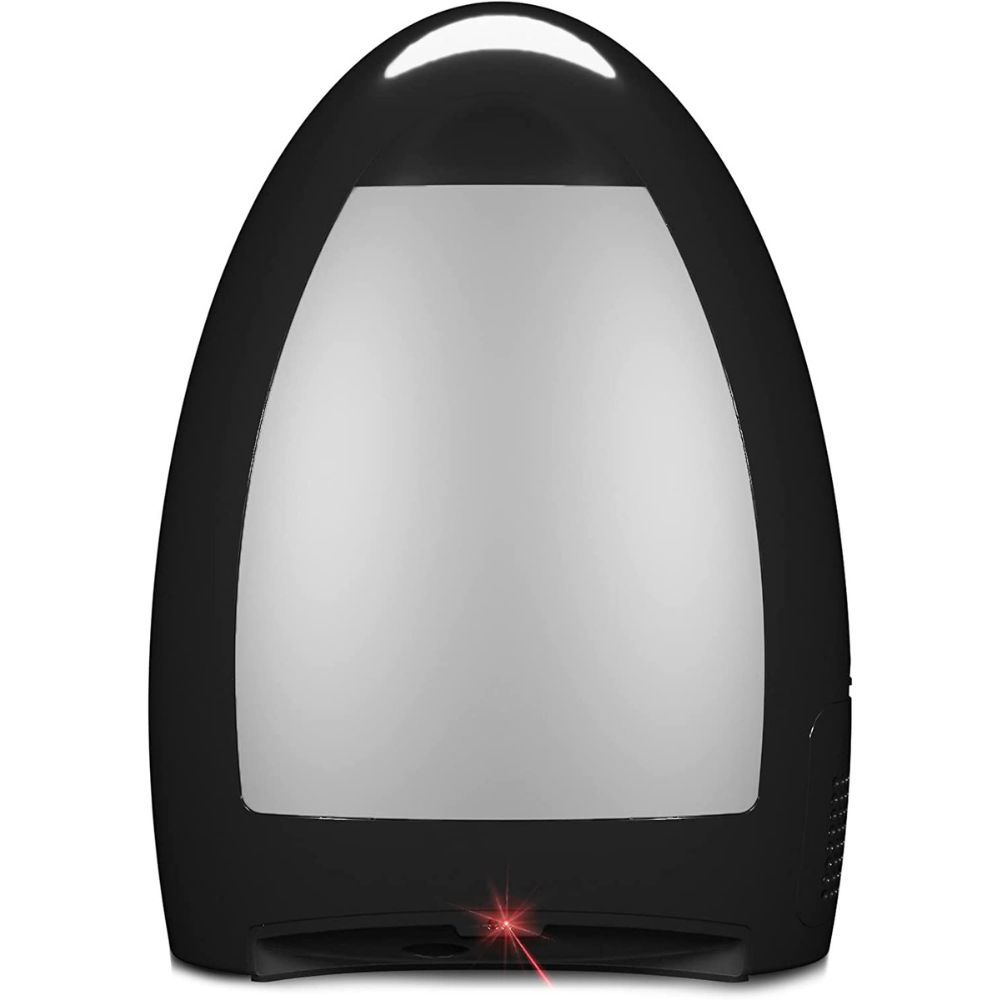 NeoVac Elite- Touchless Stationary Vacuum - Black
Auto dust pan features cyclonic vacuum action!
Check Price On Amazon
What We Like the Most
The NeoVac Elite is the one of the most powerful touchless vacuum on the market
It has 2 high efficiency filters which means less maintenance and more suction power
The touchless system means you won't have to worry about germs or bacteria
Powerful operation makes it perfect for commercial or home use.
What You Should Know
Are you tired of bending over with a dustpan and brushing dirt from the corners of your home? With the NeoVac Elite, your clean-up time will be cut in half!
This electric dustpan is the most convenient way to effectively clean up any mess. Whether it's in the kitchen, walkway, mudroom, or playroom - this compact vacuum is powerful enough to handle all types of debris like dirt, sand, and more.
Plus, because it's touchless and wireless you don't need to worry about wires getting tangled or having to replace parts frequently. Save yourself time and give yourself peace of mind with the NeoVac Elite - the perfect product for any type of home.
---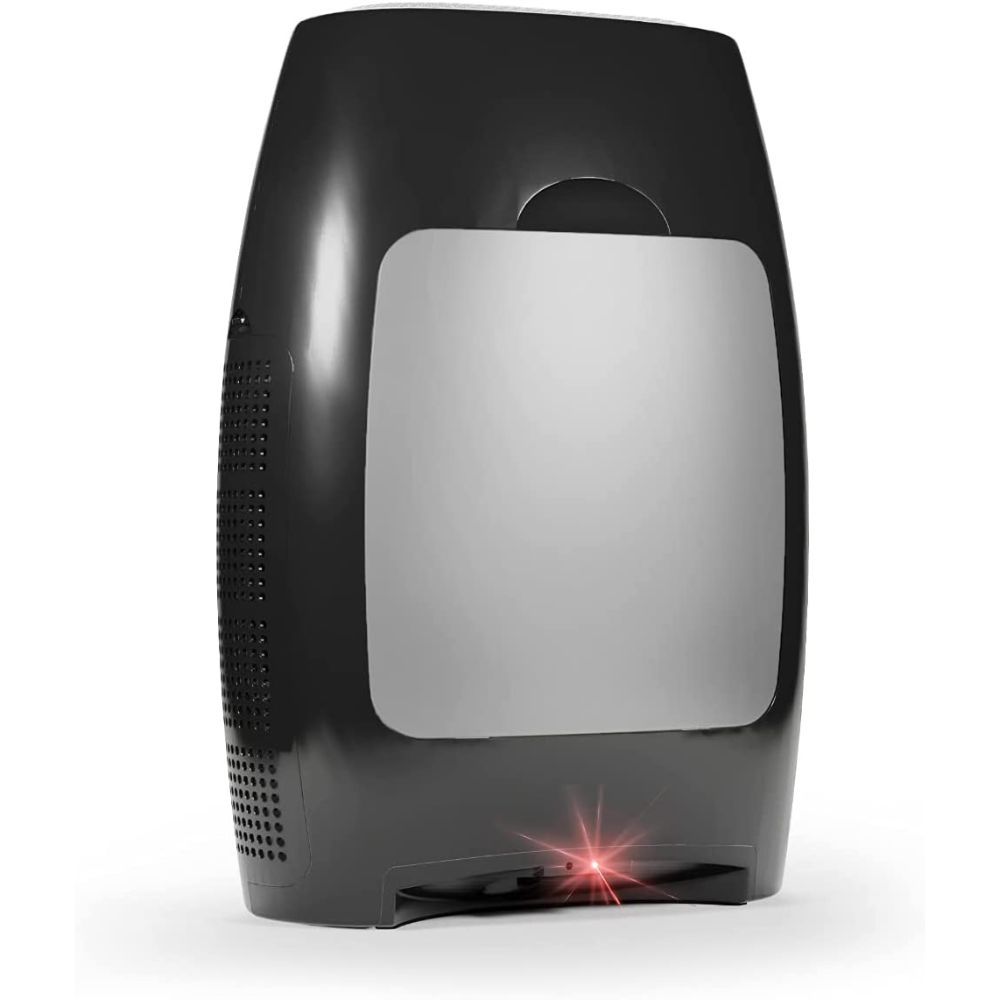 EyeVac Air 2in1 Air Purifier & Vacuum.
Dual True HEPA H-13 & Activated Carbon Filtration, and Touchless Canister Vacuum with Automatic Sensor. 1000 Watt motor (Tuxedo Black)
Check Price On Amazon
What We Like the Most
The EyeVac Elite is a 2-in-1 design that vacuum's and purifies the air.
It has a 1000 watt motor for powerful suction.
The EyeVac Elite has an automatic sensor that turns on when it detects movement, so you don't have to touch anything!
This vacuum also comes with a HEPA filter to remove 99.97% of all particles in the air.
What You Should Know
EyeVac Air is the ultimate solution for home air purification and cleaning. Unlike other products, it acts as both a powerful air purifier and a stationary touchless vacuum. Its game-changing dual-filtration system combines
True HEPA H-13 Filtration with an odor-eliminating Activated Carbon Filter to give you clean, fresh smelling air in no time! That is nothing but good for your health.
Furthermore, its small design means that it can be conveniently placed anywhere with a hard floor surface, such as a bathroom or kitchen to provide superior air purification benefits up to 600 sq. ft.
It is truly revolutionizing home cleansing and keeping areas free of unwanted odors - try EyeVac Air today and feel the difference! Check the price today!
Most Commonly Asked Questions
People are often unsure about what an electric dustpan is and how it works.
Electric dustpans have become more popular in recent years, but there are still a lot of people who don't know what they are or how they work.
We've answered the most commonly asked questions about electric dustpans and central vacuum systems so that you can decide if one would be a good fit for your cleaning needs.
If you need a mini dustpan and broom set check out our article and dont forget to properly clean your broom to help maintain a healthy atmosphere!
What is an electric dustpan?
An electric dustpan is a stationary dustpan with an integrated vacuum, designed to make the chore of sweeping easier and faster. They come in both corded and battery-operated varieties.
Corded electric dustpans typically feature a long power cable that you plug into an electrical outlet, while battery-operated models are powered by rechargeable batteries. Both versions have the same purpose: to help you quickly and easily clean up messes without having to constantly bend over or move back and forth across floors.
The vacuum in electric dustpans works by suctioning particles off the floor as you sweep them towards it, reducing airborne dirt and debris as well as making it easier for larger items like food crumbs to be collected more efficiently. Some models even offer adjustable suction settings so that you can tailor your cleaning experience depending on what type of mess needs to be cleaned up - from finer strands of pet fur or bigger chunks of cereal pieces left behind after snacking!
Electric dustpans are great for those who suffer from back pain since they require minimal effort when compared with traditional brooms or dustpans - no more bending over repeatedly throughout the day! Dustpan electric vacuums are an efficient way to keep your home clean without exerting too much physical effort - a must-have item especially if your family has asthma or allergies.
What does an EyeVac do?
EyeVac is an innovative appliance that functions as both a vacuum and a dustpan. It is stationary, so you don't need to worry about hauling around a bulky device from one corner of your house to another. Its vacuum power easily sucks up all the mess without creating any additional work for you. The automatic infrared sensors activate and the Eye Vac automatically turns on to suck up the debris. The dual air filtration in some models helps to keep the air clean dust.
How does automatic dustpan work?
An Electric dustpan works by using two infrared sensors at the bottom of its appliance body; these sensors detect when there's debris beneath it and immediately activate the vacuum suction. All you have to do is sweep whatever items are on the floor (like crumbs, pet hair or dirt) into its path, and EyeVac will clean them up with ease!
What happens if my dustpan has an error?
Each model has different specifications so customers experiencing issues should contact the customers support line via phone or electronic form for additional guidance. The manufacturer may have a warranty on the item and may replace the unit if its in stock, or pay for shipping to have it sent back in and repaired.
The Right Dustpan for You
The search is over, we have found the top Items for you to look over. This page has the best automatic dustpan sold on Amazon as well as the best options. We hope you pick up an automatic dustpan and make your cleaning easier! You wont regret it!