Kayak Canopy: 5 Of The Best Options To Keep You In The Shade
Don't let the sun stop your paddling fun! Check out our list of five great kayak canopy options that'll help shield you from the sun.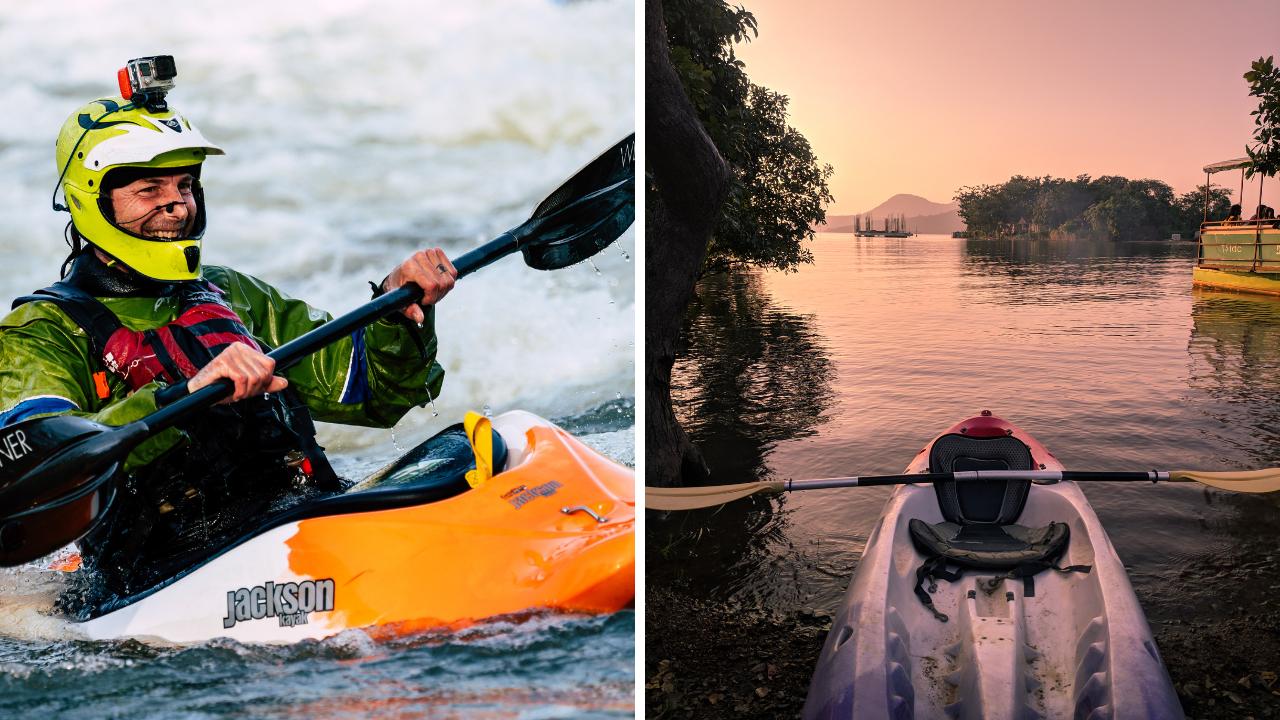 Are you looking for a way to stay cool and comfortable while enjoying the outdoors?
Kayak canopies are an excellent option for keeping you in the shade and out of the sun. They provide protection from UV rays, rain, wind, and other elements that can make your outdoor experience less enjoyable. With so many options available on the market today, it can be difficult to know which one is best for you. That's why we've compiled a list of five of the best kayak canopy options to keep you in the shade!
From lightweight models with adjustable poles to heavy-duty designs with reinforced frames, there's something here for everyone. Whether you need extra coverage or just want some added protection from harsh weather conditions, these kayak canopies will help keep you safe and comfortable during your next outdoor adventure.
Read our blog post now to learn more about each product and find out which one is right for your needs!
How We Found The Best Kayak Sun Shades
With so many kayak canopies on the market, it can be difficult to know which one is best for you.
You want something that will provide protection from UV rays, rain, wind and other elements while also being lightweight and easy to set up. But with thousands of reviews out there, how do you find the right product?
We read through thousands of reviews to find you the five best kayak canopy options available! From adjustable poles to reinforced frames, we've got something here for everyone.  Keep reading to learn more about each product and find out which one is perfect for you.
---
UnpackedReviews is reader supported, which means that when you click on links to products on our site and make a purchase, we may earn a commission. However, our opinions are our own, and we only recommend products that we genuinely love.
---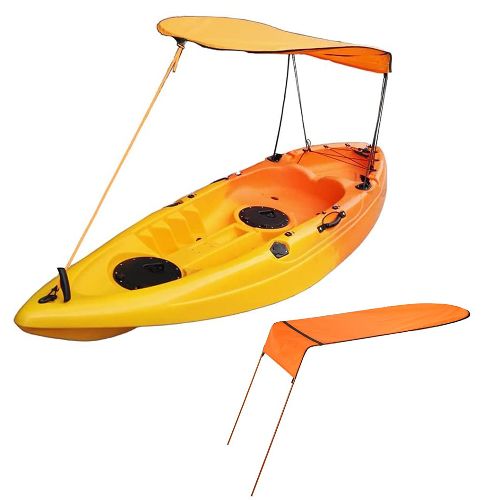 MOOCY Sun Shade Canopy for Kayak Canoe Orange
Check Price On Amazon
The MOOCY 8 Foot Canopy Shade is a great option for kayak and canoe owners who want to protect their boats from the sun. It's made of Oxford cloth, which means it has a waterproof coating that protects your boat from the elements.
The canopy features three straps that attach to each corner of your boat via D-shape buckles, making installation easy without the need for extra tools or hardware. You can use this shade in calm conditions when you want maximum shade coverage, but it won't interfere with paddling if there is some wind.
It comes complete with an awning pole and storage bag, so you'll be ready to go out on the water right away. The fabric used in this umbrella is durable and waterproof, so you don't have to worry about getting wet if it starts raining while using it.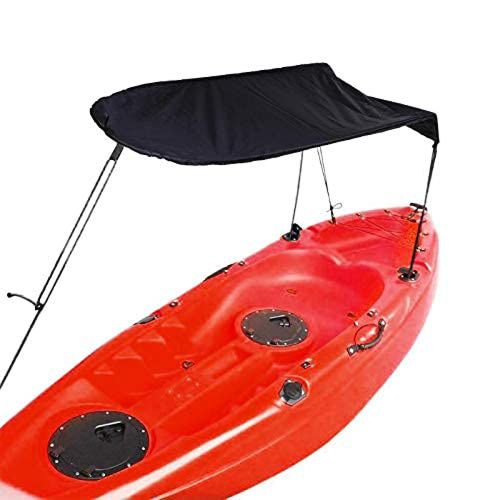 MOPHOEXII Kayak Shade Canoe Canopy
Check Price On Amazon
The MOPHOEXII Kayak Shade Canopy is a great choice for anyone looking to protect themselves from the sun while boating. This canopy features an aluminum rod that connects to your kayak, providing you with plenty of shade and support.
The material used in this product is oxford cloth, which makes it durable and water-resistant. It also has shock cord technology, so you don't have to worry about the wind affecting its stability or performance. The Mopexii Kayak Shade Canopy offers around 8 square feet of coverage, making it ideal for fishing trips or other outdoor activities on the water.
It's easy to install onto your boat using existing deck hardware or by attaching easy components, and once installed it stays firmly in place without sagging or shifting around too much. The Mopexii Kayak Shade Canopy folds up compactly when not in use and comes with a convenient storage bag so you can take it anywhere you go without worrying about losing any pieces or getting tangled up in something else along the way.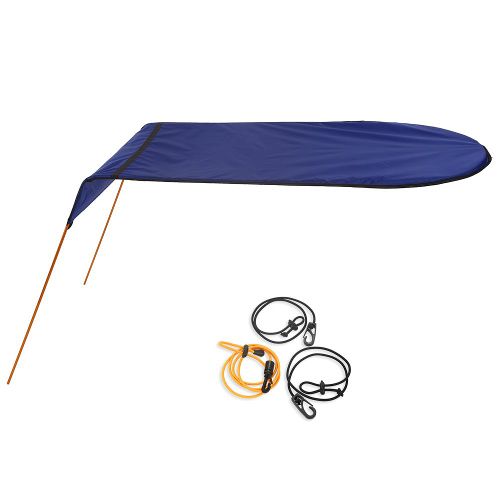 Lixada Kayak Boat Canoe Sun Shade Canopy Dark Blue
Check Price On Amazon
The Lixada kayak sun shade is a great choice for those looking for a lightweight and compact canopy that offers plenty of coverage. This kayak shade is designed to fit snugly onto most single person kayaks, making it easy to install and ensuring it stays in place during use.
It is made from oxford cloth with shock cord aluminum rod construction, which makes it durable and resistant to tearing.
The product also comes with an adjustable buckle strap that provides additional security when securing the canopy onto your boat. It's worth noting that this model does not come with any extra storage bags or connectors, so you'll have to purchase these separately if you want them on hand when using the product.
While this canopy isn't as wide as some other models we reviewed, its length allows for plenty of coverage over your kayak while still leaving enough space for you to sit comfortably inside. Overall, we recommend the Lixada canoe/kayak sun shade as a good option for anyone looking for a lightweight and compact canopy that offers plenty of protection from the sun while out on the water.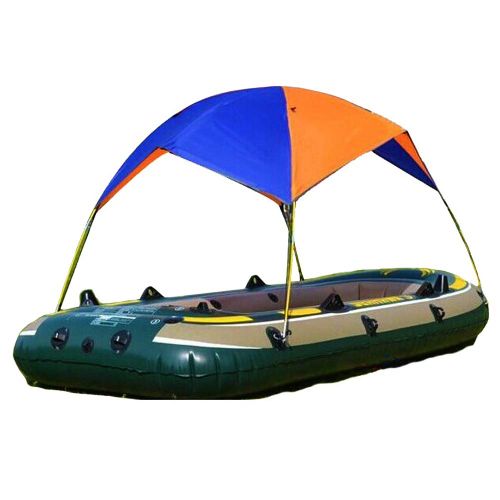 BEYST Inflatable Kayak Awning Canopy
Check Price On Amazon
The BEYST Inflatable Kayak Awning Canopy is a great choice for anyone looking for a portable shade cover that's easy to use and lightweight. It can be used on boats, canoes, kayaks, SUPs and other watercraft.
The canopy is made from quality materials with an anti-UV coating that will protect you from the sun's harmful rays while also resisting raindrops. The canopy is durable and won't tear easily so it will last you for a long time of use.
It installs in minutes by using tent nails which make it easy to set up whether you're on land or at sea. This inflatable boat top kit also comes with ground stakes which allow you to anchor the shelter down if needed so that it's more secure and stable.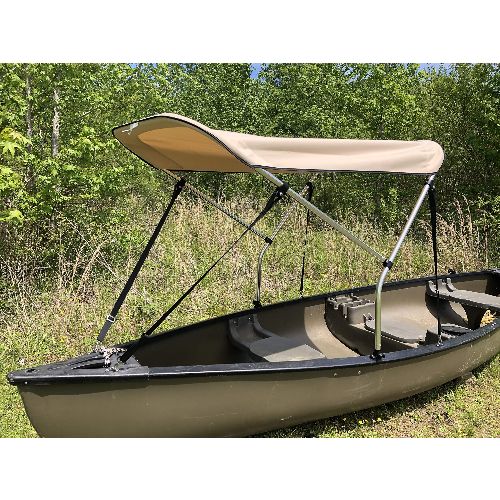 Cypress Rowe Outfitters Beige 3' by 5' Canoe Kayak Sun Shade
Check Price On Amazon
The Cypress Rowe Outfitters Canoe/Kayak Sun Shade is designed to protect your boat from the elements. The durable canvas material withstands rain and sun, and weather in general.
The canopy is constructed from high-quality polyester canvas material that's been engineered to last for at least 20 years of use. The aluminum frame ensures a sturdy structure that won't collapse under its own weight. It also features adjustable clamps, so you can easily attach it to your canoe or kayak without any extra hardware needed.
The product ships within 2-3 business days via standard shipping, which makes it easy to get set up right away. Overall, the Cypress Rowe Outfitters Canoe/Kayak Sun Shade is a great option for anyone looking to protect their boat from the elements while on the water.
A canvas tent is a great option to kayak camp in!
Most Commonly Asked Questions Around Kayak Canopies
It can be tough to figure out all the different specifications and features when looking for a canopy for your kayak.
There are a lot of factors to consider when choosing a canopy for your kayak - from weight capacity to size and shape.
We've answered the most commonly asked questions around canopies so you can easily choose the perfect one for you.
How do I protect my kayak from the sun?
The best way is to use a sun shade when you are out on the water. A kayak canopy will provide you with additional protection from the sun's harmful rays, and keep your boat cooler during hot summer days.
Some of the best kayak canopies use aluminum poles so that you have a strong and sturdy connection between your boat and kayak sunshade. For additional sun protection when not on the water be sure to store your kayak out of direct sunlight.
Will the sun damage a kayak?
Yes, the sun can damage a kayak if it is left out in direct sunlight for long periods of time. The UV rays from the sun will degrade the plastic and other materials used to make a kayak, causing it to become brittle, crack and eventually break down. To protect your kayak from UV damage, store it in a garage or shed when not in use, and cover it with protective fabric when not on the water.
Additionally, you should apply an ultraviolet-resistant coating to your kayak every few years to help ensure its protection against solar exposure over time. The same general rules apply whether its a tandem kayak or inflatable kayaks. Tandem kayaks can take up more space so be sure you can keep them out of direct sun.
How do you attach an umbrella to a kayak?
Attaching an umbrella to a kayak is actually very simple. All you need to do is use a suction cup or clamp with a handlebar mount. You can purchase these from most sporting good stores, and they can be easily attached to the upper portion of the kayak's deck. Once in place, simply attach your chosen umbrella so it is held firmly in place. This will ensure that you remain dry and protected from the sun when paddling out on the open water.
It is best though to use a purpose built option such as the hobie kayak sun shade, adventure canopies sun shade, or kayak bimini tops. The hobie kayak bimini costs more but will be far more secure to your kayak than an umbrella!
How do you care for a polyethylene kayak?
Caring for a polyethylene kayak is relatively easy and straightforward. In general, here are some important steps to remember:
1) After every expedition on the water, rinse off your kayak with fresh water. This will help remove salt residue, dirt or other debris that may have stuck to it during use.
2) Inspect the hull of your kayak periodically for abrasions or punctures and repair them if necessary with marine grade epoxy filler. Damaged areas should be sanded down before applying the filler in order to ensure better adhesion.
3) Lubricate all moving parts such as rudder cables, foot pegs or door locks regularly with silicone spray in order to give them an extra layer of protection from corrosion and wear and tear.
4) If you're storing your boat outdoors, consider adding a UV protectant wax/ polish when it's clean and dry in order to safeguard against sun damage which can cause fading over time.
5) Lastly, make sure that all hatches remain closed tight while transporting or storing your kayak so as not to attract moisture inside it which can lead to mold formation over time due to lack of air circulation
Do kayaks need UV protection?
Yes, kayaks need UV protection. All plastic boats, including kayaks and canoes, are susceptible to damage from ultraviolet (UV) radiation over time. The sun's rays can cause the plastic hulls of these vessels to become brittle and crack or even worse. To protect your kayak from this damage and extend its life, you should treat the entire surface with a UV-resistant coating that blocks the sun's harmful rays.
Depending on your type of kayak and climate conditions there are different types of coatings available, some specifically designed for small craft such as fishing kayaks and recreational models. Be sure to check with your manufacturer or local marine supply store for advice when selecting which one is right for you!
Can you sit in a kayak on the ground?
Yes, you can sit in a kayak on the ground. The best way to do this is to make sure that the seat of your kayak is properly inflated and that it is securely secured with straps or bungee cords.
Additionally, if you are going to be sitting in the kayak for an extended period of time, you may want to consider investing in a padded seat cushion for added comfort. When sitting on the ground in your kayak, be sure not to lean back too far as this could cause instability and potentially cause the kayak to flip over.
How long do plastic kayaks last?
Generally speaking, plastic kayaks can last anywhere between 10-15 years depending on the quality of the kayak and how it has been cared for. Typically, a plastic kayak will begin to show signs of wear and tear after 5 to 7 years of regular use. Plastic is more durable than other boats materials like fiberglass or aluminum, but it tends to be susceptible to sun exposure, so proper storage is key in helping your kayak last longer.
Kayakers should also look out for any structural damage caused by collisions with rocks or logs when out paddling. Regular maintenance (such as cleaning) will help keep your plastic boat in tip top shape and extend its lifespan significantly!
How do you store a fishing kayak?
Storing a fishing kayak can be a tricky task, especially if you don't have much space in your garage or home. The best way to store a fishing kayak is to hang it on the wall. This saves valuable floor space and keeps your kayak from getting scratched or damaged by bumps and dings. You should also use padding around any areas that may come into contact with other objects and surfaces when hanging, such as foam corner guards for added protection. Hanging storage systems designed specifically for kayaks are available at most sporting goods stores, so make sure to check them out before buying one. Once you have all the necessary tools and supplies, follow these steps:
Select an area in your home or garage where you want to hang your fishing kayak; make sure this space is dry and well-lit, so no dampness or mold will build up over time.
Measure the width of the hull of your fishing kayak as accurately as possible – this will be important when selecting the right mounting hardware. Depending on how big it is, there may be special straps needed for larger vessels since they could create too much weight for thinner steel hooks alone; figure out which will work best based on size and weight of your specific vessel beforehand!
Choose mounting hardware designed specifically for storing large boats like yours; think about what kind of material will fit inside any pockets or crevices located along its sides so that nothing shifts around while hanging up (elevator bolts are great). Make sure these pieces are secured tightly too - not just barely tight enough!
Choose tie-down straps rated high enough load capacity wise to handle the weight of your boat's hull plus its gear onboard (it should specify this information right on its packaging/label); then feed each strap through corresponding holes drilled into either wall studs or ceiling joists before looping back onto itself once more on top outside where desired - making double knots if needed here helps keep everything nice & secure!
The Right Kayak Canopy For You
After much research and exploration, we've come to the conclusion that choosing the right kayak canopy truly depends on your individual needs. Whether you're looking for something durable, lightweight, large or small, there is a kayak canopy just right for you. No matter which model you end up purchasing, you can rest assured that your precious cargo is safe and secure during your water-bound expeditions. We do hope that this article has been helpful in guiding your search for a kayak canopy! Thanks for reading and happy paddling!