7 White Crock Pot Slow Cookers To Spruce Up Any Kitchen
If you need a white slow cooker to match your kitchen decor, you have come to the right place. We found the top white Crock Pots for you!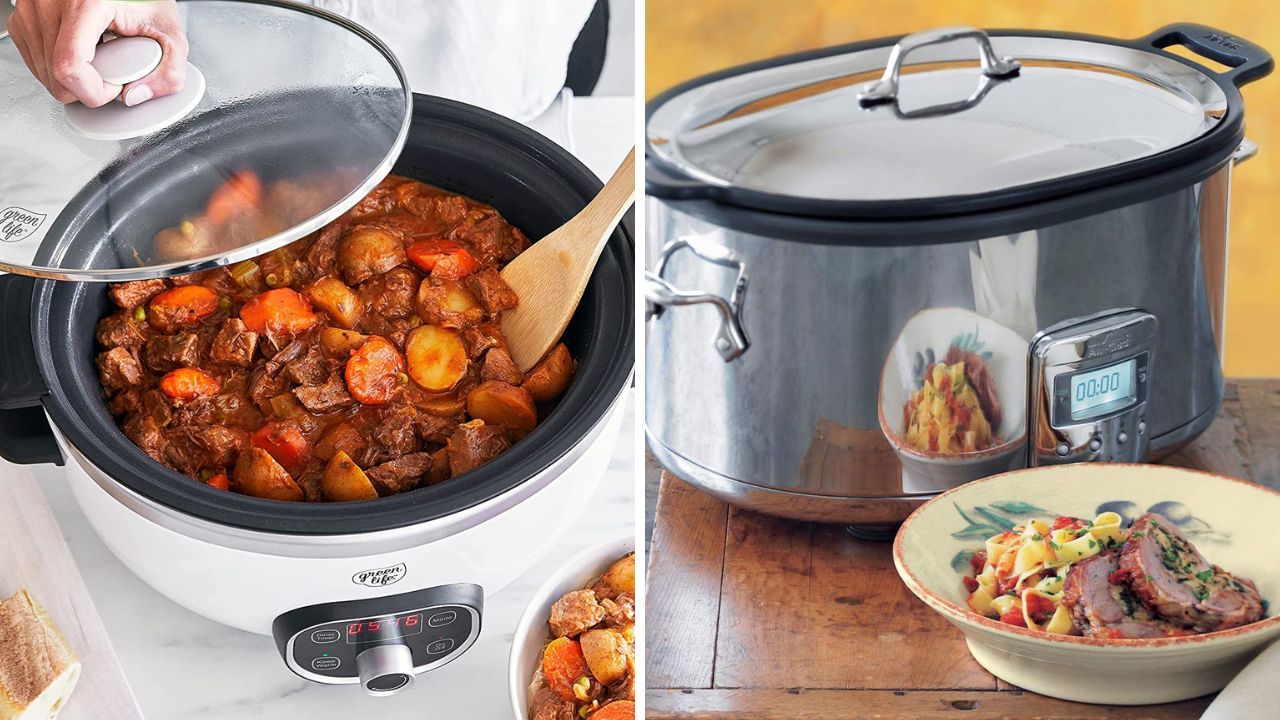 You know that amazing feeling you get when you walk into your kitchen and see a beautiful new appliance sitting on the countertop? It's like the universe is telling you that today is going to be a great day.
If you need to free up some more time in your life slow cookers are the solution! You can just throw all your ingredients in there and let it do its thing. Plus, with so many different options on the market, there's sure to be one that fits your needs.
If you're looking for a slow cooker that will really spruce up your kitchen, we've got just the thing. Check out our selection of white crock pots! They'll look great in any setting and they're easy to keep clean.
Keep scrolling to find our top picks!
How We Found The Best White Slow Cookers
Trying to find the best white slow cooker out there can be a daunting task. With so many different brands and models to choose from, how can you be sure you're making the right decision?
It's hard enough trying to figure out which crock pot is the best for your needs, but it's even harder when all of the information online is conflicting. Who do you believe?
We've done the hard work for you. We read through thousands of reviews to find the best white crock pots on the market. Whether you're looking for a programmable slow cooker or one with a timer, we've got you covered.
---
UnpackedReviews is reader supported, which means that when you click on links to products on our site and make a purchase, we may earn a commission. However, our opinions are our own, and we only recommend products that we genuinely love.
---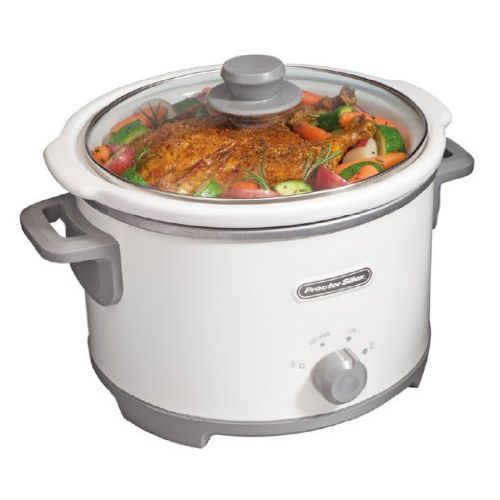 Proctor-Silex 33042 4-Quart Slow Cooker White
The Proctor Silex 4-Quart Slow Cooker is our top choice for the best portable slow cooker because it has all of the features you need to make great food in a small package. It's easy to use with its simple controls and four preprogrammed settings, including "keep warm'', which keeps your meal piping hot for up to two hours. The Proctor Silex also comes with a dishwasher-safe stoneware insert that makes cleanup even easier. The only thing we'd change about this model is its smaller 4-quart capacity, as opposed to 6 quarts or more on other models. That said, if you're looking for something that can cook enough food for one or two people, this is an excellent choice.
Check Price On Amazon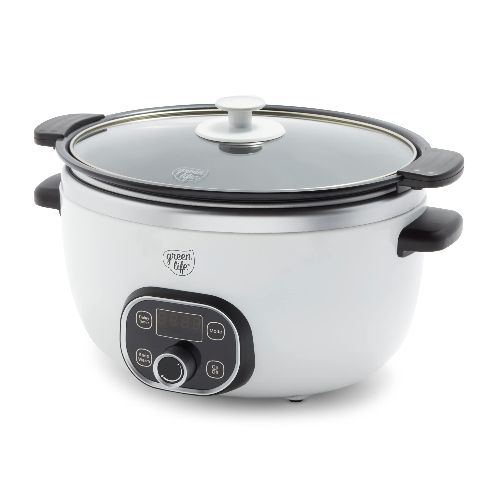 GreenLife Cook Duo Healthy Ceramic Nonstick 6QT Slow Cooker, PFAS-Free, Digital Timer, Dishwasher Safe
The GreenLife Cook Duo Healthy Ceramic Nonstick 6QT Slow Cooker is a great choice for anyone looking for a slow cooker that's both healthy and easy to use. This ceramic-coated nonstick pot is free of PFOA, PFOS, lead, and cadmium - making it safe to cook with so no need to worry about any harmful chemicals leaching from the material. The Healthy Cook Duo has three cooking modes. The delay timer lets you set it for up to 10 hours in advance so your meal can simmer away evenly throughout the day without overcooking. It also comes with an automatic shut-off feature which shuts down after a certain time frame, there's no worry about leaving this on while you go out or run some errands. Rounding out the features of this slow cooker are removable handles which allow you to transfer your dish straight onto the stovetop or into the oven if need be.
Check Price On Amazon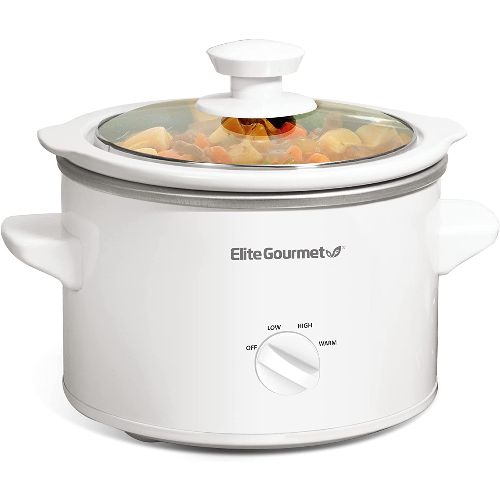 Elite Gourmet MST-250XW Electric Slow Cooker Ceramic Pot, with Adjustable Temp, Dishwasher Safe (1.5 Quart, White)
The Elite Cuisine Mini Slow Cooker is a great choice for anyone who wants to cook for one but doesn't have the space for a full-sized slow cooker. It's small and compact, with an oval shape that will fit into most kitchens well. The 1.5-liter capacity of this mini slow cooker means it can hold smaller amounts of food than larger models, so you don't need to worry about running out of cooking space mid-meal. The removable stoneware pot is easy to clean and includes three different cooking programs - low, high or keep warm - which are controlled by the convenient dial on the front. These settings allow you to choose between simmering gently and simmering more quickly, as well as allowing you to switch the cooker off while leaving food in the pot without losing heat. This makes it ideal if you're making dishes like pasta sauce where it needs to be kept warm throughout cooking time.
Check Price On Amazon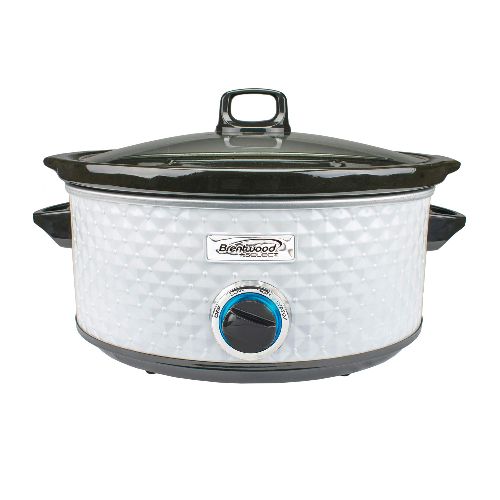 Brentwood Select SC-157W Slow Cooker, 7 Quart, White 7 Quart White
The Brentwood SC-157W is a large capacity slow cooker that can be used to make large batches of food. The seven quart capacity means you can cook for much larger groups or even have enough food to save. The ceramic coated cooking base ensures even heat distribution, while the three heat settings ensure you can cook your food at exactly the right temperature. If it's not ready yet, just press the 'warm' button and let it sit until it reaches your desired temperature. Weighing in at over 9 pounds this is one of the heaviest slow cookers we reviewed, but if you need that extra capacity then that's what makes this model so good for larger families or groups preparing meals together.
Check Price On Amazon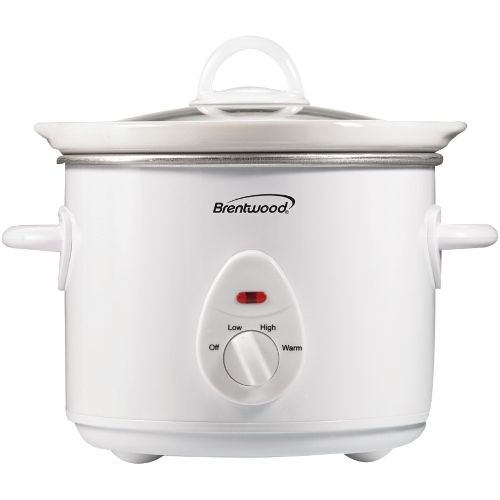 Brentwood Appliances SC-135W 3-Quart Slow Cooker (White)
If you're looking for a slow cooker that will make cooking family meals simple and effortless, then this 3-quart appliance is the one for you! Its 'warm' setting keeps dishes at serving temperature after cooking is completed and the removable crockery makes meal transportation a breeze. Meals crafted in this slow cooker come out perfectly cooked every time--whether it be chicken and veggies, soup, or pork roast. The price tag of this small size slow cooker is definitely worth it given its performance—you won't regret taking a risk on this little known brand.
Check Price On Amazon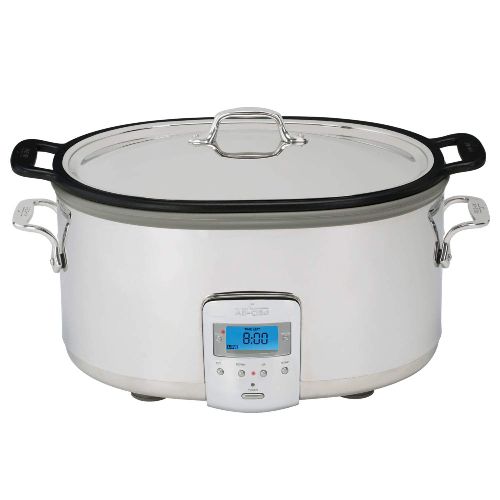 All-Clad SD700350 Slow Cooker, 7 Quart, Silver 7 Quart Cast Aluminum Insert
The All-Clad SD700350 7Qt Slow Cooker is a large capacity model that can cater for up to 12 people at once. As such it's ideal for cooking for the whole family, or perhaps even your guests in a big house party situation. It has four main cooking modes which allow you to cook food for up to 26 hours at a time - perfect if you're catering for an extended stay holiday, or just like home cooked meals that are ready when you get back from work. The All-Clad 7Qt Slow Cooker also comes with four intuitive digital buttons making use of an ergonomic, clear LCD screen and large push button controls all designed for ease of use and an intuitive interface - this makes this slow cooker a real winner!
Check Price On Amazon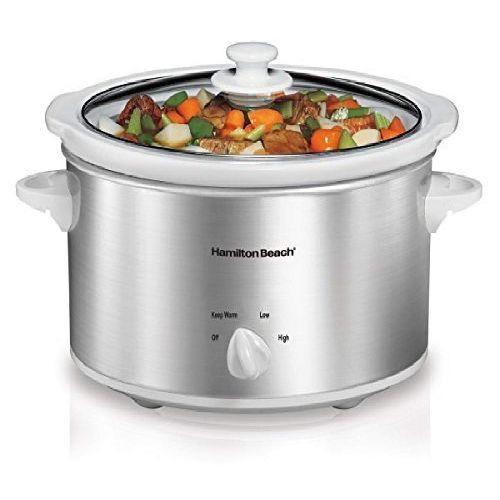 Hamilton Beach 4-Quart Slow Cooker with Dishwasher-Safe Stoneware Crock & Lid, Stainless Steel (33140V) 4 Quart Cooker
Hamilton Beach is a household name when it comes to affordable kitchenware, and this 4-quart oval slow cooker is no different. It's not quite as large as some other models we looked at, but it has four cooking programs and an easy-to clean dishwasher-safe stoneware crock and lid. The Hamilton Beach oval slow cooker also features a removable stoneware crock for easy cleanup, so there's no need to worry about scratching your new pot with a plastic spatula every time you stir something on the stovetop. The Hamilton Beach 4-quart oval slow cooker is an affordable option for anyone looking for a reliable basic model that doesn't break the bank.
Check Price On Amazon
Most Commonly Asked Questions About Slow Cookers
Slow cookers are a great way to make hearty, homecooked meals without spending all day in the kitchen.
The only problem is that figuring out how to use them can be tricky. There are so many buttons and settings, it's easy to get overwhelmed.
Without an easy to use app, we found and answered the most commonly asked questions about slow cookers so you can make an informed decision.
What temperatures do slow cookers reach?
Slow cookers reach temperatures between 170-280°F (77-138°C). Slow cookers are generally safe and considered one of the best ways to prepare food.
They typically have a minimum setting of low (or around 170°F/77°C) and a maximum setting of high (around 280°F/138°C). The exact temperature range may vary slightly depending on the model and manufacturer, so you should always refer to your slow cooker's manual for specific instructions.
The key benefit of using a slow cooker is that it cooks food over an extended period, bringing out the flavors in even tougher cuts of meat like beef brisket or pork shoulder that require a longer cooking time at lower temperatures. This is why they're often used for stews and braises, which need to be cooked wet and low to break down tough muscles.
Some recipes call for cooking at higher temps than what's available on your slow cooker—in these cases you can preheat some ingredients before adding them in order to bring up their temperature or use other methods such as par boiling or searing before or after slow cooking each ingredient individually with proper timing.
How much electricity do slow cookers use?
Slow cookers are an incredibly convenient and energy-efficient way to prepare meals. According to the U.S. Department of Energy, slow cookers typically use between 45 - 75 watts per hour, which is equivalent to less than one cent (0.07 cents) of electricity per hour when used on the low setting for 8 hours.
This amount can vary depending on the size and model of your slow cooker - larger models may require more electricity since they need a longer cooking time to heat up the contents within them.
It's important to keep in mind that if you're using a timer for long-term cooking such as overnight or all-day usage, this could affect how much electricity is used by your slow cooker, so it's always best practice to check your appliance's user manual for more information about power usage.
What are the benefits of a slow cooker?
If you find yourself with little time and kids to feed, that could be a sign that a slow cooker may be right for you.
Slow cookers are a convenient and economical way to prepare meals with ease. By using low heat over long periods of time, slow cookers allow you to extract maximum flavor from your ingredients while preserving nutrients that would otherwise be lost during high-heat cooking. Slow cooking is also a terrific solution for busy lifestyles; you can throw in all the ingredients in the morning before work and come home to an amazing meal at night.
The benefits of slow cooking include:
1. Cost savings – Slow cookers typically use less energy than traditional methods such as stovetop or oven preparation, saving both money and time on utilities bills; dishes suitable for slow cooker will usually require fewer expensive cuts of meat since longer cooking times allow cheaper cuts to tenderize.
2. Convenience – As mentioned above, benefitting from the convenience aspect means no more coming home after a long day at work only having enough energy or willpower to order takeout! Instead, delicious one pot meals can be created quickly in advance with minimal fussing needed later on when it's time to eat (and you get the added benefit of leftovers!).
3. Nutrition retention– Slow cooked meals preserve vital vitamins and minerals lost by other forms of higher-heat techniques like baking or frying, meaning your body gets maximum nourishment while minimizing unwanted fat content associated with these techniques (bonus!)
4. Beauty rest – The set it and forget it mentality helps busy folks get an extra hour or two back in their day without sacrificing meal quality—perfect for those days where rest is just as important as sustenance!
How many people does a slow cooker feed?
A slow cooker typically has a range of capacity from 1.5 to 7 quarts, and the size will determine how many people it can feed. Generally, a 3-quart slow cooker is suitable for three to four people; a 4-quart slow cooker fits four to six people; and a 6-quart model can feed up to eight people.
However, for larger households or occasions like parties where multiple dishes are served, selecting a larger size may be more efficient since some recipes make too much food for smaller units.
Has a slow cooker ever caused a fire?
It is a rare occurrence but yes, slow cookers can cause fires. In fact, according to the US Consumer Product Safety Commission (CPSC), there were 57 incidents between 2009 and 2013 involving slow cooker fires.
These fires were caused by faulty electrical components inside the appliance that caused it to overheat and ignite items in its vicinity, such as towels or potholders.
While these cases are incredibly rare – representing only about 1% of all cooking appliance-related fires during this period – it is important for consumers to follow safety guidelines when using their slow cooker.
The CPSC recommends consumers use a surge protector with their slow cooker, unplug the device while not in use, and never place combustible materials near it or on top of it while cooking.
Where is the best place to buy a slow cooker?
The best place to purchase a slow cooker is from an online web page. Its easy to find the top of the line selections.
You can look at online retail stores like Amazon or Walmart to find one that meets your needs. They usually have more products in stock than a brick and mortar retailer. You can also connect with many of your favorite brands online.
The only thing that can be problematic is it requests that you prove you are not a robot before placing your order.
The Right White Slow Cooker for You
So there you have it, the best white crock pots on the market according to our findings. We hope this saved you some time in your search for a new crock pot and that you found our article helpful!