9 Genius Storage Hacks for Storing Towels with No Space
If you have a storage crisis with limited bathroom space we have some great options to store your towels!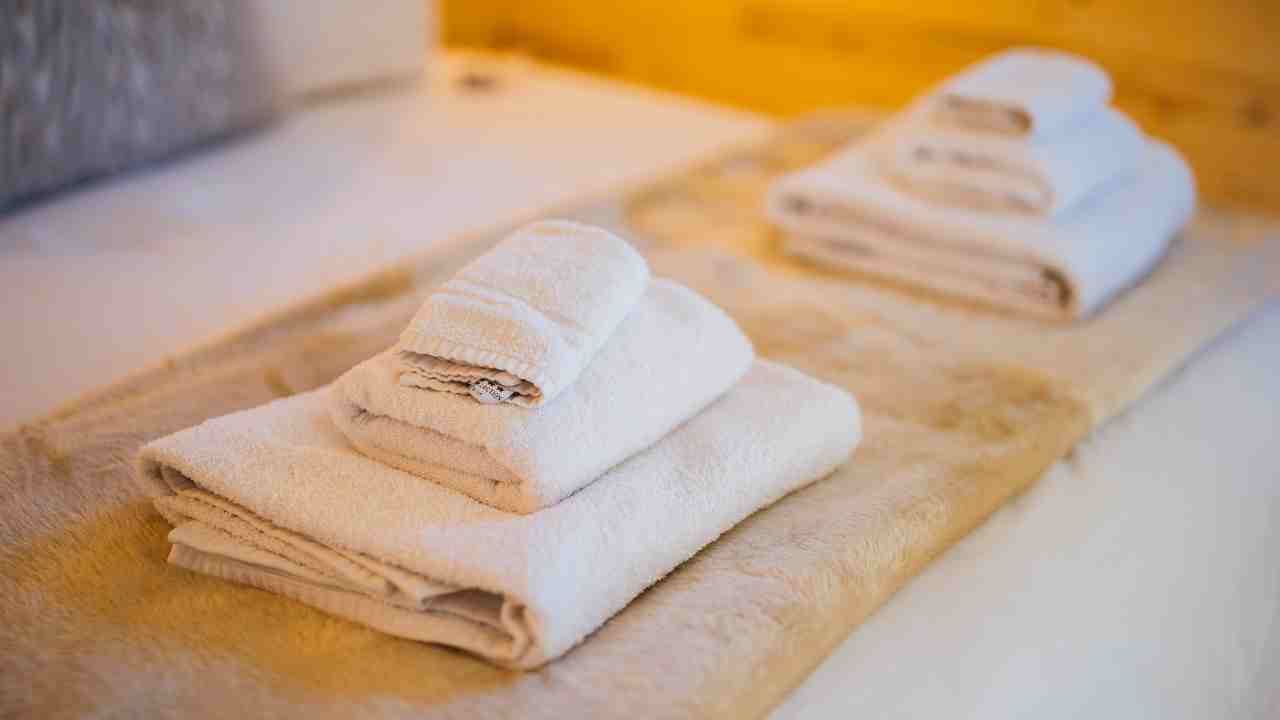 If you have a bathroom with no storage, it can be difficult to find a place to store your towels. But don't worry—there are plenty of clever solutions that will help you store towels in a bathroom with no storage. From hanging them on ropes to organizing them in baskets, these nine genius storage hacks will help you get your towels out of the way and maximize your small space!
Display Them On A Rope
This is one of the simplest and most stylish ways to display your towels in a small bathroom. Simply hang two sturdy ropes between two walls (or from wall hooks) and hang your folded towels on the rope. Not only does this method not take up any floor space, but it looks beautiful and is incredibly functional as well!
Roll Them On A Wine Rack
If you have an old wine rack lying around, you can repurpose it into an elegant towel holder. All you need to do is lay out your towel on a flat surface and roll it up like a burrito before placing it on the wine rack. This hack allows you to keep all of your towels neatly organized while taking up minimal space!
Stack Them On A Chair
If you have an open chair or stool in your bathroom, you can use it to store extra towels! Simply fold each towel into thirds lengthwise and stack them on the seat of the chair or stool. Not only does this save precious floor space, but it also adds some cozy texture and color to the room!
Organize Them In Baskets.
Baskets are a great way to store extra towels without taking up too much floor space or cluttering up the room. Place baskets near the sink or bathtub so that they're easy to reach when needed and organize each basket by color for an added touch of style!
"Float" Them On The Wall
Floating shelves are another excellent option for storing towels if you don't have any storage cabinets available. Hang floating shelves above the toilet or near the sink and place rolled-up towels on top for easy access when needed! Be sure to measure twice before drilling holes into the wall so that everything hangs level and securely!
Store Them In A Metal Tub
Metal tubs are great for storing large amounts of folded towels without taking up too much space. They look great when placed near a vanity or next to the bathtub — just make sure there's enough clearance underneath for people to move around without hitting their heads!  
Stash Them In A Hanging Box
Hanging boxes are perfect for storing folded hand towels in tight spaces like under sinks or behind doors. Just attach a few hooks onto your walls or cabinet doors, then hang boxes from those hooks. You can even add labels so that everyone knows where their towel is stored!  
Drape Them On A Door Ladder
A door ladder makes for an attractive way to store extra hand towels in bathrooms with limited countertop space . All you need is an old wooden ladder (you can find these at flea markets), then simply drape clean folded hand towels over each rung. It's both decorative and functional!  
Conclusion:
With these nine genius storage hacks, finding places to store extra towels in bathrooms with no storage doesn't have to be a challenge anymore!  The best part? These hacks not only keep things neat & tidy - they look great too! So don't let limited storage stand between you & having an organized & stylish bathroom! Start using these nine genius hacks today!
A ladder towel rack is a great option: