How To Organize Your Bathroom: Tips And Tricks
Take back your bathroom with these easy tips and tricks! Learn how to organize the mess in your bathroom and create more space.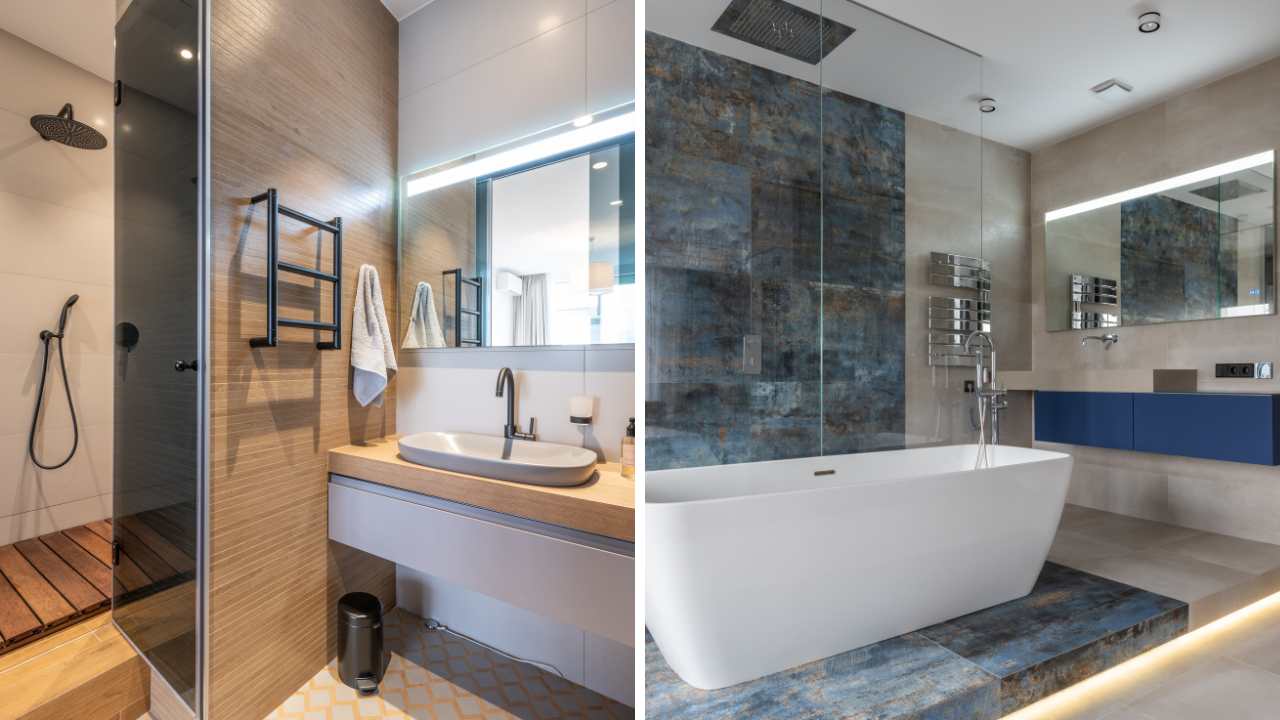 Does your bathroom seem like a total mess every time you try to use it?
Getting your bathroom organized doesn't have to be an overwhelming task.
It just takes some planning and consistency. From organizing the drawers, cabinets and shelves to decluttering items that don't belong in the bathroom – these tips will help you make your space not only tidy but also functional!
With a well-organized setup, it can become easier than ever before to get ready each morning.
Imagine being able to find all of your bathing supplies, such as soap, shampoo and towels all in one place. No more rummaging through things or feeling stressed out while getting ready for work!
Learn how to transform your cluttered bathroom into an oasis of cleanliness by reading this post now!
Why You Should Take The Time To Organize
Bathrooms can easily become cluttered and disorganized, making them not only messy but also potentially hazardous.
Nobody likes a cluttered bathroom – it is unsightly, unhygienic and can make you feel overwhelmed just by looking at it. It's time to stop living with the mess and take control of your space!
Take control of your bathroom today with our easy-to-use organizational tips! Keep your bathroom clean and organized because your wellbeing should come first.
First Step Is To Declutter (Don't Skip This)
You will invariably wind up with more stuff than you need or even use.
The first thing you need to do is go through anything you have not used since the last time you can remember and get rid of it. Keeping it around is creating a mental drain.
Decluttering before you get any organizational tools helps you see what exactly you have in your bathroom and the items that you need to keep.
This way, you can utilize space more effectively and even find new ways to store things when necessary.
Now that you have decluttered, it's time to start organizing! Here are some helpful tips for getting your bathroom dialed in.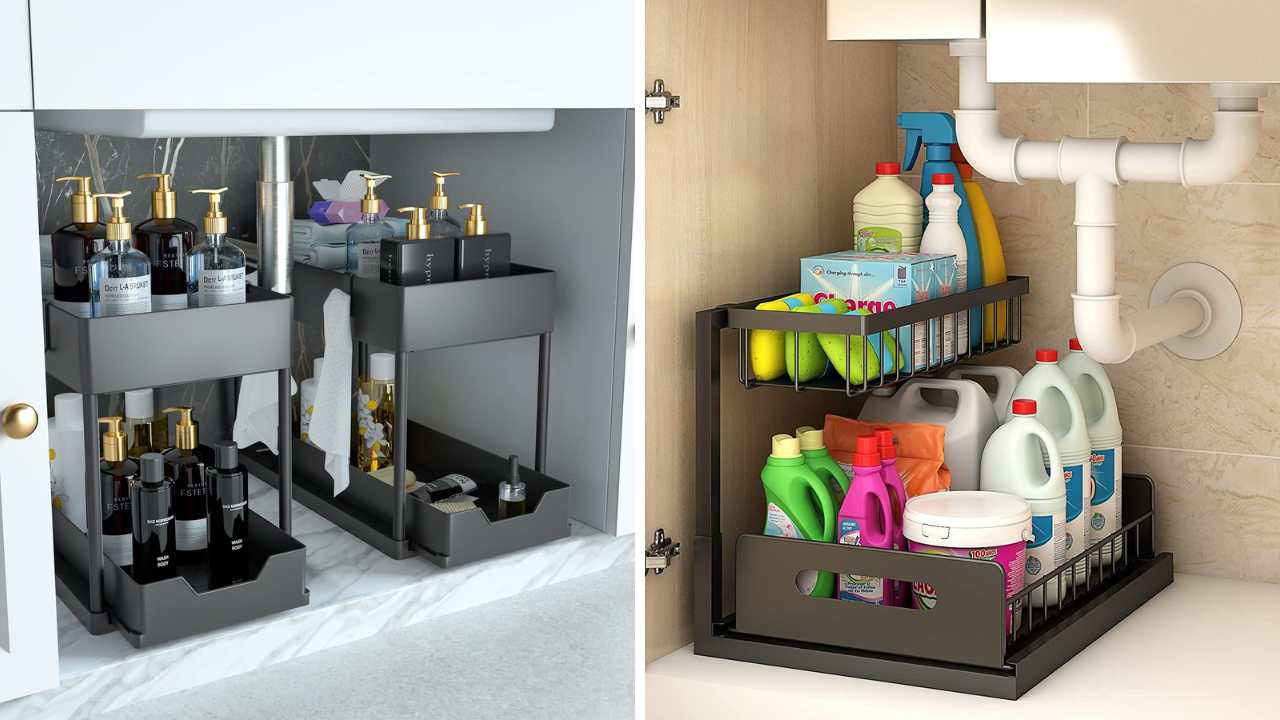 Maximizing Bathroom Space: Creative Storage Ideas
One of the biggest challenges in a bathroom is lack of space for storage. However, with some creativity, you can maximize your bathroom storage space.
If you consider vertical space there should be plenty of bathroom organization ideas to choose from. From the bathroom cabinets to the empty wall space you can find room in a small bathroom.
Consider installing floating shelves above your toilet or inside cabinet doors. Use a tension rod to hang cleaning products or towels under the sink.
Over-the-door towel bar and hooks can also be a great addition to hang towels, bathrobes, or wet items.
You can even have a rolling cart or a decorative basket to store extra toilet paper, towels, and other supplies.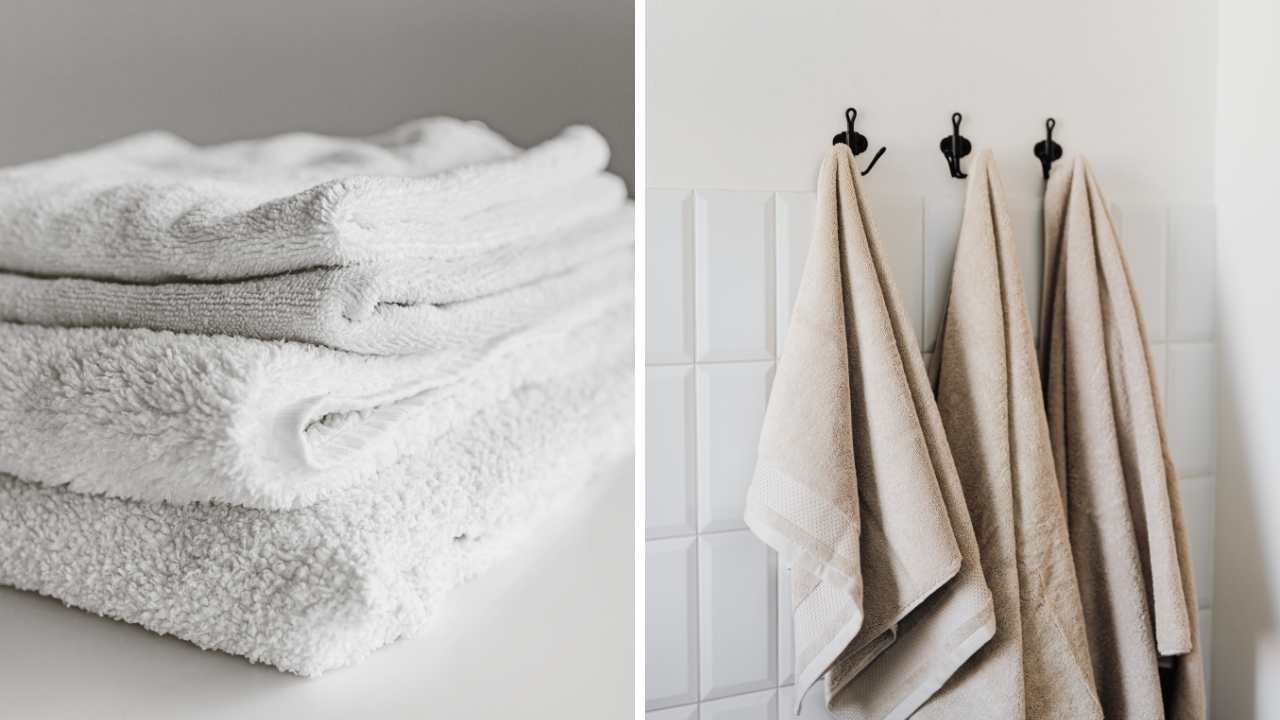 Mastering the Art of Bathroom Organization: Basic Principles
The main principles of bathroom organization are to group similar items together, use the right storage items, and to keep surfaces clean and clutter-free.
Use storage containers to organize items like hair accessories, cotton balls, and makeup.
Place frequently used items in easy-to-reach spots and store lesser-used items in a drawer or cabinet.
Using a wall mounted toothbrush holder with extra storage is a great way to keep those products off of the counter.
Organize makeup and toiletries in a drawer with dividers or trays. Label everything that you can to make sure you always know where the items are.
Remember to declutter regularly! Throw out any expired products and donate items that you don't use or need anymore.
Essential Products for Shower and Bath Organization
A cluttered shower or bathtub can be hazardous and visually unappealing. An over-the-showerhead organizer can help you to store your shampoo, conditioner, and shower gels in a sleek and organized manner.
Hook racks and suction organizers can hold your loofah, razor, and cleansing brush.
A razor holder is a very versatile piece of storage kit for your bathroom!
A toothbrush holder will keep your most used item safe and secure, while a  basket can store extra supplies such as cotton balls, Q-tips and other items.
Shower caddies, and clothes hampers are other essentials you should consider keeping close to hand.
Creating a Daily Routine for a Clean Bathroom
Once you've gotten your bathroom organized, maintaining it will ensure it stays clean and clutter-free. Creating a daily routine for upkeep can help you to keep your bathroom in top shape.
Dedicate a few minutes each day to wipe down surfaces, put items away, and spot areas that need cleaning. This is very important if you have a small bathroom with something like a pedestal sink.
Organizing Your Medicine Cabinet: Best Practices
Your medicine cabinet may be the most important aspect of your bathroom organization.
Sort your medicine by type, either by category or by person, and dispose of anything that is expired or no longer needed.
Use storage bins or dividers to keep things organized and easy to find. The small space usually has limited shelf capacity so be strategic on what you keep here.
If you don't have many medications you can consider other bathroom items like toothbrush, toothpaste and deodorant.
Divide Your Drawers With Bins Or Dividers
Using clear bins or dividers in your drawers will help add additional storage  and organization to your bathroom. They will help you keep items grouped together and easy to find.
You can also use these dividers to store makeup, hair accessories, jewelry, and other small items. Use smaller dividers for things like cotton balls or Q-tips. Using bins will also make it easier to clean out your drawers when needed.
With the right organization and storage, you can make any bathroom appear larger and more organized. From small bathrooms to large ones, there are plenty of organ
Use Stacking Bins
One great way to use vertical space is to use stackable bins so that your items are always organized and you can get more storage with the same space.
For example, you can buy tall stacking bins to put in your closet or storage shelves and use them for items like toilet paper, towels, and other supplies. This way you'll have more room for other items and keep everything neat and tidy.
It's also a great way to make sure that all the items are easily accessible when needed.
Use Modular Drawer Dividers
Using modular or DIY drawer dividers gives you the most flexibility  when it comes to organizing your drawers. You can customize the dividers, move them around as needed, and make sure that everything fits perfectly.
You can use small modular drawer dividers for items like makeup or jewelry, while larger ones work great for bathroom supplies and towels.
Label So You Know What's In There
Be sure to label everything so that you know what you put in the bin or drawer. This will make it easier to find what you need and ensure that everything is staying organized.
You can use a label maker, printable labels, or even handwritten ones. When labeling drawers, consider using color-coded labels so that you know at a glance which drawer contains which items.
Towel Organization: Tricks to Keep Them Neat and Tidy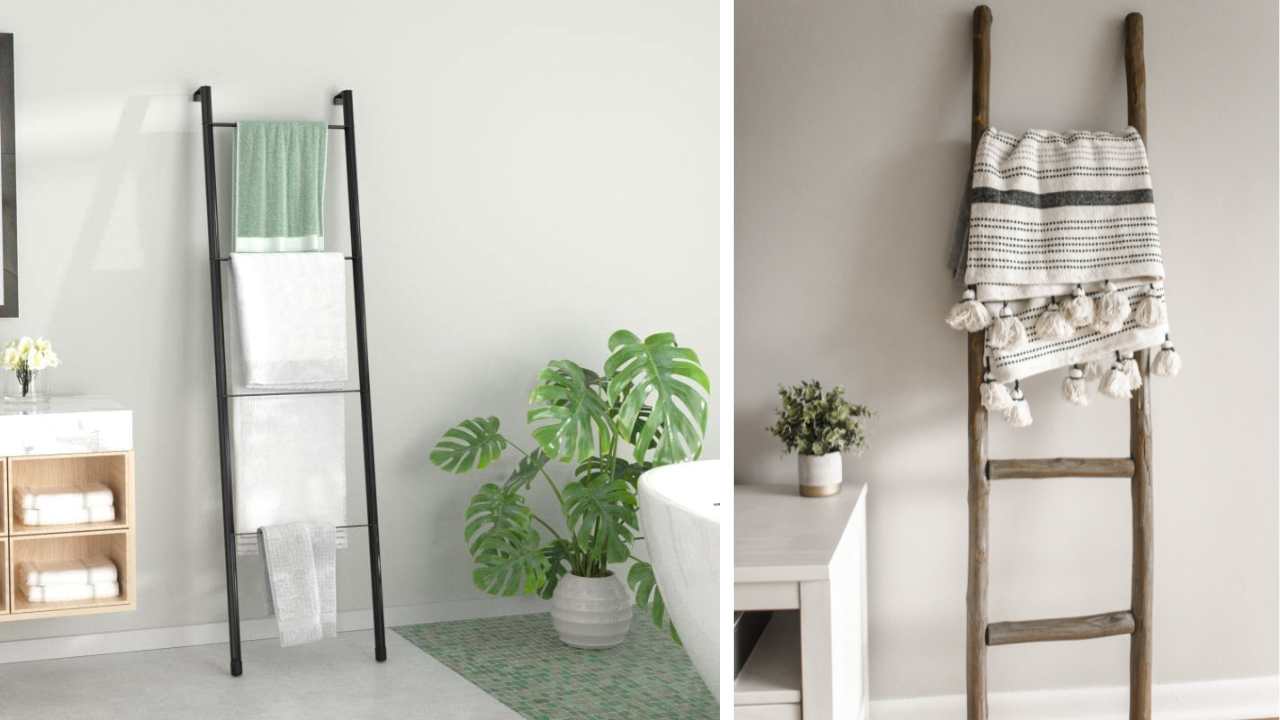 Towels can take up a lot of space and can easily become disheveled on hooks or racks. To keep towels neat and tidy, fold them into thirds or in half and then in thirds before hanging them up. You can also add a basket or shelf to stack your towels if you prefer.
Our favorite item for towel storage is a Ladder Towel Rack. This item can be used in many ways to spruce up your decor and store bath towels or even add shelf space.
They take up minimal floor space and are more efficient than standard towel bars or a linen closet.
How to Keep Counters Clear
The key to keeping your bathroom counters clutter-free is to use only the essentials. Keep your everyday items like a soap dispenser, toothbrush, and hand towels on the counter. Store other items in drawers, shelves or cabinets.
Use an over the shower head shower caddy to fill in that empty space and store your soaps, shampoos and conditioners.
It should go without saying but keep clothes off the counter by having a laundry basket handy in your bathroom as well. Just be sure to dry wet towels before throwing them in there.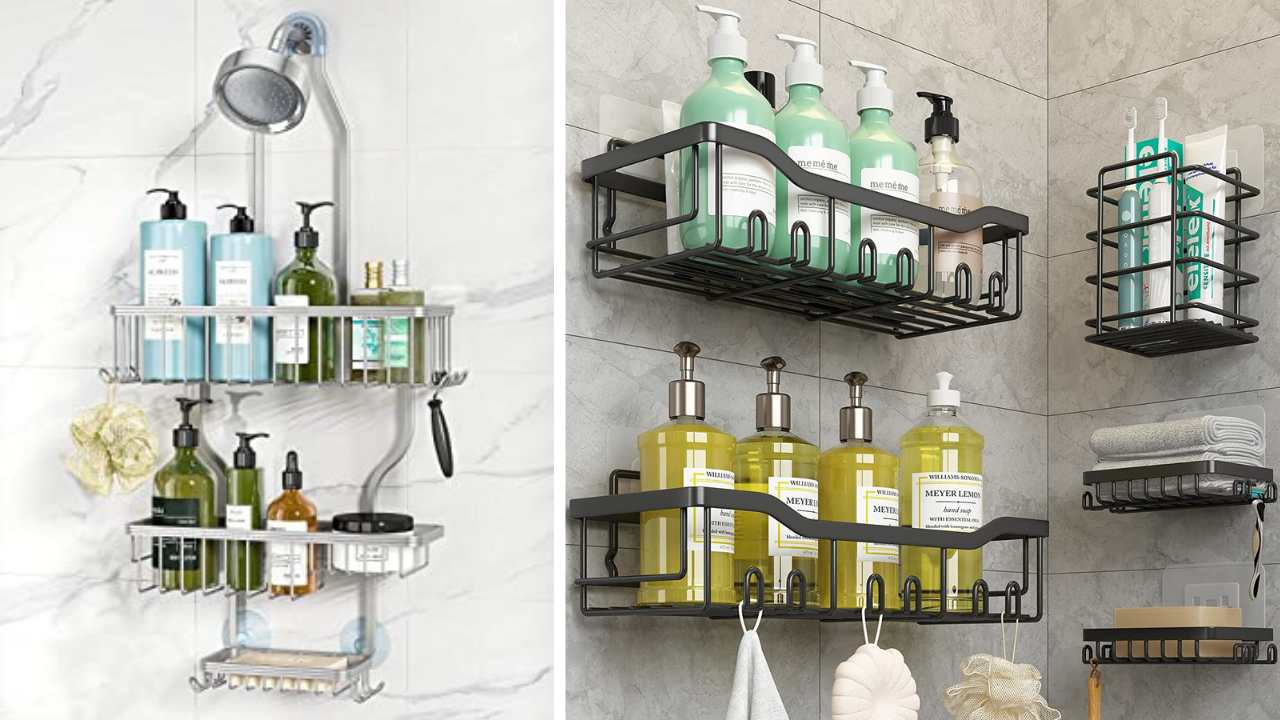 Keeping It Clean and Tidy: Maintenance Tips for Your Organized Bathroom
Keep in mind that maintenance is key when it comes to an organized bathroom. Regular cleaning and decluttering can prevent build-up and mess. Make sure to invest in the right storage options and products to sustain your routine successfully.
Store toilet paper on a hanger or roll to free up counter space and tuck away items that you don't use on a daily basis.
If you have small items like cotton balls, makeup remover pads or Q-tips, store them in mason jars with labels for easy access and organization.
Finally, designate a place for every item so that your bathroom remains organized and clutter-free.
Keeping cleaning supplies nearby can help with being able to clean a mess in the moment rather than put it off.
Conclusion
So there you have it! We hope these tips help you to transform your bathroom into a clean, organized, and relaxing space. Maximizing your storage space, grouping similar items together, and implementing a daily routine will keep your bathroom looking put-together and tidy. Don't forget to maintain your routine and ensure that it stays clutter-free. Happy organizing!