A Guide to Storing Reusable Water Bottles
Learn how to store your reusable water bottles for optimum use and hygiene. Its trickier than you may at first think!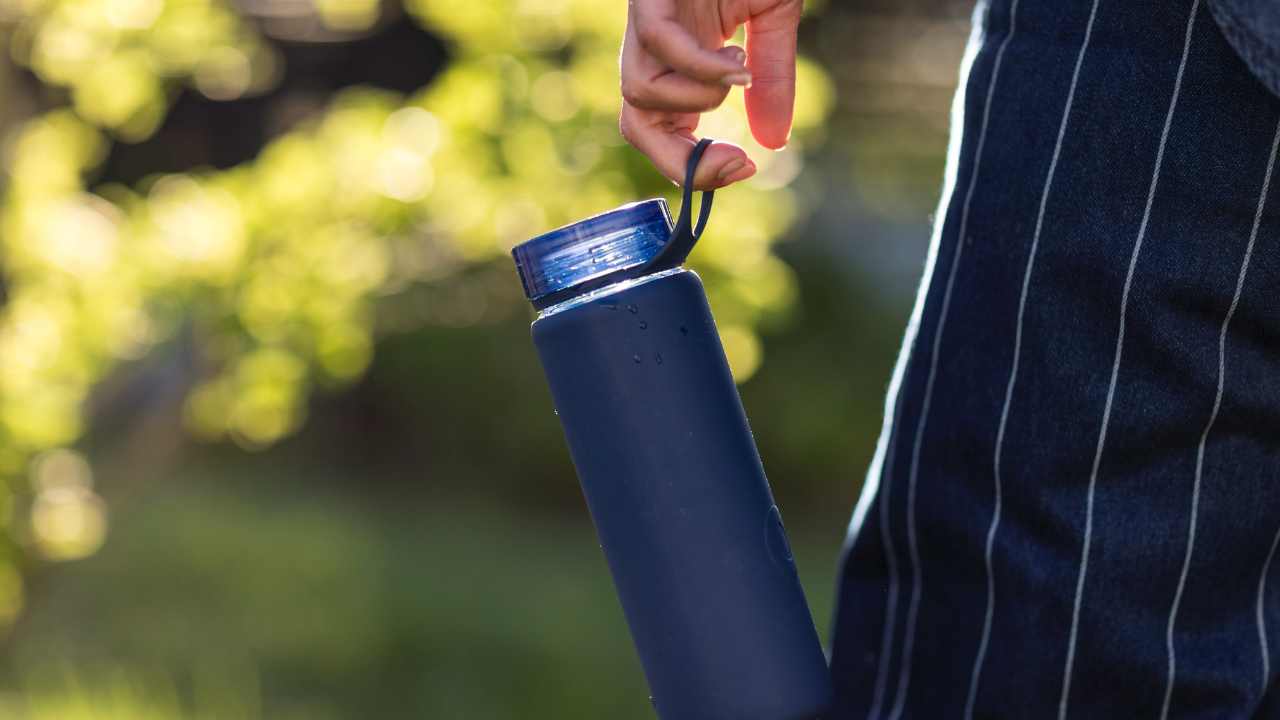 If you're trying to break away from single-use plastics, investing in reusable water bottles is a great first step. But if you have multiple water bottles, how do you store them? From utilizing space-saving solutions to taking advantage of wall space, there are plenty of strategies for keeping your collection organized and easily accessible. Let's take a look at some of the best ways to store your reusable water bottles.
Utilizing Space-Saving Solutions  
One way to maximize storage space is by utilizing space-saving solutions like stackable shelves or racks. These types of solutions are perfect for those with limited space because they allow you to store multiple water bottles in a relatively small area.
Stackable shelves are especially useful if you have different sizes of bottles; simply stack the larger ones on the bottom and the smaller ones on top. Additionally, some retailers offer special racks specifically designed for storing water bottles that make it easy to keep your collection organized and accessible.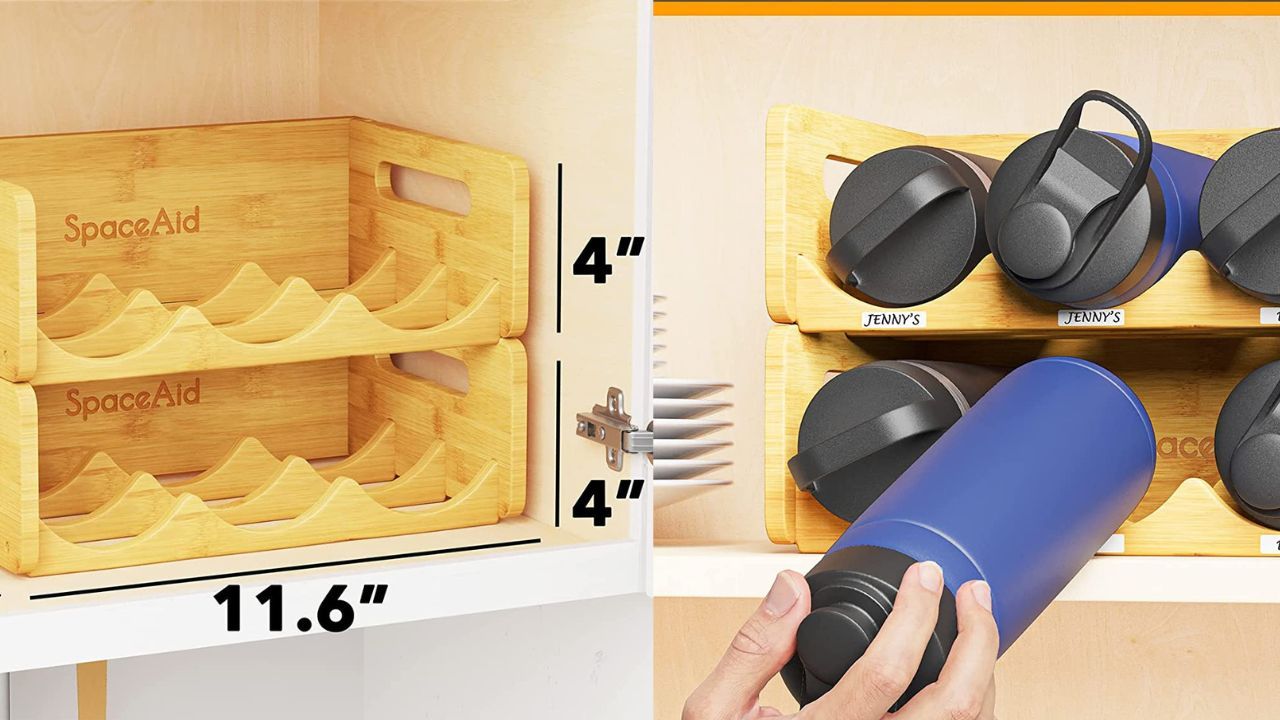 Taking Advantage of Wall Space
If you want an even more efficient way to store your reusable water bottles, why not take advantage of wall space?
Installing hooks or racks on the walls is a great way to keep your collection off the floor and within easy reach whenever you need it. You can also use adhesive hooks if you don't want any permanent fixtures in the room.
This is particularly convenient if you live in a rental property and don't want to damage walls or leave behind any evidence when moving out!
Hanging Baskets as Storage
Another great way to store multiple water bottles is by using hanging baskets. Hanging baskets come in all sorts of shapes and sizes, so they can easily fit into whatever area you have available in your home or office.
Plus, they provide quick access whenever you need a bottle refill! Alternatively, if hanging baskets aren't quite what you're looking for, there are also other types of baskets like wicker or woven ones that can be placed on shelves or tables for easy access when needed.
The Complete Guide to Storage Options for Reusable Water Bottles
Reusable water bottles are a great way to stay hydrated while being eco-friendly. But when it comes to finding the right storage solution, things can get tricky. Here's a comprehensive guide on how to store your reusable water bottle and other useful tips and tricks.
Ideas for Storage
Place your reusable water bottle in a designated drawer or cabinet in your kitchen - this is easy to access and keep track of.
Install hooks, or use existing ones, under cabinets for easy access and convenience without taking up counter space.
Utilize shelves and wall space by attaching organizer hooks or holders for quick access when you're running out the door with your bottle in hand!
Install wire shelving systems near the entryways so you can pick up your reusable water bottle on the go!
Use an over-the-door hanging rack that has several pockets to store multiple bottles - perfect if more than one family member uses them regularly!
Hang organizers on the inside of pantry doors or cabinets for easy reachability when putting away items after grocery shopping trips!
Attach magnetic strips onto walls near entryways to keep reusable water bottles close while they're not being used, as well as lids and other helpful accessories such as straws or spouts!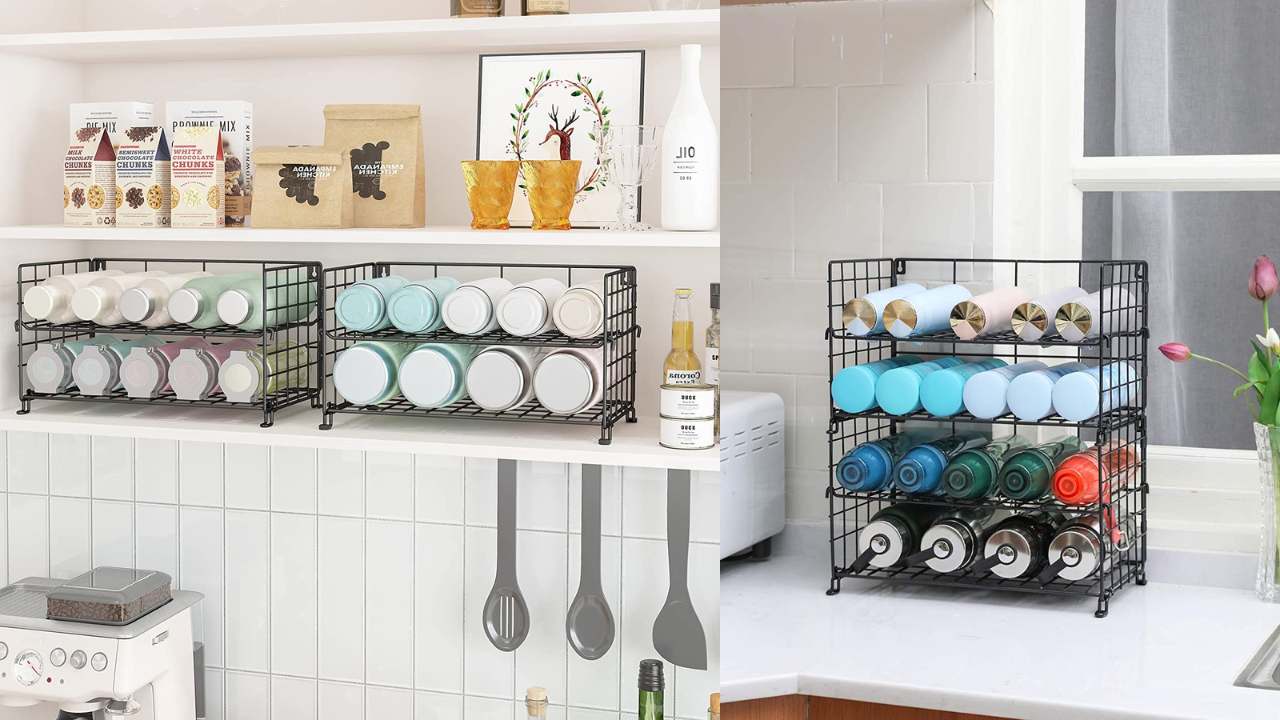 Tips & Tricks:
Label all of your water bottles so there's no confusion about who each belongs to - especially if multiple people are using them regularly (you can even add initials)!
Place collapsible canteens into backpacks or gym bags for easy transport and convenience on hot summer days!
If you don't have any countertop space but want an easily accessible solution, hang a basket from the ceiling and place your reusable water bottle in it - just make sure it's securely fastened!
When storing larger jugs or gallon containers, look for taller shelves or creative placement solutions like utilizing high corners or spaces above refrigerator boxes!
Following these tips will ensure that you have plenty of options available when it comes time to store all those wonderful reusable water bottles!
Conclusion
Storing reusable water bottles doesn't have to be difficult—there are plenty of options available depending on your needs and preferences! Whether you're looking for something small and compact like stackable shelves or something more creative like hanging baskets, there's bound to be something that works for your lifestyle and storage needs. With these tips in mind, organizing all your reusable water bottles should be a breeze!
Check out our other content below: