6 Best Snowboard Wax Kits for the Perfect Tune Up
Do you need to get your snowboard squared away for your next ride but dont have the right tools? We found the best tuning kits on the market!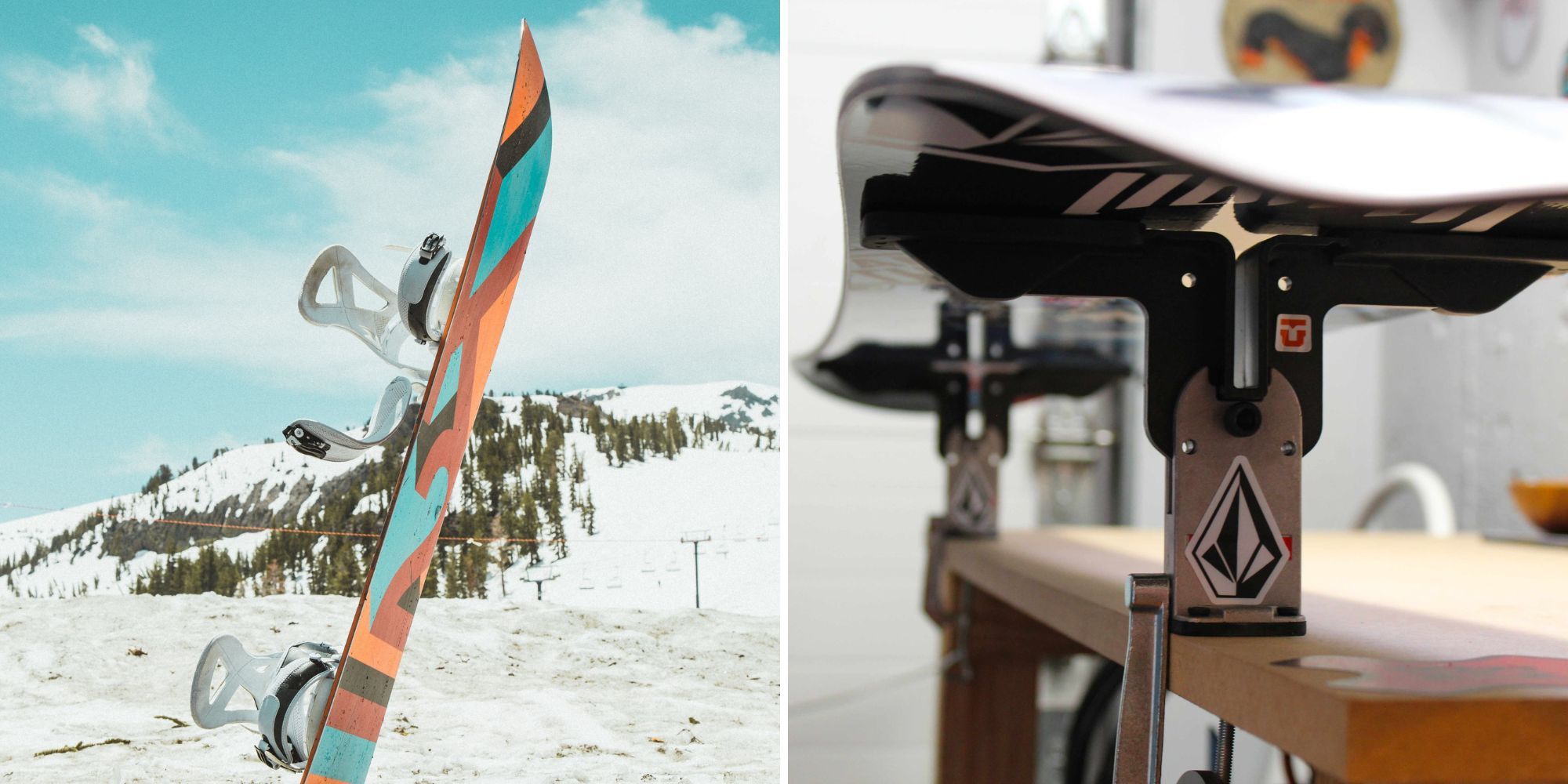 If you're a snowboarder, then you know that keeping your board in good condition is key to having a great time on the slopes.
A good tune-up can make all the difference, and that's where a snowboarding wax kit comes in. In this article, we'll take a look at some of the best kits on the market and help you choose the one that's best for you.
So whether you're just getting started with snowboarding or you've been riding for years, read on to find out more about the best wax kits available today!
How We Found the Best Snowboard Wax Kits on the Market
Waxing your snowboard is essential for a good ride, but it can be hard to know which wax kit is right for you.
There are so many different wax kits on the market, and it can be tough to figure out which one is best for you. Not only do you need to worry about the type of wax, but you also need to think about the temperature range that the wax is effective in.
We've read thousands of reviews to find the best snowboard wax kit for you. Our selection includes top-rated brands like Swix, Toko, Demon United, and Black Diamond. Whether you're a beginner or an expert rider, we have a kit that will meet your needs. We have chosen the top waxing kits with wax, edge tool for the best edge angles, and brushes, we have something for everyone's needs!
---
UnpackedReviews is reader supported, which means that when you click on links to products on our site and make a purchase, we may earn a commission. However, our opinions are our own, and we only recommend products that we genuinely love.
---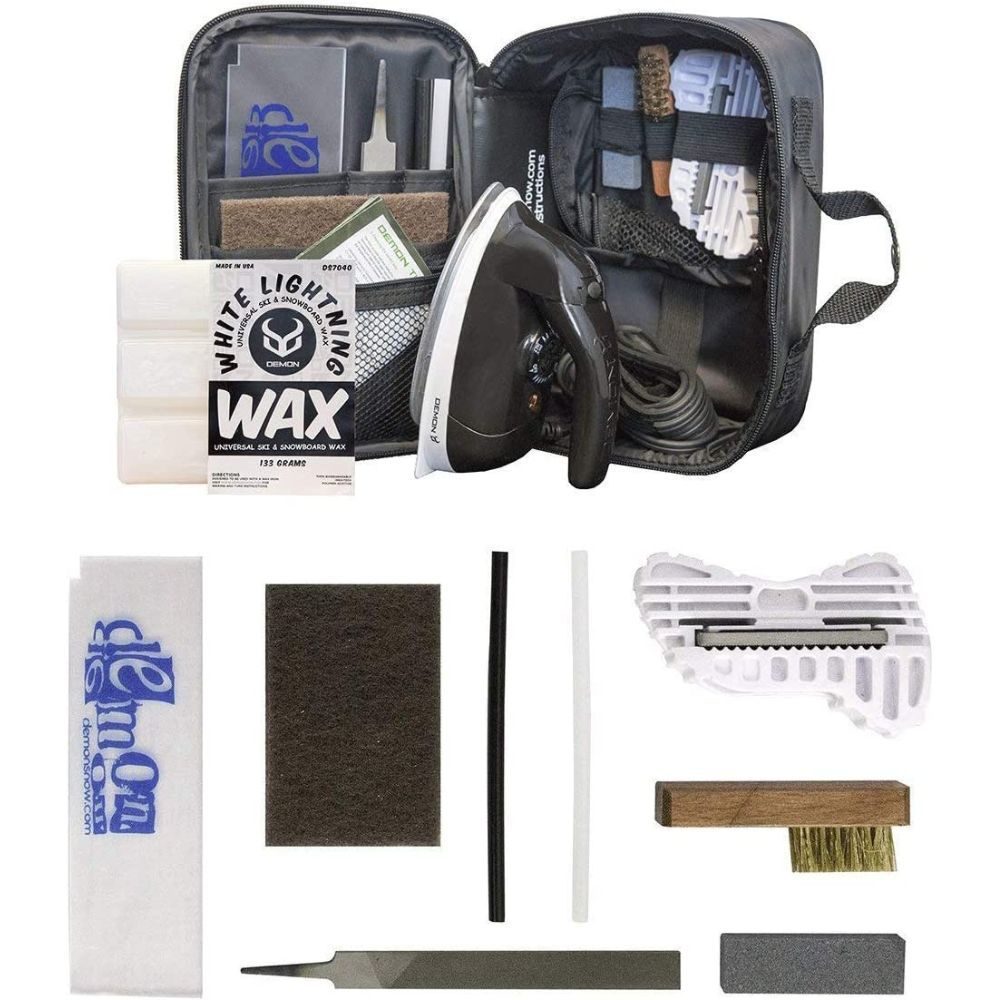 Demon Complete Basic Tune Kit with Wax
Looking to keep your snowboard in top condition? The Demon 13 Piece Tune Kit has everything you could need to keep your board tuned up and ready for action. The heavy duty carry case is perfect for keeping all your tools together, and the adjustable temp iron means you can get the perfect wax every time. The tuning stone and wire brush help to remove any build-up on your board, while the shavings brush and metal board scraper make it easy to get a clean, polished finish.
The included tuning instruction guide makes it easy to follow along, and the 7.5 inch scraper ensures you can apply just the right amount of wax. Plus, with the white and black Ptex, you can touch up any chips or scratches in your board. For a complete tune-up kit that has everything, look no further than the Demon 13 Piece Tune Kit.
Check Price On Amazon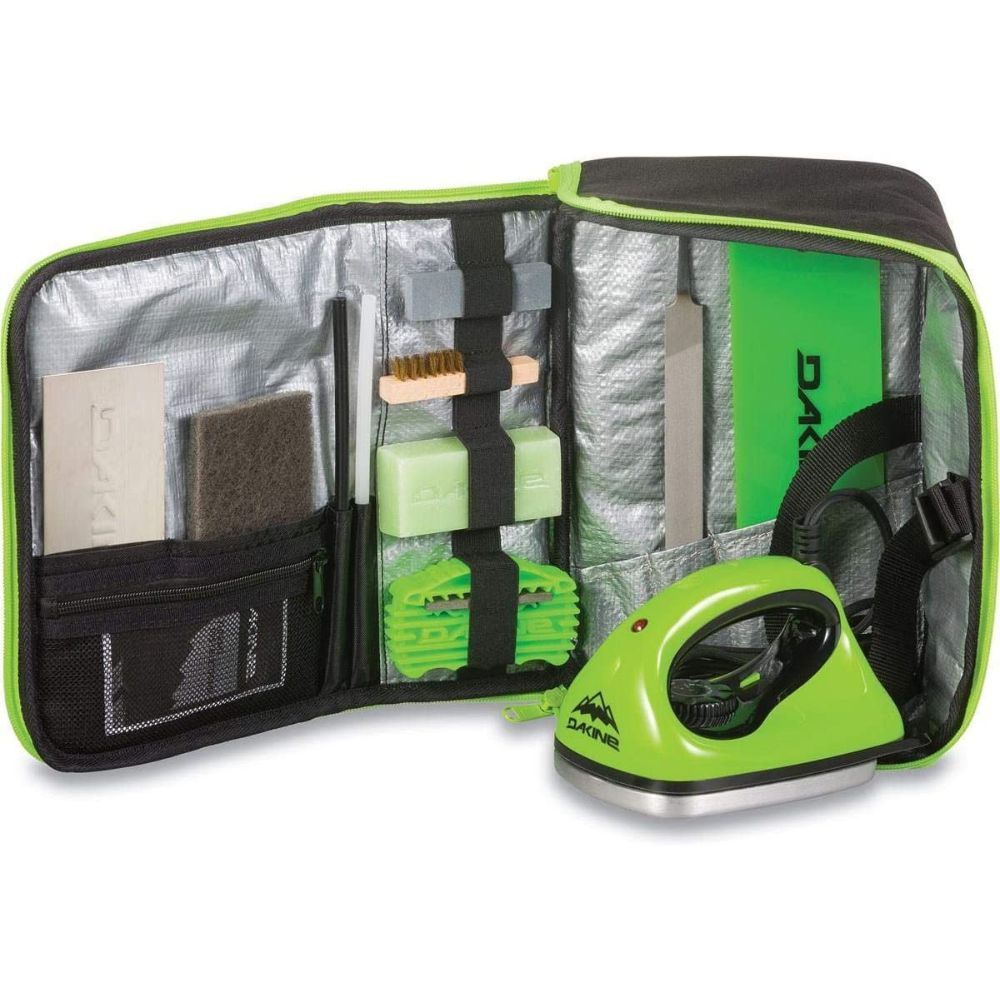 Dakine Super Tune Tuning Kit
Every snowboarder knows that properly tuning your board is essential for a good day on the slopes. But keeping your edge sharp and your wax fresh can be a challenge, especially if you don't have the right tools. This Dakine snowboard tune kit has everything you could need to keep your board in top condition, no matter what the conditions are like.
The large multi-pocket case has room for everything, and the edge tuning tool and 10" file make it easy to keep your edges sharp. The metal board scraper and 10" wax scraper are perfect for removing old wax build-up, and the pocket stone and Ptex help you touch up any nicks or scratches.
Plus, the all-temp wax octane bar, scuff pads, and tuning tips make it easy to apply fresh wax and get your board ready for whatever the mountain throws at you.
Check Price On Amazon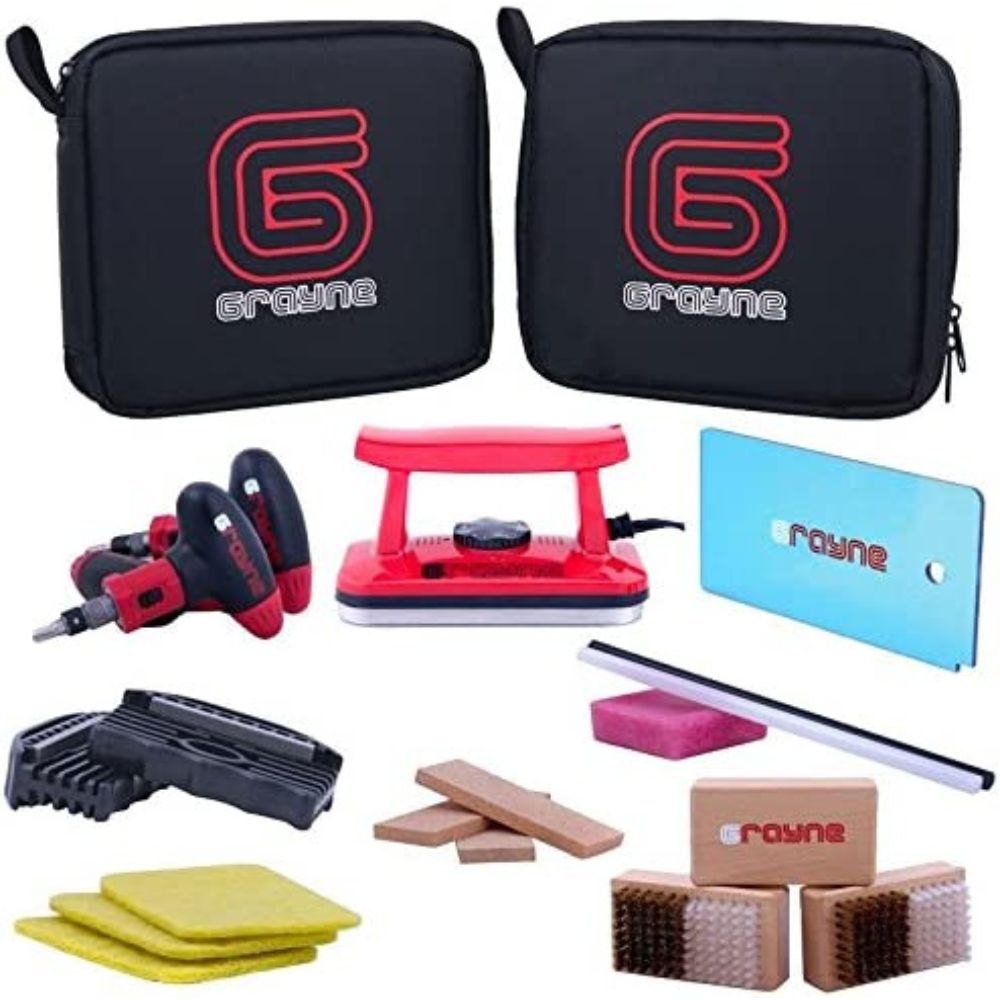 Grayne Deluxe Ski and Snowboard Tuning Kit With Waxing Iron
The Grayne snowboard tune kit has all the tools you need to keep your board in top condition. The Dual Voltage Waxing Iron is great for quickly touching up your wax job, while the Lightning Wax is perfect for giving your board a deep clean.The Ratcheting Six Piece Screwdriver is handy for making adjustments on the fly, and the Ultra-Durable Wax Scraper can withstand even the toughest scrapes.
The Dual Degree Edge Sharpener is perfect for keeping your edges sharp, and the included carrying case ensures that all your tools are always within reach. Whether you're a beginner or a seasoned pro, the Grayne snowboard tune kit has everything you may need to keep your board riding like new.
Check Price On Amazon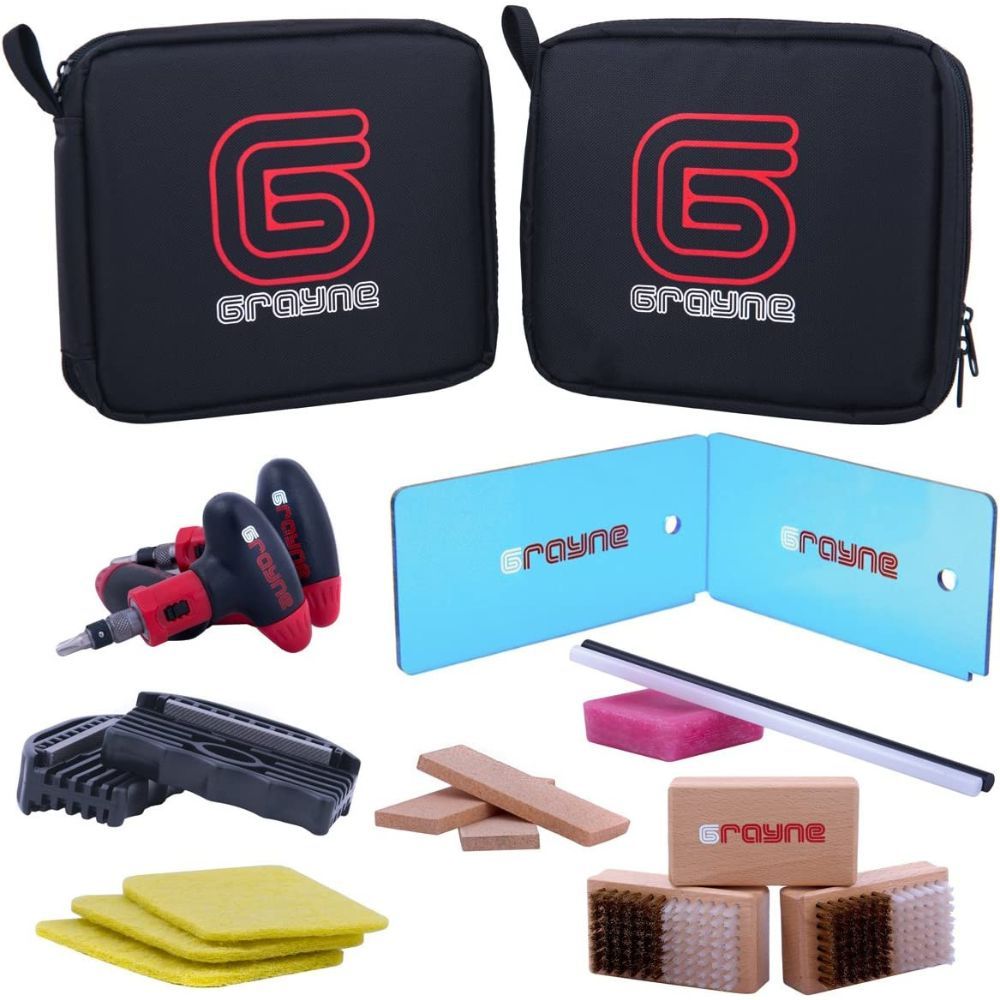 Grayne Ski and Snowboard Tuning and Waxing Kit
Waxing your snowboard is an essential part of keeping it in good condition. A good wax job not only makes your board look shiny and new, but it also protects the base from damage and helps the board glide more smoothly on the snow.While you can take your board to a ski shop to get a professional wax job, it's actually pretty easy to do it yourself at home. All you need is a good wax iron and some quality wax.
The Grayne snowboard tune kit comes with everything you need to give your board a professional-quality wax job, except for the wax iron. It includes a ratcheting six-piece screwdriver, dual degree edge sharpener to get all the edge angles, lightning wax, ultra-durable scraper, and a base cleaning nylon brush. Whether you're a beginner or a pro, this kit has everything you could need to keep your snowboard in top condition.
Check Price On Amazon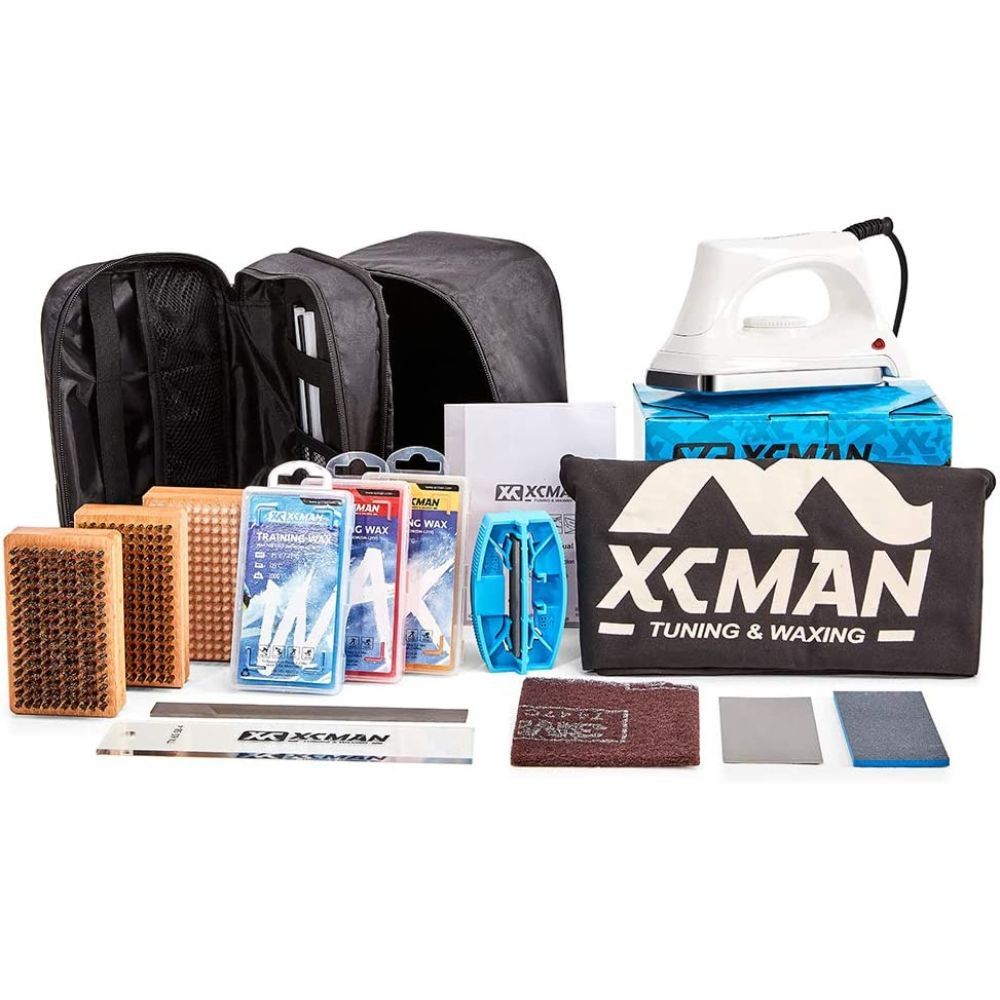 XCMAN Complete Ski Snowboard Tuning and Waxing Kit
This XCMAN snowboard tune kit has everything you need to get your board in top condition for the season. The Waxing Iron is ideal for applying wax evenly, while the Universal Wax can be used on any kind of snowboard.The Edge Tuner is perfect for sharpening edges, and the Brush helps to remove dirt and debris from the surface of the board. The scraper is perfect for removing excess wax, and the scrapers with a corner notch for edge cleaning are ideal for getting into hard-to-reach areas.
The Metal Scraper is perfect for removing stubborn dirt and grime, and the 2 Clear and 2 Black P-Tex are perfect for repairing small chips and cracks. The Waxing scraper is perfect for removing excess wax, and the Sand paper is ideal for smoothing out rough edges. Finally, the Buff Pads and 200mm length metal file help to polish and shine your board. With this complete kit, you'll have everything you need to keep your snowboard looking and performing its best.
Check Price On Amazon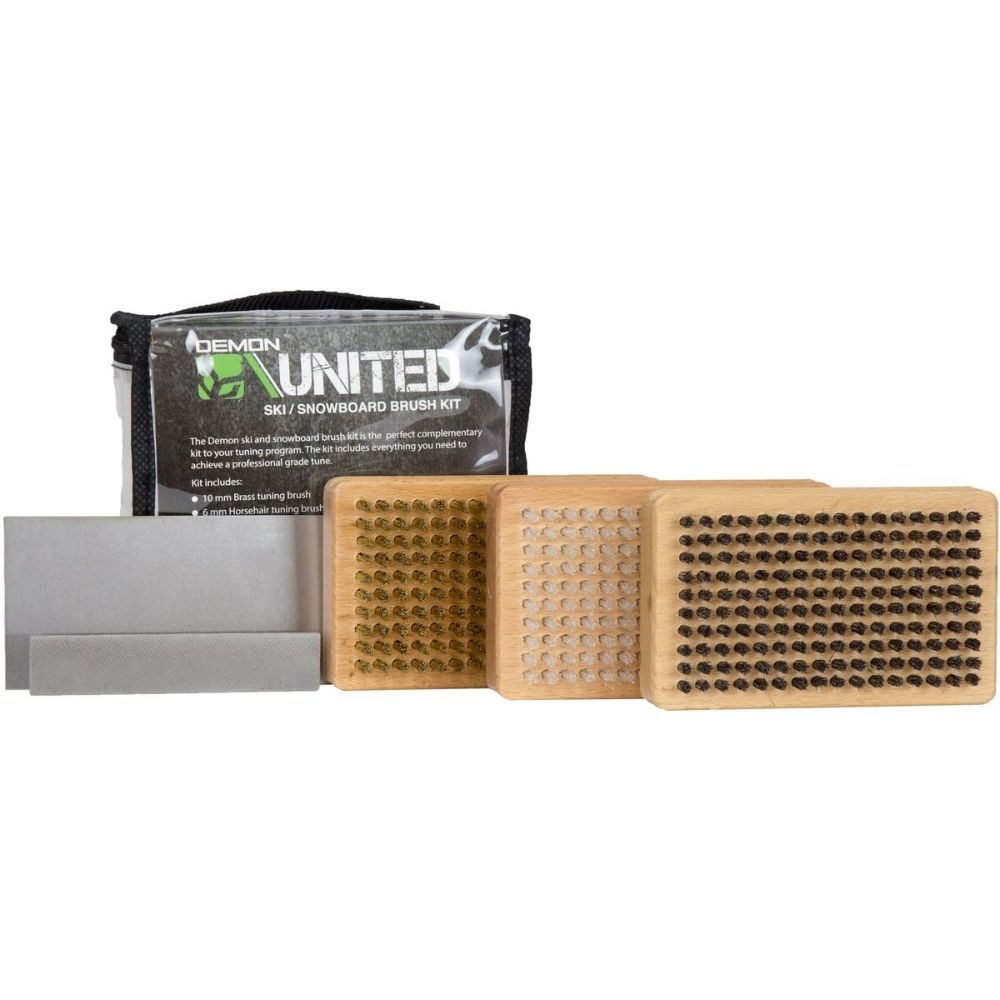 DEMON UNITED Ski/Snowboard Brush Kit
If you're serious about snowboarding, you know that a good wax and tune job is essential. This Demon Board Wax Brush Kit has all the brushes you need to get the job done right. The kit includes a metal scraper and edge file, as well as a brass brush, nylon brush, and horsehair brush.
With all of these tools at your disposal, you can be sure that your board will be in top condition for every run. Plus, the handy carrying case ensures that all of your tools will be organized and ready to go when you need them. So don't hit the slopes without this essential Demon United Demon Snowboard Waxing Brush Kit!
Check Price On Amazon
Additional Items to Consider with Snowboard and Ski Tuning Kits
Wax Iron
If you're a snowboarder, then you know how important it is to keep your board in good condition.
One of the best ways to do that is to regularly hot wax it. This helps to protect the base of the board and keep it from drying out.
However, you can't just use any old iron for hot waxing - you need a snowboard iron.
Snowboard irons are specifically designed to not get too hot and damage the board, and they don't have the steam holes that can fill up with wax like a normal iron.
So if you want to keep your board in tip-top shape, be sure to invest in a good board iron.
Items in the Kit
When it comes to waxing a snowboard, there are a few things to consider. The first is what kind of wax you need. There are two main types of snowboard wax- basecoat and topcoat.
Basecoat wax is applied to the entire board in order to create a smooth, fast surface.
Topcoat wax is applied to specific areas in order to create traction and improve glide.
The second thing to consider is what kind of tools you need. If you plan on using an iron, you will need a quality iron with adjustable temperature control. You will also need a scraper and some sort of brush or pad for applying the wax.
You also need to consider if you need an edge tool or not. Do you plan on tuning your edges? Finally, you need to decide how often you want to wax your board.
Most Commonly Asked Questions
Waxing your snowboard can be daunting, especially if you're new to it.
A lot of people avoid waxing their boards because they don't know how to do it or they're afraid of making a mistake.
We've answered the most common questions about waxing your board so you can feel confident and do it yourself. Our easy-to-follow guide covers everything from choosing the right wax kit to applying the wax correctly. Plus, having the right wax kit with iron makes everything else that much easier.
What type of wax is best for snowboarding?
There is no definitive answer to this question as different people have different preferences. Some snowboarders prefer a hard wax that gives a fast, slick ride, while others prefer a softer one that provides more grip.
Some riders also like to use a combination of different types of wax, depending on the weather conditions and the type of terrain they are riding. For example, a harder wax might be used for bombing down a hill, while a softer wax might be used for doing tricks in the park.
Can I wax my snowboard myself?
Yes, you can wax your board yourself. There are a few things you need to know in order to do it correctly, so it's best to read up on how to do it before getting started.
The most important thing is to make sure that you're using the correct type of ski wax for the conditions you'll be riding in. There are different types of wax for different temperatures and snow conditions.
You'll also need to make sure that your board is clean and free of any dirt or debris before applying the wax.
There are a lot of great tutorials online that can show you how to tune a board properly. Be patient, take your time, and you'll be shredding down those slopes in no time.
Of course you can always have someone else do it and they may have various payment options for you!
Can you just rub wax on a snowboard?
Although they do make a rub on wax, it is less effective and needs to be changed out frequently. All the pro snowboarders use hot wax, as it is more effective. Its usually when you don't have the time to apply hot wax that rub on wax shines.
Should you edge or wax snowboard first?
There is no definitive answer, as different people prefer different methods.
Some boarders find that edging their board first gives them more control when riding, while others find that waxing their board first makes it smoother and easier to ride.
Ultimately, it's up to the individual rider to experiment with both methods and see which one they prefer.
How often should a snowboard be waxed?
For most people, once every few weeks is sufficient. However, if you are an avid rider or live in a particularly cold climate, you may want to do it more frequently.
By taking the time to consider all of these factors, you can ensure that your board is always performing at its best. Its always easier to keep your board waxed if you have a waxing and tuning kit handy!
Is there a difference between a wax kit and a tuning kit?
A wax kit has everything you need to wax a board. A tuning kit should have everything to wax the board as well as an edge tool.
Often times people will use the terms Tune kit and Wax kit interchangeably so always double check that the wax kit has all the tools you need. The basics you will need in a wax kit is a scraper, wax, iron, and brush.
The Best Snowboard Wax Kit for You
So, we've come to the end of our list of the best snowboarding tune kits on the market. We hope that you found this information helpful and that it will help you make an informed purchase decision.
Remember to consider your needs and preferences when selecting a wax kit – there is no one perfect option for everyone. Thanks for reading and happy boarding!
If you liked this conten take a look at some other interesting articles: