How To Choose A Shower Curtain That Meets Your Needs
Are looking for a new shower curtain? There are a few important things you should consider before you make a purchase and we cover them here!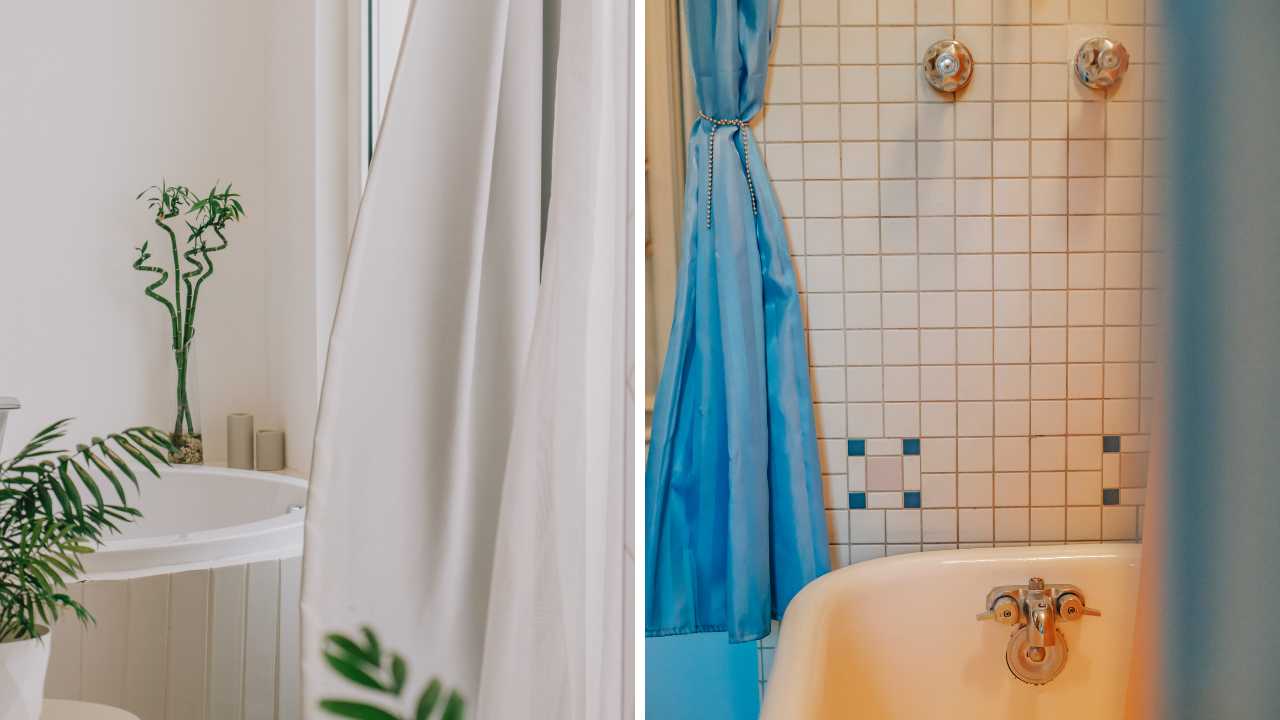 Choosing the right shower curtain to match your bathroom décor can be a challenging task.
With all the different materials, sizes, and designs, it can be hard to find the best shower curtain that fits your shower and performs the best. You need to consider what type of curtain rod you want and if you need a curtain liner to help protect your bathroom.
That's why we put together this comprehensive guide to help you choose shower curtains that are made to repel moisture and look good while doing it. You can go with a standard shower curtain or you can explore the many options that most people never take the time to learn about.
Understanding the Different Shower Curtain Materials:
Shower curtains come in a variety of materials to suit your specific needs. Each type of material has its own unique characteristics when it comes to its style, durability, and resistance to water.
Vinyl shower curtains: Vinyl curtains are some of the most popular options due to their water resistance and affordability. If you like to redecorate frequently you may want to consider a vinyl curtain as these are durable and cheap. They are also very easy to clean.
Fabric curtains: When it comes to fabric, there are two main types, cotton, and linen. A cotton shower curtain is luxurious and creates an open feel to the room. It is breathable and easy to clean. Linen is a medium-weight material that is breathable as well and comes in a variety of colors and designs. The main problem with fabric curtains is they are not waterproof so you will need a shower curtain liner to keep water from leaking out of your shower.
Polyester shower curtains: Polyester looks like a fabric curtain while providing water resistance. It is an in-between material if you don't want heavier vinyl and don't like the idea of a fabric curtain.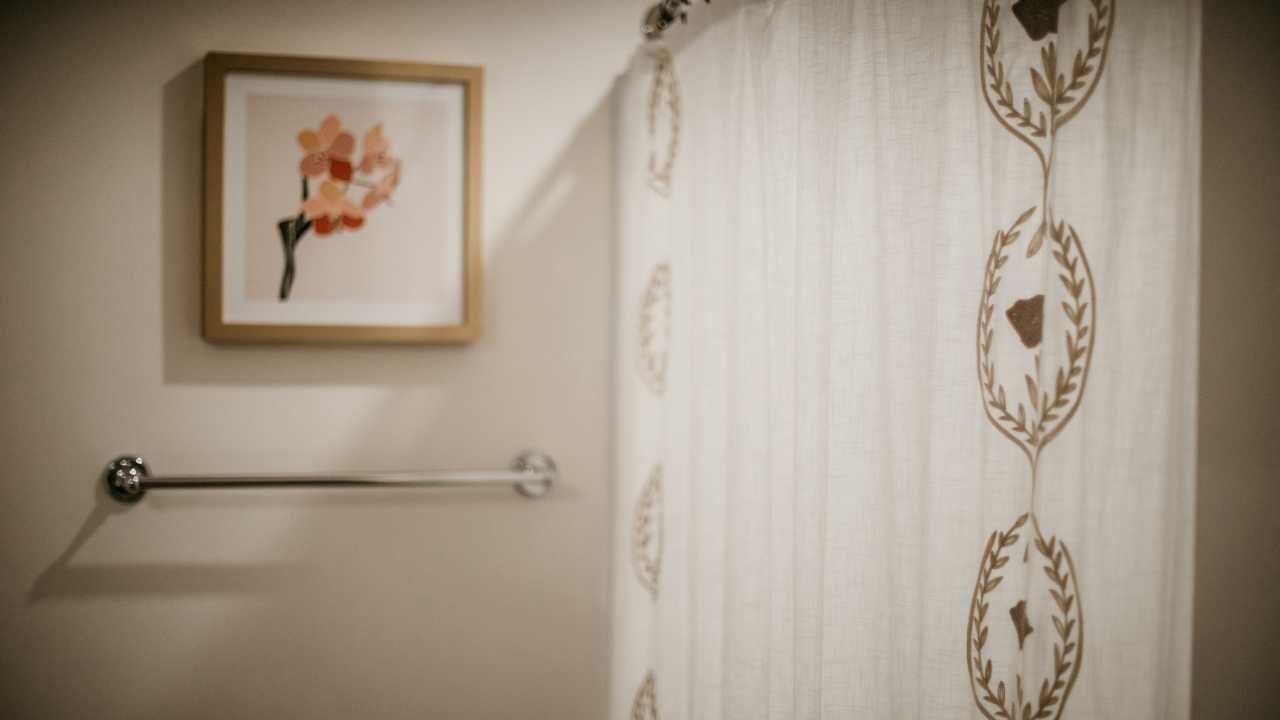 Measuring Your Shower Space: Finding the Perfect Fit:
For custom-fitting shower curtains, measure the length, width, and height of your shower space. The length should be measured from the floor to the ceiling, while the width should be measured from one end to the other.
Always purchase a shower curtain that is wider than your shower space to ensure water doesn't end up on the bathroom floor. If you have a unique shower space, consider having a shower curtain custom-made or trimming it to the right size.
Most standard shower curtain dimensions are noted on the packaging when you purchase the curtain. Be sure you have one that fits your shower rod but also reaches within an inch of the floor.
Considering Shower Curtain Liners: Are They Necessary?
Shower curtain liners are an extra layer of protection that helps prevent mold and are mildew resistant. They prolong the life of your shower curtain and keep water from leaking through fabrics.
They're a personal preference, but they provide an added layer of durability and water resistance. If you decide to use a shower curtain liner, make sure it's mold-resistant, easy to clean, and sturdy enough to withstand frequent use.
Choosing the Right Shower Curtain Design for Your Bathroom Décor:
Shower curtains come in a vast range of patterns, colors, and designs, allowing you to personalize your bathroom's look and feel. You can choose bold and bright patterns that make a statement or opt for a more subdued, classic look that complements your bathroom's color scheme. For a cohesive theme, choose a shower curtain that matches your bath mat, towels, and other accessories.
For specific designs see our top picks of:
Functional Features: Hooks, Grommets, and Weights:
Hooks, grommets, and weights are functional features that can make all the difference in your shower curtain's performance. Hooks and grommets help secure the shower curtain in place, prevent sagging, and make it easier to install or remove. Weights are a great way to keep the shower curtain in place, prevent water from splashing out, and maintain privacy.
Hookless shower curtains have become popular recently and simply slip over the shower curtain rod. They add a little more style to your bathroom and look elegant.
Eco-Friendly Options: Sustainable Materials and Practices:
If you're environmentally conscious, you can consider eco-friendly shower curtain options. Organic cotton, linen, and hemp are sustainable materials that are chemical-free and biodegradable.
Another option is shower curtains made from recycled materials such as plastic bottles, which reduce waste and carbon emissions. You can also reduce water usage by opting for a shower curtain that doesn't require frequent washing.
The right curtain materials can last you a long time and allow you to be environmentally sustainable. They can even give your bathroom a unique and inviting look.
Maintenance and Cleaning: Prolonging the Life of Your Shower Curtain:
To prolong the life of your shower curtain, always follow the manufacturer's cleaning instructions. Most shower curtains can be machine-washed and dried, but it's essential to keep them dry between uses to prevent mold and mildew. Consider using a shower curtain liner to help protect the shower curtain and reduce wear and tear.
Make sure to always keep the curtain pulled closed after each use so that it can dry without being bunched up. This will keep mildew at bay and limit the amount of cleaning you have to do. If your vinyl or polyester curtain has stains or build-up, gently wipe it with a wet cloth and soapy water. Then rinse it with warm water to keep it clean and fresh. This should expand the life span of your curtain.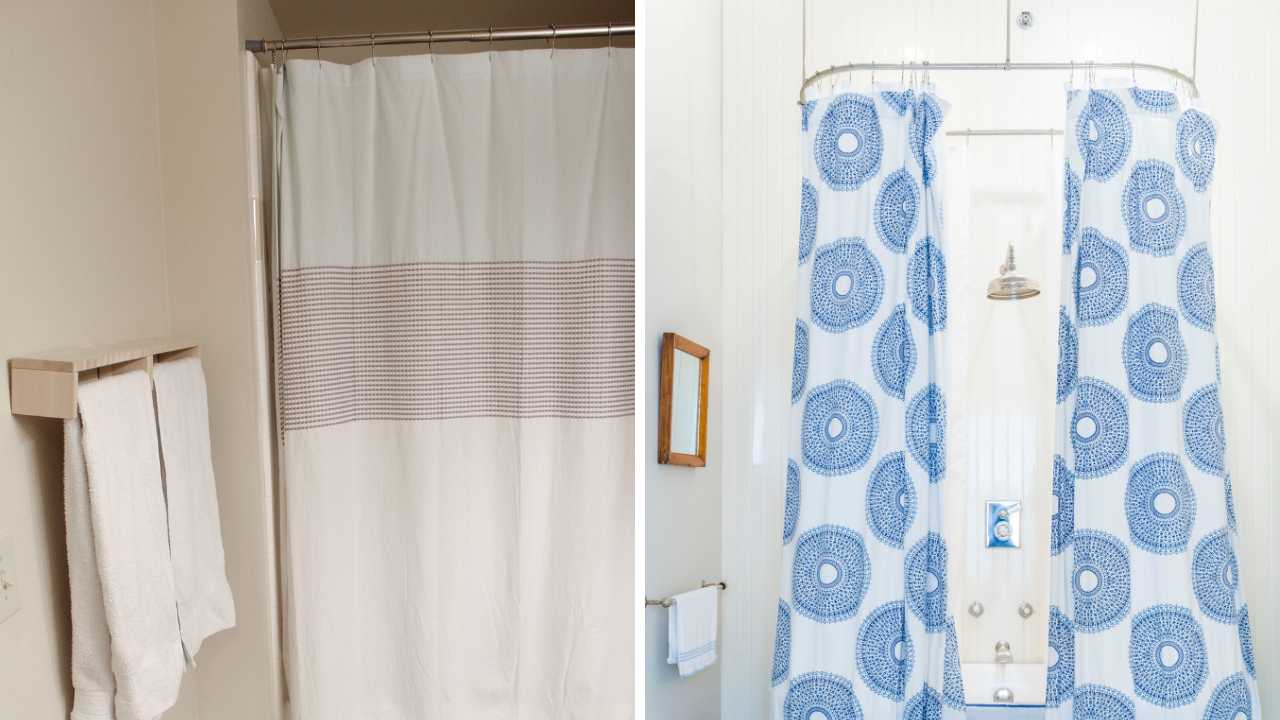 Budget Considerations: Balancing Quality and Affordability:
Shower curtains come in a wide range of prices, and the quality can vary dramatically. When shopping for a shower curtain, consider your budget and look for high-quality options that meet your needs.
However, keep in mind that a higher price doesn't always mean better quality, and you can find affordable options that are durable and stylish.
Vinyl and polyester will be the most affordable and fabrics such as cotton, linen, and hemp will be pricier.
Conclusion:
Choosing the right shower curtain is essential to creating a functional and stylish bathroom space. Whether you're looking for something waterproof, durable, or eco-friendly, there's a shower curtain that meets your needs. Remember to consider the different materials, measure your shower, and choose a design that complements your décor. Look for functional features, and maintain your shower curtain regularly. By following these tips, you'll be well on your way to finding the perfect shower curtain for your bathroom.