Lazy Susan Organizer Ideas: Maximize Your Storage Space
Looking for clever ways to maximize and organize your home storage space? Check out our top tips and tricks to organize your home!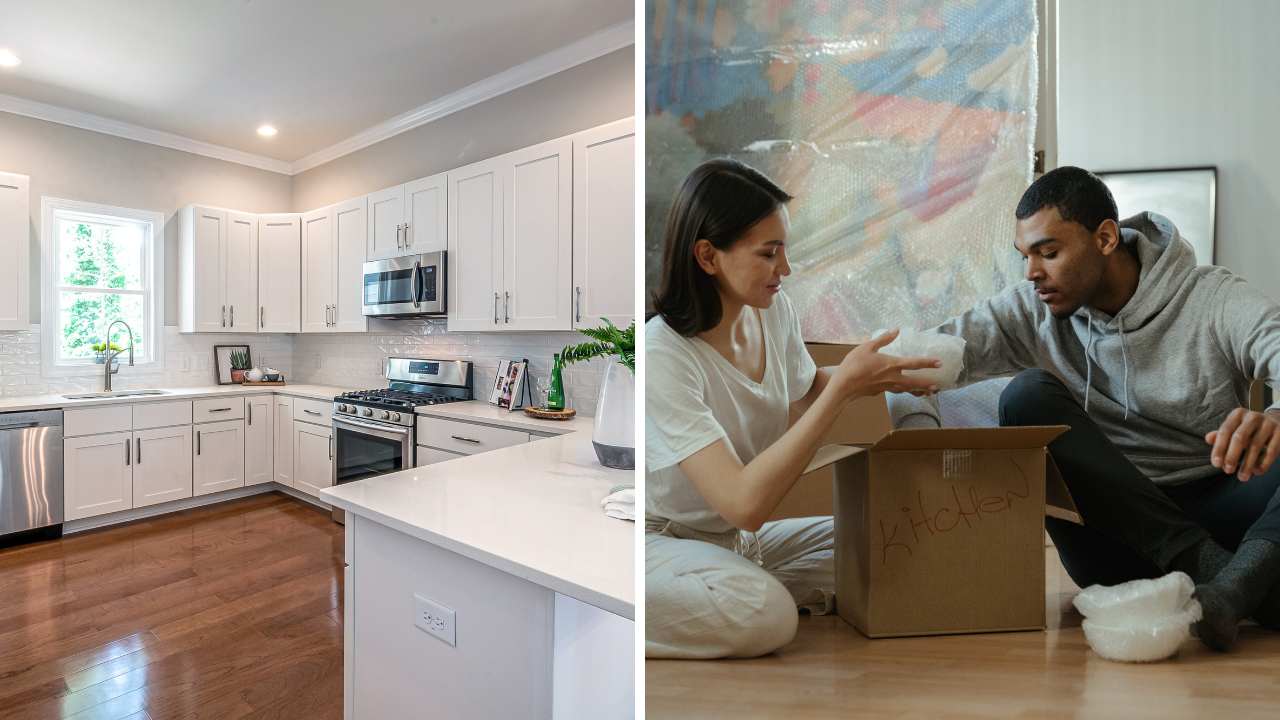 Is your kitchen cabinet or closet a jumbled mess?
It's time to stop the digging and get organized with a Lazy Susan! This organizer revolutionizes storage, making it easy to keep track of all your items in one spot. It not only keeps your things organized but adds an elegant touch to any room with its beautiful design that delivers function and style at the same time.
Free up time by quickly finding items you need, even those stored on high shelves. With its rotating system, accessing never-used items will be as easy as pie — no more digging through those hard-to-reach places! Plus, there are plenty of fun DIY ideas so you can let your creativity flow and make something unique for each space around your home.
Keep reading to find the top ideas on how to utilize a Lazy Susan in your home today!
Benefits of Using a Lazy Susan Organizer:
The Lazy Susan organizer can save you time and frustration when looking for items in your kitchen, bathroom, or closet.
It reduces the need to dig through cluttered shelves by allowing you to rotate the tray for easy access.
This type of organizer can make better use of small spaces, as it maximizes vertical storage that would otherwise remain unused.
The lazy Susan organizer comes in many different styles and finishes that can match any decor!
Types of Lazy Susan Organizers:
There are several types of Lazy Susans to be aware of before you begin shopping for one to fit your needs. The most common type is a two-tier Lazy Susan that can store spices, condiments, and other small items in a single cabinet or on the countertop.
A corner Lazy Susan cabinet is ideal for an awkward kitchen corner and maximizes space. There are also oversized models with three or more tiers that can be used to organize larger items. Finally, a pantry Lazy Susan is great for organizing canned goods and other food items in the pantry.
There are some additional things you can use with your Lazy Susan to help with organization. We like the convenience of dividers or bins on the lazy Susan shelves  - this you to separate items and stops everything from jumbling together when the tray rotates.
It is especially useful if you have a deep corner cabinet, you can install one quickly with the lazy Susan hardware that usually comes with the models that require it. They are a great way to utilize the dead space in those corner cabinets.
Choosing the Right Size and Style for Your Space:
When selecting a lazy Susan organizer, first measure your cabinet or closet space and choose the correct size to fit. Once you have determined the size, think about the style. Do you want to match the organizer with your kitchen, bathroom, or closet decor? Consider the materials that make up your cabinet shelves and look for an organizer that won't damage them. A well-selected Lazy Susan organizer will maximize storage space while adding a touch of style.
Some of our favorite styles of lazy Susan include:
Tiered Lazy Susan for Spices and Condiments: This two-tier lazy Susan offers quick access to all your cooking items. With its rotating design, you can easily find what you need without digging through the cabinets. Plus, it's an easy way to keep countertops looking neat and organized.
Corner Lazy Susan for Awkward Kitchen Corners: This organizer is specifically designed to fit in those hard-to-reach kitchen corners. It can store items of any size or shape, from condiments and spices to baking supplies, and even storing pots and pans.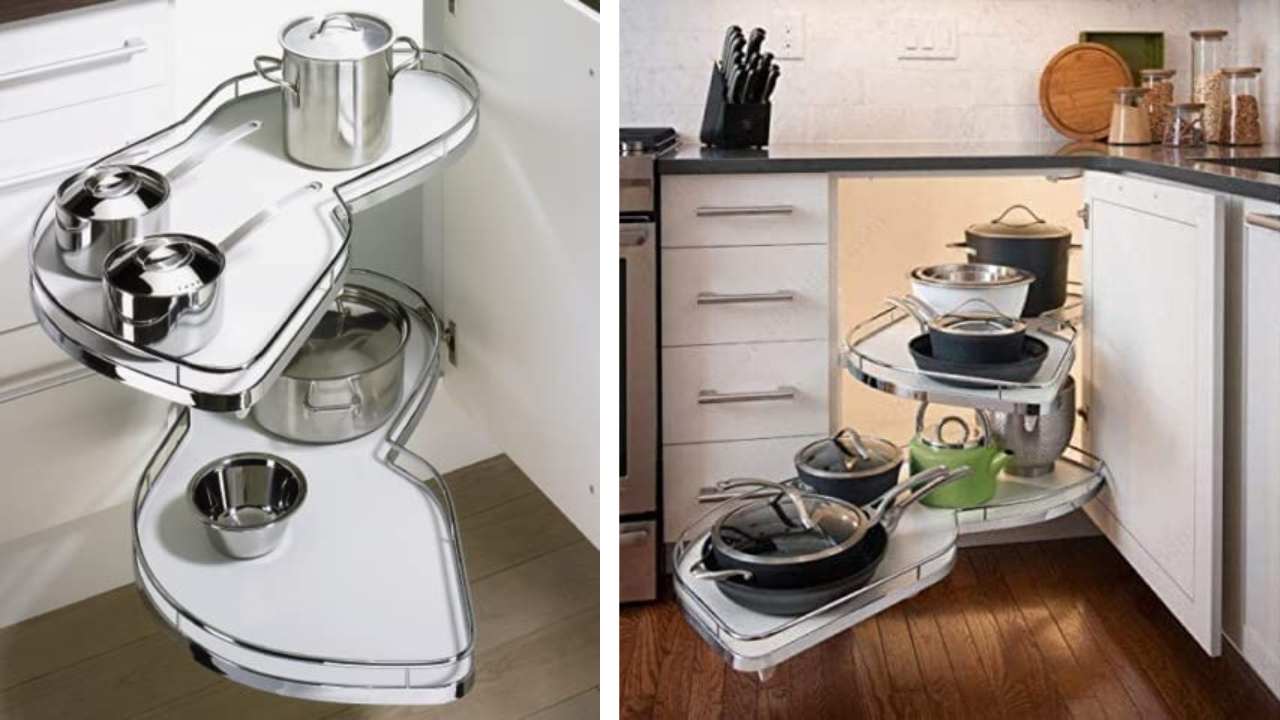 Oversized Lazy Susan for Large Items: If you have a large pantry and need to store large items, an oversized lazy Susan is the answer. With its three or more tiers, you can organize food, appliances, and tools without taking up too much space.
Pantry Lazy Susan for Canned Goods: This type of organizer comes in handy when organizing your pantry shelves. It allows you to store canned goods, snacks, and other food items in an organized manner.
DIY Lazy Susan Organizer Ideas:
For those who enjoy a good DIY project, making a handcrafted Lazy Susan organizer can be a rewarding experience.
Handmade models can be customized to fit your space, materials, and decor style while also being cost-effective.
From wood to ceramic and metal finishes, there are endless options available.
Turn ordinary items such as pie pans or cake stands into a rotating organizer with a swiveling mechanism from a local hardware store. You can even use marbles as the rotation mechanism for a unique twist!
How to Maximize Storage Space with Lazy Susan Organizers:
When using a Lazy Susan organizer, there are a few tips to keep in mind to maximize storage space. Group similar items together for easy access and store items vertically.
Use baskets or trays to keep smaller items organized and prevent them from slipping off the tray.
Label everything so you know where to find what you're looking for!
You can use it as small appliance storage if you want to free up counter space.
You can use mason jars to store spices, grains, and other small items. In time mason jars will become your organizing friends for those kitchen cabinets with tight space.
As you can see, a Lazy Susan organizer is an incredibly versatile and stylish way to store items while keeping your space neat and organized.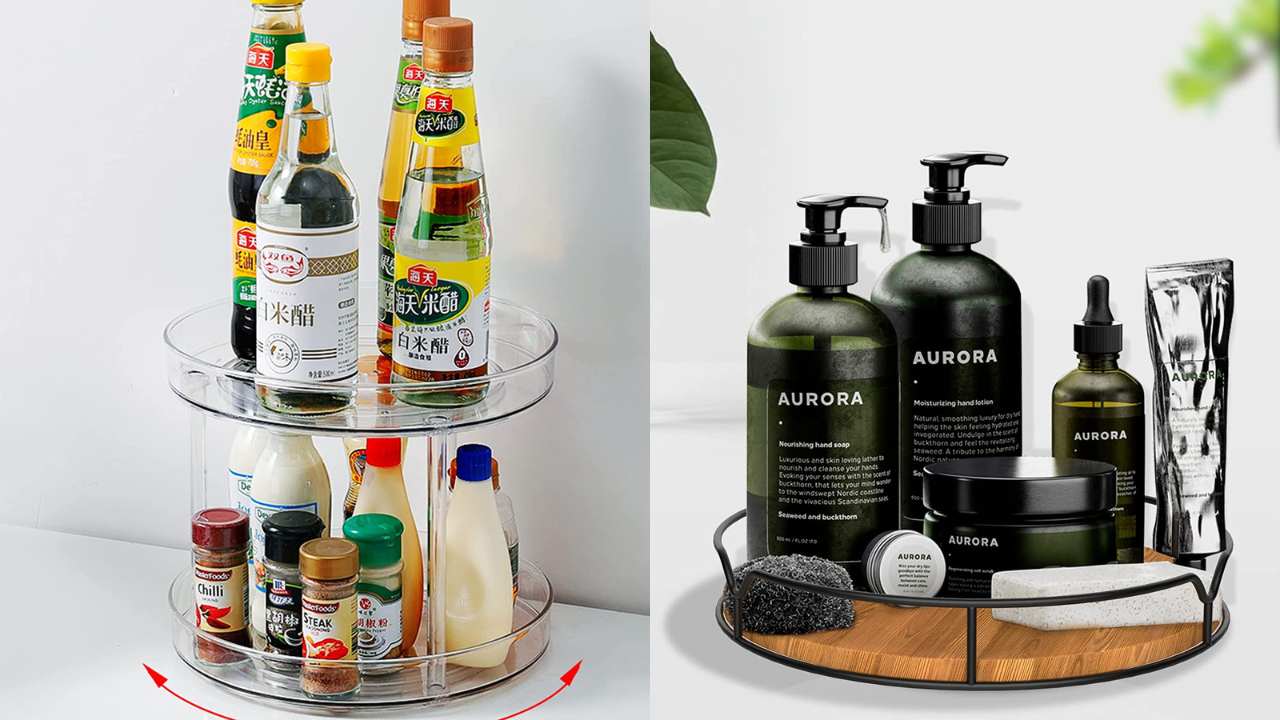 Stylish Lazy Susan Organizers for Home Decor:
The Lazy Susan organizer is not just a functional item, it can also be a decorative one. Look for ones that match your decor style such as bamboo or wooden options.
If you prefer a modern style, look for stainless steel or geometric patterns. Some Lazy Susan organizers are even tiered to make them look like a decorative display instead of a storage solution.
Lazy Susan Organizers for Small Spaces:
The Lazy Susan organizer is an ideal solution for small spaces. They allow you to maximize the limited storage space that you have.
Small corner spaces in the kitchen, for example, can be fitted with a Lazy Susan organizer to get maximum storage.
Some of our top ideas for getting the most out of every small space include:
Coffee table storage: A lazy susan can be used as a centerpiece on a coffee table. This is an excellent space-saving technique that can store remote controls, coasters, books, and other small items within reach. It will also add elegance to the living room while keeping it organized.
Closet organization: A lazy susan can be used in a small closet to store accessories such as jewelry, watches, and other small items. This is an excellent way to maximize the use of vertical space by keeping everything within easy reach.
Desk organization: Place a lazy susan on your desk to keep office supplies such as pens, paper clips, and staplers neat and organized. This arrangement will help you keep everything easily accessible while keeping your workspace clutter-free.
Under-sink storage: A lazy susan can be placed under a sink in the kitchen or bathroom to store cleaning supplies and other frequently used items. This arrangement will make it easier to reach items that are at the back of the cabinet without having to move everything else around.
Dining table organization: Use a lazy susan as a centerpiece on the dining table to store salt, pepper, condiments, and other small items. This will add convenience for family meals or dinner parties and will also help keep the table clutter-free.
Garage storage: Use a tall, rotating lazy Susan in the garage to store tools, auto parts, and other small items that are frequently used. This arrangement will help you keep your tools organized and within easy reach while freeing up valuable floor space.
Pro tip: Add a magnetic plate to the lazy Susan in the garage to store loose screws, nails and other metal items. This will make it easy to locate small parts in an organized way.
Tips for Maintaining and Cleaning Your Lazy Susan Organizer:
To extend the lifespan of your Lazy Susan organizer, it should be cleaned regularly. Simply wipe it down with a damp cloth with soapy water and dry it well.
To remove tough stains, use baking soda and a cloth. To prevent scratches, avoid using abrasive sponges or harsh cleaning agents.
Conclusion and Final Thoughts on Lazy Susan Organizer Ideas:
The Lazy Susan organizer is a must-have for any home. It's an affordable and stylish solution that will maximize your storage spaces while making access to items much simpler. With different sizes and styles available, it can be used in any room of the house. Whether you DIY one of your own or buy one from top brands, the Lazy Susan Organizer is an important tool to have for any home organization's needs. We hope our organizing tips have helped you gain some inspiration!