Best Reusable Paper Towels To Help You Save The Environment
If you have never heard of reusable paper towels we have you covered. We go over what they are and what to look for to get the most out of them!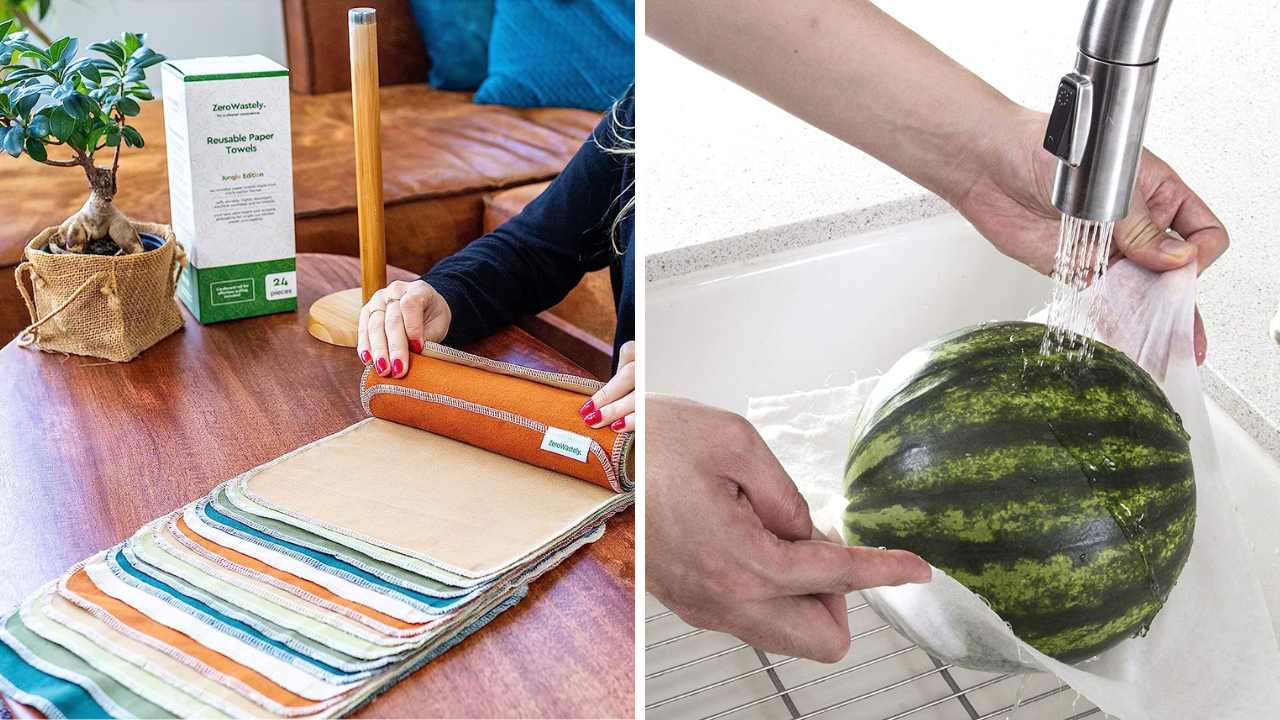 Are you tired of wasting money on paper products?
If we gave you a way to save money and help the environment at the same time would you do it?
If you answered yes to either of those questions you're in luck. With a reusable paper towel, you can cut down on waste and save money in the long run. With innovative, nature-friendly designs and materials, you can be assured that your paper towel won't end up in a landfill after only one use. Knowing that the materials used are biodegradable without the harsh chemicals used in regular bleached paper towels should put your mind at ease.
Keep reading to learn more about reusable paper towels!
What Is The Best Reusable Paper Towel?
There are a lot of options on the market when it comes to paper towels that are reusable but it's hard to know which one is the best.
If you are looking for something eco-friendly and made sustainably you have to do a lot of research. We know from personal experience!
It doesn't have to be that hard though because we did the research and found the best products on the market. We value good business practices as well as sustainability and we put those requirements to the test with the top brands.
Below you will find the best of the best when it comes to your supply of paper towels!
UnpackedReviews is reader supported, which means that when you click on links to products on our site and make a purchase, we may earn a commission. However, our opinions are our own, and we only recommend products that we genuinely love.
Best Bamboo Reusable Paper Towels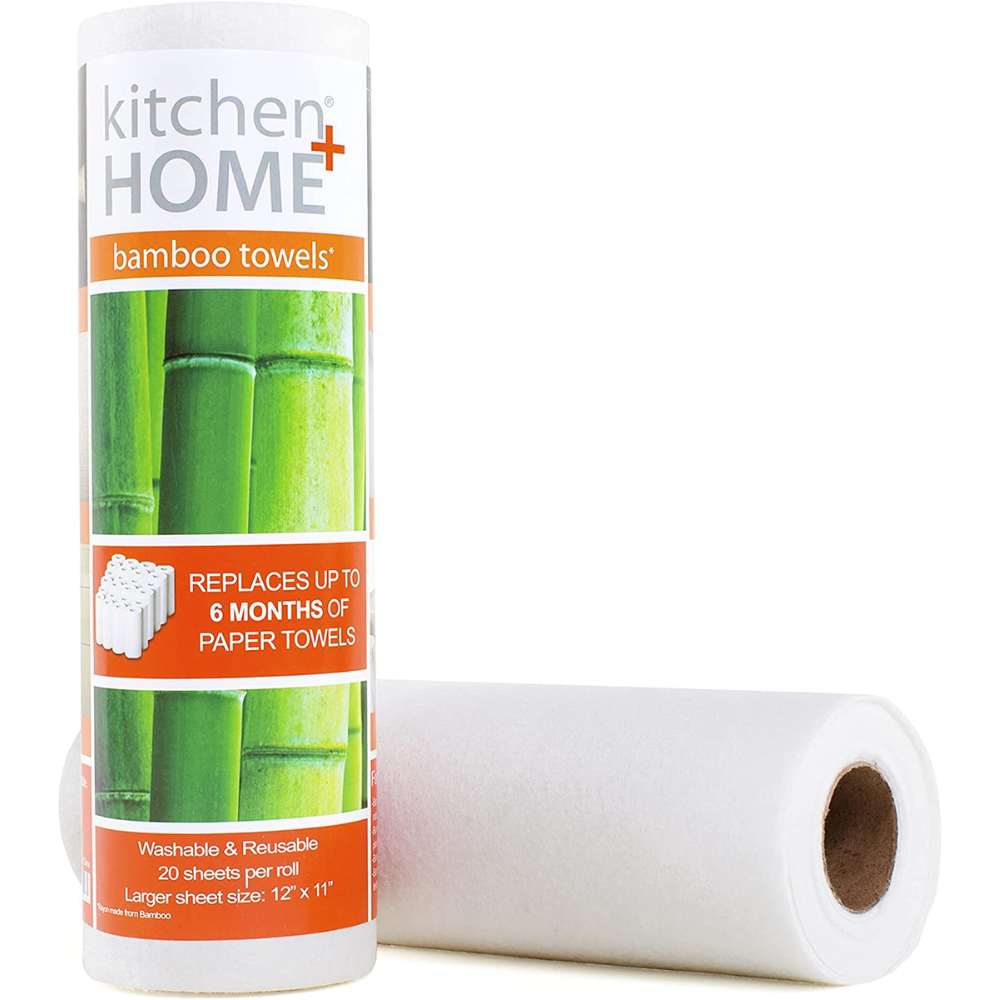 Bamboo Towels - Heavy-Duty Machine Washable
Check Price On Amazon
Made from bamboo, a renewable source and one of the most sustainable materials in existence, these versatile towels are larger, thicker, and more absorbent than any competitor. Not only will you get more use out of them, but they're also machine washable, making them a great value!
One roll replaces a whopping 6 months' worth of paper towels, so that means no more running out mid-job searching for more. Plus, each perforated sheet provides 11" x 12" sheets that tear off with ease and can be reused up to 120+ times before discarding. And wildest of all? They come at an affordable price – scoring an amazing five stars for value for money.
Whether it's windows, mirrors, or surfaces requiring extra attention, you can tackle any task knowing you have a viable eco-friendly alternative right at your fingertips!
Pros
Made from eco-friendly and sustainable bamboo.
Can be used up to 120 times.
Machine washable.
Comes in on a convenient roll that fits a traditional paper towel holder.
Perfect for cleaning the house, car, or garage!
Cons
They do shrink a little after the first wash but they still work well.
Best Cotton Reusable Paper Towels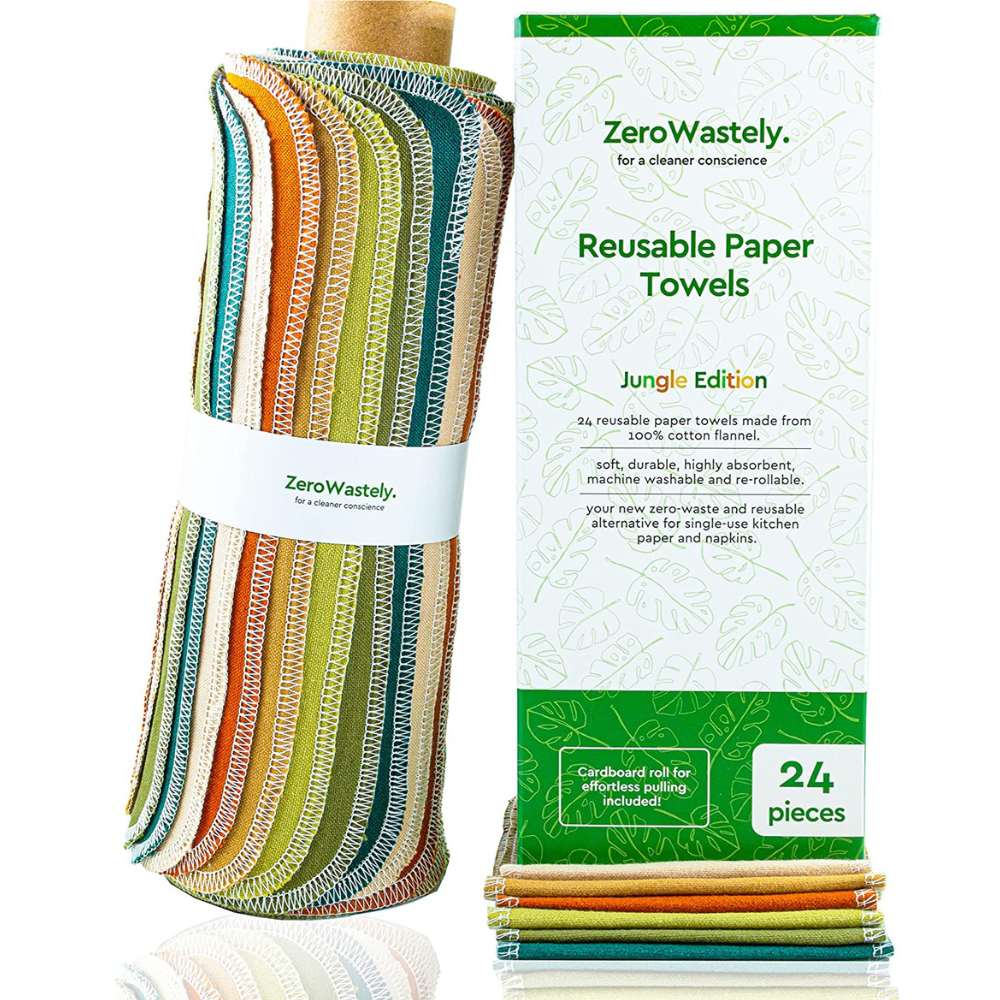 Reusable Paper Towels - Value Pack of 24 Paperless Paper Towels! - 100% Cotton
Check Price On Amazon
These 100% natural cotton towels provide a soft, yet strong and durable performance. Unlike traditional wasteful paper towels, these reusable towels never need replacing. Perfect for wiping up messes or for use as napkins, these towels are an environmentally friendly solution that is great for households of all kinds.
The easy-to-use paper towel roll allows you to quickly grab any single reusable cloth with virtually no hassle! They cling onto each other and can be torn away easily without snaps or strings. To keep them in top condition, simply throw them into the washing machine to reuse them again and again! You'll never have to worry about running out of paper towels with each mess you tackle.
Pros
Can be rolled onto a paper towel holder.
Cling to each other and easily peel off the roll.
Made from 100% cotton so they are soft and absorbent.
Great color schemes to choose from.
Machine washable for easy cleanup unlike conventional paper towels.
Replaces disposable paper towels and cuts down on paper towel waste.
Cons
Air dry for best results or they will shrink in the dryer and not fit the roll.
Starts to wrinkle after many uses and when they are near the end of their lifespan they are harder to roll.
Best Reusable Paper Towels Out There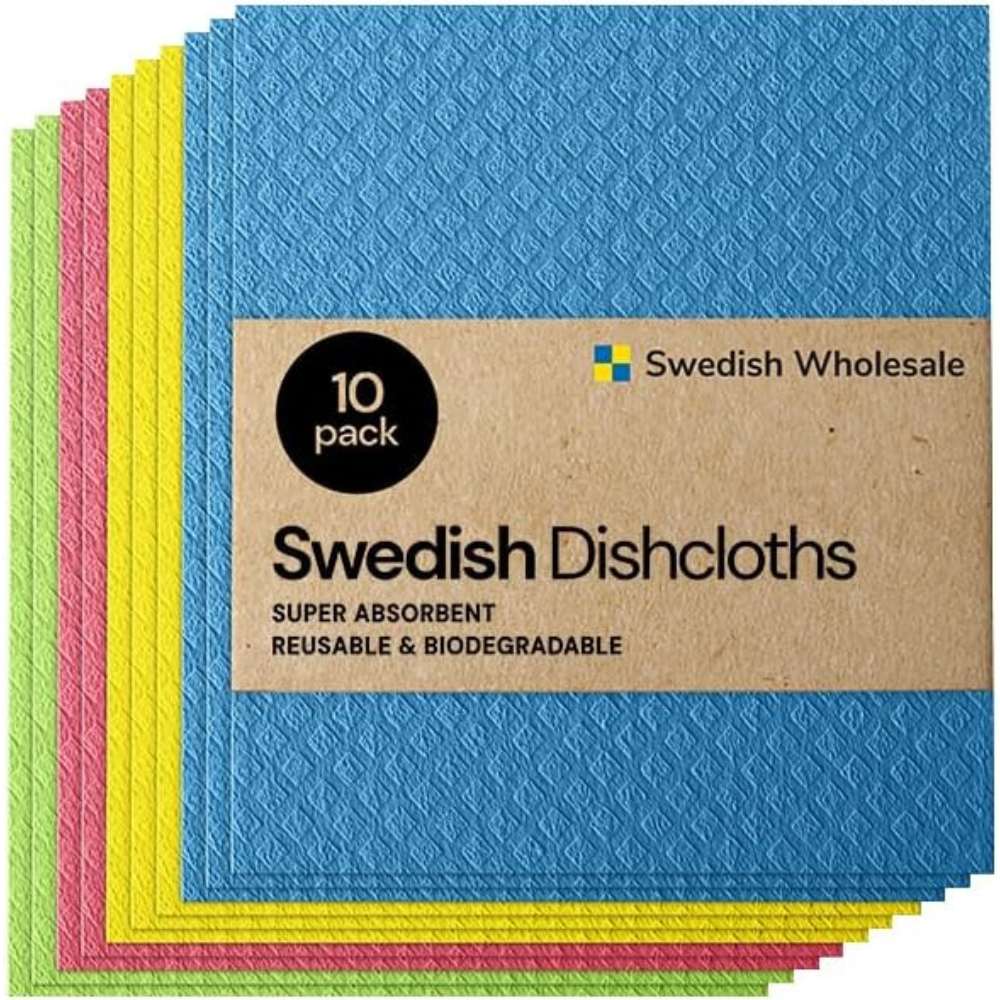 Swedish Wholesale Swedish DishCloths for Kitchen- 10 Pack
Check Price On Amazon
These reusable paper towels come in a 10-pack and are made from cellulose and cotton. When you get them wet they become soft but still retain enough grit to scrub out tough stains. These versatile paper towel alternatives can be used in either the kitchen or bathroom to keep your area clean and sparkling. Use them to scrub dishes or wipe your face clean.
They are made with fewer raw materials than regular paper towels and hold up over many washes. These paper towels are safe for all surfaces and clean up spills quickly and efficiently. (If you provide the elbow grease of course)!
Pros
These reusable cloth towels come in a 10-pack.
The Swedish dish cloths are safe for all surfaces.
Come in multiple colors to match your décor.
Strong and absorbent material that can be washed multiple times.
Biodegradable and compostable.
Cons
Don't come on a convenient roll.
Not the best for drying hands.
Best Reusable Paper Towels For Designs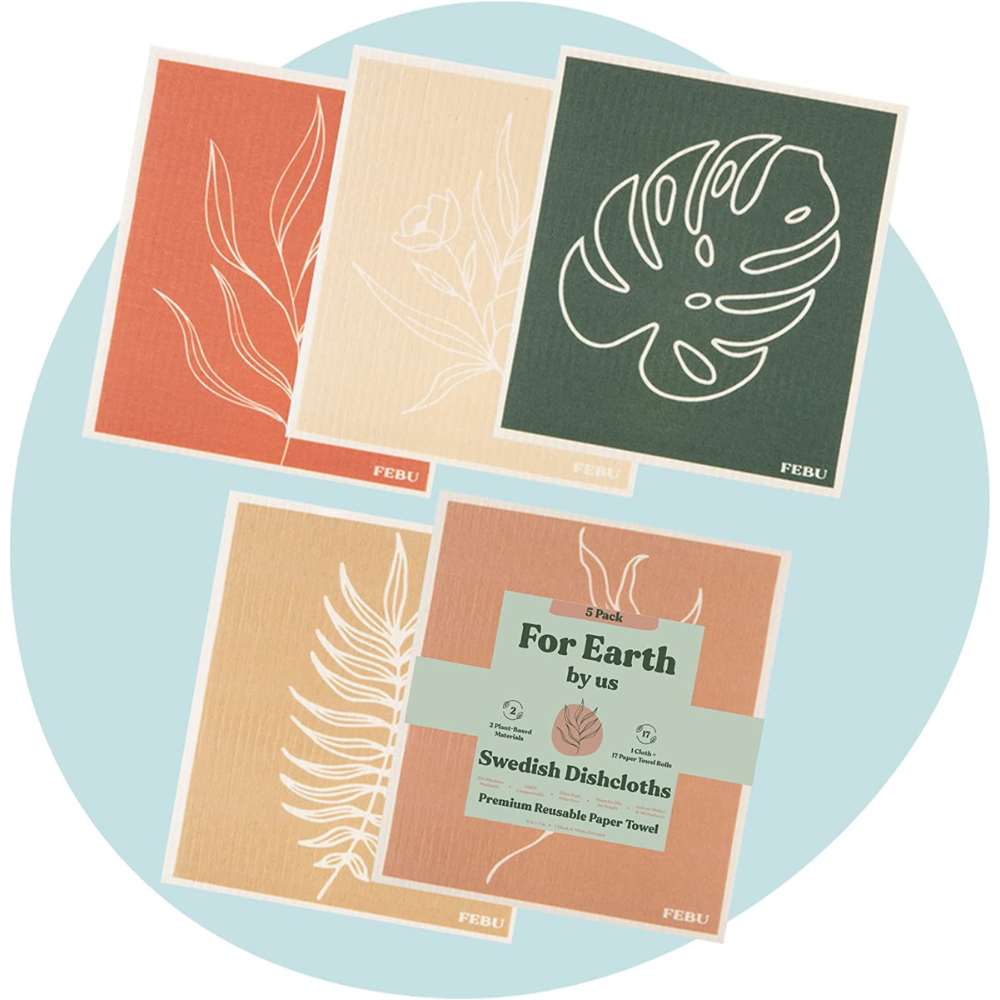 FEBU Swedish Dishcloths for Kitchen | 5-Pack
Check Price On Amazon
The Febu Swedish paper towels are sourced sustainably and are a great addition to your kitchen. With multiple color designs and styles, these reusable towels will save you money and look good while doing it.
These amazing reusable paper towels can absorb up to 20 times their weight. Far more than single-use paper towels. With just one of these washable paper towels, you can save over fifteen rolls of traditional paper towels. That is a huge savings on the environment and the good feeling you get from that is incalculable.
Pros
Multiple color designs and options.
The material will degrade in 6-8 weeks in a landfill.
Made with 100% plant-based materials.
Fast drying and very absorbent to tackle the toughest jobs.
Comes in a 5-pack and is very affordable.
Can be reused and washed multiple times.
Cons
These are a little stiff for the first couple of uses.
A little smaller than some other dish towels.
Best Cloth Paper Towels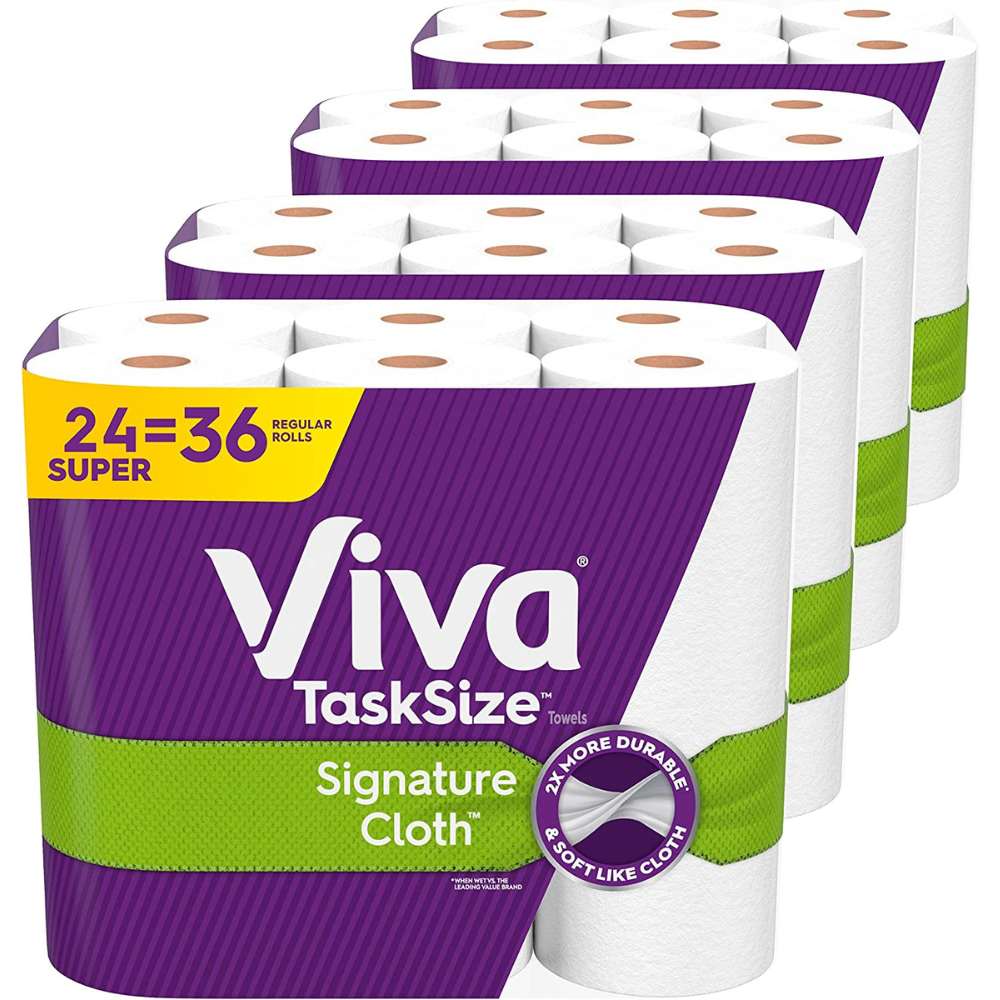 Viva Signature Cloth Paper Towels
Check Price On Amazon
Say goodbye to the days of constantly purchasing useless paper towels that can barely stand up to common household messes! The Viva Signature Cloth Paper Towels are eco-friendly, exceptionally absorbent, and built to last. Crafted with a signature cloth material designed to be reused after rinsing, these paper towels are twice as strong as traditional ones and still manage to fit conveniently on any paper towel holder.
Not only do you get more out of each sheet the Viva Signature Cloth Paper Towels are also twice as efficient. Thanks to their superior strength and highly absorbent qualities one sheet can do what four sheets of normal paper towels would require. So why pay more for less? Get double the use for half the price with Viva Signature Cloth Paper Towels.
Pros
Thick and absorbent these reusable paper towels can be rinsed and reused.
24 rolls of paper towels have the same cleaning capability as 36 rolls of its top competitor.
The core is made of 100% recycled products for environmental sustainability from paper and cardboard waste.
The packaging is made of 100% recycled materials.
Cons
Unlike some other options on our list, this can only be rinsed and reused a couple of times.
Even though the packaging is recycled it is still plastic.
Most Commonly Asked Questions
There are a lot of questions that come up about reusable paper towels. Our goal is to make sure you are well-informed and have all the answers you need to find out if they are right for you.
Do reusable paper towels really work?
Yes, they do work just as well as standard paper towels. Reusable paper towels are a good option if you are looking for a way to cut down on waste and save some money. You can wash most reusable paper towels so you get more than one use out of them. This allows you to be more environmentally sustainable.
How many times can you use a reusable paper towel?
Depending on the materials used for the paper towel you can wash them up to fifty times. On the other end of the spectrum though with weaker materials, you may only get two to three uses out of it which is still better than a regular washcloth.
How long do reusable towels last?
We have used some of the brands on our list for up to 6 months of normal use. If you take proper care of the paper towels or washcloths by rinsing them thoroughly and allowing them to air dry you will be able to get the most use out of them. You can always look at kitchen towels as an option to cut down on waste and see higher longevity. Just be sure to properly wash them following the manufacturer's instructions.
What's the difference between reusable paper towels and Swedish washcloths?
Swedish washcloths are more of a rag or dish towel that you can clean in a washing machine in between uses. They tend to have a higher life span than reusable paper towels made out of cotton or bamboo. Swedish washcloths also come in different designs and colors to match your décor.
Reusable paper towels on the other hand usually come on a roll similar to traditional paper towels but are made of more durable material. These can be rinsed out and dried and reused or even washed. They tend to cost a little less than a Swedish dishcloth but have a shorter lifespan.
What are common materials used for reusable paper towels?
Some common materials used in making reusable paper towels include responsibly sourced bamboo fabric for its sustainability. Bamboo can grow up to three feet in a single day.
Cotton thread and cotton fabric are also very common because of their strength. Cotton is very abundant and doesn't take much energy or effort to produce. Other materials include wood pulp, cellulose, and microfiber. We try to stay away from microfiber though because the way it is made is not very eco-friendly and often results in pollutants during the manufacturing process.
Are reusable paper towels cheaper?
Because you can reuse these paper towels and they are made from stronger and more durable materials the cost point is slightly higher for the initial purchase. The benefit comes in over time as you consume less of these reusable paper towels. When you wash them and continue to use them rather than throwing them away after one use you can significantly reduce your cost over time. And you are helping the environment while doing so.
What are the pros and cons of reusable paper towels?
The biggest pro is the long-term cost savings and the environmental benefit. By composing or recycling you come very close to zero waste.
The main downside however is convenience. With single-use sheets, you can simply wipe up your mess and throw it away. You don't need to worry about washing or rinsing the paper towel and drying it for the next use.
How often do you wash reusable paper towels?
We like to wash them after every use whether it was a small job and all you need is a quick rinse or you need to put them in the washing machine. By washing them each time you limit the amount of bacteria growth and foster a healthy environment.
Are reusable paper towels more eco-friendly?
Yes, reusable paper towels are far more eco-friendly than their traditional counterparts. They are generally made without additional chemicals and are made from sustainable materials. By their nature, you cut down on consumption which helps to save our natural resources.
How do you store reusable paper towels?
Some come on a paper towel roll and can be stored the same way you can with traditional paper towels. For the Swedish washcloths, you can put them on a roll or simply stack them and store them in a drawer or cabinet.
Conclusion
Now that we covered all the basics with sustainable paper towels you should be armed with all the information to find the right ones for you. By being more environmentally conscious you can help save the planet and cut down on waste. Whether you want to save money or go green you should consider a reusable paper towel. Give it a try and if you aren't hooked you can always go back to single-use paper products. Happy cleaning!