5 Best Snowboard Wrist Guards (#2 May Stop a Serious Injury)
If you are looking to protect yourself from unforseen spills or falls while on the mountain, we have you covered. Check out the top wrist guards!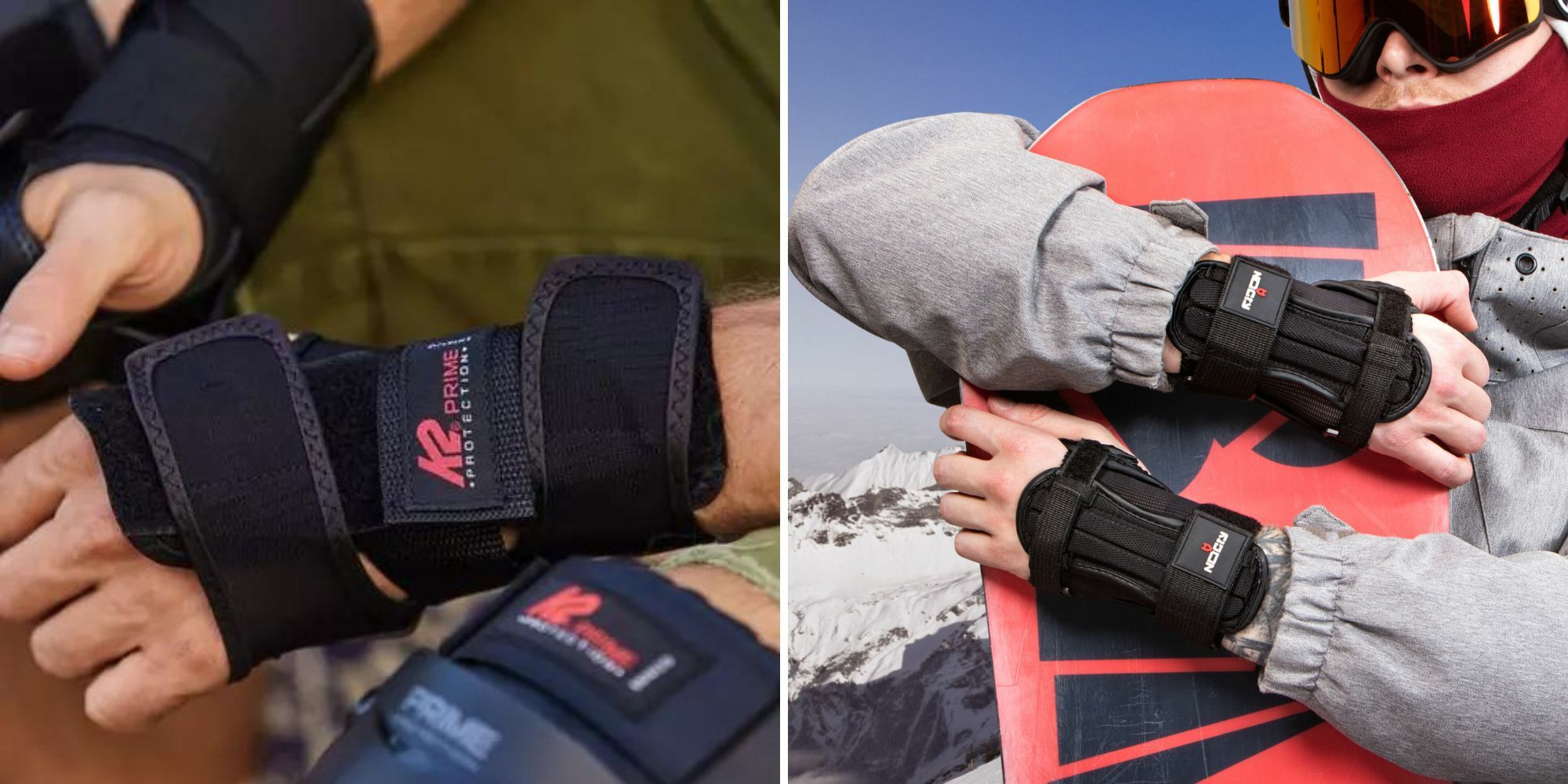 Worried about hurting your wrists this season?
We have the perfect solution – wear wrist guards! They'll help keep you safe and injury-free while you shred.
Not only are they super affordable, but they also come in a variety of colors so you can match them to your outfit. Plus, they're easy to put on and take off, so you can get back to the slopes as quickly as possible.
Keep reading to find the best snowboard protective gear and wrist protection to keep you safe on the slopes!
How We Found the Top Wrist Guards for Snowboarders
It's hard to know which wrist guards are the best for snowboarding because there are so many different brands and models.
Not all wrist guards are created equal. Some are better than others, but it can be hard to figure out which ones those are.
We did the hard work for you. After reading thousands of reviews, we found the best snowboard wrist guards on the market.
---
UnpackedReviews is reader supported, which means that when you click on links to products on our site and make a purchase, we may earn a commission. However, our opinions are our own, and we only recommend products that we genuinely love.
---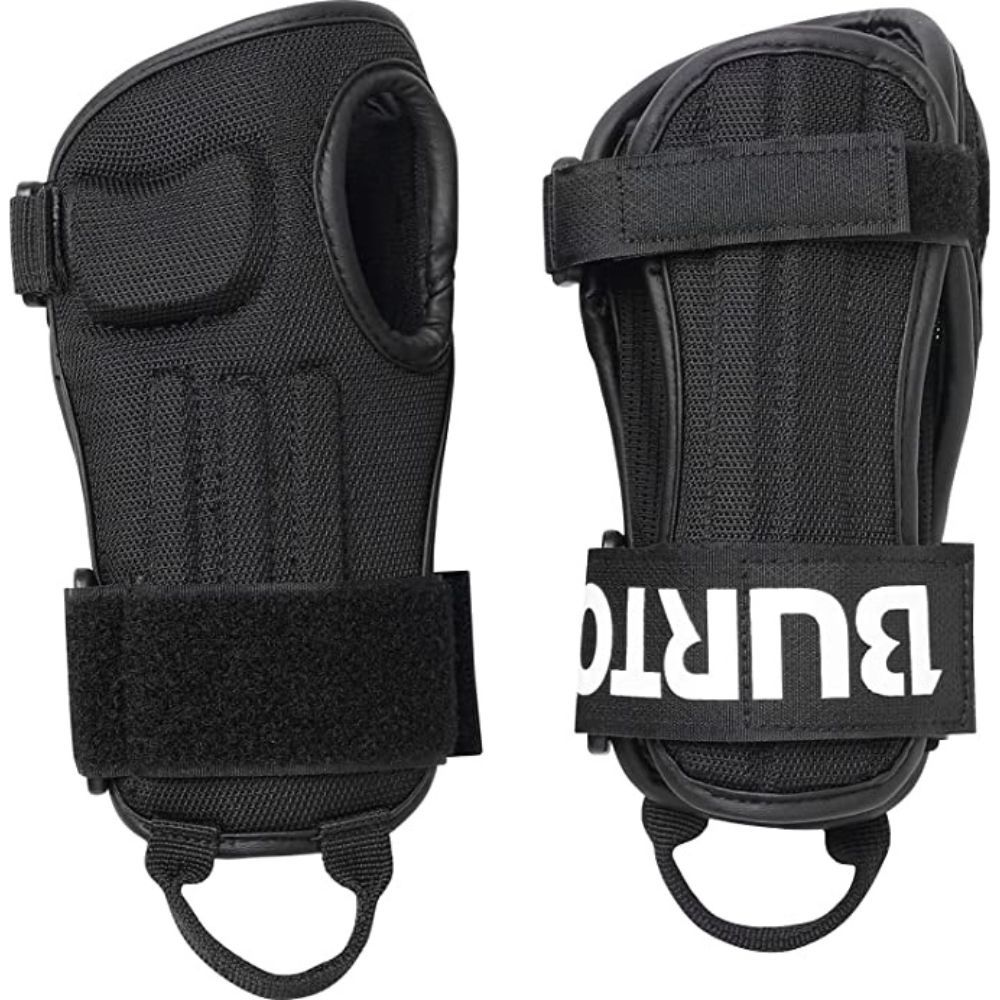 BURTON Impact Wrist Guards True Black Men's
Best snowboard wrist guards
Check Price On Amazon
How it Made the Pick
Snowboarding can be an incredibly fun, but also dangerous, activity. There's nothing wrong with letting loose and having a little extra fun while snowboarding, but it can also be important to ensure you stay as safe as possible while doing so.
Burton is setting the example with their snowboard wrist guards; designed to protect the wrists from potential hard landings and impacts.
Not only are these wrist guards from a reputable and leading brand like Burton, but they're also affordable and comfortable for any level of snowboarder - making your ride even more enjoyable knowing that your safety is in check!
What Makes it Worthy
These guards will keep you safe while carving up the slopes, so you don't have to worry about injuries. Constructed out of 100% polyester, these protective pads are both durable and lightweight, making them an ideal choice for all your snowy adventures.
They come equipped with adjustable closures and flexible tapered top splints that easily mold to your wrists and ensure a comfortable, secure fit.
Plus, they feature a soft palm pad for superior padding and flexible velcro adjustments for a tailored feel. In other words, you can always rely on these wrist guards to stay in place no matter how extreme your ride gets.
So, don't let your next snowboard session go without protection—pick up a pair of BURTON Impact Wrist Guards today! Your wrists will thank you!
---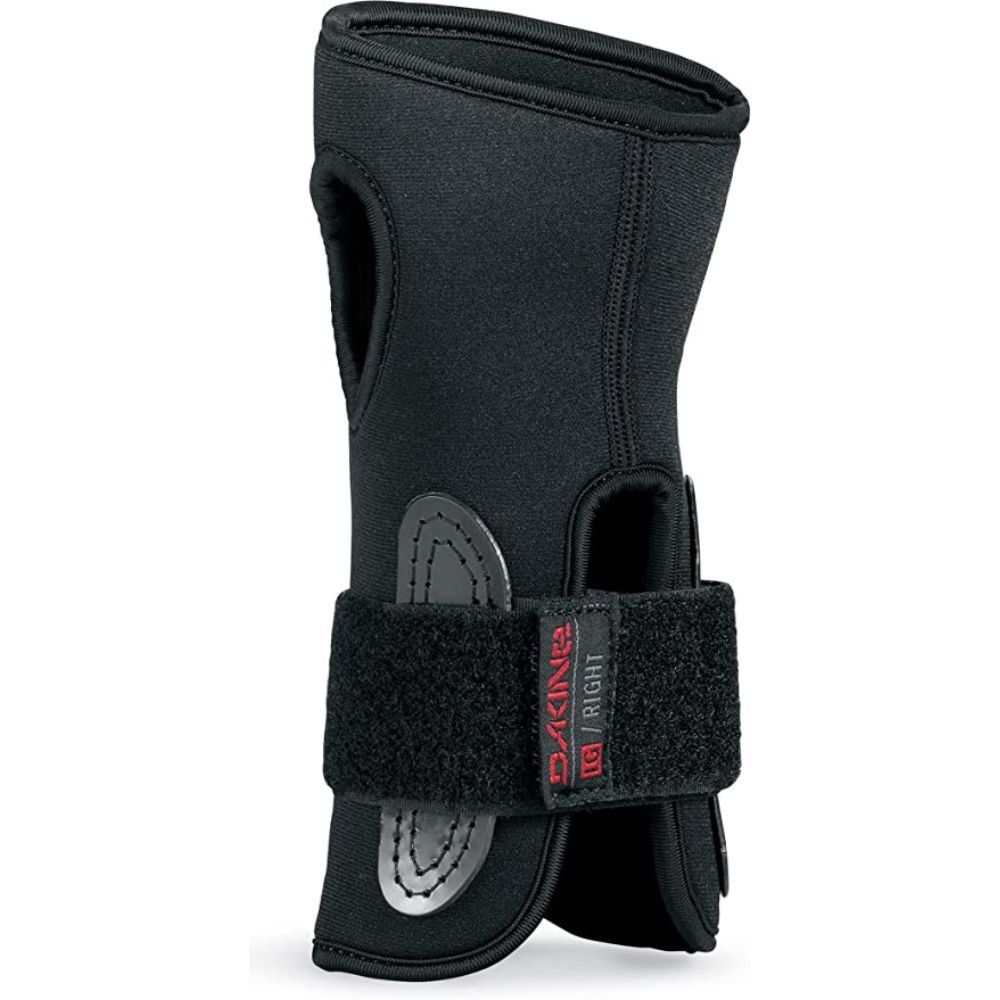 Dakine Mens Wrist Guards Low Profile Wrist Protection
Best low-profile wrist guard
Check Price On Amazon
How it Made the Pick
Whether you're a beginner snowboarder or a seasoned pro, safety should always be taken into consideration when heading out on the slopes.
If you're looking for an effective protection method but don't want to sacrifice comfort and maneuverability, these snowboard wrist guards offer the perfect balance - they're lightweight and low profile enough that you may forget you're even wearing them!
Inserting the guard into your gloves or mittens is intuitive and easy, so you'll have peace of mind knowing you're shielded from bumps, falls, and tumbles while still shredding away with complete ease.
These Dakine wrist guards have Velcro straps that outperform most wrist guards
What Makes it Worthy
Ready to take on the snow with your full force? Look no further than Dakine Men's Wrist Guards!
From long rides down a powdery slope to flying through the air over a jump, these wrist guards are designed to protect you along your snowboarding journey.
Crafted out of sturdy neoprene and equipped with both hook-and-loop closure and adjustable hook-and-loop straps, this gear allows you to achieve the perfect width fit while protecting delicate wrists from injury. Be ready for whatever obstacles arise!
---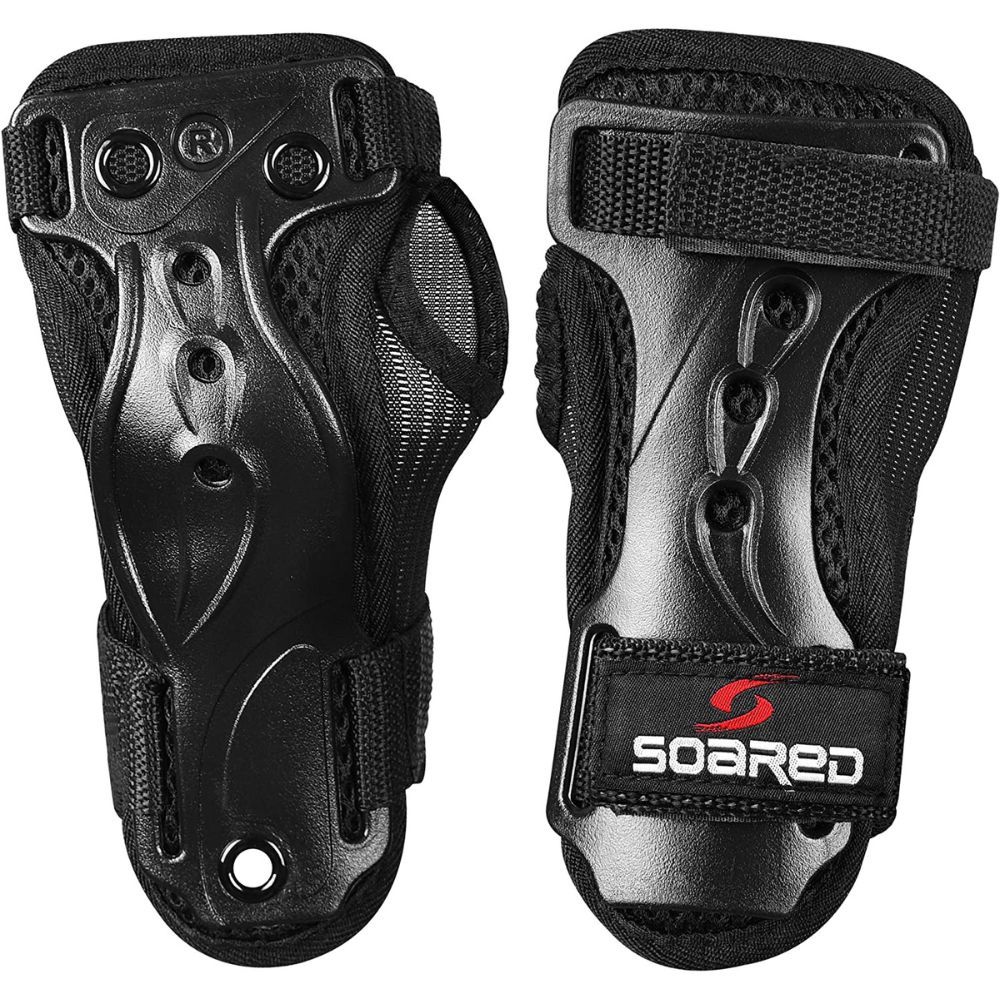 Soared Skating Impact Wrist Guards Protective Gear Gloves for Skateboard Skiing Snowboard
Best over the glove wrist guard
Check Price On Amazon
How it Made the Pick
Snowboarding is so much fun, but we all know how important it is to be safe while partaking in the activity. That's why these snowboard wrist guards are perfect!
Not only are they designed to fit easily over any gloves or mitts, but their quality workmanship ensures that they are of excellent durability.
Having a pair of these wrist guards makes you feel secure knowing you're doing whatever you can to stay safe on the mountain!
So if your go-to winter activity is hitting the slopes, make sure your wrists are properly protected with these dependable snowboard wrist guards.
What Makes it Worthy
If you're looking to avoid wrist injuries while doing extreme sports, the Soared Impact Wrist Guards have got you covered!
Made of durable materials, these guards feature two adjustable nylon straps on the palm and wrist - ensuring a snug fit and reducing the chances of slipping.
They are perfect for use over gloves too, meaning you won't need to compromise comfort or protection!
Keep your wrists safe from sprains and fractures with these reliable guards. So take on any activity knowing your wrists will be truly protected by the Soared Impact Wrist Guards!
---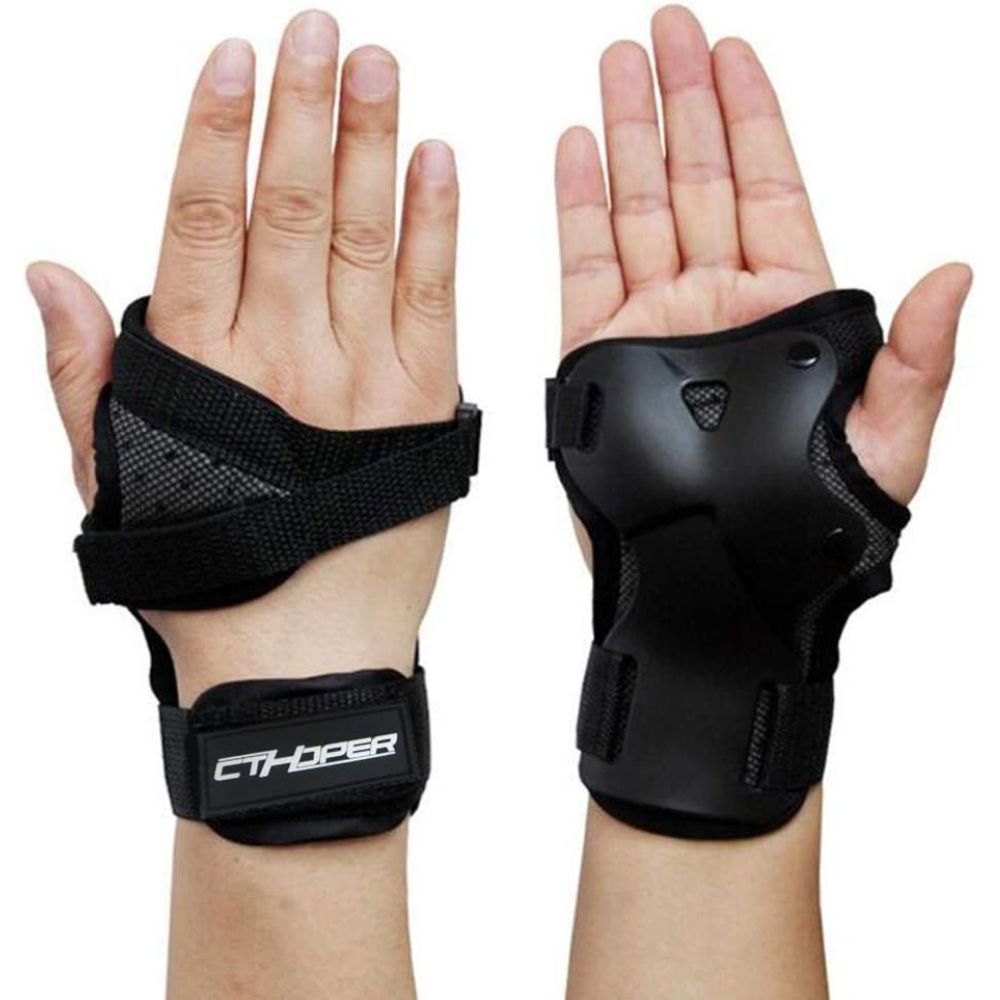 CTHOPER Impact Wrist Guard Protective Gear Wrist Brace Wrist Support for Skating Skateboard Skiing Snowboard Motocross Multi Sport Protection
Best wrist guard with palm protection
Check Price On Amazon
How it Made the Pick
Everyone loves a great pair of wrist guards for snowboarding that are comfortable and breathable, and these snowboard wrist guards will give you the best of both worlds.
With the minimalist design on the back of the hands, you can enjoy maximum breathability with no sacrifice when it comes to protection.
The internal cushion pads are sweat-absorbing to make sure that your hands stay dry and comfortable without feeling too hot or stuffy while providing extra protection in case of any falls.
These wrist guards have been designed specifically for maximum safety and weather resistance during your next snowboarding adventure.
What Makes it Worthy
Tired of having to deal with uncomfortable casts and bulky wraps that leave you unable to use your hand the way you want? Say goodbye to all of those frustrations with the CTHOPER Impact Wrist Guard!
Specifically designed to protect you from even the highest impact, this wristguard comes with an impact-resistant ABS plastic shell that provides long-lasting protection for both your wrist and your palm.
And since it's light and has a low-profile design, you won't have to worry about it weighing down or inhibiting your movements.
Plus, this package includes two pieces (one pair) for both your left and right hands, giving you enhanced protection no matter which side takes the bulk of any impact.
Don't let an injury keep you from enjoying life; get the CTHOPER Impact Wrist Guard today! These guarantee maximum protection!
---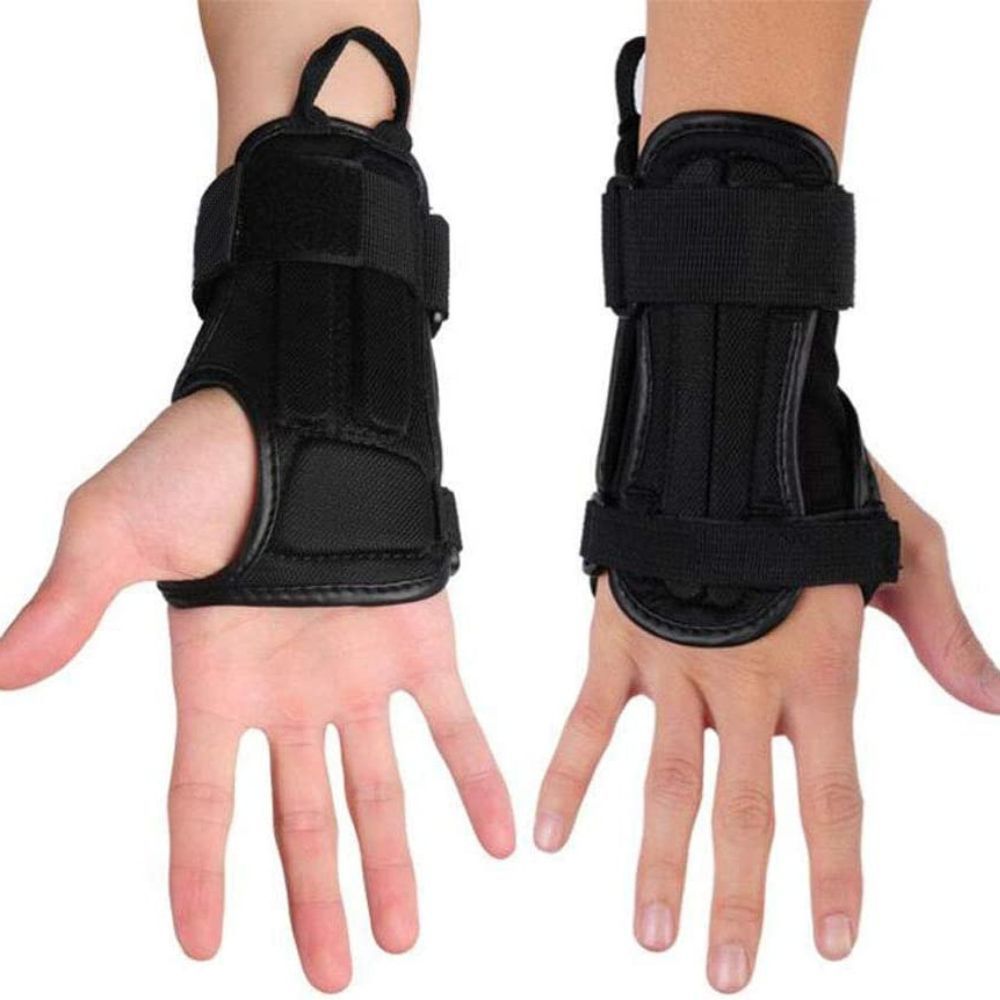 CTHOPER Impact Wrist Guard Fitted Wrist Brace Wrist Support for Snowboarding
Most versatile wrist guard
Check Price On Amazon
How it Made the Pick
If you're looking for a wrist guard to protect your wrists while snowboarding, then this one is perfect! It's designed to fit comfortably, so you can concentrate on having an awesome time shredding the slopes.
Plus, it works with gloves, so you don't have to worry about it slipping off or shifting if you decide to use them while riding.
This guard will stay secure and snug so that you can be sure your wrists are well-protected throughout your adventure. It's an ideal choice for anyone who wants to make sure their wrists stay safe as they hit the powder - get yours today!
What Makes it Worthy
If you're a snowboarder, you know that ski trips can be brutal on your wrists. That's why whether you're a beginner or a pro, having the right wrist guards is crucial for your safety and overall comfort on the slopes. A good pair of ski gloves is a must have as well!
CTHOPER Impact Wrist Guard Fitted Wrist Brace offers maximum protection without sacrificing full range of movement. Its simple design is practical, tiny, and easy to carry around should you need it while out skiing or snowboarding.
With CTHOPER Impact Wrist Guard Fitted Wrist Brace you don't have to worry about those nasty falls anymore — we've got your back! So lace up and hit the slopes worry-free — with superior protection that allows you to focus on doing what it is you love most: show off those sick snowboarding tricks!
Most Commonly Asked Questions Around Snowboard Wrist Guards
A lot of people are hesitant to buy snowboard wrist guards because they don't know if they work or not.
The fact is, a lot of injuries happen when you least expect them, and wearing wrist guards can help prevent those injuries from happening.
We've answered the most commonly asked questions about snowboard wrist guards so that you can feel confident in your purchase.
These wrist guards are made with premium materials and have been tested by some of the best riders in the world, so you know they'll do the job. If you want snowboard gloves with wrist guards built in, they even make those such as the Hillbilly wrist guard gloves.
How do you prevent wrist injuries while snowboarding?
There are a few things you can do to prevent wrist injuries while snowboarding. First, be sure to wear a wrist guard.
Second, make sure you stay in control of your board and don't let it take you for a ride.
Third, use the proper technique - keep your arms close to your body and don't extend them too far forward.
Finally, if you do fall, try to fall on your side or back instead of your hands and wrists.
Be sure to use a stomp pad when skating on your snowboard as this will help you keep control and avoid falling.
Do wrist guards work for snowboarding?
It depends on several factors, such as the type of wrist guard, the skill level of the snowboarder, and the terrain being ridden. That said, in general, wrist guards can help prevent injuries if they are worn correctly and are made from a durable material.
Wrist guards work best when they fit snugly against the skin and are secured in place with Velcro or straps. They should also be high enough up on the forearm so that they protect the wrists and hands.
Snowboarders who are just starting or who are riding on easy terrain may not need wrist guards, but they can be helpful for those who are doing more advanced tricks or who
Are wrist guards worth it?
Yes, wrist guards can be very helpful in preventing injuries. They work by absorbing some of the force of an impact, which can help to reduce the likelihood of a sprain or break.
Wrist guards are most commonly used in sports such as basketball and hockey, but can also be beneficial for other activities such as biking and skiing. It's important to select the right size and type of wrist guard for your activity and to make sure that it is properly fitted.
Knee pads are another great option to limit potential injuries when having a day of fun!
Is there a wrist guards feature to look for?
Wrist guards are essential to anyone who is looking to protect their wrists from potential injuries! With the extra layer of protection, you can keep enjoying all your favorite activities without worrying about bone damage or overuse.
The main feature of wrist guards is the plastic splint, which provides structural stability in regions that often weaken due to excessive usage. In addition, the double velcro straps make them adjustable and suitable for different body types.
They are also much more affordable than other wrist guards on the market and offer exceptional value for money! Get yourself some wrist guards today and avoid a painful wrist injury tomorrow!
Are Burton wrist guards good?
There are a variety of Burton wristguards on the market and people's preferences vary. However, in general, Burton wrist guards are considered good because they are made with high-quality materials and offer good protection.
If you are looking for a pair of wrist guards, it is important to consider your needs and preferences. Some factors to consider include the level of protection that you need, the type of activities you will be using them for, and your budget.
Once you have considered these factors, you can then decide which pair of Burton wrist guards are best for you.
How do I choose a wrist guard?
There are a few things you should consider when choosing a wrist guard:
Your activity level - if you are an avid basketball player, you'll need a different type of wrist guard than someone who only occasionally plays.
Your comfort level - different guards offer different levels of comfort and protection. You'll want to find one that is both comfortable and provides the protection you need.
Size - make sure to choose a guard that is the appropriate size for your arm. If it's too small, it won't provide the coverage you need; if it's too large, it will be cumbersome and difficult to wear.
There are many different types of wrist guards on the market, so take your time in finding the right one for you!
Do wrist guards go over or under your gloves?
It depends on the model. Some wrist guards go over your gloves while others go under them. Make sure to read the instructions that come with your wrist guards to determine which way they should be worn. If you prefer not to worry about that check out our article on snowboard gloves with wrist guards!
Are wrist guards comfortable?
There is no one-size-fits-all answer to this question, as the level of comfort you experience with wrist guards may vary depending on the type and brand you purchase.
However, most people find that wrist guards are relatively comfortable to wear, especially if they are made from lightweight materials.
If you are having trouble finding a pair of wrist guards that are comfortable for you to wear, it may help to try out a few different brands and styles before making a purchase.
And be sure to read reviews from other customers before buying any product, as this can give you a good idea of how comfortable (or not) the item is likely to be.
Can you use skateboard wrist guards for snowboarding?
It depends on the wrist guards. If they are specifically designed for skateboarding, then most likely they will be too bulky and stiff to be effective for snowboarding.
However, some wrist guards are designed to be multi-purpose, so it is worth checking the specifications to see if they can be used for both activities.
Wristguards can help protect your hands and wrists from injuries when snowboarding. There are a few things to keep in mind when choosing wristguards: they should fit snugly but not too tightly, and they should allow you to move your fingers and hands freely.
Also, make sure the wristguards you choose are made of a durable material that will withstand cold weather conditions.
Finding the Right Snowboard Wrist Guard for You
So there you have it – our top five picks for the best snowboarding wrist guards on the market. We read through thousands of reviews to bring you this list, so we hope you find the perfect pair for your needs. And don't forget to wax your board before hitting the slopes! Happy shredding!
If you want to see more like this check out our articles below: