The Best Snowboard Gloves with Wrist Guards Out There
Snowboarders know that the right gear is essential. It's important to find gloves with wrist guards that can keep your hands warm and protected.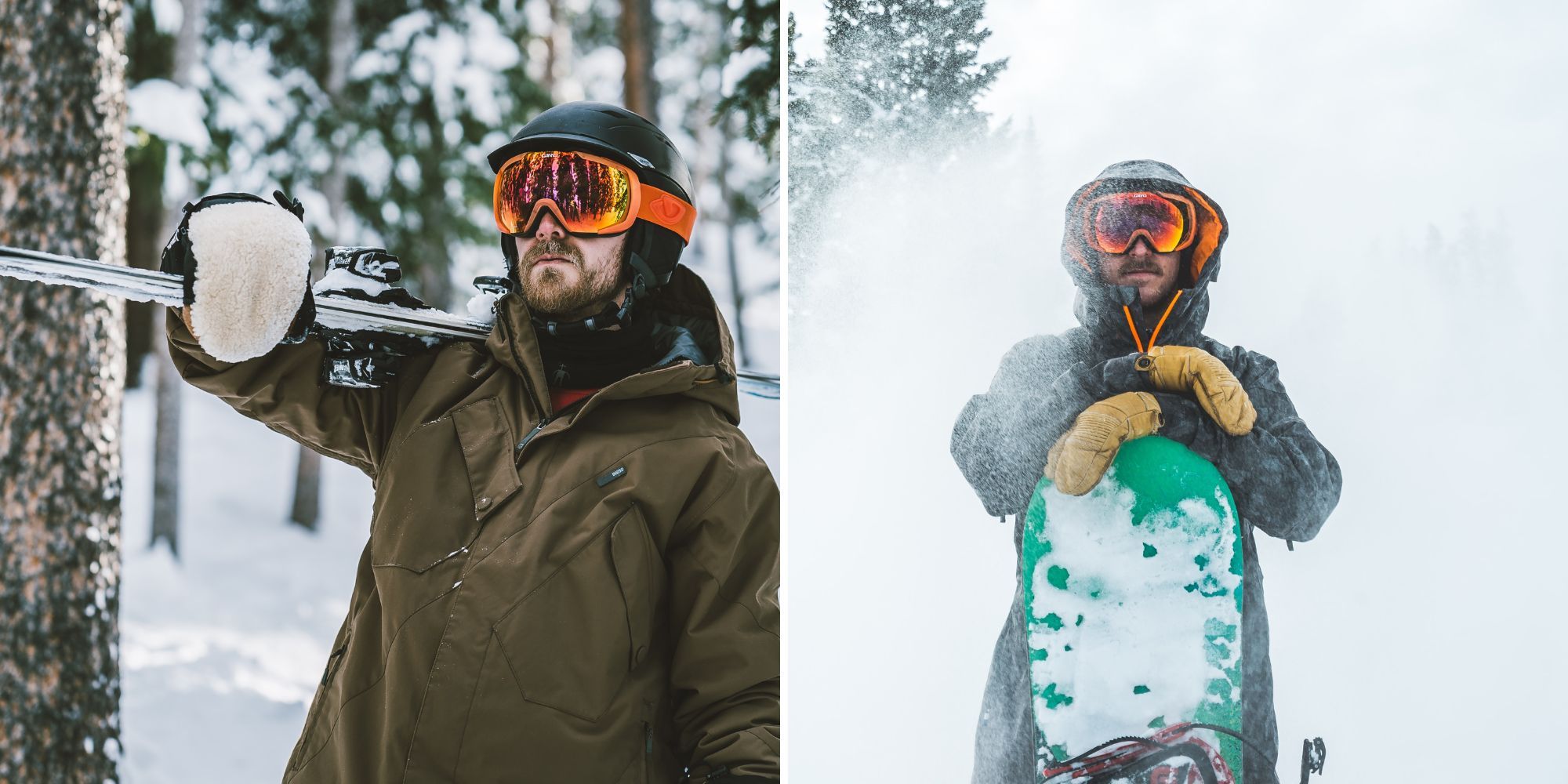 Do you love snowboarding but hate the idea of injuring your hands or wrists?
Then you'll love our list of the best snowboard gloves with wrist guards! We've done all the hard work for you and found the top gloves that will help keep you safe while boarding.
Not only are these gloves some of the most protective on the market, but they're also stylish and comfortable. You'll be able to ride in style and safety with a pair of our recommended gloves.
Click on one of the links below to buy a pair of gloves with snowboard wrist guards today!
How We Found The Best Gloves With Wrist Guards
Finding protective gear for snowboarding can be difficult. It's hard to know which snowboard gloves have wrist guards without spending hours reading reviews.
Even if you do spend the time reading reviews, it can be hard to determine whether or not a pair of gloves has wrist guards just by reading about them.
We've done the hard work for you and found the best snowboard gloves with wrist protection on the market. Our picks are based on real-world customer feedback, so you can trust that these gloves will protect your wrists while you're shredding the slopes.
Why Would You Need Wrist Guards In your Gloves
Anyone who's ever gone snowboarding knows that it's not just a winter sport - it's an adventure. And like any adventure, there's always some element of risk involved.
One of the most common injuries in snowboarding is a wrist injury, which can range from a simple sprain to a more serious break. That's why it's so important to choose the right gloves when you hit the slopes.
---
UnpackedReviews is reader supported, which means that when you click on links to products on our site and make a purchase, we may earn a commission. However, our opinions are our own, and we only recommend products that we genuinely love.
---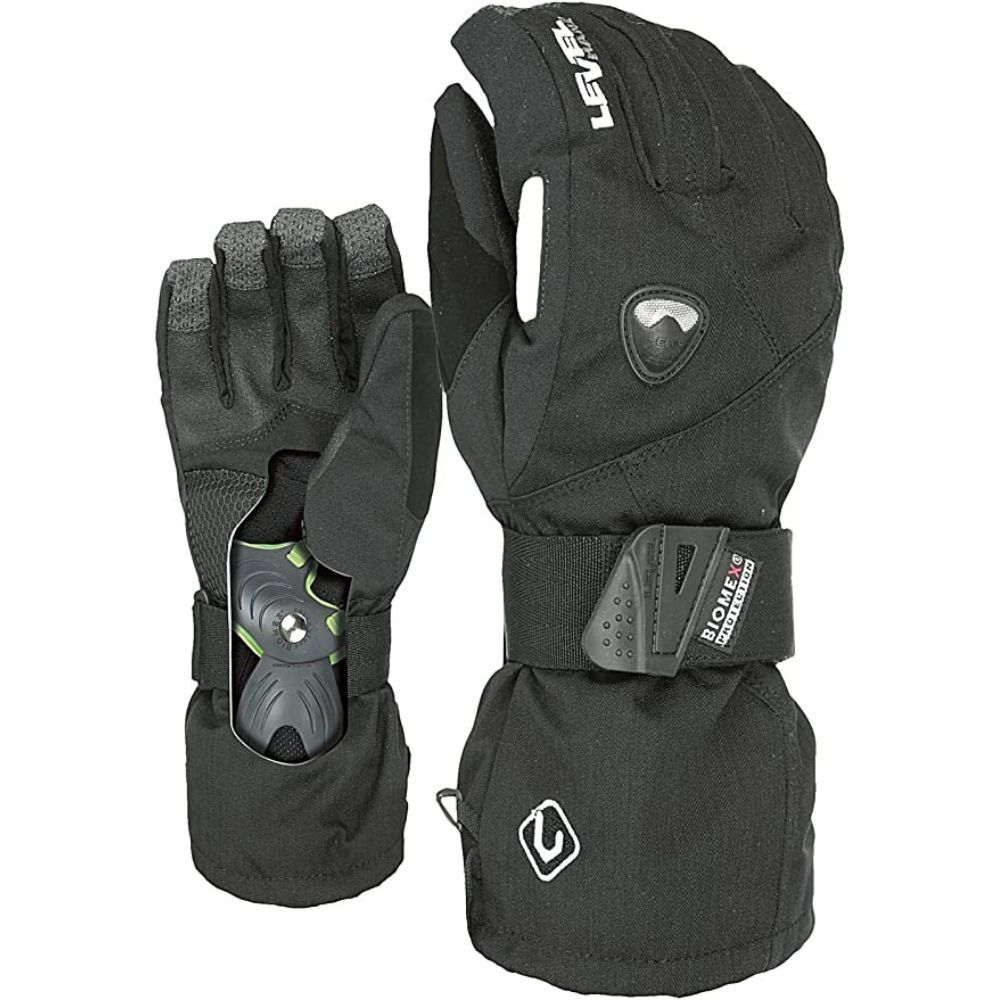 LEVEL Fly Snowboard Gloves with Wrist Guards
Best Snowboard gloves with wrist guards for men
Check price on Amazon
How it Made the Pick
The LEVEL Fly gloves offer Proven effective snowboard wrist protection, with Level's BioMex wrist guards inside and water resistant Membra-Therm Plus dry technology. The LEVEL Fly gloves are also available in both Men's and Women's versions, so you can find the perfect fit for you or your family.
The LEVEL Fly gloves come with a removable liner so you can easily wash them after a day on the mountain. So whether you're just getting started on the bunny hill or hitting the black diamond runs, make sure you're doing it in style - and safely - with the LEVEL Fly gloves!
What Makes it Worthy
Looking for a tough, durable and long lasting snowboard glove? Look no further than the LEVEL Fly Snowboard Gloves. These gloves are made with Kevlar, an innovative and textured material that is built to last.
The removable liner means you can easily dry and clean them, and the vent keeps your hands from getting sweaty. The gauntlet style cuff ensures that snow stays out so you can stay focused on your ride.
---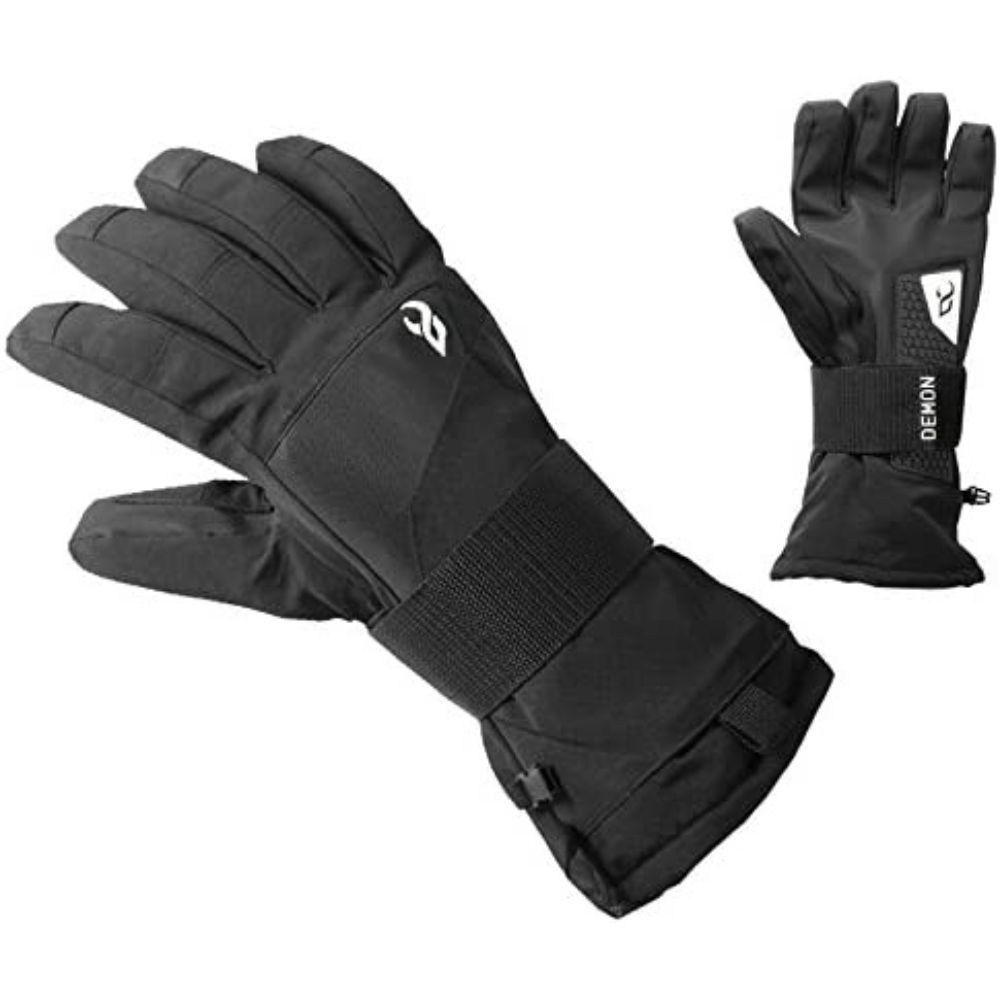 Demon Cinch WRISTGUARD Waterproof Snowboard Glove
Best snowboard gloves with wrist guards for all around use
Check price on Amazon
How it Made the Pick
It's finally winter, which means it's time to break out the snowboard and hit the slopes. But before you do, you need to make sure you have the right gear. And one essential piece of gear is a good pair of gloves. The Demon Cinch gloves are a great option, because they combine warmth, waterproofing and wrist support in one glove.
Plus, they're reasonably priced. These breathable gloves have a waterproof outer layer to keep your hands dry, and a soft inner layer for warmth. They also have built-in wrist guards for extra protection. So if you're looking for a good pair of gloves that won't break the bank, the Demon Cinch wrist guard gloves are a great choice.
What Makes it Worthy
The Demon Cinch Snowboarding Gloves are exactly what you need to stay safe and comfortable while shredding the slopes. These gloves feature a rigid Plastic/TPU shank on the palm for added stability and protection in case of a fall, as well as a Flexi-plastic shank on the top of the glove for additional support.
The wide strap is anchored with elastic, so you can cinch it to your desired comfort level around your wrist. This provides essential comfort and stability to your wrists while you're snowboarding. The durable Tuff Tek palm material and rugged Denier top material make these gloves last longer so you can enjoy them for seasons to come.
---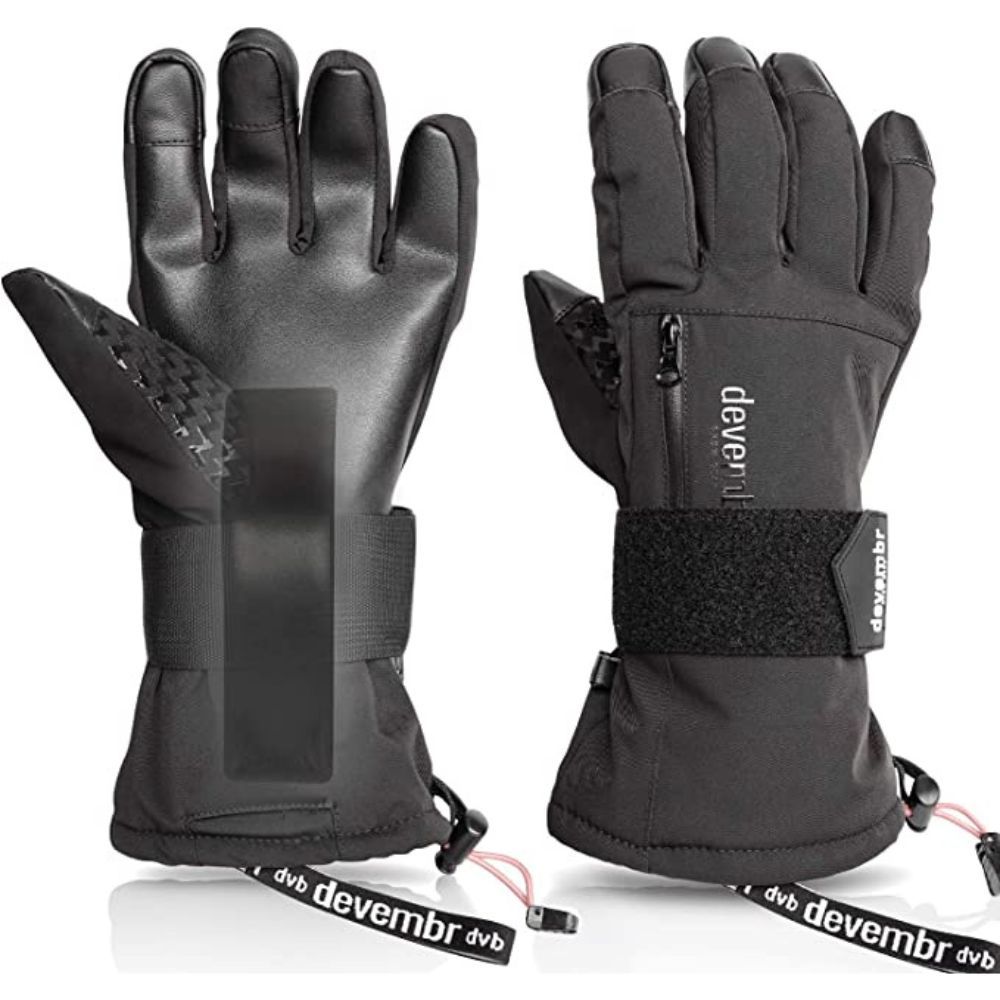 Waterproof, Devembr Warm Snowboard Gloves with Wrist Guard
Best Snowboard gloves with wrist guards for the value
Check price on Amazon
How it Made the Pick
It seems like every winter there's a new story about someone who broke their wrist while snowboarding. While there's no guarantee that you'll never have an accident, you can reduce your risk by wearing gloves that offer wrist protection.
These gloves from Devembr are equipped with a pair of detachable wrist guards. They're also made with premium PU leather in the palm, which is durable and provide good resistance against abrasion. By wearing these gloves, you'll be better protected in case you do take a spill. And if you don't end up needing the wrist guard, you can always remove them. Either way, you'll be glad you have them the next time you hit the slopes.
What Makes it Worthy
Who says you can't have it all? With these Waterproof, Devembr snowboard gloves with wrist protection, you can enjoy your winter sports while staying connected to your phone. These gloves come with 3 Fingers that are equipped with touchscreen-compatibility, so you don't need to take them off to use your phone.
A zipper pocket on the back of the gloves keeps your small belongings safe and sound, like your ski lift pass, extra cash and keys. So go ahead and enjoy the slopes - with these gloves, you're prepared for anything!
---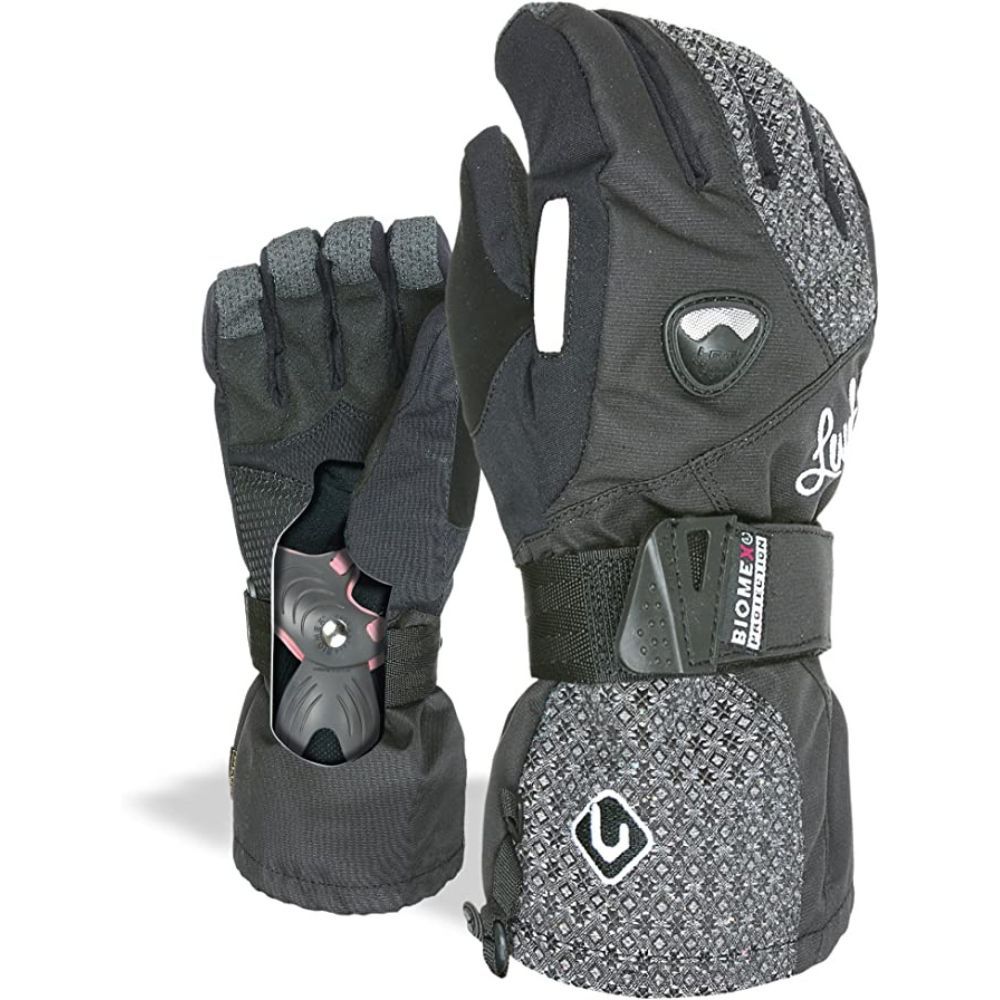 Level Women's Butterfly Glove
Best Snowboard gloves with wrist guards for women
Check price on Amazon
How it Made the Pick
Introducing the Level Women's Butterfly Glove! If you're looking for proven wrist protection in a snowboard glove, you can't go wrong with these gloves. They're designed to protect your wrists from injury, and they're proven to work.
You'll have confidence knowing you're wearing wrist protection, and confidence knowing they work very well at protecting your wrist. Plus, they're a budget-friendly option. They include all the performance features that are critical to preventing snowboard injuries, making them a great choice for anyone looking for reliable wrist protection.
What Makes it Worthy
This versatile snowboard glove comes packed with features to keep you comfortable and protected on the slopes. The plush Nose Wipe is perfect for those cold days when you need a little extra warmth, and the gauntlet style cuffs provide a snug fit to keep the elements out.
The interior liner is soft and comfortable, and the Air vent on the top of the hand helps to regulate temperature and moisture inside the glove. Whether you're hitting the slopes or just spending time outdoors in cold weather, the Level Women's Butterfly Glove is a great choice for keeping your hands warm and protected.
---
Most Commonly Asked Questions Around Snowboard Gloves with Wrist Guards
It's the middle of winter and you want to go snowboarding, but you don't know if you should buy gloves with a wrist guard or not.
You're not sure if you need a wrist guard because you've never had an accident before. But what if you fall and hit your wrists? Will the gloves protect them then?
We answered the most commonly asked questions around snowboard gloves with wrist protection. Our guide will help you decide whether or not buying gloves with wrist guards is right for you.
Is a standalone wrist guard better than a glove with a guard?
It depends on the sport. A wrist guard are typically used in sports where there is a higher risk of injuries of the wrist, such as gymnastics, basketball, and football. For other sports, like snowboarding and skiing, gloves with wrist guards built in are often more effective because they offer more protection.
Some gloves have removable wrist guards so you have the option to have them in or not making the glove more versatile.
How important is protective gear when snowboarding?
Snowboarding without protective gear can be dangerous. Wearing a helmet is essential, and a wrist guard, knee pads and helmet are also recommended. When choosing gear, make sure to select products that fit well and are made from high-quality materials.
Protective gear is important because it helps reduce the risk of injury. Injuries can occur when skiing or snowboarding, and they can range from minor scrapes and bruises to more serious injuries such as fractures or head injuries. Wearing protective gear can help minimize the risk of these types of injuries.
So overall, protective gear is definitely important when snowboarding - it can help keep you safe and help you avoid serious injuries.
Are wrist guards good for wrist protection snowboarding?
Wrist guards can help protect against some injuries but may also limit movement and dexterity. Ultimately, it depends on each individual snowboarder's preference and level of risk they are willing to take. Wrist guards are a good idea for beginners and those who are prone to falling, as they can help prevent sprains or fractures.
However, experienced snowboarders who are more comfortable in their surroundings may choose not to wear them in order to have more mobility and flexibility.
How common are wrist injuries in snowboarding?
Most snowboarders suffer wrist injuries on a more frequent basis than any other type of injury. There are purpose built protective gloves that are good at reducing snowboard wrist injuries such as the burton support gloves and all the gloves listed in this article. You can even find skateboard wrist guards if all else fails. Wearing wrist guards significantly reduces your chances of a wrist injury.
Using a stomp pad helps you with balance while skating and can help prevent injuries!
What gear should you take snowboarding?
There is no one perfect answer to this question, as the gear you take snowboarding will depend on a variety of factors, including your skill level, the type of terrain you plan to ride, and the weather conditions. That said, here are some general tips on what gear to take snowboarding besides wear wrist guards:
-Skis/snowboard: Make sure your equipment is properly tuned and suited for the type of terrain you'll be riding. For beginners, it might be a good idea to stick with a slightly wider ski or board that will give you more stability on harder surfaces.
-Boots: Your boots should fit snugly but not too tightly, and should provide good ankle support.
-Helmet: Helmets are a must-have for snowboarders, as they can protect you from head injuries in case of a fall.
Some of the things you should do prior to riding is wax your board, and check that your bindings are secure.
Can you ride without snowboarding gloves?
Yes, you can ride without snowboarding gloves but it is not recommended. The key to a good day on the mountain is to wear a good pair of mittens or insulated ski gloves. Mittens will keep your hands warmer than gloves because your fingers are together and the warm air stays around them longer. Ski gloves have a waterproof and breathable membrane that keeps your hands dry while letting moisture escape so they don't get sweaty and cold.
If you don't have any mittens or ski gloves, you can try to put some insulation between your hands and your sleeves. You can also try tucking your thumbs into the front of your jacket to keep them warm. And finally, if all else fails, you can always put hand warmers in your pockets.
The Right Gloves for You
We hope that the information we've provided will help you make an informed decision about the best snowboards wrist guards for you. All of the gloves on our list have been well-reviewed and should keep your hands warm while you shred those slopes. So grab a pair of the best snowboard wrist guards and get out there. Happy shopping!
If you want to see more like this check out our list below: