Best Snow Tubes to Get You Out This Winter
It's the middle of winter and you're thinking, "I need something to do outside." Well, look no further, because a snow tube is great winter fun!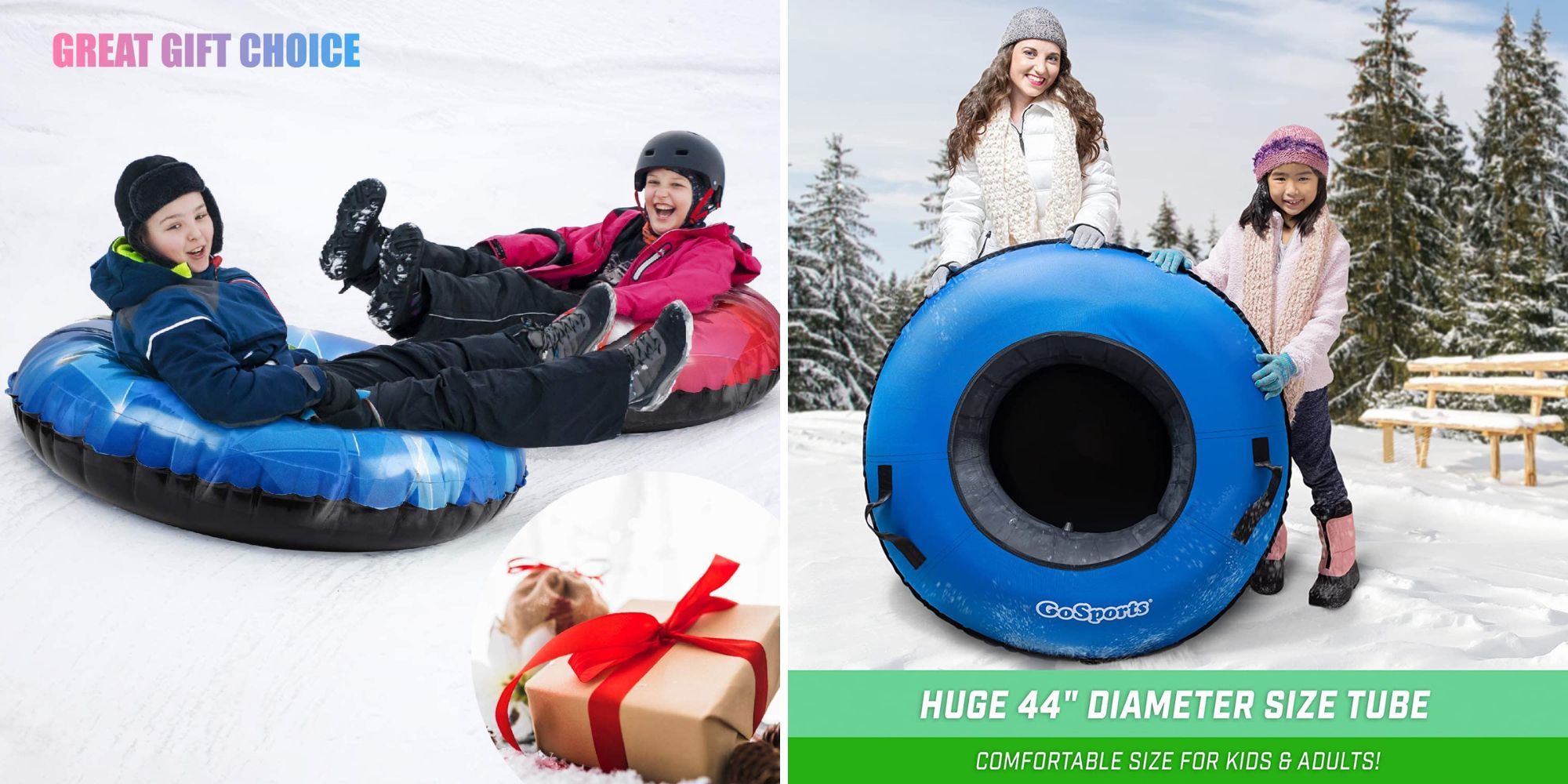 Ready to have some winter fun?
Snow tubes can be a lot of fun, but there are so many different options on the market that it can be hard to know which one is right for you. That's why we're here to help! In this article, we'll discuss the top snow tubes on the market and why you should buy them. We'll also give you some tips on how to choose the right one for your needs.
Whether you're looking for a family-friendly option or something that will let you tear up the slopes, we've got you covered! So read on and find the perfect snow tube for your next winter adventure.
Read on to see our top picks!
How We Found the Best Snow Tubes on the Market
It can be hard to find the right snow tube for you. With all of the different brands and models out there, how can you make sure you're getting the best one?
Well, we read through thousands of reviews to help make your decision easier. We looked at all of the different brands and models out there and found the best ones for you.
Now that you know which tubes are the best, it's time to choose your favorite!
---
UnpackedReviews is reader supported, which means that when you click on links to products on our site and make a purchase, we may earn a commission. However, our opinions are our own, and we only recommend products that we genuinely love.
---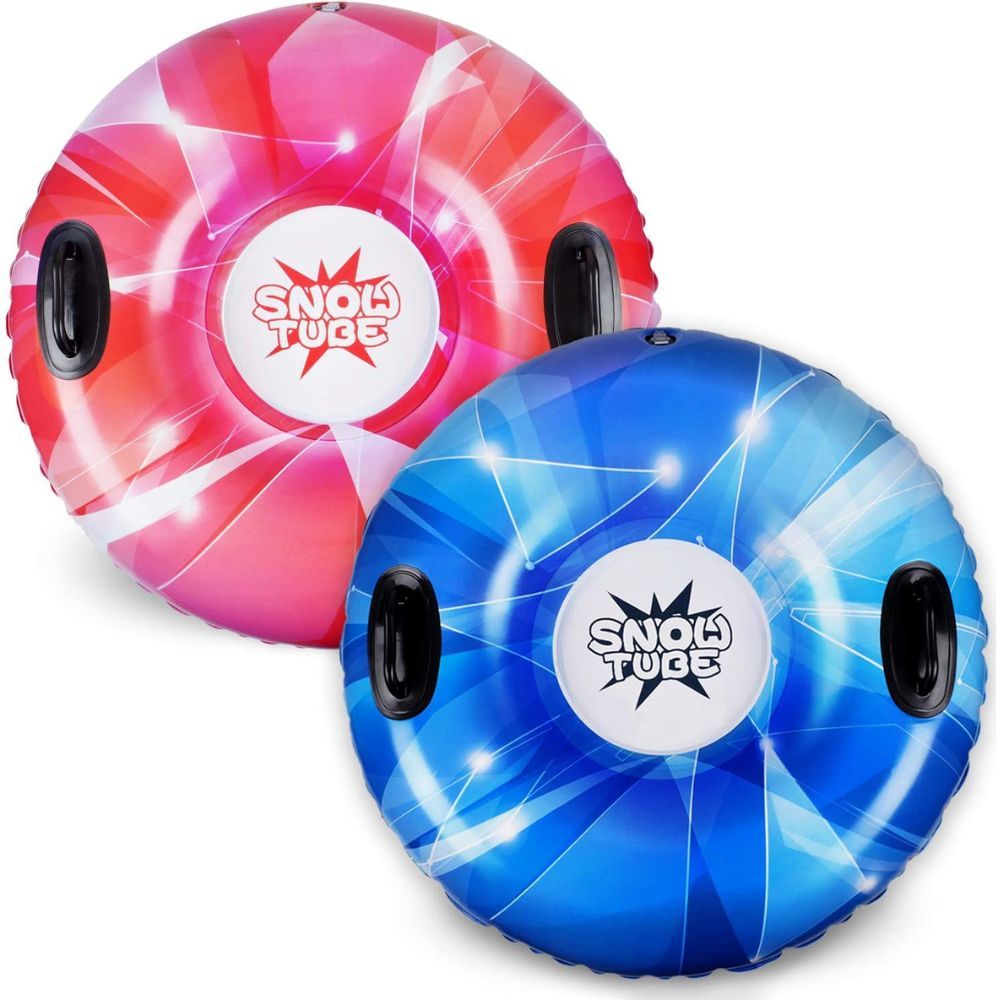 Calo Snow Tube Sled for Kids and Adults, 34"
Check price on Amazon
How it Made the Pick
Spending time with family is important, but it can be tough to find activities that everyone enjoys.
That's why inflatable snow tubes are such a great option - they're perfect for both kids and adults.
This particular snow tube is comfortable with a big seat, and it's easily inflatable.
Plus, it comes in a two pack so you can enjoy the snow with a friend or loved one. Best of all, it has a low price point, making it an affordable family activity.
So next time you're looking for something to do with the family, grab a couple of these snow tubes and head to the nearest hill. You're sure to have a blast.
What Makes it Worthy
Looking for something fun to do in the snow? Calo Snow Tube Sled is the perfect choice for both kids and adults! Made with upgraded heavy duty K80 PVC material, this sled is built to last.
It can hold up well under extreme low temperatures, making it ideal for a day out in the snow.
The handles are durable and easy to hold, so you can enjoy a worry-free ride down the slopes. Don't miss out on the fun - get your Calo Snow Tube Sled today!
---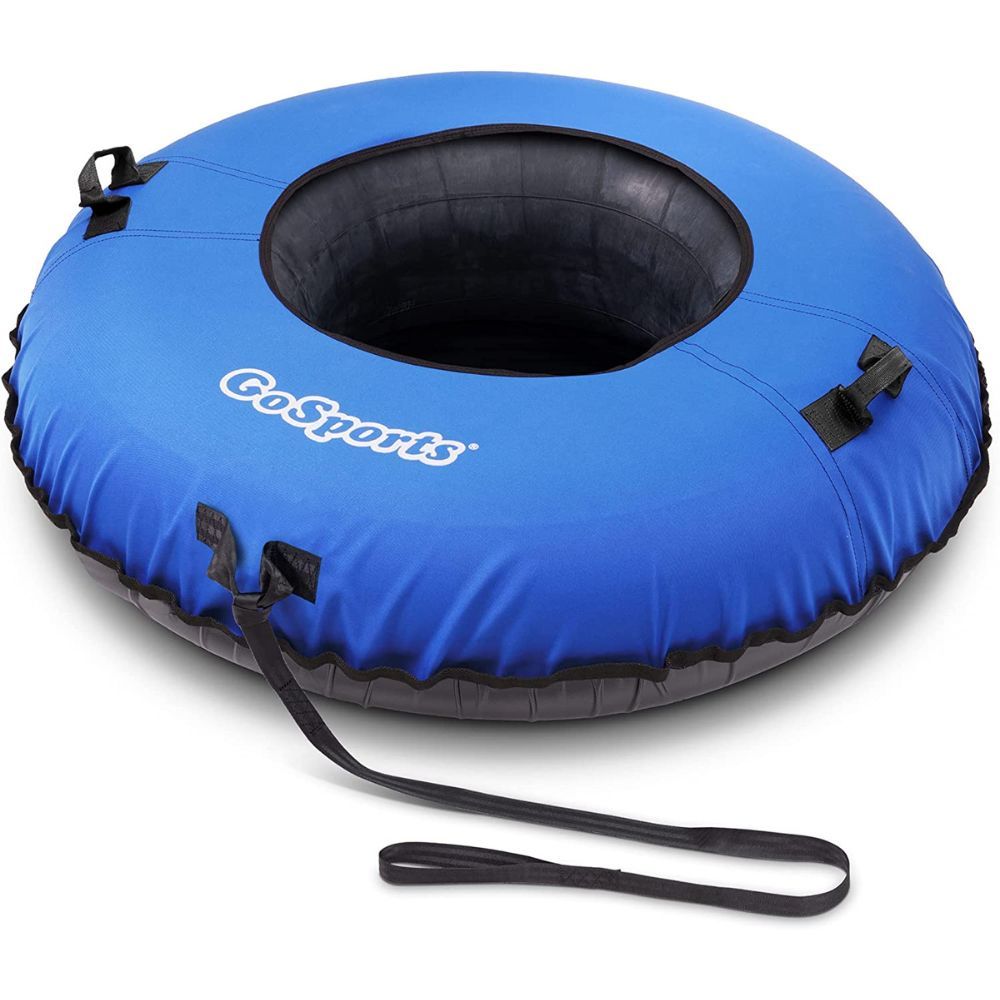 GoSports 44" Heavy Duty Winter Snow Tube
Check price on Amazon
How it Made the Pick
Looking for a great snow tube? This one has an easy pull handle, and it's extra-large for a spacious feel that accommodates both kids and adults.
Plus, it has a stylish canvas cover. So whether you're sledding down the hill or just enjoying the winter scenery, this snow tube will keep you comfortable and stylish.
And when the snow melts, you can easily store it away until next winter. So don't wait - order your snow tube today!
What Makes it Worthy
Looking for a fun winter activity the whole family can enjoy? Well, look no further than the GoSports 44" Heavy Duty Winter Snow Tube! This tube is perfect for sledding down snowy hills and will provide hours of fun.
The canvas cover features a durable, coated bottom for a smooth ride every time. Plus, the commercial grade tire tube and dual layer construction make this snow tube extremely durable. So you can rest assured knowing that you'll be able to enjoy it for seasons to come.
Not to mention, color is sure to stand out in the snow. So you'll always be able to spot your tube when you're sledding down the hill. And at 44" in diameter, this snow tube is large enough for adults and kids alike.
So don't wait any longer, order your GoSports 44" Heavy Duty Winter Snow Tube today and get ready for some winter fun!
---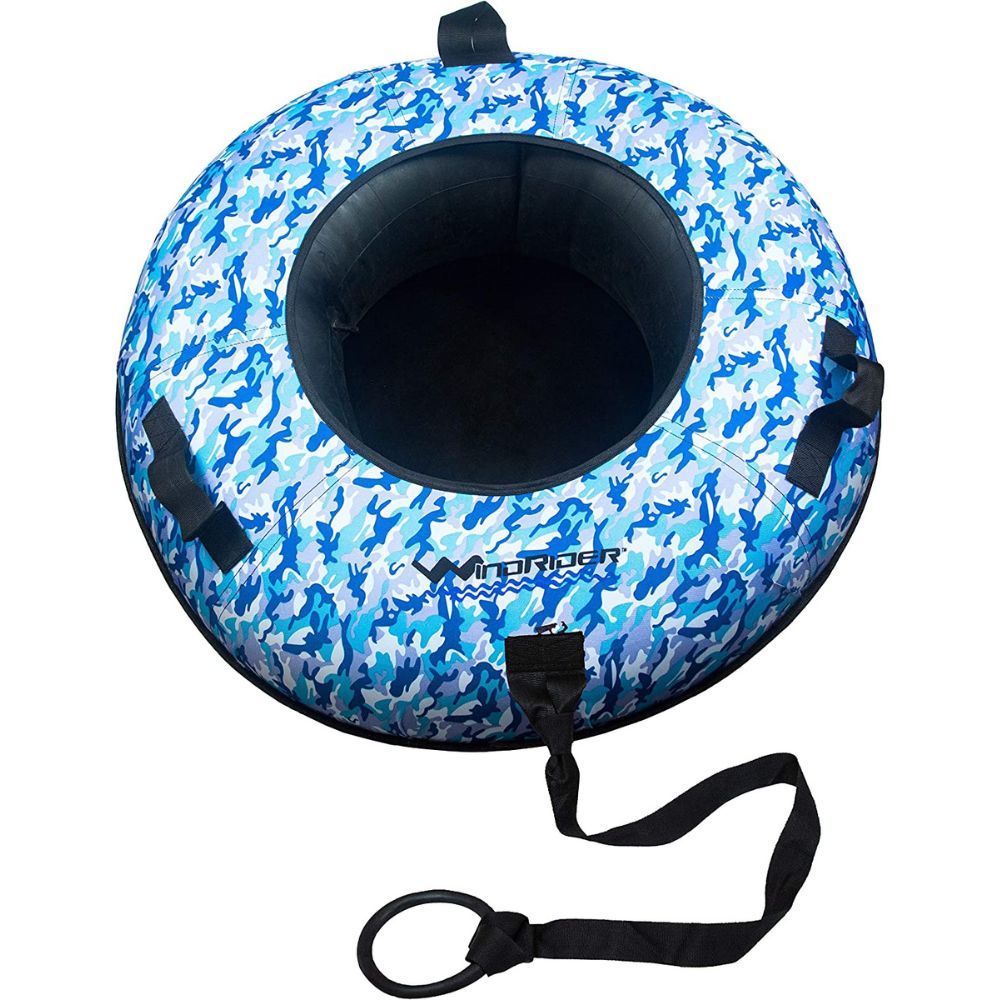 WindRider Snow Tube Heavy Duty with a Hard Plastic Bottom
Check price on Amazon
How it Made the Pick
Anyone who's ever been snow tubing knows that it's one of the most fun winter activities around. There's something about hurtling down a hill on an inflated tube that just gets the adrenaline going. But not all snow tubes are created equal.
Some are made with flimsy materials that don't hold up well to repeated use, while others are too slow to really get you going. The top snow tubes, like the one being described here, are made with durable hard bottoms that can withstand lots of wear and tear.
They're also fast, so you can really get your heart racing as you zip down the hill. And yet despite all of these advantages, they're still super comfortable to ride on. So if you're looking for the best possible snow tubing experience, be sure to choose a tube with a hard bottom. You won't regret it.
What Makes it Worthy
If you're looking for a long-lasting, durable snow tube, the WindRider Snow Tube Heavy Duty with a Hard Plastic Bottom is the perfect option.
This snow tube is made with a 500D Cordura top and a solid polyethylene bottom, making it extremely strong and durable. Unlike many other snow tubes on the market, this one has a hard plastic bottom that provides added protection and stability.
You'll be able to enjoy sledding down the slopes all winter long with this reliable snow tube. It has a tow rope so if you wanted to play pull sled, you most certainly can. This now tube checks all the boxes.
---
Most Commonly Asked Questions Around Snow Tubes
It's wintertime and that means one thing - snow and hot chocolate! For a lot of people, that also means playing in the snow. But if you've never been tubing before, it can be hard to know what to expect.
Tubing is a ton of fun, but it's also a little bit scary if you don't know what to expect. Will you fall off? Will the tube flip over? How do you stay on?
We've got all the answers to your questions around snow tubes. From how to choose the right tube for you, to tips for staying safe while tubing, we'll have you out on the slopes having a blast in no time.
If you are looking for a foam sled check out our article!
How to Stay Safe While Snow Tubing
Winter is a great time to enjoy some outdoor activities, like snow tubing. But before you head out to the slopes, it's important to take some safety precautions. First, make sure you're using a tube that's designed for snow tubing.
These tubes have grips and special bottom surfaces that help you stay on the tube and control your speed. Second, dress warmly in layers of waterproof clothing. And third, always use a helmet when you're tubing.
This will help protect your head if you take a tumble. By following these simple safety tips, you can enjoy snow tubing without worry. So grab a tube and hit the slopes!
Are snow tubes the same as water tubes?
Snow tubes and water tubes are similar in that they are both round, inflated tubes designed for sliding down a hill.
However, there are some key differences. For example, snow tubes are typically made of vinyl or plastic, while water tubes are typically made of rubber.
Additionally, snow tubes tend to be larger and less streamlined than water tubes. Finally, water tubes are usually heavier and more difficult to carry around than snow tubes. The high-end snow tubes even have a durable PVC bottom.
What is a snow tube?
A snow tube is used to slide down a snow-covered hill. Snow tubes can be ridden either sitting or lying down. They are generally made for one adult, or two kids, but some larger models can accommodate two adults.
Snow tubes are a fun way to enjoy the winter weather and get some exercise outdoors. They can be used by people of all ages and are great for family outings or trips with friends.
When using a snow tube, always make sure to take the necessary safety precautions, such as wearing helmets and other protective gear, and choosing an appropriate location to slide down. Make sure to have a repair kit handy just in case you need to fix a broken sled. Have fun!
Do snow tubes work for sledding?
Snow tubes work for sledding if there is enough snow on the ground. They are a good option because they are easier to use than traditional snow sleds and they are less likely to damage the grass.
However, they can be more dangerous than traditional sleds, so it's important to take precautions when using them. Make sure that you go down the hill slowly and always stay aware of your surroundings.
Is a sled or snow tube better?
That depends. A sled is better for long rides downhill because it's more stable. A snow tube is better for spinning and flipping around in the snow. Having a deep seat tube on a good snow day is loads of fun though.
What material slides best on snow?
There is no definitive answer to this question as it depends on a variety of factors, such as the type of snow, the material in question, and the weight and shape of the material.
However, some materials that are often cited as being good for sliding on snow include PVC, plastic, Teflon (PTFE), and wax.
What size snow tube should I get?
It depends on how you plan to use your snow tube. If you're just planning to use it for recreational purposes, then a smaller size would be perfect.
However, if you plan to use it for racing or more adventurous activities, then you'll need a larger tube that can handle more speed and force. Sonic snow tube and Slippery Racer are good alternative brands to look in to with a variety of sizing.
The Right Snow Tube for Your Needs
So, which one of these tubes is the right fit for you? It depends on what you're looking for. Whichever one you choose; we hope that this list will help make your decision easier and ensure that you have a blast tubing down those snowy hills!
Check out our related articles below: