The Best Snowboard Helmets on the Market
If you're a snowboarder, then you know how important it is to have the right gear. One of the most important pieces of gear is your helmet!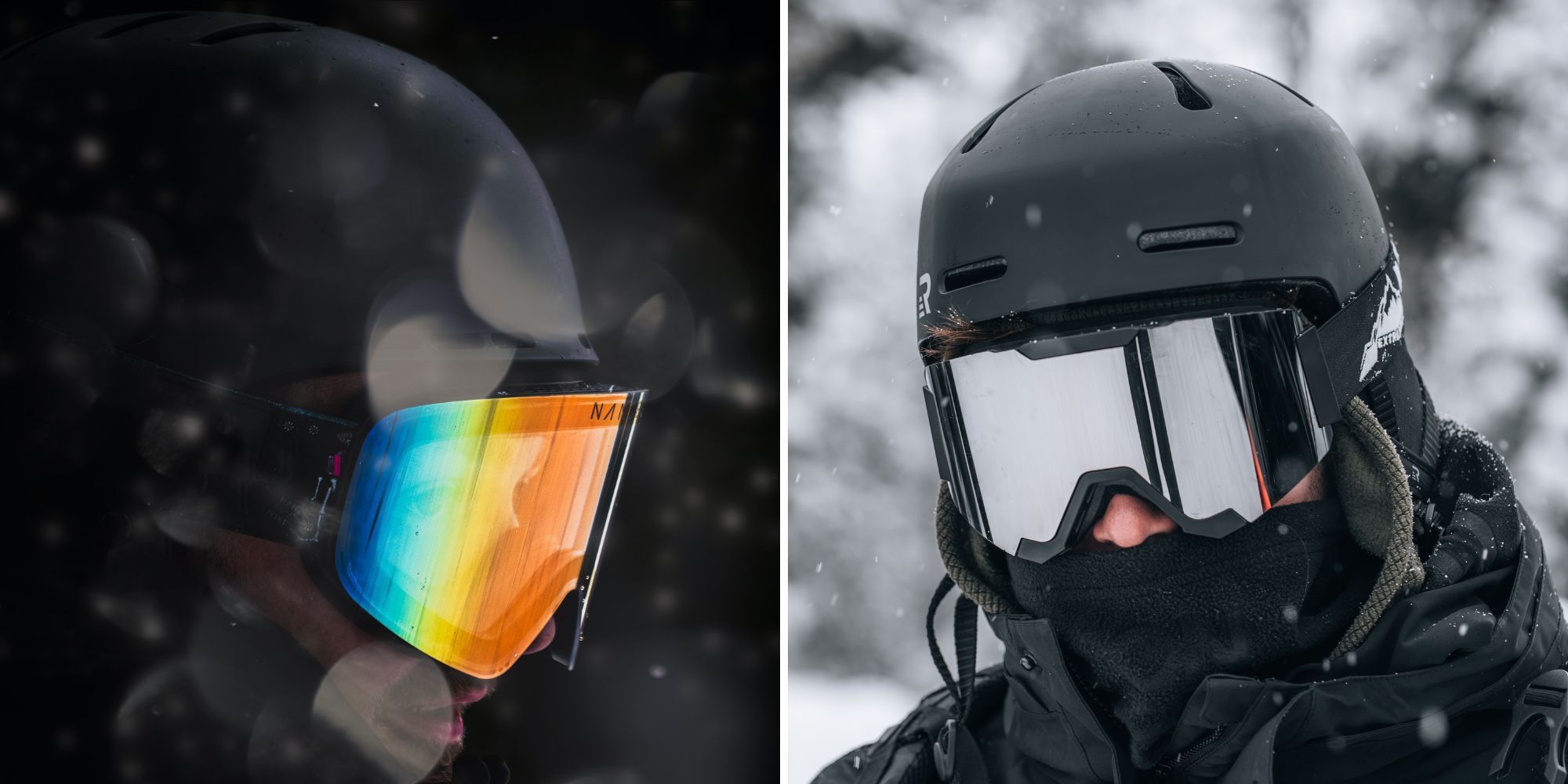 Snowboarding can be a dangerous sport, but it's a lot less dangerous when you're wearing the right gear. That's why we've put together this list of the best snowboard helmets on the market today.
If you're looking for a new helmet, then you'll want to read this list. We've compiled the best helmets out there so that you can make an informed decision about which one is right for you.
Not all helmets are created equal - some are better than others. So whether you're in the market for a new helmet or just curious about what's out there, you'll want to read this list.
Keep reading to learn more!
How We Found the Best Snowboard Helmets for You
It's hard to know which snowboard helmet is the best for you, because there are so many different brands and models out there.
Not only do you have to worry about finding a snowboard helmet that will protect your head, but you also want one that looks good and fits well.
We read through thousands of reviews to find you the best snowboard helmets for you. Our selection includes top-rated brands. Plus, there is a wide variety of colors and styles to choose from so you can find the perfect helmet for your needs.
---
UnpackedReviews is reader supported, which means that when you click on links to products on our site and make a purchase, we may earn a commission. However, our opinions are our own, and we only recommend products that we genuinely love.
---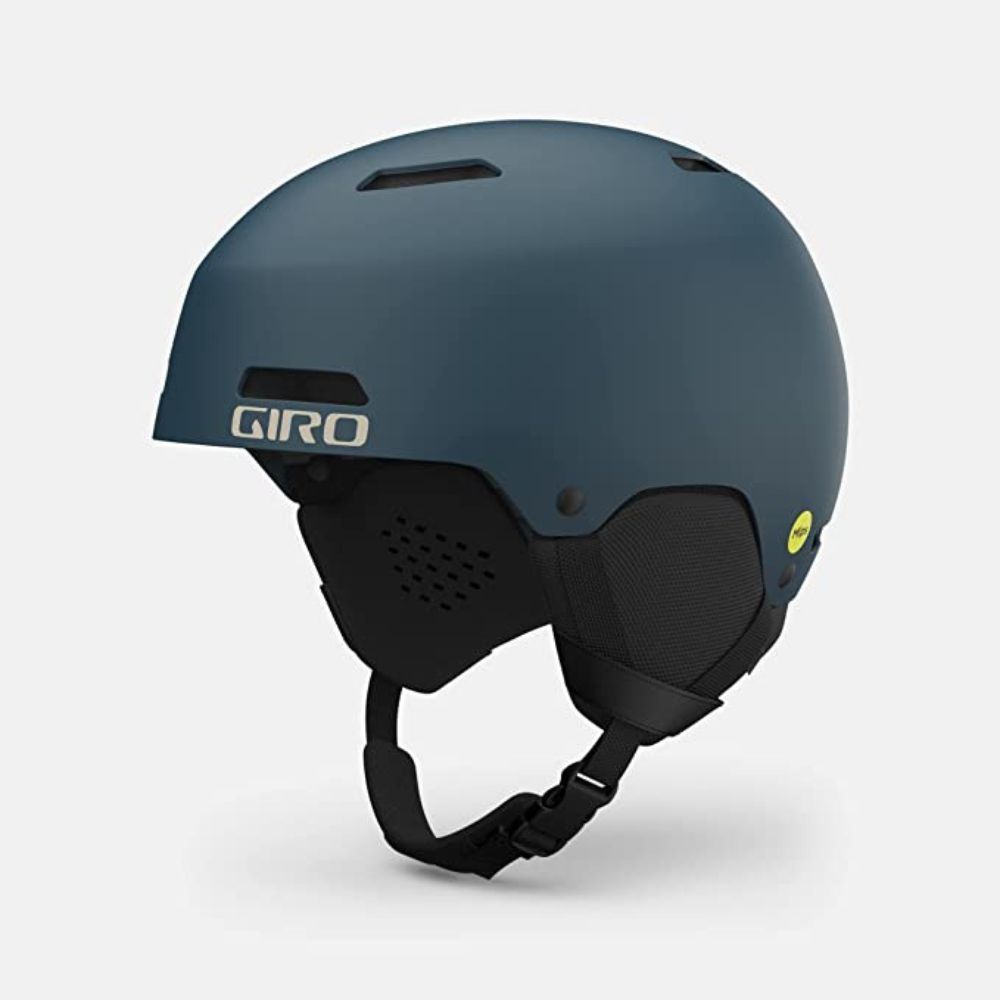 Giro Ledge MIPS Ski Helmet - Snowboard Helmet
Best helmet for head protection
How it Made the Pick
Giro is one of the most trusted names in snowboarding gear, and their helmets are no exception. The Ledge is a top-of-the-line helmet that offers a comfortable fit and features Giro's trademarked lightweight In-Mold Construction.
This helmet is also compatible with Giro's line of Axis, Ella, and Blok goggles. These goggles are designed to seamlessly integrate with the Ledge helmet, giving you a streamlined look that will help you shred the slopes in style.
You can still use other brands such as Oakley goggles, but the Giro brand integrates seamlessly. Whether you're a beginner or a seasoned pro, Giro's Ledge helmet is a great choice for anyone who wants to get the most out of their time on the mountain.
What Makes it Worthy
We all want to enjoy our time on the slopes without having to worry about safety. Giro Ledge MIPS Ski Helmet is the perfect helmet for those who want both style and safety while snowboarding.
This helmet is equipped with a new On-the-fly Vertical Tuning feature that helps you dial in your fit and goggle set up without removing your helmet.
Additionally, it uses MIPS - Multi-Directional Impact Protection System. This system helps reduce rotational forces that can result from certain impacts. So, you can rest assured knowing that you're protected while wearing this helmet. It's also extremely comfortable to wear, thanks to the padded interior and adjustable fit system.
So, whether you're hitting the slopes for some fun or competing in a race, Giro Ledge MIPS Ski Helmet is the perfect choice for you.
---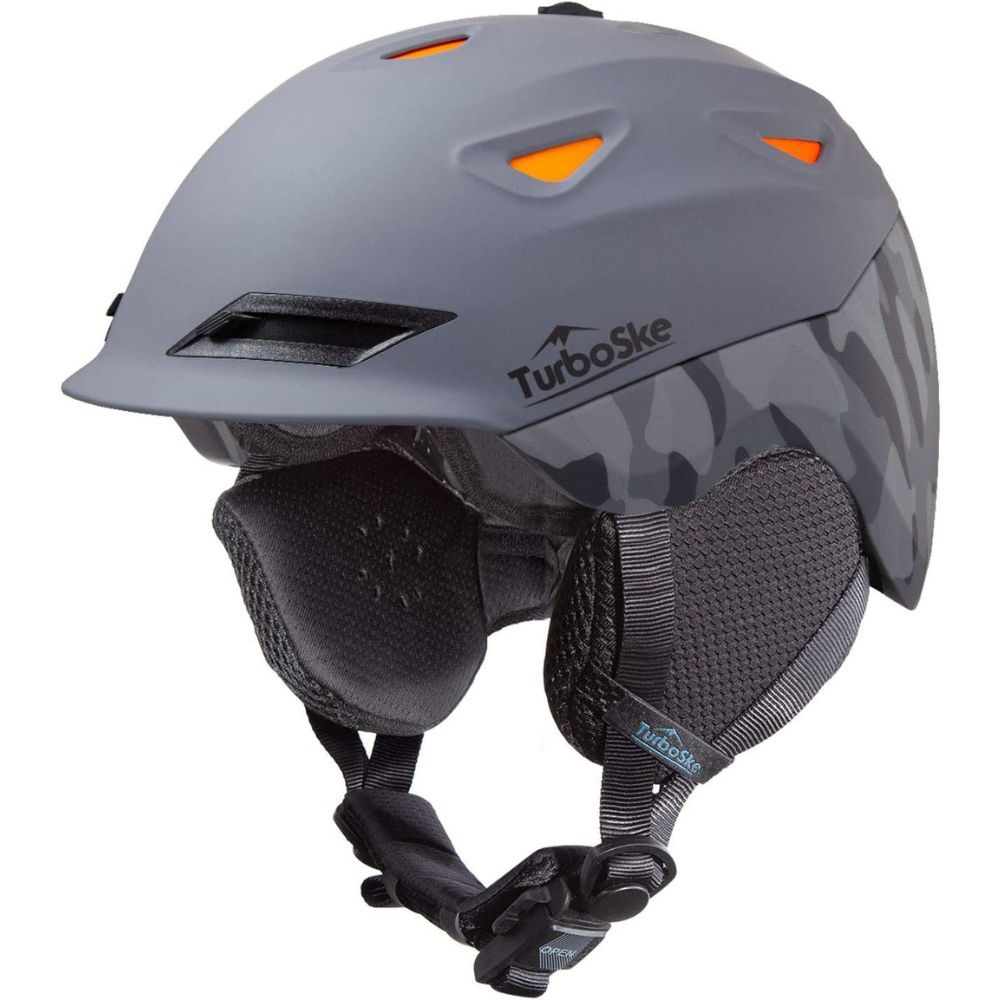 TurboSke Ski Helmet Snowboard Helmet
Best helmet that's audio compatible
Check price on Amazon
How it Made the Pick
Looking for a snowboarding helmet that will keep your head at the perfect temperature, no matter how hard you're shredding? Check out this Dual Regulator helmet from TurboSke! This bad boy has a ventilation system that allows you to adjust the front and rear vents independently.
So if you start to feel a little too warm, you can close the front vents and open the rear vents to evacuate the excess heat. No more freezing your noggin' off! Plus, the Dual Regulator is super comfortable and features an adjustable fit, so you can dial in the perfect fit for your dome.
If you're looking for a snowboard helmet that won't make you sacrifice comfort or performance, pick up a Dual Regulator today!
What Makes it Worthy
The TurboSke Ski Helmet Snowboard Helmet is the perfect choice for snowboard and ski enthusiasts who want the best of both worlds.
This helmet is equipped with a revolutionary FIDLOCK patented Magnetic Buckle, which has an automatic closing mechanism, can be easily opened and closed with one hand even with your gloves on.
The ear pads are also designed with an audio storage slot, making it compatible with most after-sales helmet audio systems.
Not to mention, the sleek and stylish design is sure to turn heads when you're shredding down the slopes. So don't settle for anything less than the best – choose the TurboSke Ski Helmet Snowboard Helmet!
---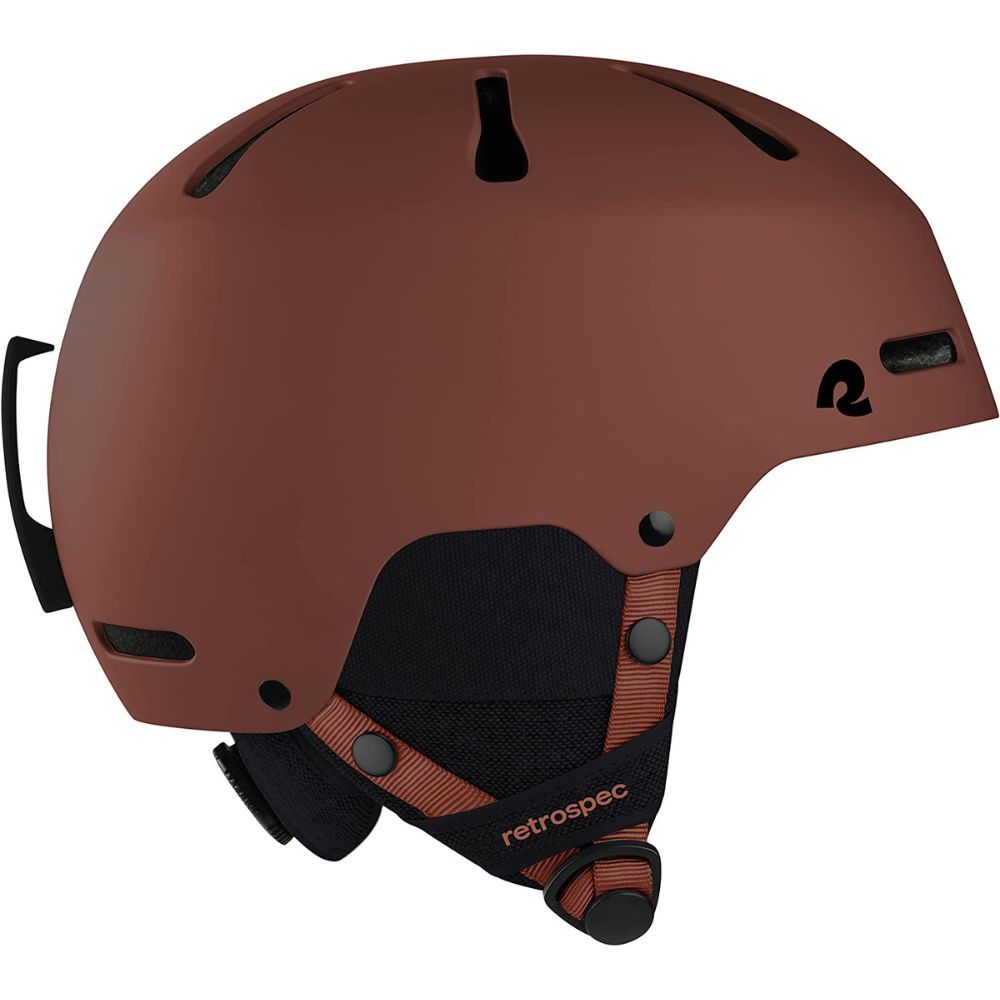 Retrospec Comstock Ski & Snowboard Helmet for Adults
Best snowboard helmet for the value
Check price on Amazon
How it Made the Pick
Anyone who's spent any time on the slopes knows that one of the most important pieces of gear you can have, is a good snowboarding helmet.
Not only does it offer protection from the elements and potential injuries, but it also helps to regulate temperature and keep you comfortable while you're shredding the slopes.
The Comstock Snowboarding Helmet is designed with both safety and comfort in mind. The netted mesh cap and 10 vents provide optimal temperature regulation, keeping you cool and collected no matter the conditions. And the easily adjustable straps make it simple to get a snug, comfortable fit that will stay in place all day long.
So whether you're hitting the half-pipe or cruising down the groomers, the Comstock helmet has you covered. Plus, it's a very affordable helmet that has all the features most helmets in a higher price range offer,
What Makes it Worthy
Looking for a ski or snowboard helmet that offers both style and protection? Look no further than the Comstock Ski & Snowboard Helmet from Retrospec. This helmet is perfect for those who want to stay safe on the slopes while still looking good.
The Comstock helmet is made with a durable ABS exterior shell and EPS foam interior, making it both sturdy and comfortable. The helmet also features an adjustable chin strap and padded ear pads for a comfortable and secure fit. And because we know safety is important to you, the Comstock helmet meets all ASTM safety standards.
So whether you're hitting the slopes or just enjoying a day in the snow, make sure you do it in style and comfort with the Comstock Ski & Snowboard Helmet from Retrospec.
---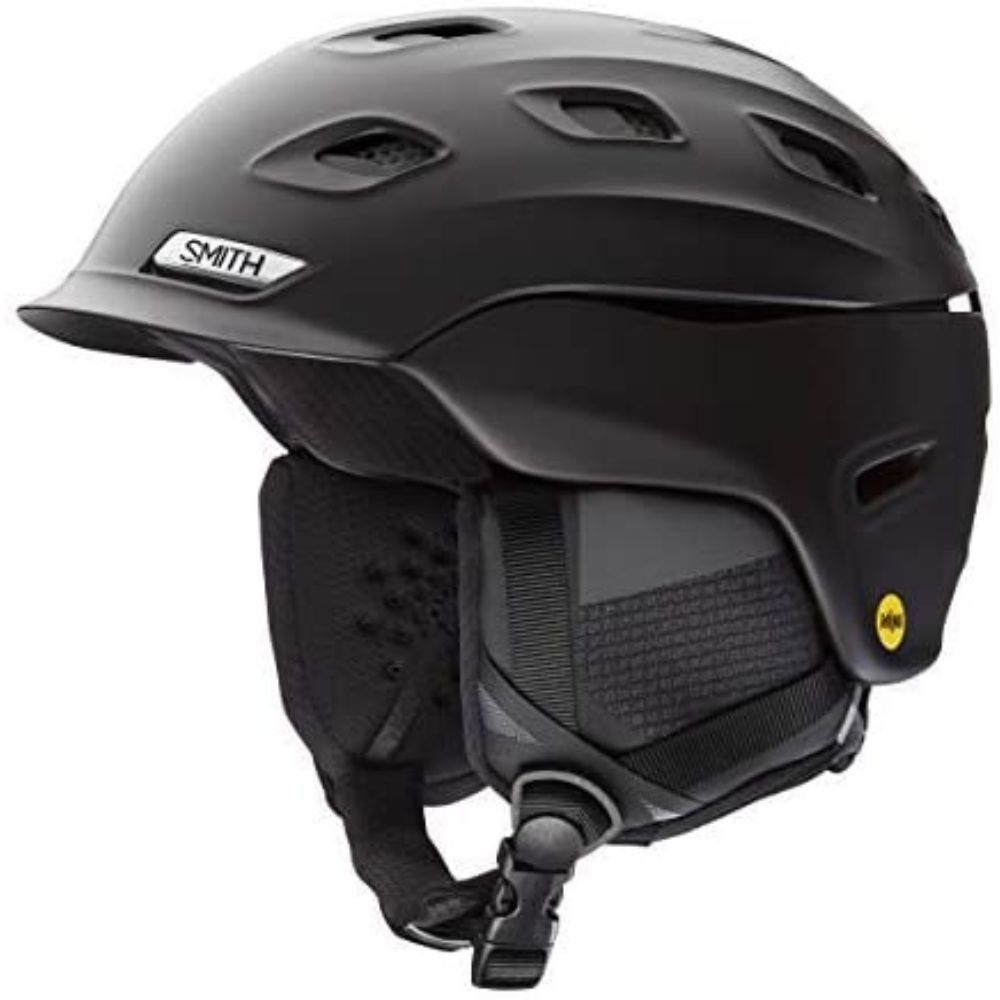 Smith Optics Vantage MIPS Unisex Snow Helmets
Check price on Amazon
How it Made the Pick
One of the most important pieces of equipment for any skier is a good ski helmet. A helmet can protect your head from serious injury in the event of a fall, and it can also help to keep you warm on colder days.
When choosing a ski helmet, it's important to find one that offers both good protection and a comfortable fit. This ski helmet has great protection, thanks to its hybrid shell construction.
The exterior is durable, while the in-molded shell is lightweight, making it comfortable to wear all day long.
Plus, the adjustable vents help to keep your head cool, even when you're working up a sweat. Whether you're hitting the slopes or just enjoying a day out in the snow, this helmet will help you stay safe and comfortable all day long.
What Makes it Worthy
A helmet is only as good as the fit, comfort and protection it provides. That's why Smith helmets designed the Vantage MIPS helmet with ultimate integration in mind. This helmet is designed to work perfectly with Smith goggles for maximum comfort and venting.
The AirEvac ventilation system ensures that your goggles will never fog up, even on the most strenuous runs. And if you need to take a break and warm up, the removable ear pads add an extra layer of warmth.
Plus, they're compatible with Aleck audio systems so you can keep the tunes going even while you shred. When it comes to safety, this helmet has got you covered with angled impact protection that dissipates energy in the event of a fall.
So whether you're hitting the slopes or just cruising down the hill, do it with confidence knowing that the Vantage MIPS helmet has got your back. When it comes to safety features Smith makes a high-quality helmet. Thats why we trust their ski and snowboard helmets!
---
The Most Commonly Asked Questions Around Snowboard Helmets
Worried about safety when hitting the slopes this winter?
A good snowboard helmet is key to staying safe on the slopes. But with all of the different brands and types out there, it can be tough to know which one is right for you. That's why we created this guide – to answer all of the most commonly asked questions around snowboard helmets.
After reading our guide, you'll be able to confidently choose the perfect helmet for your needs – whether you're a beginner or a pro. And with our top picks, you can be sure that you're getting a quality product that will keep you safe while shredding those powdery mountains. And don't forget to place a stomp pad on your board for extra stability! If you need help choosing a stomp pad check out our article.
Get a pair of snowboard gloves with wrist guards for extra protection! Better yet get winter motorcycle gloves for your ride after the slopes.
What kind of helmet do you need for snowboarding?
There is no one-size-fits-all answer to this question, as the type of helmet you need for snowboarding depends on the type of board you are using and the level of protection you want.
In general, though, you should look for a helmet that is made from durable materials and that has been specifically designed for snowboarding. It should also fit snugly so that it does not move around when you are riding. If you plan on spending long days on the slope a lightweight helmet is very beneficial. The best ski helmets have good safety features while not adding bulk and weight.
Do snowboard helmets actually help?
There is evidence that wearing a helmet while snowboarding decreases the risk of head injury. In one study, helmets were found to be 85% effective in preventing serious head injuries.
That being said, it's important to choose a helmet that fits well and is worn properly in order to maximize its protective benefit. And always remember to take precautions such as avoiding jumps and other risky maneuvers when you are first learning how to snowboard.
Helmets are the first piece of snowboard protective gear you should invest in!
What do snowboarders wear under their helmets?
Snowboarders typically wear a thin layer fabric underneath their helmets for comfort and to help protect their heads in the event of a fall. Many snowboarders also wear goggles to protect their eyes from the sun and wind.
Some snowboarders choose to wear earmuffs to keep their ears warm, while others simply tuck their hair under their helmet and wear nothing else but the helmet. Most helmets have removable and washable inner pads for this reason.
Can you wear a skateboarding helmet for snowboarding?
There is no definitive answer to this question as it depends on the specific helmet. Some skateboarding helmets are designed for use in both activities, while others are not.
It is important to check the labeling or contact the manufacturer to determine if a specific helmet can be used for snowboarding. If it is not specifically designed for that activity, it is likely not safe to do so.
What is MIPS snowboard helmet?
MIPS snowboard helmets are helmets that include a technology called Multi-directional Impact Protection System (MIPS). This system is designed to help protect the head from injuries caused by rotational forces.
The MIPS system consists of a thin layer of plastic that is located between the outer shell of the helmet and the liner. This layer can rotate freely around the head in the event of an angled impact, which helps to reduce the amount of rotational force that is transmitted to the head.
Research has shown that this type of force can cause serious brain injuries, so the MIPS system can help to provide some extra protection against these types of injuries. Most ski helmets enjoy the safety benefits of MIPS technology.
What is a modular brim?
A modular brim system is a type of brim system that has a series of removable panels that can be swapped out or replaced as needed. This type of brim system is often used for hats or helmets, as it allows the wearer to customize the fit and coverage of the hat or helmet. It also allows for easy replacement of any damaged or worn panels.
What is a removable goggle retainer?
A removable goggle retainer is a cord or strap that attaches the goggles to a helmet, usually around the back of the head. This keeps the goggles from falling off or getting in the way during play. Some retainer cords are also adjustable, so that they can be made tighter or looser depending on the person's head size.
What is an in-mold snowboard helmet?
An in-mold snowboard helmet is a type of helmet that is made from two pieces: the outer shell and the inner liner. The liner is what is "molded" to the shape of your head, and then the shell is placed over top of it. This creates a much more durable helmet because if the shell were to crack or shatter, the liner would still be protected. It also makes for a much lighter helmet.
The Best Snowboarding Helmets for You
So, there you have it – our top picks for snowboarding helmets! We hope this list helps make your decision a little easier. Remember to consider what's important to you when choosing a helmet and be sure to read as many reviews as possible before making your purchase. It's that time of year again where the slopes are calling your name.
Before you go, make sure you're kitted out with the proper gear, including a snowboarding helmet. To help you choose one that's right for you, we've read through thousands of reviews to compile this list of the best helmets on the market today.
Whether you're looking for something lightweight and low-profile or something more durable and hard-shell, we've got you covered. We hope our top picks of snowboarding helmets helps make your decision a little easier.